9 Best Bubble Baths For Sensitive Skin In 2023 – Reviews & Buying Guide
Unwind peacefully with nourishing elements that will keep your skin and mind happy.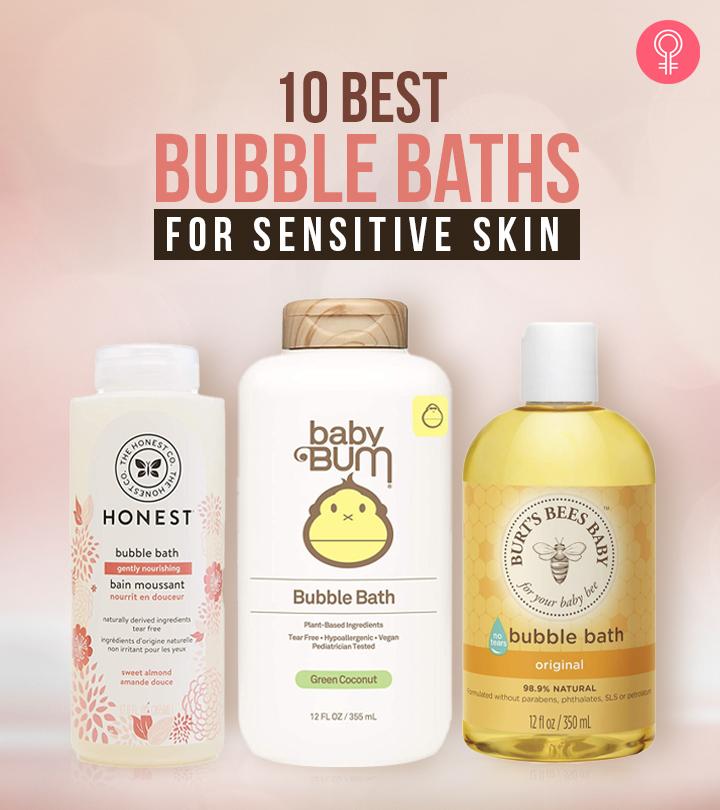 Had a stressful day and need a nice, long bath to relax your nerves? Use nothing but the best bubble bath for sensitive skin to soak all your worries away. Firstly, bubble baths aren't just for kids. It's for everyone and anyone who needs a break from this thing called life. We have made a list of some of the best bubble baths to help you nourish and heal yourself!
Today, several brands have come up with bubble baths that contain natural ingredients like jojoba oil and vitamin E that keep your skin hydrated and soft. Especially if you have sensitive skin, it is best to avoid bubble baths that contain paraben, sulfate, or silicones.
How Is The Bubble Bath Different?
Bubble baths are usually preferred for a more relaxing, fun, and unwinding experience. These formulas contain therapeutic fragrances that calm your senses after a long day at work. The bubbles are made of ingredients that lather up like surfactants, foam boosters, and cleansing agents. They provide a calming effect while cleansing your skin.
Let's now dive into the list of the best bubble baths to opt for if you have sensitive skin.
9 Best Bubble Baths For Sensitive Skin
Pros
Plant-based
Tear-free
Non-drying
Long-lasting bubbles
Hypoallergenic
Paraben-free
Sulfate-free
Phthalate-free
Synthetic fragrance-free
Artificial dye-free
Formaldehyde-free
DEA-free
MEA-free
TEA-free
Cruelty-free
Cons
Price at the time of publication: $12.99
The TruKid Bubble Podz is a non-toxic and naturally formulated bubble bath for sensitive skin. The pack includes 24 mess-free, pre-measured single use bath pods that are perfect for drawing a bath quickly. They are suitable for kids and adults, convenient to use, and leave your skin feeling soft and refreshed. These non-irritating bubble baths sensitive skin are formulated with calming ingredients like colloidal oatmeal and allantoin that are suitable for rosacea and psoriasis. They do not cause itching and are perfect for extra sensitive skin.
Key Ingredients: Colloidal oatmeal and Allantoin
Pros
Pleasant berry fragrance
Tested by dermatologists
Recommended by pediatricians
PETA-certified
Non-toxic
Paraben-free
Phthalate-free
Harmful chemical-free
Cons
Bubbles do not last long
One pod may not be sufficient for larger tubs
Price at the time of publication: $18.99
The Baby Bum Bubble Bath is gentle on your toddler's or baby's skin. This is the best bubble bath for toddlers with sensitive skin as it is formulated with plant-based ingredients. It is a dermatologist-tested bubble bath that contains natural moisturizing ingredients like sea minerals, monoi coconut oil, banana, aloe, and white ginger.
The therapeutic sea minerals infused in the formula include magnesium, calcium, and sodium, which are generally found in seawater. These ingredients help to sustain healthy skin. Monoi coconut oil is infused with tiare flower petals to create Tahitian oil, which helps retain the skin's moisture and leaves it with a smooth finish. The banana, aloe, and white ginger tropical blend soothes and hydrates your skin. The formula is tear-free while the bubbles are perfect for a fun and foamy experience.
Dr. Schwarzburg, MD, Cosmetic Dermatology, says, "Magnesium not only promotes cellular regeneration and repair, but is also clinically proven to help improve sleep. This product can be a great one for your baby's or young child's bath right before bedtime to give them a soothing and relaxing bath and help them get a good night's sleep."
Key Ingredients: Sea minerals, Monoi coconut oil, Banana, Aloe, and White ginger
Pros
pH-balanced
Dermatologist-tested
Pediatrician-tested
Vegan
Hypoallergenic
Cruelty-free
Gluten-free
Paraben-free
Phthalate-free
Sulfate-free
Dye-free
Silicone-free
Tear-free
Formaldehyde-free
Petroleum-free
Artificial fragrance-free
Mineral oil-free
Cons
Price at the time of publication: $9.99
The Burt's Bees Baby Bubble Bath has a super mild, bubbly, and tear-free formula that is specially designed for sensitive skin prone to redness or irritation. It is made from natural ingredients. It gently cleanses the skin without causing any irritation or drying it out. This bubble bath for sensitive skin is made from a cleansing complex and natural plant-based formula featuring coconut oil, sunflower oil, soy proteins, and vanilla extract.
The coconut and sunflower oil gently cleanse the skin without irritation or dryness. The vitamin B and essential minerals from soy proteins moisturize the skin thoroughly to leave it silky soft and smooth. The vanilla extract helps calm the nerves and provides comfort for a stress-busting bathing experience. The formula not only offers a fun bathing session but also boosts and energizes your mood.
Key Ingredients: Coconut oil, Sunflower oil, Soy proteins, and Vanilla extract
Pros
Non-drying
Tear-free
Pediatrician-tested
Hypoallergenic
SLS-free
Phthalate-free
Paraben-free
Petrolatum-free
Cons
Price at the time of publication: $12.94
Pros
Safe for hard water
Moisturizing
Vegan
pH-balanced formula
Cruelty-free
Gluten-free
Sulfate-free
Paraben-fee
Phthalate-free
Triethanolamine-free
Sodium benzoate-free
Benzyl alcohol-free
MEA-free
DEA-free
TEA-free
Cons
Price at the time of publication: $15.95
The Babo Botanicals Calming Shampoo, Bubble Bath, & Wash has a 3-in-1 formula that cleanses and nourishes your skin. This clinically backed skincare set contains natural ingredients like lavender essential oil, chamomile essential oil, meadowsweet flower extract, shea butter, argan oil, and virgin coconut oil. The calming and relaxing effects of lavender essential oil and chamomile essential oil soothe your mind and promote peaceful sleep. They are also safe and gentle on a baby's skin and relieve irritation.
The soothing fragrance of this bubble bath helps you unwind and promotes sleep. The meadowsweet flower extract infused in the formula has antiseptic and anti-inflammatory properties, while shea butter has anti-inflammatory, emollient, and humectant properties. The product also contains argan oil and virgin coconut oil that are ultra-hydrating and provide a long-lasting moisturizing effect to make your skin soft.
Key Ingredients: Lavender essential oil and Meadowsweet flower extract
Pros
Plant-based ingredients
Non-drying
Clinically tested
Dermatologist-tested
Pleasant fragrance
Cruelty-free
Vegan
Gluten-free
Sulfate-free
Soy-free
Dairy-free
Nut-free
Cons
May cause allergy
Not tear-free
Price at the time of publication: $29.82
The Maple Holistics Lavender Bubble Bath has a moisturizing formula that is gentle on the skin. It has therapeutic properties that helps in relaxing your body, mind, and spirit. This bubble bath is packed with the calming properties of organic lavender essential oil. It de-stresses your mind and leaves a calming effect on your body.
Dr. Schwarzburg, MD, Cosmetic Dermatology, says, "Lavender is known for its calming effects and can also function as a sleeping aid for some people. While this particular product may not give you all the bubbles you want, it will certainly provide you with a relaxing bath to treat yourself before heading to bed."
Key Ingredients: Organic Lavender essential oil
Pros
Moisturizing
Sulfate-free
Affordable
Mild fragrance
Cons
Price at the time of publication: $21.95
The Aleva Naturals Berry Bubble Bath gives you long-lasting bubbles to make your bath time fun and exciting. This clinically backed skincare bubble bath for sensitive skin is flavored with natural berry extracts, which add a fun element to your bathing time. The allergen-free bubble baths formula contains organic aloe vera, shea butter, olive oil, natural chamomile oil, and tea tree oil. This rich blend has nourishing and highly moisturizing properties that soothe sensitive skin without leaving any greasy residue.
Key Ingredients: Organic aloe vera, Organic shea butter, Organic olive oil, Natural chamomile oil, and Tea tree oil
Pros
Hypoallergenic
Highly moisturizing
Paraben-free
Phenoxyethanol-free
Harsh chemical-free
Cons
Has a strong artificial fragrance
Price at the time of publication: $8.72
The Avon Senses Sensitive Skin Bubble Bath offers gentle foaming and a non-irritating formula. It is suitable for both babies and adults and offers up to 24 luxurious bubbly baths per bottle. The dermatologist-tested formula contains a refreshing fragrance of chamomile and freesia that gives you a spa-like experience at home. It soothes your tender skin and can be used every day without any worries about allergies.
Key Ingredients: Chamomile and Freesia
Pros
Non-irritating formula
Dermatologist-tested
Long lasting bubbles
Mild fragrance
Cons
Price at the time of publication: $14.99
Pros
Non-drying
Gluten-free
Soy-free
Oat-free
Dairy-free
Sulfate-free
Paraben-free
Dye-free
Formaldehyde-free
Cons
Price at the time of publication: $23.2
If you are looking to buy the best bubble bath for sensitive skin, here are a few things to consider before you shop for one.
What To Look For When Choosing A Bubble Bath For Sensitive Skin
When it comes to bubble baths, it is understood that you will be soaking up in the bubbles for at least 15 to 20 minutes. So, you should read the label thoroughly to get an idea of the ingredients. Watch expert-recommended videos to see the reviews and understand how to read the label and what to look for.
Avoid products containing sulfates, parabens, formaldehyde carriers, artificial fragrances, dyes, or harsh cleansing agents. These may cause rashes, allergies, skin irritation, and even UTI (Urinary Tract Infection) due to sitting in the water for a long time.
Pick products with naturally derived ingredients and essential oils that are skin-friendly. Look for organic essential oils, shea butter, cocoa butter, or aloe vera in the formula.
Sensitive skin is prone to rashes and allergies that come with artificial fragrances. They can be abrasive to the skin's barrier and cause a severe allergic reaction. Hence, ensure that your skin is not allergic to the fragrance or avoid the ones with artificial fragrances altogether. You can also check videos of testers' experiences and go by their reviews on fragrances to make further confirmation.
If you are buying a bubble bath for sensitive skin for your baby or toddler, remember to go for a tear-free formula. It is obvious that babies will splash around in the tub, and there is a chance that the bubbles or mild soapy water may get into their eyes and sting.
The ability of any bubble bath product to lather comes from the foaming agents used in it. Avoid chemical foaming agents like phthalates and sodium lauryl sulfate (SLS). Look for naturally derived foaming and cleansing agents that can produce long-lasting bubbles. Go for bubble baths containing coco betaine and sodium cocoyl isethionate granules derived from coconut, polyglucose derived from sugar, and sodium lauryl sulfoacetate extracted from coconut and palm oils. All these are naturally derived ingredients and less likely to irritate sensitive skin.
There is no rule that states that the product you buy is good only if it is expensive. Opt for a bubble bath based on its online reviews, pros and cons, and the quality of ingredients.
Why Trust Stylecraze
Shiboli Chakraborti, the author, is a certified skin care coach who loves to try out various skin care products. She has researched thoroughly and read many online reviews to pick up the best bubble baths for sensitive skin. These are some must-haves for a relaxing and rejuvenating bathing experience. These bubble baths have natural ingredients like jojoba oil and vitamin E, which are extremely beneficial for the skin.
Frequently Asked Questions
What ingredients should you avoid in a bubble bath if you have sensitive skin?
If you have sensitive skin, avoid bubble baths containing sulfates, parabens, formaldehyde, or any other harsh chemicals. These ingredients may cause rashes, allergies, and inflammation. It is best to ask your dermatologist for recommendations or use a bubble bath that is made with natural or organic ingredients.
If the product is marketed as a baby bath, should I be using it as an adult?
Yes, you can. Typically, most products made for babies are formulated with ingredients that are gentle and skin-friendly. This makes them a perfect choice for adults with sensitive skin.
Can a bubble bath cause a rash?
Yes, if the formula contains harsh ingredients, allergens, or toxins, there is a possibility of it causing a rash. Hence, it is best to go for one with a hypoallergenic, sulfate-free, paraben-free, and toxin-free formula.
How is a bubble bath different from a body wash?
Bubble bath is mostly designed for relaxing, soaking, and creating a bath with fun bubbles, while a body wash is formulated to lather or foam when applied to the body.
If I have eczema, should I take bubble baths?
If you have eczema, it is best to avoid all kinds of bubble baths except for the ones recommended by your dermatologist.
How much time should children spend in a bubble bath?
Sitting or soaking in the bubble bath for too long can tend to strip a child's delicate skin of its natural oils. It is best to stay in the bubble bath for around 10-20 minutes.
Is bubble bath healthy?
Yes, a bubble bath has a therapeutic effect on our senses, besides cleansing the skin.
Will a bubble bath help you destress?
Yes, bubble baths have therapeutic fragrances that calm our senses and help de-stress after a long day.