The 13 Best Bubble Baths To Relax Your Body – 2022
Add a few drops into your bathtub and enjoy an exhilarating feeling after a tiring day.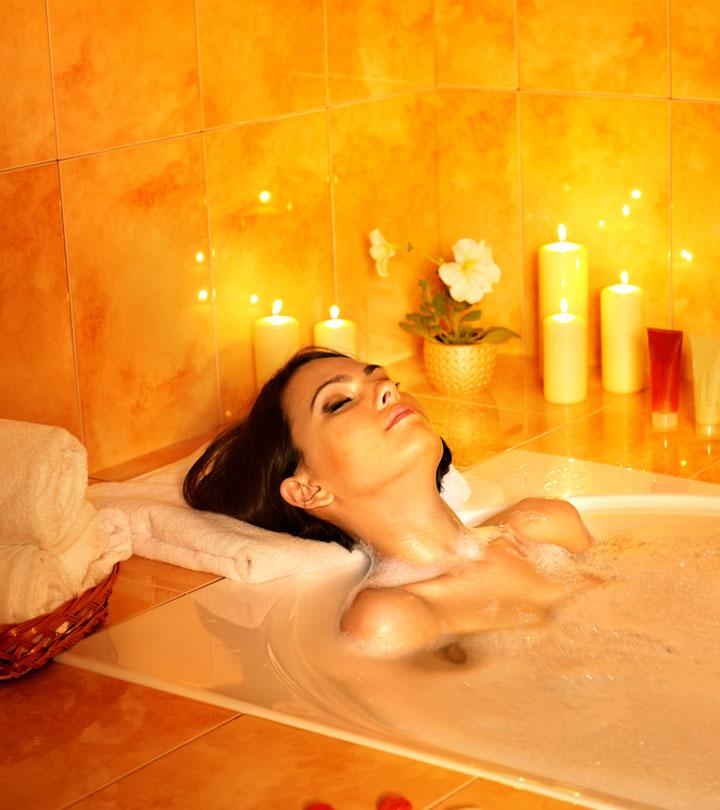 Bubble baths are one of the perfect ways to help you unwind after a long, exhausting day. The best bubble baths reduce stress and rejuvenate your mind and body. It soothes your muscles and calms your nerves too. Here, we have listed some of the most amazing bubble baths available on the market right now. To stock up for your next self-care day or the perfect warm bath after a long day, go ahead and check out the list now!
13 Best Bubble Baths
Dr. Teal's Foaming Bath transforms your bath into a relaxing spa with essential oils and Epsom salt. It is infused with spearmint and eucalyptus oils to nourish your skin and stimulate the senses. Epsom salt is rich in magnesium that relieves soreness, body pain, and strained muscles. It soothes the senses, revitalizes tired, achy muscles, and relieves stress.
Key Ingredients: Epsom salt, Eucalyptus oil, Spearmint oil
Pros
Nourishes the skin
Makes the skin soft
Long-lasting bubbles
Soothing scent
Cons
None
The Babyganics Bubble Bath is the right choice for your baby's delicate skin. It is formulated with tear-free, gentle, plant-derived organic and certified ingredients to nourish and clean the super-sensitive skin of your little one. It contains tomato, sunflower, cranberry, black cumin seed, red raspberry seed oil, aloe leaf extract, and organic glycerin. The rejuvenating mix of natural ingredients calms, relaxes, and moisturizes your kid's body. The antioxidants in black cumin seed oil and olive oil extract protect the skin from aggressors.
Key Ingredients: Aloe leaf extract, Black cumin seed oil, and Sunflower oil
Pros
Non-allergenic
Tear-free
Pediatrician tested
Dermatologist tested
Paraben-free
Sulfate-free
Phthalate-free
Mineral oil-free
Petrolatum-free
Dye-free
No artificial fragrance
Cruelty-free
Cons
Produces fewer bubbles.
Not suitable for very sensitive skin.
Deep Steep's bubble bath contains organic ingredients, natural essential oils, and plant extracts that help you relax and unwind after a busy day. Organic coconut oil has emollient properties, and it deeply nourishes and moisturizes the skin. It is rich in linoleic acid and lauric acid that retain moisture and prevent bacterial infections. The natural blend of shea butter, argan oil, and aloe vera rejuvenates the skin, deeply nourishes it and creates a protective barrier to retain moisture. The sumptuous blend of essential oils awakens your senses and spirit.
Key Ingredients: Organic coconut oil, Shea butter, Argan oil
Pros
Paraben-free
Phenoxyethanol-free
Phthalate-free
Petroleum-free
Triethanolamine-free
MEA, DEA, TEA, EDTA-free
Gluten-free
Alcohol-free
Fragrance-free
Sulfate-free
100% vegan
Cruelty-free
Infused with natural essential oils
Cons
If you want a relaxing bath after an intense day, add a drop of Maple Holistics Lavender Hybrid Bubble Bath to your bathtub. It is formulated with ultra-nourishing plant extracts, vitamin E, and aloe vera that deeply nourish the skin and refresh it. Aloe vera is rich in antioxidants, vitamins, and minerals that create a protective layer on the skin. The aromatic blend of lavender, clary sage, and palmarosa provides relaxation to the body and mind. To understand the nuances of the product in detail, you can check out this review.
Key Ingredients: Aloe vera and Vitamin E
Pros
Paraben-free
Silicone-free
Sulfate-free
Cruelty-free
Eco-friendly
Suitable for sensitive skin
Makes the skin soft and smooth
Cons
Produces very few bubbles.
The main ingredients that make the Alaffia Bubble Bath rejuvenating are unrefined shea butter, African yam, and pure lavender essential oil. Shea butter is rich in essential fatty acids and vitamins that nourish, revive, and heal the skin. The smell of lavender and lemon is invigorating and refreshing. This bubble bath is gentle for everyday use and safe for all skin types.
Key Ingredients: Shea butter, African yam, Clary sage extracts, and Lavender essential oil
Pros
Contains 100% natural ingredients
Non-irritating formula
Deeply nourishes the skin
Sulfate-free
Unscented
Non-GMO
Long-lasting bubbles
Easy to lather
Suitable for all skin types
Safe for daily use
Cons
None
The L'OCCITANE Lavender Harvest Foaming Bath is infused with lavender that induces a feeling of well-being. It uplifts your mood, soothes your senses, and relaxes you from head to toe. Pour a small amount of the bubble bath in lukewarm water to produce rich, generous foam and rejuvenate yourself.
Key Ingredients: Lavender
Pros
Refreshing aroma
Produces a generous foam
Makes the skin supple
Cons
None
Sun Bum Baby Bum is a plant-based bubble bath meant for the soft, delicate skin of kids. The gentle ingredients from the earth and sea create the perfect tear-free bubbles for non-stop enjoyment in the bathtub. The bubble bath contains coconut oil, avocado oil, and aloe vera to nourish, soothe, and reinvigorate super delicate skin. It is specially formulated for kids, toddlers, and babies to naturally moisturize the skin and provide non-stop foamy fun.
Key Ingredients: Coconut oil, Avocado oil, and Aloe vera
Pros
Pediatrician and dermatologist recommended
Paraben-free
Sulfate-free
Silicone-free
Phthalate-free
Plant-based natural formula
Gentle on delicate skin
Tear-free
Gluten-free
100% vegan
Cruelty-free
Cons
The bubbles do not last long.
The Solimo Bubble Bath relaxes your tired body and mind with its rich, bubbly foam. The infused essential oils can help relieve stress, improve sleep quality, reduce inflammation, and heal soreness. The natural blend of milk and honey helps soothe the skin. It has a rejuvenating aroma for a fresh feeling.
Key Ingredient: Essential oils
Pros
Soothing and refreshing
Provides a lot of bubbles
Suitable for sensitive skin
Cons
None
The Skin Milk Bubble Bath takes you along a luxurious journey and relaxes your body after a stressful day. It is infused with the extracts of white pond lily and comfrey and real milk protein to deeply nourish the skin. White pond lily extract helps to balance cell renewal, eliminate toxins from the body, and soothes the skin. Comfrey extract reduces inflammation and sores and revives your body. Real milk protein is packed with vitamins A, D, and E that leave the skin feeling fresh, soft, smooth, and supple.
Key Ingredients:  White water lily extract and Comfrey extract
Pros
Purifies and detoxifies the skin
Moisturizes the skin
Makes the skin soft and supple
Cons
None
The Bath & Body Works Aroma Therapy is an ultra-luxurious bubble bath that moisturizes and nourishes the skin. It is infused with eucalyptus essential oil, spearmint oil, and aloe vera. Eucalyptus essential oil soothes the mind, reduces inflammation, and promotes healing. Spearmint oil increases the skin's resilience and elasticity, provides a cooling sensation, and uplifts mood. Pour a generous amount of the bubble bath in warm water to detoxify your body and soothe your mind.
Key Ingredients: Eucalyptus and Spearmint essential oils
Pros
Ultra-luxurious
Nourishes the skin
Not tested on animals
Cons
None
The Calgon Ocean Breeze Bubble Bath intensely moisturizes the skin. It contains the antioxidant-rich vitamin E and hydrating aloe vera to nourish, protect, and revive your body. The natural blend of green sage, geranium, and lavender soothes your body and mind. The citrus fragrance of bergamot and mandarin orange uplifts your mood. Just lie back and let the warm water and luxurious bubbles envelop your entire body. The calming fragrance will transport you to breathtaking seascapes.
Key Ingredients: Aloe vera and Vitamin E
Pros
Rich in antioxidants
Refreshing fragrance
Moisturizes the skin
Makes the skin soft and smooth
Cons
None
If you want a pure relaxing lavender bubble bath, Kneipp Aromatherapy serves the purpose. It contains the essential oil of lavender that calms your body, mind, and soul. The natural, skin-loving, and wellness-boosting ingredients moisturize and nourish your skin. The bubble bath also contains coconut oil and eucalyptus oil to pamper the skin. The blue hues of the lavender bath promote inner balance and provide relaxing and calming effects.
Key Ingredients: Lavender essential oil
Pros
100% vegan
Plant-based
SLS-free
Cruelty-free
Paraffin-free
Silicone-free
Mineral oil-free
Moisturizing bubbles
Cons
The Camille Beckman Bubble Bath is a luxurious blend of rose petals thathelp nourishyour skin. It has a mild fragrance and creates soft mounds of beautiful bubbles that do not aggravate sensitivity or dry out your skin. The rich formula containspro-vitamin B5 that conditions your skin and relaxes your mind and body,providing a calming effect. This product contains aloe vera and vitamin E that soothe and repair the skin. It refreshesand cleanses your skin with a silky, smooth finish.
Key Ingredients: Garden rose, Aloe vera, and Vitamin E
Pros
Gentle formula
Non-drying
Non-irritating
Vegan
Paraben-free
Gluten-free
Cruelty-free
Cons
None
These are the top-quality refreshing bubble baths to buy online. Before you purchase one from the list, it is important to understand the basics of bubble baths – what they are and how they work. Scroll down for the answer.
What Is A Bubble Bath And How Does It Work?
A bubble bath involves filling your bathtub with a surfactant to create foamy bubbles that relax the body and soothe the mind.
A study published in Evidence-Based Complementary And Alternative Medicine shows that taking a warm bath increases blood flow, promotes more oxygen supply, and eliminates metabolic wastes to relax the body and mind (1). Indulging in a warm water bubble bath that is rich in minerals, essential oils, and humectants refreshes the body, alleviates soreness and inflammation, and revitalizes tired, achy muscles.
Can everyone take a bubble bath? Find out in the next section.
Who Should Take A Bubble Bath?
A bubble bath is one of the ways to relax the body after a stressful and tiring day. From kids to adults, everyone can enjoy it without experiencing any side effects.
Who Should Avoid A Bubble Bath?
Although everyone can enjoy bubble baths, you should avoid them if you:
Are pregnant or breastfeeding
Have a skin infection
Have a bladder infection
Are experiencing vaginal irritation
Now that you have a brief idea of how to take bubble baths and their benefits, here are a few tips to help you make the best purchase.
Important Features To Consider While Buying Bubble Baths
Gentle Formula: The bubble bath should contain a non-irritating formula to deeply nourish your skin. It should be hypoallergenic and non- comedogenic. Ingredients like essential oils and minerals can help alleviate body aches and muscle soreness.
Fragrance: A strong fragrance irritates your body and other senses. Look for a bubble bath with a soothing fragrance to feel relaxed and rejuvenated.
Organic Ingredients: Some bubble baths contain man made chemicals, while others are all-natural. Some are produced in more eco-friendly ways than others. Consider this while deliberating which bubble bath is right for you.
Why Trust StyleCraze?
The author, Oyendrila Kanjilal, is a certified skin care coach who believes that bubble baths are one of the perfect ways to help you unwind after a long, exhausting day. She too uses bubble baths to reduce her stress, and this list includes some of her favorites. All the products have been carefully reviewed by her after thorough research to help her readers make the best choice.
Frequently Asked Questions
What should the water temperature be for a bubble bath?
The water should be lukewarm – not too cold, nor too hot. If it is too cold, it will not relax your body, and if it is too hot, it may burn or irritate your skin.
Can I use shampoo for a bubble bath?
Yes, you can add a mild shampoo with organic ingredients and humectants to warm water for a bubble bath.
How do I make bubbles more bubbly?
Pour the bubble bath slowly and right underneath the running water. The stronger the water pressure, the more bubbly the bubbles. To increase the foam, run your fingers through the liquid underneath the tap.
How often should a woman take a bubble bath?
A healthy woman can take a bubble bath 4-5 times a week without any side effects.
Do bubble baths do anything?
Bubble baths offer multiple benefits, such as:
•  Improve blood circulation
•  Moisturize the skin
•  Soothe sore muscles
•  Help relax the mind and body
Do you need to rinse after a bubble bath?
Yes. In most cases, you need to rinse off the glitter, color, and other ingredients after a bubble bath.
Can bubble baths be used for body wash?
Yes, you may use bubble baths as a body wash if you run out of products. However, do not make this a daily practice.
How do you make the best bubble bath?
Use DIY ingredients easily available at home and avoid using harsh colors or synthetic fragrances that might cause skin reactions. You may add a few drops of essential oils to enjoy additional skin benefits.
How much bubble bath should I use?
Use 2-3 tablespoons in the bathtub for single-time use.
Recommended Articles: