The 13 Best Affordable Hair Dryers That You Will Love – 2023
Make your tresses appear shiny and gorgeous without spending hours at the salon.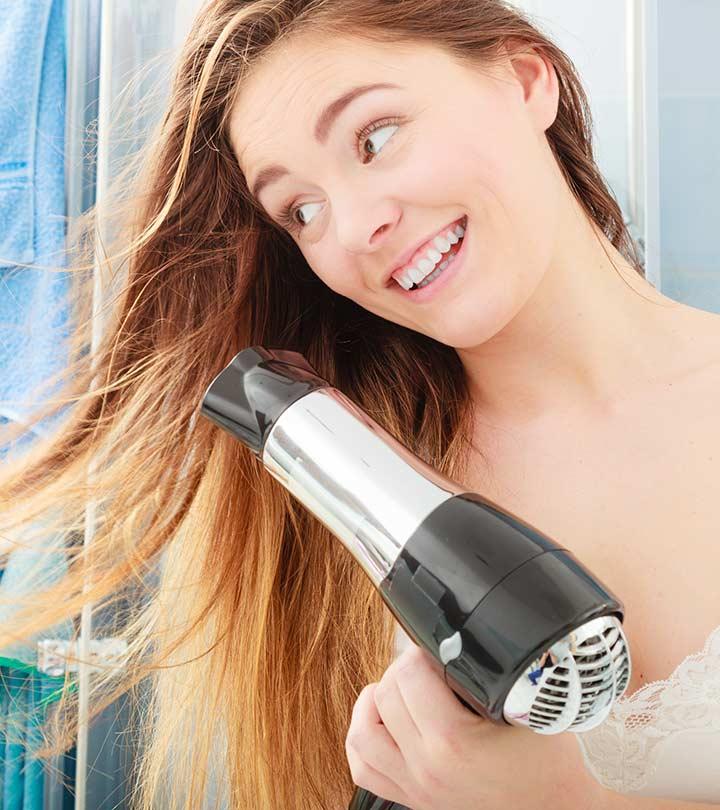 There are many fancy hair dryers in the market, but if you are new to the world of hairstyling and want to start slow, you can invest in the best affordable hairdryers. As salons charge a bomb having a hairdryer at home at your disposal can be quite useful. Hairstyling is something that we all love, and to get a salon-like hairstyle at home, we need a great dryer. Well-styled, frizz-free, shiny, and blow-dried hair accentuates your look. Your hair dryer should feature the right heat settings, weight, wattage, removable attachments, and a manageable cord length.
This article can help you make the right choice from among our top picks. Let's have a look at the list!
13 Fantastic And Affordable Hair Dryers With Reviews
Caution: Do not place the appliances near a tub or sink.
Have you ever struggled with frizz when you blow dry your hair? We've got the right solution for you! The Conair 1875 Pro Hair Dryer is just what you need to get smooth, shiny hair with less frizz. Its ceramic tourmaline technology ensures that the heat is spread uniformly throughout thereby reducing the damage. The blow dryer has three different hair settings with two different speeds to cater to all types of hair. After getting the desired results, you can finish off by giving your hair a whiff of cold air with the cool shot button feature.
Pros
Uses ionic technology to provide shine
Includes a concentrator for focused airflow
Comes with an attachable sleek nozzle for styling hair
Removable filter to make it easy to clean
Cons
Price at the time of publication: $34.95
If you want salon style performance, the Conair InfinitiPro Hair Styling Tool is your pick. It uses ionic technology for smooth, shiny looking hair and contains frizz up to 75%. The removable filter protects the device from product build up and keeps it long lasting. One of the best affordable hair dryers in the market, this device uses a professional AC motor which dries your hair 50x faster than the others. It also gives you 3x longer dryer life.
Pros
Ceramic technology for uniform heat distribution
Includes a diffuser for textured styles
Customizable heat flow
6 foot power cord
Includes a concentrator for smooth styles
Cons
Price at the time of publication: $24.99
Designed with ionic turbo ceramic technology, the Hot Tools Signature Series Turbo Ionic Hair Dryer leaves you enjoying salon style perfect blowouts all day and night. The ceramic technology emits far-infrared heat that protects the cuticle layer from over styling. Suitable for all hair types, this versatile but affordable hair dryer has an option on six speeds and heats. It also has a cold shot button to help set your styled hair last longer. Let your hair get that salon-worthy finish everyday!
Pros
Powerful airflow to define natural waves
Bonus attachments of diffuser and concentrator
Soft-touch comfort grip
Easy cleaning
Lightweight design
Cons
Attachment gets loose sometimes
Price at the time of publication: $43.86
For shiny, smooth and frizz-free hair, the new and improved Remington Damage Protection Hair Dryer is your go-to choice. This powerful dryer uses an advanced coating that protects your hair 3x times more than other dryers during styling. This hair dryer uses its proprietary micro-conditioning technology to keep hair healthy and shiny. The attachable diffuser and concentrator that come with it produce more volume and precision for your styling technique.
Pros
Combines ceramic + ionic + tourmaline grill
Faster drying power with 1875 watt
Three heat, two speed strong airflow
Includes a cool shot button
Removable air filter
Cons
Might not suit very curly hair
Price at the time of publication: $19.16
The affordable hair dryer uses high ionic technology that breaks up water molecules to give you a quicker drying time. It has a high velocity airflow with a three air/heat setting to tame frizzy hair. The ceramic technology produces even heat and preserves the natural oils in your hair. The body material is polymer and it also has a cool shot button to lock in your hairstyle. One of the best affordable hair dryers, the Andis Hair Dryer includes a soft-bristle attachment for smooth, frizz-free hair. You can check out this YouTuber's review of the product if you require more convincing.
Pros
Ceramic even heat seals in moisture
Dual voltage for worldwide travel
Turbo boost for high speed
Includes wide tooth comb and fine tooth comb
Cons
Price at the time of publication: $21.44
As the name suggests, this unique yet efficient hair dryer has a full 1875 watts of drying power and can be great for travel. Why? Because it has a folding handle that makes it compact and perfectly storable by taking less space. It has two heat and speed settings which helps you style your hair in different ways.
Pros
Dual voltage worldwide use
Two different speed and heat levels
Enables versatile styling
Folding handle for easy storage
Cons
Air might not be hot enough
Price at the time of publication: $14.99
Reduce the frizz in your hair with the Revlon Lightweight Hair Dryer. It is equipped with 2 speed settings and a cool shot button to style your hair comfortably. This hair dryer provides fast hair drying with 1875 watts. The advanced ionic technology provides less frizzy, shiny, and healthy hair. In addition, the device comes with anti-slip bumpers that give you a good grip as you style your hair.
Pros
 Hanging loop
 Easy to use
 Lightweight
 Compact and travel-friendly
 Long-lasting results
Cons
None
Price at the time of publication: $12.99
For a hair dryer that impresses with its high performance, the Nition Ceramic Salon Hair Dryer runs on a durable AC motor that produces a strong airflow to dry your hair. It's designed to feature a double protection circuit that prevents overheating and over current waves. It also comes with three attachments and three heat settings. The hair dryer has two wind seed settings and one cool shot button to retain styled hair for a longer time. It has a 7.5 feet long power cord with a hanging loop for easy and convenient hair drying.
Pros
Ceramic coated grill fused with argan oil, nano silver, and tourmaline
Hot hair emitted with these elements leaves hair silky, shiny, and frizz-free
Includes 3 accessories— diffuser, comb, concentrator
Removable air inlet grill for easy cleaning
Cons
Product is not lightweight
Price at the time of publication: $42.99
Compact, travel-friendly, and powerful, the BaBylissPro Nano Titanium Travel Compact Dryer is lightweight and suitable for all hair types. Thick or thin hair, curly, wavy or straight hair, fine or coarse hair, all you need is to get your hands on this affordable hair dryer and rock out in style. It functions on 1000 watt power, has dual voltage and two heat and speed settings. Get shiny, frizz-free and healthy-looking hair with this hair dryer. If you want to find out more about this product and its usage, make sure to check out this review on YouTube.
Pros
Ionic technology to dry hair fast with less frizz
Includes removable filter and stand
Ultra-lightweight
Foldable handle for easy storage
Cons
Does not come with accessories
Price at the time of publication: $34.99
Style your hair with the GSK ION Hair Dryer that features 3 heat settings and a cool shot button. It comes with an automatic switch-off feature that prevents overheating. This hair dryer comes with a diffuser and a concentrator nozzle. In addition, the powerful motor enables even heat distribution and quick drying. The ionic technology prevents heat damage, repairs hair scales, provides deep nourishment to your hair, and adds shine.
Pros
 Sleek and smooth design
 Anti-static
 Easy to clean
 Suitable for men and women
Cons
Price at the time of publication: $31.99
Keeping in mind different styling techniques, the Joyyum Professional Hair Dryer allows versatile styling for all types of hair. It features ionic technology that releases negative ions to reduce static frizz, making hair soft, shiny, and smooth. The three heat and two speed technology makes you adjust heat according to how much your hair requires so that you can get the desired style of your choice. It is a great gifting option for your friends and family to show them you care and to give them an edge in hairstyling.
Pros
Negative ions help smoothen hair cuticle
Ions protect hair from heat damage and locks in moisture
Includes a concentrator and a large finger diffuser
Removable filter for timely cleaning
Runs on durable and long-lasting AC motor
Cons
Price at the time of publication: $33.99
A lightweight and affordable hair dryer for easy hair drying, the John Frieda Frizz Ease Hair Dryer is perfect to take with you while traveling without adding a lot of weight to your luggage. It comes with a diffuser that can dry naturally curly hair and waves while also reducing frizz. It also features a professional rocker switch that helps you customize your styling experience. Made with a high voltage advanced ionic generator, this budget hair dryer is easy on your hair and locks in your style with the cold shot. If you need further convincing, check this YouTuber's review out.
Pros
 Attain frizz-free hair with the ionic technology
Titanium ceramic coated grill for even heat distribution
Custom styling with customizable heat
Cold shot to retain your hairstyle
Lightweight AC motor
Cons
Not suitable for long time use
Price at the time of publication: $59.99
How many times have you wondered if you wanted to use your hair dryer when someone is sleeping in the same room as you because of all the noise it makes? Well, you will not have to worry about that with the Panasonic Low Noise Ionity Hair Dryer. It is one of the best quiet hair dryers that dries hair quickly. Not just silent and lightweight, but it's also easy to use while blow drying with a hair brush.
Pros
Low noise level
Ionic technology for silky hair
Helps retain hair moisture
Lightweight and easy to use
Cons
Made especially for Japanese market
Requires an adaptor or power transformer to use in other countries
Price at the time of publication: $95.63
Buying Guide – How To Choose The Best Budget Hair Dryer?
What Is The Best Inexpensive Hair Dryer?
To choose one of the best inexpensive hair dryers, the thing to keep in mind is that it has to be feature-led. The right wattage, weight, accessories, and coating will make a hair dryer suitable for any hair and the best to enable professional salon styling. Over the years, hair dryers have evolved drastically and now it is possible to get a good feature-filled hair dryer for a cheaper price.
How Long Should A Hair Dryer Last?
Typically, according to hairstyle experts, a good quality hair dryer should last for about two to seven years. But this solely depends on you and how much you use it. If you use a hair dryer every day, it should last for close to two years but lower the frequency of use, the shelf life of your hair dryer will increase. It also depends on how well you take care of it.
What Are The Key Features To Consider While Buying A Hair Dryer?
To ensure that your hair sustains minimum damage, you must choose the ones that don't skimp on their performance but have protective features that help your hair. Depending on the type of hair you have, here are some of the features to look out for when you're choosing your hair dryer:
Wattage: Ideally a hair dryer between 1000 to 1875W uses the right power to quickly dry your hair but at the same time does not damage it.
Setting: One of the best features to have, the cold shot button secures your hairstyle and makes it long-lasting. It is that button on your hair dryer that has a snowflake icon on it.
Ionic Technology: This feature is new in hair dryers. It is known to break down water molecules and smoothen out your hair. It also reduces heat damage to a large extent and also dries hair faster.
Attachments: Several affordable hair dryers now come with attachments like a comb, concentrator, or a diffuser. If you have curly hair, look out for a diffuser because it keeps your curls defined and in shape. If you have sleek or straight hair, opt for a concentrator that helps keep the frizz away and give you silky smooth hair.
Weight: Another factor to consider when choosing your hair dryer is the weight of the dryer. Most people do not think about the weight of the dryer but it is important to choose a lightweight hair dryer that is easy to maneuver and convenient for travel and storage.
Coating: Not all hair dryers have the same coating. The grills that are coated with ceramic or ionic technology have different effects on your hair. Hair dryers with ceramic grills regulate the temperatures to prevent high-intensity heat from damaging thin hair while ionic hair dryers produce negatively charged ions to break down positively charged water molecules that help tame frizzy hair. Ionic technology is slightly more expensive but it's a great solution for frizzy hair.
Why Trust StyleCraze?
Author Chaitra Krishnan is a hair and beauty enthusiast who takes a keen interest in the latest hair care and styling products. She believes that salon-style hair can be achieved at home when the right hair dryer is used. So, she compiled a list of the top products after a thorough and detailed review of all products available on the market. This buying guide will guide you to choose a hairdryer that will smooth out frizz-prone hair so you can look your best.
Frequently Asked Questions
Are Cheap Hair Dryers Good?
Hair dryers have come a long way since the time they started. Many budget-friendly air dryers offer great features and technology to style your hair as you desire.
Is Ionic Or Ceramic Hair Dryer Better?
Hair dryers with ceramic grills regulate the temperatures to prevent heat damage while ionic hair dryers break down water molecules to help tame frizzy hair.
Why Is My Hair Dryer Getting Hot?
If your hair dryer is getting too hot too fast, it is an indicator that it needs replacement. The average shelf life of a hair dryer is between 2-7 years depending on your usage.
How To Not Burn Your Hair?
Good quality hair dryers will prevent your hair from burning. Always choose hair dryers according to your hair type and apply a heat protectant in case of excessively damaged hair.
Is A 2000 Watt Hair Dryer Good?
According to experts, the heat range for good hair dryers is between 1000-1800 watts. Anything above that is unnecessary for the hair and may cause too much damage.
Recommended Articles