10 Best Bunion Correctors To Buy In 2023 – Reviews & Buying Guide
Relieve the pain and discomfort caused by bunions with these well-designed products.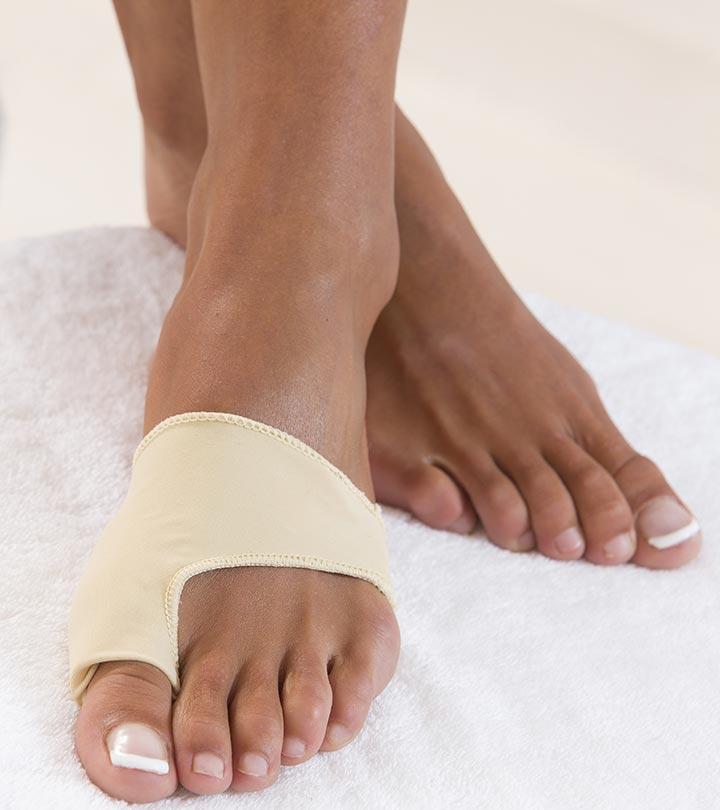 Bunion correctors can help you get rid of your bunions and reduce the pain and swelling caused by them. Instead of getting them surgically removed, you could instead look for the best bunion corrector products to treat them from the comfort of your home. Bunions can affect anybody, and it's not something that you need to worry about. Most actresses and supermodels also suffer from bunions because of constantly wear high heels all the time. While bunions are painful, you do not require a complicated surgical procedure to get rid of them. Products like bunion correctors come in sleeves, braces, and splints that are wearable and help correct the issue. These products are meant for those who are looking to treat the pain.
Benefits Of Bunion Correctors
Distribute the weight at the MTP (metatarsophalangeal) joints during various activities like walking, standing, and running.
Help realign the MTP joints.
Eliminate the friction between the bunion and your skin.
Types Of Bunion Correctors
1. Bunion Sleeves
These are elastic bunion correctors that cover a large area around the bunion joint. These target compression socks are lightweight and comfortable to wear. They exert gentle pressure on the affected area without compressing it. These are designed to be worn underneath shoes.
2. Bunion Corrector Splint
A bunion corrector splint has hinges and velcro straps that allow the foot to move. At the same time, it supports the foot's arches to align it to its natural position. It is the best bunion splint to avoid friction between the toes.
3. Toe Separators
The toe spacers for a bunion are used to realign angled toes back to their natural position. The design primarily focuses on separating the big toe and the index toe to improve their postures.
Now that you know all about the benefits and different types of bunion correctors let's take a look at the best ones.
Top 10 Best Bunion Correctors To Buy In 2023
Get instant bunion pain relief with the help of Flyen's Bunion Care Kit that includes seven carefully selected bunion correctors. These premium-quality bunion correctors are made from 100% medical-grade silicone and fit your toes perfectly. They are soft, stretchable, and easy to clean. Besides correcting bunions, this kit relieves bunion pain, reduces friction between your toes, and separates, straightens, and aligns them perfectly.
Pros
Not bulky
Quick results
One size fits all
Easy to put on
Can be worn with or without shoes
Affordable
Cons
None
Price at the time of publication: $12.99
This unique product has a squishy gel pad that sits right at the metatarsophalangeal (MTP) joint. This provides instant relief at the pain point. It is made of ultra-stretchy material that fits almost any foot size. It absorbs shock and vibration and provides even pressure distribution. It also provides relief from problems such as calluses, hallux valgus, and skin irritation.
Pros
Provides maximum cushioning
Allows you to perform your daily activities
Breathable material
Affordable
Cons
None
Price at the time of publication: $14.49
The Tech Love Bunion Corrector is your quick and comfortable solution to fix crooked and overlapping toes. This protective splint comes with an adjustable knob buckle so that you can customize the correction angle. The multidirectional fixation with silicone phalange pads ensures comfortable cushioning and support while also relieving bunion pain. It is a one-size-fits-all brace that you can wear all day long.
Pros
Medical grade stent
Knob buckle
Adjustable toe and arch strap
Easy maintenance
Cons
None
Price at the time of publication: $26.99
NatraCure Gel Big Toe Bunion Guard neutralizes the friction between your bunion and your shoe. It is made of a highly stretchable and cushioning material. The soft elastic loop effortlessly slips over your big toe, and the gel surrounding the bunion protects it by absorbing pressure. This medical-grade gel releases mineral oil, vitamin E, and aloe vera that moisturize and nourish your skin. This doctor-recommended bunion guard provides ideal protection to the hallux toe.
Pros
Washable
Odorless
One size fits most
Includes 6 bunions guards
Cons
Price at the time of publication: $14.99
Bunion Bootie Splint is a protective, supportive, and comfortable bunion corrector. It can be worn inside any shoe. It also has a toe hood over the big toe, which is anchored by a heel strap. This ergonomic design helps straighten and align your toe. It can be worn all day long, even during regular activities like walking, running, and exercising.
Pros
Available in 5 sizes
Secure fit
Breathable and ultra-thin material
100% latex-free
Cons
Price at the time of publication: $20.5
The VICORRECT Bunion Corrector Kit comprises a pair each of bunion corrector splints, gel toe separators, and gel big toe sleeves. The splints are made of breathable, stretchable, skin-friendly materials, and the design features adjustable heel straps to ensure the splint stays in place. The toe separators and sleeves are great for providing relief when wearing close-fitting shoes.
Pros
Day and night support
Post-surgery recovery
Adjustable straps
Cushioning pad
Easy to clean and reuse
Cons
May get uncomfortable after a few hours
No instructions for using the kit
Dr. Scholl's Bunion support Cushions provide immediate relief from painful bunions. They have a dual cushioning layer that eases pressure and friction caused by shoes. A waterproof adhesive holds the bunion pads in place without sticking to the shoes. This self-stick cushion is designed to stay on all day.
Pros
Eliminates discomfort
Suitable for everyday use
Affordable
Cons
Price at the time of publication: $26.66
Natracare Gel Big Toe Bunion Guard is one of the best picks for reducing friction, irritation, and pressure on the bunion joint. This premium gel toe separator aligns your toes and eliminates discomfort. Its patented design provides protection between the hallux toe and the shoe. Its cushioning material also makes it a diabetic-friendly product.
Pros
Highly stretchable
Hypoallergenic
Washable
One size fits most
Cons
Price at the time of publication: $18.99
The Copper Compression Bunion Relief Kit comprises one pair each of bunion correctors and bunion cushion sleeves. Their compression fabric is infused with the healing properties of copper to give you long-lasting relief against bunion pain. The design keeps inflammation and soreness in check without hindering your daily activities. The stretchable material and cushioning gel pads ensure well-rounded support and comfort for people with arthritis and those recovering from surgeries.
Pros
Long-lasting fabric
Breathable
Anti-odor
Moisture-wicking
Washable
Adjustable fitting
Immediate relief
Suitable for 24-hour use
Cons
No instructions for using the kit
Price at the time of publication: $25.95
The Caretras Bunion Corrector is effective, breathable, and provides excellent compression for relief from pain and discomfort in the bunion area. It also prevents the bunion from causing pain instantly. It can be worn all day and with almost any shoe. Its ultra-thin and soft material aligns your toes gently. If you are experiencing any discomfort related to plantar fasciitis, this bunion corrector is the right choice for you.
Pros
Cotton-lined material
Flexible size
Easy to clean and reuse
Affordable
Cons
Not comfortable for walking
Price at the time of publication: $16.96
Bunion correctors can get rid of the pain without involving any surgical procedures. These correctors come in the form of sleeves, braces, and splints, but if you are confused as to what you should look for to find the best one, consider the factors below before making a purchase.
How To Find The Best Bunion Correctors
It's most important to check the thickness and size of the bunion correctors to get the desired result. Look for thicker material to avoid friction and also ensure that it has enough space that provides flexible movement without causing pressure or discomfort.
Bunion correctors are often worn under footwear. If it's a splint, then it's perfect to go under your shoe, and that's when it's important to ensure that the material is breathable enough to provide the utmost comfort for all-day wear. It also helps prevent any fungal infections and foot odor. The breathable fabric also prevents skin aggravation and make your regular movements painless.
Ensure that the bunion corrector fits you well and offers enough space for your toes. These correctors are meant to provide good alignment, and hence, you must opt for one that fits comfortably and is easy to use and maintain.
Opt for gel pad bunion correctors that are stretchable and cushiony enough to provide all-day comfort. Invest in one with medical-grade gel pads that release mineral oil, vitamin E, or aloe extract to soothe and nourish the skin for a longer duration.
These are the 10 best bunion correctors you can buy. Now, let's look at the important features to look out for when buying a bunion corrector.
Important Features To Look For When Buying A Bunion Corrector
When choosing a bunion corrector, consider the thickness of the product. The thicker the product, the lesser the friction. But if you intend to wear it all day for outdoor activities, look for a product that fits in your shoes.
Look for a product that allows flexible movement of your big toe. It should provide ample space for the bunion without creating pressure or discomfort.
Look for a product that reduces pain and provides instant relief. Make sure that the design is easy to use with minimum maintenance.
Most bunion correctors harbor fungal infections if the material is of average quality. It also depends on how you use them. If you have extremely sweaty feet, try to pick a product made of breathable fabric.
Why Trust StyleCraze?
The author, Aditi Naskar, has a diploma in health and wellness and finds her passion in helping users choose the best health devices for achieving effective results. Here, she came up with this list of the best bunion correctors after hours of research and careful examination of reviews posted on different online platforms. These products — sleeves, braces, and splints — help you get rid of your bunions from the comfort of your home.
Frequently Asked Questions
Can you straighten a bunion without surgery?
Yes. Fortunately, a lot of people can straighten their bunions without surgery. Home remedies, orthotics, and other therapies are options for pain reduction.
How long should you wear toe separators for bunions?
You can wear the toe separators for approximately 10 minutes at a stretch. Then, you may gradually increase the amount of time you wear them.
How can I stop my bunion from getting worse?
Make sure your shoes fit properly and do not pinch your feet. Perform activities to strengthen your feet and stretch out your bunions. Also, avoid wearing high heels to stop bunions from getting worse.
Is walking barefoot good for bunions?
Yes. In the early stages of bunions, going barefoot is preferable. The toe joints become stronger when you go barefoot, which is crucial for maintaining excellent foot health.
Recommended Articles: