10 Best Burberry Perfumes For Women That Are Irresistible – 2023
Rejuvenate your senses and keep smelling great with long-lasting luxury perfumes.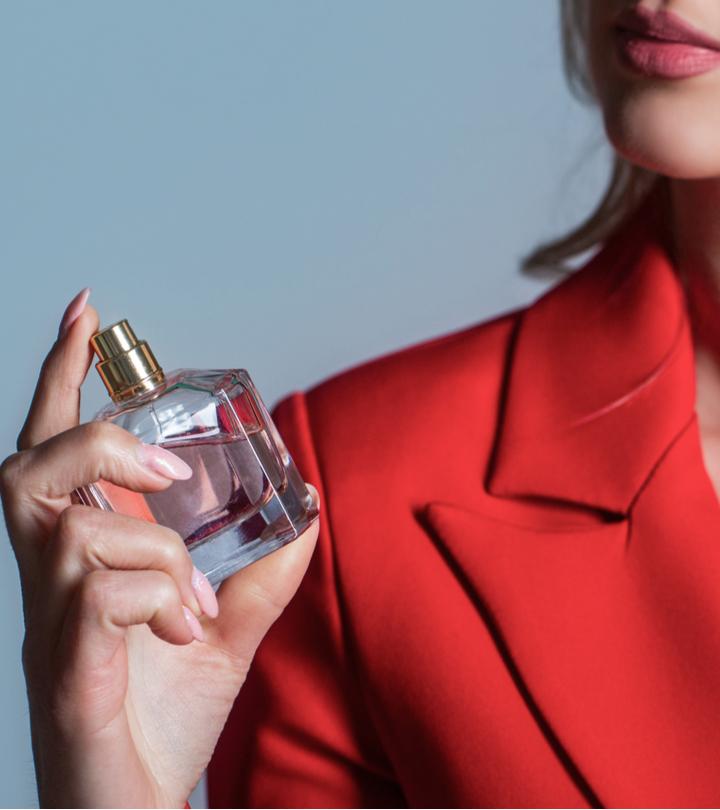 The best Burberry perfumes are a perfect balance of old-school charm and contemporary energy. The brand offers a delightful palette of fragrances that evoke the London aesthetic. These perfumes are a modern woman's best companion and cater to all her moods.
The Burberry perfumes evoke sensations that remind one of a London rainy day or a perfect romantic evening. So, if you are someone who enjoys classic fragrances and sophisticated scents, these Burberry perfumes are the right fit for you. Check out our top 10 best Burberry perfumes that will keep you feeling confident and smelling irresistibly good all day. From floral scents with sensual notes to the best oriental fragrances, this list has them all. Go ahead and check them out now!
10 Best Burberry For The Classy Woman In You
If you're looking for a refreshing perfume that is ideal for every occasion, the Burberry Women Eau De Parfum is the perfect buy for you. Its fresh and cherry fragrance comes with just the right blend of a sensual invigorating scent, and every note unfurls an entirely different experience. Its top fruity notes of blackcurrant, fresh green apple, and bergamot make for a bright and tempting fragrance. This Burberry perfume for women is also enveloped with rich and sensual heart notes of cedarwood, jasmine, moss, and sandalwood. Added to this are warm base notes of musk and vanilla that provide another layer of fragrance to this sensory symphony. Check out this video for a detailed review of the product.
Pros
Fresh and sensual fragrance
Long-lasting
This signature scent is floral but not overpowering
Its fragrance is not sticky, cloying, or overly sweet.
Cons
Price at the time of publication: $95.0
Burberry Weekend Eau De Parfum is exactly what its name claims to be. This bottle of perfume gives you a light, feminine fragrance that is classy and modern. Top notes of tangerine, tree sap, and Reseda plant give this product a sheer scent that's refreshing and citrusy. This product has delicate floral notes of wild rose, peach blossom, iris, and hyacinth, invigorated by a splash of nectarine that creates a light and floral scent. The base notes of cedarwood and sandalwood add a layer of relaxed and fresh fragrance. Wearing this Burberry London perfume can make you feel like it's still spring, and if that sounds good to you, the Burberry Weekend Eau De Parfum can be your perfect companion. Take a look at this video to learn more about the product.
Pros
It has a soft and sweet fragrance
Mild and gentle
Has a citrusy delightful scent
The floral fragrance is not overpowering.
Cons
It may not be long lasting.
Price at the time of publication: $61.67
Here is a floral perfume that seamlessly transitions from an ideal scent for a lovely Sunday brunch to a sophisticated dinner party. Burberry London Eau De Parfum has gentle top notes of rose and honeysuckle combined with deep heart notes of jasmine and peony and a tinge of fresh clementine zest. Its base notes of sandalwood, musk, and patchouli lend a subtle warmth to this mesmerizing experience. Contained in a glass bottle with a check fabric cover, this perfume is stylish in its look and fragrance.
Pros
Has a sweet blend of honeysuckle
The fragrance is not overpowering
Has a floral but clean scent
Long-lasting fragrance
Cons
Price at the time of publication: $98.0
What can be more charming than a refreshing, oriental fragrance? Burberry Brit Eau De Parfum offers you just that. This product certainly deserves to be on your must-have list with the perfect blend of sugar and spice. It has top notes of Italian lime, icy pear, and crisp green almond that add a playful and upbeat touch to this perfume. While heart notes lush white peony and sugared almond male for a soft floral scent, the base notes of this product are a mix of warming dry amber and mahogany with the calming essence of vanilla and tonka beans. Trust us when we say you cannot miss out on this one!  Watch this YouTuber's honest review to get a better idea about the product and its features.
Pros
Not too musky or floral
Has an oriental fragrance
The scent is not overpowering
Its size is perfect for travelling
Cons
The scent might be too weak for some
Price at the time of publication: $80
Here's a popular Burberry perfume that has a feminine fragrance with a contemporary, refreshing, and floral tone. It is layered with top notes of the mandarine, mignonette, and sage, which merge effortlessly with the delicate heart notes of cyclamen, rose hip, hyacinth, iris, nectarine, peach blossom, and violet root. The subtle nectarine fragrance along with the base notes of sandalwood, musk, and cedar wood make for an exquisite relaxed, and fresh scent.
Pros
Subtle refreshing fragrance
Long-lasting fragrance
Sweet-bitter note
Good packaging
Cons
Price at the time of publication: $61.67
This product is another great buy in the Burberry Brit for her series of perfumes. Burberry Brit Sheer Eau De Toilette has a fruity and lively fragrance with sparkling notes of pink peony, black grape, and a touch of musk. This light and airy perfume is perfect for a romantic evening and contains a beautiful floral blend of peony and peach blossom, uplifted by pineapple leaves. The sensual aroma creates a bright fragrance that can lift your spirits.
Pros
Has a very clean smell
A soft, feminine fragrance
The scent is not overpowering
Has a subtle and balanced fragrance.
Cons
The scent may not be ideal for nighttime
Price at the time of publication: $56
Burberry Touch for women is a perfume that offers you a warm oriental fragrance that is seductive and vibrant. Its fruitiness is derived from California orange, blackcurrant, dewberry, and subtle rose oil. Top notes of jasmine, madonna lily, and tuberose with a delicate hint of peach and raspberry create a floral yet sensual fragrance. In comparison, the base notes of this Burberry perfume add an element of warmth that completes this delightful experience. The base notes of cedarwood, oakmoss, and vanilla allow for a soothing fragrance apart from adding warmth to this perfume.
Pros
Has a warm, oriental scent
Long-lasting fragrance
Ideal for people who are interested in fruity, classic scents
Can be your go-to perfume for any occasion
Cons
The scent might be too strong for some.
Price at the time of publication: $81
My Burberry perfume brings alongside it a remarkable origin story. Taking a page from the history of British design and skill as well as being inspired by the infamous trench coat, My Burberry reminds you of the fragrance of a London garden after it rains. This Burberry perfume has a very modern scent, and it is a British grand floral fragrance that consists of delicate heart notes of rose mixed with a pleasant touch of geranium leaf.
Pros
The scent is not overpowering
Has a delicate, feminine fragrance
Features notes of sweet pea, bergamot, and golden quince
Has a long-lasting fragrance
Cons
Price at the time of publication: $84
Here's another great Burberry perfume for women with an oriental fragrance. What makes this product great is its wonderful blend of sweet and spice aromas. Its top notes of Italian lime, icy pear, and crisp green almond give this perfume a bright and fresh fragrance. In contrast, the soft heart notes of lush white peony and sugared almond make for a sweet floral scent. Base notes of amber and mahogany, along with vanilla and tonka beans, add a soothing warmth to this Burberry perfume.
Pros
It has a pleasantly subtle fragrance
Has a fresh and clean aroma
It has a long-lasting fragrance
Has a balanced smell, neither too floral nor too spicy
Cons
The smell might not appeal to younger women.
Price at the time of publication: $75
This Burberry perfume for women has an intense and energetic fragrance that is perfect to start your day with. This perfume can be a delightful moodsetter, whether it's another day at your office or a weekend with friends. It has warm top notes of bergamot, cardamom, pink pepper, and mandarin, while its heart notes of Ceylon tea, iris, and bluebell add a floral scent to this perfume. If you are looking for a bright and upbeat fragrance, Burberry the beat is the right choice for you.
Pros
Has a sensual fragrance
Heart notes of Ceylon tea
Perfect for daytime
Suitable for travelling
Cons
The fragrance might be too floral and warm for some.
Price at the time of publication: $52
It is time to add some Burberry fragrances to your beauty collection if you are a perfume enthusiast. However, before you go out and purchase a perfume for yourself, make sure that you go through our shopping guide first so that you can select the scent that is the right match for you.
Things You Should Be Aware Of Before Purchasing Burberry Perfumes
Your own unique aroma, the amount of moisture in your skin, the microbiota that lives on your skin, and the temperature of your body are all factors that influence the sillage of a perfume. Prior to making a purchase, it is best to try on a few samples of the perfume you are interested in because the same fragrance may smell different on you than it does on someone else.
If you are purchasing a Burberry perfume online, make sure to read customer reviews and descriptions to understand more about the perfume's sillage before making a purchasing decision.
Choose fragrances that are made with high-quality and organic components. This will guarantee that you smell as natural and earthy as possible. Some common ingredients that are preferred include amber, vanilla, jasmine, citrus, and patchouli. However, read the label carefully to make sure that you are not allergic to any of the ingredients listed.
If you travel a lot, you need a Burberry fragrance that comes in a container that is easy to transport, and spill-proof. This means that it shouldn't be in a bulky bottle that may get damaged in transit.
If you suffer from allergies to strong odors, you should be sure that the perfume you opt for will not trigger an episode of sneezing. If this is the case, you should go for perfumes that are not as strong.
If you want to choose a Burberry perfume that you can use every day, you should look for scents that have a long-wearing effect without being overbearing.
Although not everyone needs a scent with a long-lasting effect, the vast majority of people do. Choose a Burberry perfume that will linger on you for an extremely long time or at least until you take a shower if you want to create a trademark aroma. This will eliminate the need for you to take the perfume bottle around with you.
Pricey does not mean quality. However, it has been found that the costlier Burberry perfumes tend to be of premium quality, so you may want to consider spending a little extra money if you want to get the most out of your purchase. Considering that you will only need a small amount of the product and that it is likely to last you for a considerable amount of time, you should consider adding expensive perfumes to your collection.
Frequently Asked Questions
How long does a Burberry perfume last?
Most Burberry perfumes are long-lasting and their fragrance lingers up to a few hours after use. But it is important to check the perfume specifications if a long-lasting fragrance is a must for you.
Are Burberry perfumes cruelty-free?
Burberry perfumes are not certified as cruelty-free by any organizations. Moreover, their products also don't claim to be the same.
Which Burberry perfume smells best?
No one Burberry perfume can be labelled as the best because fragrance preferences are extremely subjective. So, instead of looking for the best Burberry perfume, it is better to think about what you expect from a product and then find a Burberry perfume that is best for you. For instance, if you would like to have a classic fragrance that is inspired by London's culture then Burberry London Eau De Parfum might be the right choice for you.
What was the first Burberry perfume called?
"Burberry for men " was the first perfume from the brand launched in 1981.
How do you know if your Burberry perfume is long-lasting?
Check the base notes and key ingredients of your perfume. If the perfume contains vegetable oil, it might expire soon. However, perfumes that contain 'no fat' last the longest. Also, citrus-based perfumes fade away faster, whereas woody scented perfumes last longer.
Does fake Burberry perfume smell the same?
While a fake Burberry perfume may initially smell similar to an original one, the scent will fade faster. Original perfumes have better longevity and sillage.
Recommended Articles