10 Best Burgundy Hair Colors Available In India
Add depth to your tresses with this versatile hue and make heads turn wherever you go!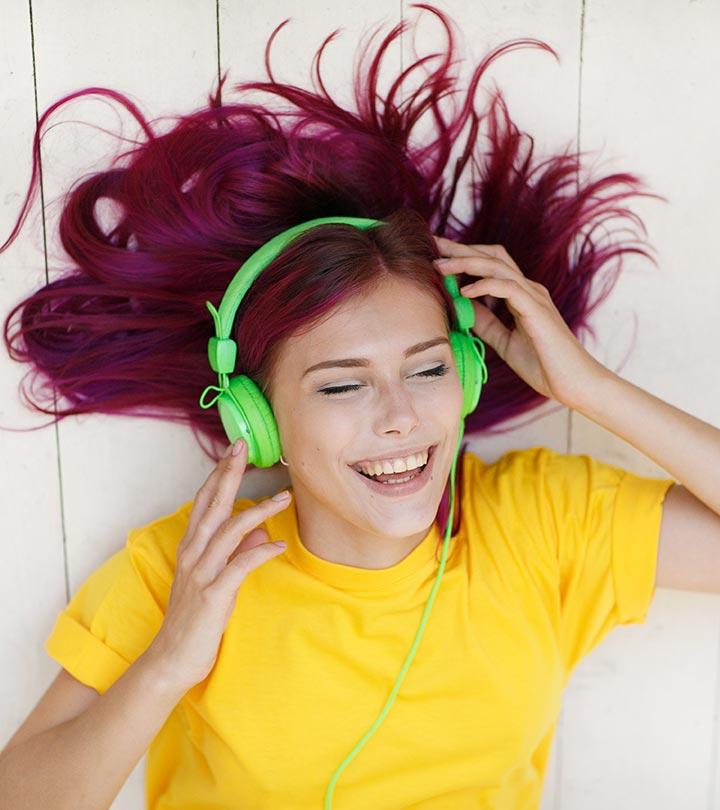 When a woman is sporting her burgundy hair, leave her alone because she's going through her 'diva' phase.
That rich glistening color of the wine, that gloriously deep shade of lipstick, that voguish little dress – everything looks better in burgundy!
Dubbed as the 'shade of fall,' this color can never go out of season. Are you considering this magnificent color for your hair? You've made a great choice! If you are worried about which product to choose, you have come to the right place. Here's a list of the best burgundy hair color products available in the market right now. Take a look!
Top 10 Burgundy Hair Color Products In India
Want to experiment with something subtle yet smashing? If yes, you need to get your hands on this beauty. L'Oreal Paris Casting Creme Gloss is an ammonia-free product that gives you a gorgeous and natural-looking hair color. This conditioning hair color imparts glossy, shimmering tones that last up to 28 shampoos. It claims to nourish your hair with its new Royal Jelly Gloss Treatment that leaves your hair feeling healthy and satin soft. The color is best suited for wheatish skin tone and goes well with darkest brown to black hair color.
Pros
Pleasant fragrance
4x glossy shine
Adds shine to your hair
Covers gray hair
Cons
Color takes time to develop
Price at the time of publication: ₹630
This color is made for Indian beauties to add an extra oomph to their natural hair. The creamy formula contains a blend of coconut, olive, and almond oils. These nourishing ingredients condition your hair while coloring it. The non-drip formula is easy to use. The color lasts up to 8 weeks. This color claims to cover gray hair and enhance the health of your hair and scalp. It keeps your locks soft and maintains its glow for weeks.
Pros
Comes with a conditioner, developer, and gloves
Adds shine to your hair
Smoothes dry strands
Affordable
Cons
None
Price at the time of publication: ₹180
This burgundy color by L'Oreal can transform your look completely and help you flaunt your best facial features. It claims to protect your hair in three ways – by sealing, replenishing, and conditioning your hair. The serum infused with ceramide protects each strand from breaking. It also contains a pro-keratin complex that strengthens the follicles from within and nourishes each hair strand. This new and improved formula adds softness and shine to your hair instantly. This is the perfect burgundy shade to add vibrancy to dull and lackluster hair.
Pros
Comes with a comb applicator
Maximum coverage of gray hair
Highly pigmented color
Nourishes the scalp
Cons
Price at the time of publication: ₹664
This dazzling hair color can turn you into a dainty damsel with its rich and radiant shade! Coming from India's premier salon, BBlunt brings you this stunning 3-part hair color for salon-like gorgeous hair. It contains a unique shine tonic that gives you a shimmering hair color. Created especially for Indian hair, this color provides 100% gray coverage. It is ammonia-free and lasts up to 8 weeks. It works well on dark to medium brown hair.
Pros
Creamy consistency
Does not damage your hair
Natural-looking color
Adds shine to your hair
Affordable
Cons
Insufficient amount of developer
Price at the time of publication: ₹179
Revlon's Color Silk Technology is all about soft, shiny, and radiant hair. This deep, enriching hair color is warm and mellow. With the new 3D Color Gel Technology, this product gives you a multi-tonal, long-lasting color. It is formulated with a special combination of dyes, conditioners, and polymers. It not only boosts your hair color but also adds shine to dull and lackluster hair. Additionally, Revlon Colorsilk contains a unique UV defense mechanism that protects your hair color and prevents it from fading.
Pros
Natural-looking color
Contains silk proteins that condition your hair
Pleasant fragrance
Prevents your hair from drying out
Cons
Revlon brings you Color 'N Care technology, which beliefs in giving a rich hair color to its users. This formula is enriched with coconut and olive oils and leaves your hair feeling soft and healthy. This dazzling color can make you look like a diva with its natural and elegant appearance. It also promises to give you a makeover by adding luminous shine to dull strands. It claims to nourish each strand while coloring it. The radiance of this burgundy hair color lasts for several washes.
Pros
Does not dry out your hair
Fades gracefully
Color does not bleed
Easy to apply
Cons
Color takes time to develop
Price at the time of publication: ₹200
This hair color is enriched with aloe vera and milk proteins. The goodness of these ingredients nourishes your hair as you color it. It is ammonia-free and saves your hair from damage and breakage. It comes with two pre-measured sachets, a colorant, and a developer. So, you can simply mix sachets without any hassle. This rich burgundy color gives you a youthful look and makes your hair appear glossy.
Pros
Long-lasting color
Does not create brassy tones
Turns your hair silky and soft within one use
Long-lasting shine
Cons
Price at the time of publication: ₹108
This gel color contains nine natural herbs that give a natural reddish tone to your hair and prevent split ends, dandruff, and hair fall. Herbs like henna, jojoba oil, and sunflower nourish your scalp and make your hair soft and silky. It contains UV defense technology that prevents your hair color from fading. It has a subtle orange fragrance. This color is ideal for first-timers as it has a balanced undertone that is neither too dark nor too vibrant. It is the perfect choice for gray coverage. This color is suitable for all Indian skin tones.
Pros
Tested and recommended by doctors
Repairs damaged cuticles
Fades gracefully
Maintains hair elasticity
Cons
Color takes time to develop
Price at the time of publication: ₹587
The Vegetal Bio Color helps color your hair with maximum pigmentation. The color looks natural and leans more towards a dark undertone. If you are planning to add a little burgundy zing to your natural hair, this color is ideal for you. Since it is made with organic ingredients, there are no side effects. Besides coloring, it rejuvenates and nourishes each hair strand and leaves you with healthy, soft, and silky hair. It is created exclusively for those with sensitive skin, and this hair color is free of ammonia and PPD. The color fades gracefully, leaving no brassiness behind.
Pros
Reduces hair fall
Adds shine to your hair
Strengthens follicles
Affordable
Cons
Price at the time of publication: ₹554
This cream-based hair color is enriched with natural oils that nourish your hair as you color it. It gives your hair a rich shine with long-lasting, natural-looking color. The texture is creamy and does not drip, so no messy stains! The color is distributed evenly and penetrates each hair strand from root to tip. It contains an advanced conditioning formula that maintains the pH balance and makes your hair incredibly soft and silky. It ensures 100% coverage of gray hair.
Pros
Adds shine to your hair
Prevents your hair from drying out
Improves the texture of your hair
Suitable for all hair types
Cons
Price at the time of publication: ₹189
Listed above are some of the best burgundy hair color products available right now. But before investing in any of them, consider a few vital points that are listed in the guide given below.
Things To Consider When Buying Burgundy Hair Color 
It's essential to choose a hair color that compliments your skin tone as it enhances your appearance. If you are unsure that burgundy hair color will go with your skin tone, then consider conducting a small test. Simply wear a burgundy top or dress and see how it looks with your skin tone. Avoid this hair color if it washes out your complexion.
Now, it is time to determine which hair coloring style you want to use. Global hair coloring is not recommended if you are trying burgundy hair color for the first time. Instead, opt for an ombre or balayage look to make sure it suits you.
If you are seeking professional help to color your hair, then there is not much to worry about. But if you are planning to do it all by yourself, go through the instructions printed on the box properly. Permanent hair colors contain many chemicals and additives. Therefore, it is imperative to read all the steps carefully to prevent harming your hair.
Since hair dyes contain many additives, they may cause allergic reactions or skin sensitivity. Therefore, it's advised to follow the user reviews before applying any hair color, especially if you are prone to allergies and irritation. Additionally, conducting a patch test is highly recommended.
Frequently Asked Questions
How is burgundy hair color different from red or maroon?
Burgundy is a rich, deep shade with a purple undertone, which creates a wine-like hue. Red is more vibrant and bright, while maroon is a deeper and darker shade with a brown undertone.
Can I achieve burgundy hair color on dark hair?
Yes, you can achieve burgundy color on dark hair by bleaching your hair to a brown or red tone to get your desired shade.
How do I maintain burgundy hair color?
You may use color-safe shampoos and conditioners to minimize fading and leave-in treatments or hair masks for extra nourishment. Additionally, you may use red color-depositing conditioners to refresh your hair color between salon visits.
How often should I touch up my burgundy hair color roots?
The frequency depends on the individual's hair growth rate and the contrast between their natural hair color and the burgundy shade. It is recommended to go for touch-ups every 4 to 6 weeks to maintain the vibrancy of the hair color.
Can I lighten my burgundy hair color without completely removing it?
Yes, you may use a hair toner to lighten your burgundy hair color mildly. Also, you can use bleach for a short time to lighten your hair to the desired color.
Recommended Articles:
Best Red Hair Color Products Available In India
Best Hair Colors Available In India
Best Streax Hair Colors Available in India
Best L'Oreal Hair Color Products Available In India