The 13 Best Butt-Lifting Leggings Of 2022 You Must Try Right Now
Accentuate your figure and give your confidence the right boost without going to the gym.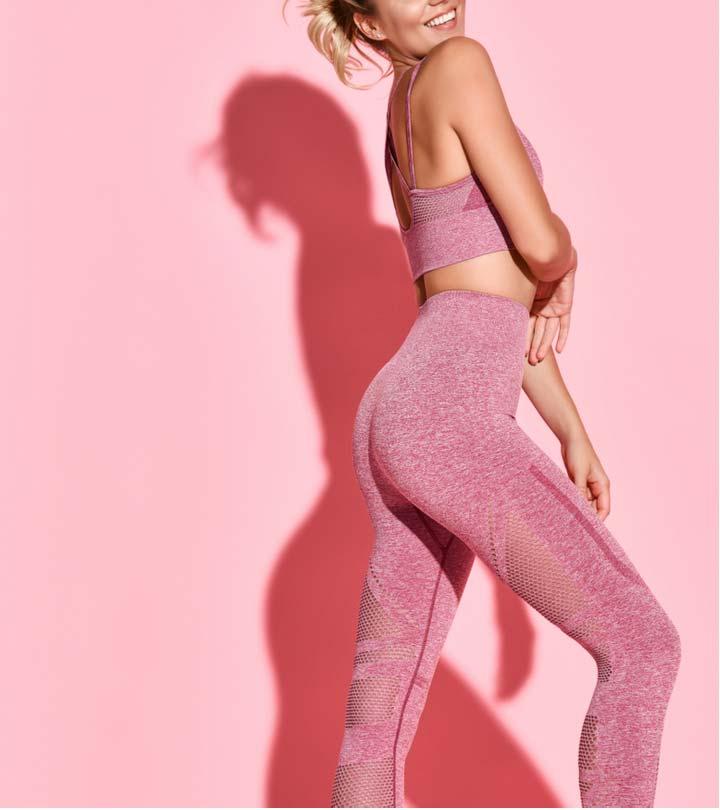 For all our ladies that have been slogging it out in the gym but still cannot get that Kim-K butt, here's some great news! The market now offers the best butt-lifting leggings that will give your sagging buttocks an instant lift. These leggings are like lip plumper but for your butts. With evolving trends and times, the fashion world has jazzed up its game to offer you leggings made of various fabrics that help you flaunt your well-rounded bottom.
So, if you want to nail the perfect butt just like the peach emoji, without sweating it out in the gym for months on end, these leggings are your new BFFs. They have your back (quite literally)! Given below is a list of the best butt-lifting leggings available on the market right now. Keep reading to check them out now.
What Do Buttlifting Leggings Do?
Buttlifting leggings are incredibly stretchy. That said, these leggings elevate your buttocks with a certain taut. Buttlifting leggigns come in wide waists or with scrunches to accentuate your butt. Thanks to strategic stitching, these buttlifting leggings perk up your peach to help you escape a pancake butt situation.
13 Best Butt-Lifting Leggings To Lift Your Confidence
Treat yourself with some texture to boost your booty confidence at the gym, mall, or convenience store. The A Agroste's textured bubble fabric is uniquely built to prevent sweltering and ripping with its excellent flexibility and sweat wicking features. The scrunch butt leggings come in a 4-way stretch that guarantees you no pilling, no fading, and squat-resistant. The bubble-textured material feels like a second skin that tightly yet gently hugs you, keeping things in place and tucked in. These body-sculpting leggings are made with a butt lifting flat-lock seam mechanism that are the secret to a bootylicious look. They're made to be squat-proof, non-fading, stretchy, and high-waisted to offer tummy control. These leggings offer extreme comfort and feel light, making them ideal for fitness enthusiasts and as an everyday athleisure.
Pros
 Not see-through
 4-way stretch
 No pilling
 Dry wicking
 Anti-microbial
 Available in 45 colors
Cons
 Could slide down during intense activities
Wanna hide the lazy tummy but also feel comfortable? Try these ruched butt-leggings from MOSHENGQI as they promise an ultra tummy tucking band with their much breathable and stretchy fabric. Made of ultra-soft fabric that feels smooth against the skin, these leggings allow unrestricted movement. Prep your yoga classes with these lift-up leggings as they're squat-proof, sweat-absorbing, seamless, and lastly, tight fitting. Pair these booty-lifting workout pants up with your favorite tee or active wear and be on your way. The high waistband of the leggings are sure to keep you tucked in all the right places while the push-up feature gives a good lift to your butt.
Pros
 Ruched butt lift with high-rise waistband
 Seamless, breathable, and comfortable
 Can be worn for any occasion
 No pilling and fading
Cons
Where leggings and pockets seem to be age-old enemies, Ododos did a fantastic job at creating a kind of capri leggings that come with pockets that don't look bulky on the eyes. Featuring ACEPORA fiber, these leggings have brushed soft fabric that adds to the comfort factor. Made with a high quality blend of polyester and spandex along with double knit, it allows you to stretch as much as you want without losing its shape. The extra-wide waistband keeps your muffin top tucked in while cutting them right at the calves and gives it a cool look for when you hit the gym, or elsewhere. These butt-lift leggings hold your shape firmly and also provide deep pockets for your day-to-day accessories.
Pros
 Buttery soft texture
 4-way stretch
 Gusseted crotch
 Breathable fabric
 Chafe-free, ergonomic seams
 Lightweight
 Opaque
 Moisture-wicking
 Has big and deep pockets
Cons
 Could be a tad see-throughs
Ready to tuck in your belly goodbye? These leggings' butt lift feature is no joke. The non-cellulite and stretchy fabric engulfs the itty bittys you don't want to show while you flaunt your bubble butt in leggings. These leggings provide you with the best comfort and protection during extreme to no activity. Its scrunch butt texture hugs your waist and elevates your confidence and booty. The textured design is made to accentuate the butt with its push-up effect, making them the perfect workout leggings.
Pros
 High waisted
 Textured and scrunch design
 Comfortable, doesn't roll down
 Ideal for lounge, yoga, running, etc.
Cons
One of the best lifting leggings is this one from Varuwy. The 4-way stretch and non see-through fabric makes these leggings a great choice for a slim, compressed, and contoured look. The ruched design gently perks up your tush with a streamlined look which has an integrated fabric composition of 90% polyester and 10% spandex. The cloth material itself restricts any fading, pilling, chafing, and provides you with the utmost feel of comfort. These thigh-friendly gym leggings that make you look good also secure and prevent any belly bulge or roll downs for when you're on the move.
Pros
 Not sheer or see-through
 Does not pill, fade, or chafe
 High quality fabric used
 Feels like second skin
Cons
 Runs big; need to be sized down
When you think of plumpy and cheeky leggings, think Fittoo owing to their ruched design for yoga pants. Keeping things in all the right places, you can, without a doubt, proceed with high intensity activities. They're neither too thick and non-breathable, nor are they see-through and thin, making them an ideal gym-wear. Its top-quality compressed and soft waistband fits like a glove to give you a smooth shape. You can also forget the feeling of chafing or any form of irritation as these booty-enhancing leggings give you a relaxing fit as you go about your day. Strategically placed ruches or ruching enhance your behind, keeping you looking like a snack.
Pros
 Properly sewn ruching to plump your butt
 Made from 92% polyamide and 8% spandex
 Enhances butt
 Breathable, non chafing, no pilling
Cons
 Weak at hiding cellulite
 Tends to be a bit see-through
Don't let the name fool you. These lift up leggings are versatile and apt for any given situation be it lounging, high intense workout, yoga, and whatnot. A perfect fit to hide cellulite, muffin top, and uneven bulge-outs, a special scrunch at the back holds your buttocks perky and rounded while cinching up your waist. The pants are also extremely good at kicking off sweat or moisture buildup. Grab a pair of these and show off your sculpted body for social media.
Pros
 4-way stretch
 Moisture wicking
 Butt lifting textured design
 Quick drying
Cons
 Can be tad itchy and tight
These high-quality seamless contour leggings are reinforced with flatlock stitching to minimize rubbing or irritation. The ultra-soft, non see-through fabric fits taut and hugs your skin so that it won't slip or fall down. Its super stretch feature contours and sticks to your body to give you a smooth shapely silhouette. The wide, tummy control waistband offers much comfort yet contained space to hide the rolls. These leggings are completely opaque and make an excellent replacement for a shaper too!
Pros
 Wide tummy control waistband
 Seamless
 Ultra soft
 Breathable and sweat-proof
Cons
If you came here looking for the on-trend TikTok leggings, then these leggings with butt lift are the ones you should get your hands on. Perk up your booty with its push-up feature that enhances your butt by making it look like a crescent from the sides. These lifting leggings are designed to do one thing, and that's to hug your curves and make that booty pop. The thick and anti-cellulite material saves you the faux pas that other non squat-friendly leggings don't. You won't even have to worry about feeling uncomfortable or icky as the fabric is sweat-resistant.
Pros
 Scrunch butt-lifting leggings
 Sweat wicking
 Thick and comfortable
 Breathable
Cons
 May not be suitable for short-heighted people
The FLYILY high waist yoga pants control and tuck in your tummy with their super stretch mechanism that holds everything in place. You can be comfortable and fashion-forward with a pair of these booty-lifting workout pants. Its 4-way stretch fabric supports your shape and makes you look proportioned and fit. So, if your agenda is to make a statement look with your butt popped out, these sculpting leggings will not disappoint.
Pros
 4-way stretch
 Tummy tucking
 Sturdy and supportive
 Extremely comfortable
Cons
If you're one of those people who loves to sift through a monochromatic wardrobe, these butt-shaping leggings from Aimilia rule the turf. The leggings come with a scrunched elastic design that lifts up your cheeks to flaunt them to the world. Made with a blend of polyamide and spandex, these booty yoga pants offer you enough stretch as well as coverage for any form of activities. The wide and anti-loosening waistband is your tummy's new best friend as it hides away any signs of extra fat.
Pros
 Soft and comfortable
 Ample enhancements to butt and thighs
 Thick stretchy material
 Squat-proof
Cons
Perform your favorite activities in these seamless workout leggings from Aoxjox. These professional-grade leggings are best for most of your high-intensity activities or simply when you're out buying groceries. These are not to be mistaken with compression pants but are squat-proof nonetheless. Made with polyamide, polyester, and elastane, these leggings make up for extremely stretchy and comfortable wear throughout its usage.
Pros
 Extremely soft and skin-like material
 Seamless
 Squat-proof
 Superbly comfortable
Cons
You're not too far from achieving a 3D peach butt at your disposal. These leggings push up your booty with their ultra-soft and gentle to the skin fabric that remains latched on to you. The nylon-polyester blend of the seamless leggings gives you the best shape that you can think of, and the anti-cellulite butt-lifitng fabric with unique 3D design adds to it. The leggings feature 4-needle and 6-thread sewing technology that makes the fabric extremely breathable as well as lightweight. The strong elastic sealing wraps around your tummy and conceals the chances of any fat spillage. They also offer a decent amount of compression needed for when you work out, which gives you more reasons to pick these when you hit the gym!
Pros
 Suited for all occasions
 3D peach butt effect
 Tucks in the tummy
 Comfortable during workouts
Cons
 Is not entirely non-see through
Due to the current trends on social media, cult favorites and fast trends are on the rise for their short-lived but extensively raved fame. Booty lifting leggings are one such invention in this process that turned girls (and guys) crazily obsessed to find the perfect pair and showcase their bubble butt in leggings. Ahead, you will see some of the tips to find your best butt-lifting leggings.
Things To Consider When Buying Butt Lifting Leggings
Most butt-lifting leggings come with their backsides scrunched up. What happens is that a sewing technique called ruching helps create texture to your pair of leggings that give you the appearance of an enhanced, uplifted booty.
The higher the waist, the tighter and plump your butt will look, so try opting for high waisted leggings.
Any form of design is created to play with our minds. Thus, with certain designs and textures like honeycomb or striped, it unifies your attention to a singular thing and that is your butt because it is the only protruding part of your body when all the other parts of you are cinched up.
Knowing the length of the garment as well as the inseam length helps you be sure of the item fit and design.
Why Trust Stylecraze?
Priyam Gupta, the author of the article, is a fashion enthusiast. She continuously checks various fashion trends and brings the best to the readers. The curated list of the best butt-lifting leggings is put together after thorough research and reading feedback on trusted platforms. These leggings are a must-have to give your sagging buttocks an instant lift. In addition, these are seamless, breathable, and comfortable.
Frequently Asked Questions
What type of leggings makes your bum look bigger?
High-waisted leggings with two-toned designs make your bum appear bigger. Ombre-colored leggings add volume to your bum and lift its look.
Do compression leggings lift your butt?
Yes. Leggings with high compression power hold and lift your bump, making it appear more prominent.
What fabric makes your bum look bigger?
Fabric with scrunched texture enhances the shape of your booty and makes it appear fuller.
Do TikTok leggings make your bum look bigger?
Yes. TikTok leggings have a compressive waistband and patterned fabric. They slim down your waist area and make your bum appear rounder and fuller.
How do butt-lift yoga pants work?
Butt-lift yoga pants gather the fabric between the butt cracks and accentuate the shape of your bum. The stretchy and scrunchy fabric of the pants lifts your booty and makes it appear fuller.
Can you lift a saggy bum with leggings?
Yes. Wear butt-lifting leggings with scrunchy textured fabrics to lift and hold your saggy bum taut.

Related Articles
Best Leggings For Big Butts And A Flattering Fit
Best Scrunch Butt Leggings Your Booty Will Love!
Best Leggings For Women For Style And Comfort
Best Leggings For Summer That Are Ideal For Your Sweatiest Workouts