5 Best Butt Masks And Creams For Women To Try In 2023
With the added lift and glow to your booty, you'll never want to hide it under flares again.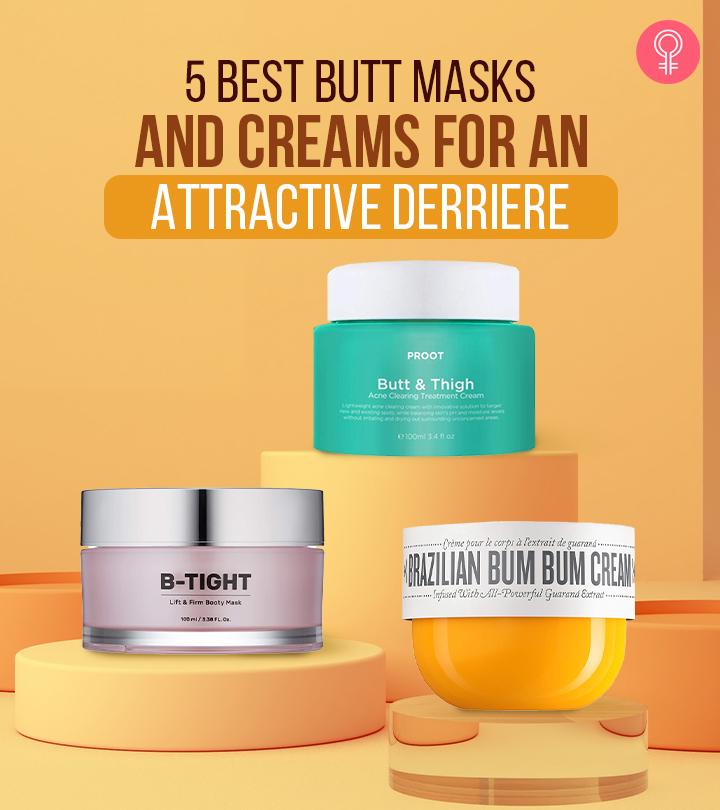 Butt masks and creams are gaining more and more popularity in the skincare industry. Just like the masks in your routine like a face mask, eye mask, and hair masks, these masks come with a variety of benefits. If you want to flaunt your booty at the beach, but the acne or hyperpigmentation is making you shy away, use the best butt masks and creams. They help reduce the issues like acne, cellulite, irritation, and hyperpigmentation on butts. This article explores the 5 best butt masks and creams. Scroll down and check them out.
5 Best Butt Masks& Creams For Women
The quick-absorbing Brazilian Bum Bum Cream from Sol de Janeiro is crafted with caffeine-rich guarana extract to promote micro-circulation and deliver smoother-looking skin. It contains a nourishing and skin-loving blend of cupuacu butter, acai oil, and coconut oil to lock in moisture and support skin elasticity for a firm and youthful appearance. The cream is deliciously scented and gives your butt a visible lift and glow.
Key Ingredients: Guarana extract, Cupuaca butter, Acai oil, and Coconut oil
Pros
Fast-absorbing
Non-greasy
Vegan
Cruelty-free
Paraben-free
Reef-safe
Cons
Did You Know?
Plant-based collagen prevents collagen breakdown while also assisting in collagen synthesis without causing any negative side effects.
Price at the time of publication: $22
The Anese Collagen Booty Mask is rich in nutrients that help soothe, hydrate, and deeply moisturize the skin. The collagen in the formula helps restore skin elasticity. The creamy yet lightweight mask also comprises kaolin clay that makes the skin soft and supple and fades fine lines and stretch marks. It also absorbs excess oil and gently exfoliates the skin to unclog and cleanse the pores. You may apply this intensely hydrating mask to cellulite and other skin areas that need firmness and care.
Key Ingredients: Kaolin Clay, and Collagen
Pros
Lightweight
Creamy texture
Non-comedogenic
Hydrating formula
Vegan
Dermatologist-tested
Paraben-free
Silicone-free
Suitable for acne-prone skin
Cons
None
The retexturizing and detoxifying Bawdy Slap It Caffeine Butt Mask contains natural collagen derived from plants to promote elasticity and contour the butt lines. It is infused with caffeine to clarify the skin, improve texture, and tone your butt to keep it smooth and taut. The aloe leaf juice, goji berry, and orange peel extract in the formula revitalizes, exfoliates, and reduces the appearance of blemishes. This easy-to-use mask comes in a pack of two and fits perfectly to give your butt the special attention it deserves.
Key Ingredients: Caffeine, Aloe leaf juice, Goji berry, and Orange peel
Pros
Vegan
Paraben-free
Sulfate-free
Detergent-free
Urea-free
Cons
Price at the time of publication: $10
The Palmer's Coconut Oil Formula Body Firming Sheet Mask is a powerful blend of ingredients to tone areas like the buttocks, thighs, stomach, and hips. It is formulated with capuaca, guarana extract, and coconut oil to promote micro-circulation and provide deep hydration to the skin. The sheet mask also contains sweet almond oil to improve skin elasticity and keep it toned. This two-pack sheet mask is designed to fit body curves and contours perfectly.
Key Ingredients: Coconut oil, Brazilian guarana, and Capuaca butter
Pros
Paraben-free
Phthalate-free
Mineral oil-free
Gluten-free
Dye-free
Cons
Quick Tip
Many women swear by using coconut oil as a bedtime moisturizer for their bottoms because it is naturally antibacterial, anti-fungal, and hydrating.
Price at the time of publication: $9.38
The Latorice Butt Enhancement Cream is a 100% natural, plant-based formula that lifts buttocks, giving them a beautiful shape and appearance. It improves skin metabolism and the appearance of flat, sagging buttocks. In addition, it nourishes the butt muscles and promotes their growth, and reduces aging. The cream also prevents arteriosclerosis, improves soreness of the waist and the legs, and sedentary soreness. It is suitable for all skin types.
Key Ingredients: Angelica, Soy Protein, Collagen Peptide, Chamomile Extract, Shea Butter, Ginseng
Pros
Suitable for all skin types
Unisex
Lightweight
Plant-based
100% natural
Cons
May take time to show results
Price at the time of publication: $18.99
There are various brands available in the market that offer effective and safe skin care products specially made for the butt area. We are providing a buying guide that will help you in selecting these products.
Things To Consider Before Buying Butt Masks And Creams
It is very important to check the ingredients before buying skincare products for your butt. The ingredients to look for are guarana extract, cupuacu butter, acai oil, coconut oil, caffeine, witch hazel, licorice, asiaticoside, aloe leaf juice, goji berry, orange peel, soy protein, collagen peptide, chamomile extract, shea butter, ginseng, and madecassoside. Always choose lightweight, hydration-rich, and fast-absorbing formulas for butt masks and creams.
You must avoid butt masks and creams that contain harmful or harsh chemicals such as paraben, reef, artificial color, fragrance, sulfate, urea, detergent, mineral oil, phthalate, gluten, and dyes.
If you have skin issues on your butt such as blemishes, acne scars, or dark spots, choose products that include aloe leaf extract, goji berry, orange peel, and caffeine. It helps in reducing the appearance of blemishes. If the skin in your butt is dry, choose products that contain almond oil to improve skin elasticity and keep it toned.
It is vital to buy skincare products including products for your butt from reputable or trustworthy brands. A brand with a strong reputation never compromises on quality and offers you the best products at competitive prices. You can also try new brands if you want but it is suggested to go through the reviews and ratings of the brand before making your buying decision.
All the products in the list contain specific ingredients to provide you with targeted results – soft, smooth, and taut booty. Plus, all the products are fast absorbing and do not leave a greasy feeling. So, if you are ready for some booty-worthy experience, grab a product from the list for a happier and smoother derriere!
Why Trust StyleCraze?
The author, Shiboli Chakraborti, is a certified skin care coach. She recommends using butt masks and creams to eliminate hyperpigmentation or acne marks in that area. She conducted exhaustive research and examined online user reviews to curate some of the best products in this category. The products she recommends on this list can reduce issues like acne, cellulite, irritation, and hyperpigmentation on the butt and give you a beach-ready booty in no time!
Frequently Asked Questions
Do butt masks actually work?
Butt masks brighten, moisturize, exfoliate, and improve the tone and texture of the butt skin.
Does bum cream make your bum bigger?
No, bum cream will not make your buttocks bigger. However, it may help improve their appearance.
Do butt masks tighten butts?
Yes, butt masks tighten the buttocks because they stimulate collagen formation, which enhances skin flexibility and tightens loose skin.
How long does it take for the butt cream/mask to work?
It can take a month or more to see visible results and a butt cream or mask to work.
Is butt mask or cream pregnancy-safe?
Yes, butt masks and creams are safe during pregnancy, but always consult your doctor before using the product.
Recommended Articles
The following two tabs change content below.