10 Gorgeous Butterfly Tattoo Designs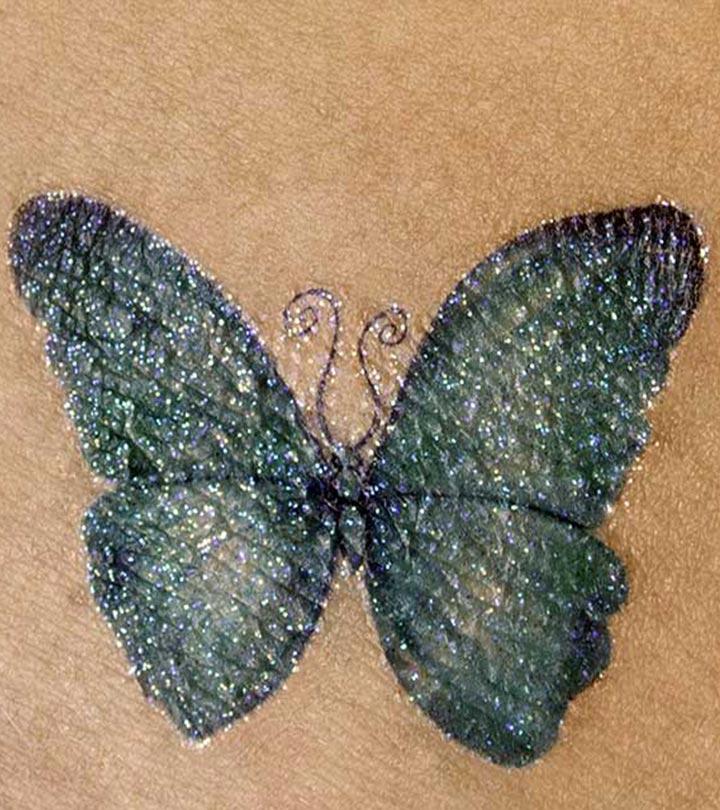 Butterfly tattoo designs are common yet exquisite to look at. They can give a person the right look that they would expect from a tattoo design. Butterfly tattoos have different meanings in different cultures and come in various designs. These designs can also be merged with other designs and can be made a part of much bigger design.
Butterfly Tattoo Designs For Women
Usually butterfly designs are worn by women as they add a feminine touch. The butterfly tattoo meaning is a symbolic representation of transformation, love and joy. If you are looking for butterfly tattoo design, you should definitely consider the following:
1. Large Butterfly Tattoo:
Large butterfly designs under the neck look really appealing with their vibrant colours and can be placed below the neck or on the back. It is guaranteed that it will not go un-noticed.
2. Butterfly Floral Tattoo:
Since floral designs are always in fashion, the butterflies used with these make them look even better when painted in a tattoo. This tattoo butterflies also symbolises the relationship between butterflies and flowers representing their breeding. And this design gives a very abstract look of butterfly being portrayed as a beautiful flower.
[ Read: OM Tattoos ]
3. Simple Butterfly Tattoo:
Some butterfly designs can be prepared simply at home or with the help of a tattoo artist. Such designs are colourful, glittery and can be done on any part of the body as shown below.
[ Read: Maori Tattoo Symbols And Meanings ]
4. Stickered or Temporary Butterfly Tattoo:
These designs are very famous in the temporary tattoo genre and are available as stickers in the market. These sticker tattoos are easy to apply and remove. They also give a glamorous look to the person and can also be placed anywhere on the body. Some of the best sticker tattoos are shown above.
[ Read: Tattoos For Women ]
5. Flying Butterfly Tattoo:
Some women like flying butterfly tattoo images and designs so much that they like to get tattooed with a series of butterflies which cover a large surface area. The image above depicts how these tattoos can be placed on the back as well as on the legs. The design, though wide spread, is very attractive owing to its vibrant design and colours.
[ Read: Tribal Dragon Tattoos ]
6. 3D Butterfly Tattoo:
These 3D tattoos are loved and appreciated a lot by women; and as for the 3D butterfly, it is the most sought after design by 3D tattoo lovers. Take a look at the design below and you'll understand why people go gaga over 3D tattoos.
[ Read: Tattoos are easy to apply and remove ]
7. Abstract Butterfly Tattoo:
Abstract butterfly designs are also loved by many. Some women like abstract butterfly tattoos and want them drawn on their ears or close to the navel. This also complements the idea of navel art for many. You can take ideas from designs like these which are shown below.
8. Radiant butterflies:
Shine through with some of the best and most radiant butterfly designs (shown in this image) that can be used as a nice accessory on the body in the form of a tattoo.
[ Read: 3D tattoos ]
9. Enlarged butterflies:
Enlarged butterfly designs cover a good area of your body and give a nice look specially because of the usage of colours as shown here.
10. Neck-bow butterflies:
Neck is also a great place to sport a butterfly tattoo. Especially, if it is designed as if you are wearing a neck-bow which gives a very sophisticated and beautiful look. They can be used in various sizes and also as conceptually designed tattoos as shown.
[ Read: Small Tattoo Designs For Women ]
We see how butterfly tattoos have long since been the "in" thing and are suitable to be engraved on almost any part of the body – be it neck, waist, shoulders, back etc. These butterfly designs can be experimented with different sizes – large or small. But whatever be the size, they look beautiful, trendy and enhance your beauty.
Image source: 1 , 2 , 3 , 4 , 5 , 6 , 7 , 8 , 9 , 10
The following two tabs change content below.