The 10 Best Cable Jump Ropes Ideal For Small-Space Workouts – 2022
Make a big leap in your fitness journey with handy tools ideal for cozy home gyms.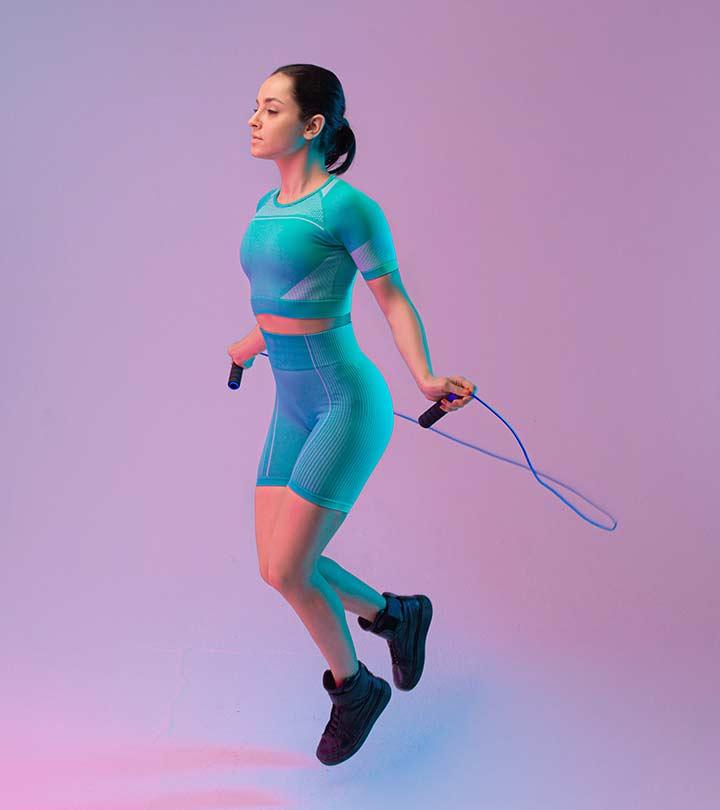 Jumping rope is probably something you did for fun as a kid and even competed with your siblings over. But recently, even grown adults are pulling this thin rope out of their childhood treasure boxes after realizing how much of a workout it can give. Fitness enthusiasts love incorporating a skipping routine into their regimen as it is not only quick, but also cost-effective. If you aren't able to afford a gym membership or extravagant equipment for your home, buying a single cable jump rope will be enough.
A good-quality cable jump rope can help you get your heart rate up, improving cardiovascular health and blood circulation. If it's your muscles you want to work on, weighted types are abundant in the market as well. With a wide array of color, style, and material options, you can get in a quick workout even if you happen to be on vacation. As the rope barely takes up any space, it can travel to the ends of the world to keep you fit and healthy.
10 Best Cable Jump Ropes To Keep Your Body Toned And Fit
This PVC jump rope by DEGOL moves smoothly without twisting, owing to the ball bearing system as the rotation is relaxed. The braided steel wire rope has a PVC coating which keeps it from cracking and breaking with use. Lightweight ergonomic handles with 6-inch soft memory foam grips give you a secure hold while the length of the rope can be adjusted according to your height for comfort. You can also check this YouTuber's detailed review to know more about the results after using this product.
Pros
Dust-proof bearings
Low-noise 360° rotation
No twisting or bending
Lightweight handles
Soft memory foam anti-slip grip
Adjustable rope length
Cons
The handles might unscrew during use.
AIZIYUO's steel cable jump rope is coated with PVC to last you a long time and also allow you to skip faster. While you can adjust the rope's length however you prefer, it also features a high-quality bearing that rotates 360° without bunching up. EVA sponge is used on the handles in 2 layers which works to absorb sweat and wick it away, all the while keeping your grip secure.
Pros
Pack of 2 ropes
Lightweight
Moisture-wicking handles
Secured grip
Adjustable length
Smooth rotation
Cons
Some might find the outer coating to chip off.
With WOD Nation's unique 2-rope wire jump rope, both beginners and professionals alike can get the most out of their workouts. 2 ropes instead of 1 add to overall weight and can help build muscle while also accelerating fat loss, making for a great option for those that need to feel the ropes spinning. The fold-over cable system allows for size adjustments and as the rope comes with a travel bag, you don't need to skip your routine on vacation! For a thorough review of the product, have a look at this YouTuber's video.
Pros
Adjustable length
Grippy handles
Quick and smooth bearings
Available in 6 colors
Comes with travel bag
Extra ropes included
Cons
Malachi brings to you the best jump rope for tricks owing to its lightweight and top-notch bearings that allow for a quick rotation. The PVC-embedded steel wire won't crack or break and the anti-slip handles are designed with foam so as to stay soft against the skin. No matter what your height, the rope is easily customizable in length so you can work towards improving your endurance.
Pros
Anti-slip soft handles
Wear-resistant wire
Anti-dust ball bearing
Tangle-free
Fast and smooth rotation
Lightweight
Cons
The bearings might not be no-noise.
Giving you an opportunity to skip both indoors and outdoors, Guteauto's weighted cable jump rope helps you stay in shape. It has a rope mode which can be used when you're outside and the cordless option suits even low-space areas. The smart counter on the weighted handles records your weight, loop count, calories, and time. Additionally, it also lights up as a reflective element if you're working out at night or in a low-light place.
Pros
Adjustable length
Corded and cordless modes
Smart counter
Built-in light
4 pound-weighted handles
Smooth and fast bearing
Cons
Might be difficult to assemble
Fit Vikings' steel jump rope not only comes with a complimentary bag perfect for travel but also includes some hardware you might need for tweaks. The ball bearings allow you to go as fast as you want and implement as many tricks as your heart desires. With the thin and lightweight handles, you can secure your grip and take control even when you happen to get sweaty.
Pros
Available in 3 color options
Thin and long non-slip aluminum handles
Smooth and quick rotations
Complimentary bag and extra hardware included
Adjustable length
Cons
The coating might chip off.
Cordforce utilizes steel wires covered with sturdy plastic which can also be customized to fit your height and needs. Even if you enjoy getting in high and fast jumps, the smooth and relaxed ball bearings give you ease. The foam handles give an excellent grippage and also wick away sweat so you don't need to deal with wetness and discomfort. With no tangles, you can get in a quick workout practically anywhere.
Pros
Smooth ball bearings
Anti-slip grip handles
Moisture-wicking
Adjustable length
Lightweight
Cons
Might be too light for beginners
RXClub's heavy cable jump rope comes with 2 ropes- one for a quick and light cardio session and a heavier one that can help build muscle. If you need an adjustment smack in the middle of a workout, you can use the 2-screw and no-tool mechanism with ease. The anti-slip handles keep your grip on and you can aid this with the 2 weightlifting wrist wraps included in the carry bag ideal for travel.
Pros
Available in 4 colors
Anti-slip grip handles
2 kinds of ropes
2 wrist wraps included
Carry bag included
Smooth ball bearings
Cons
Some might find the cable to be detached.
VOXLOVA's best type of jumping ropes are smooth and tangle-free to give you a hassle-free exercise session. The non-slip aluminum handles are covered with silicone grips and a special anodized coating. Scratch-resistant protective silicone cover on the rope keeps it going for a long time, serving you well. The steel ball bearing rotates all the way and moves smoothly at a relaxed pace for a successful workout.
Pros
Available in 4 colors
Non-slip aluminum handles
Scratch-resistant rope
Adjustable length
Low-noise rotation
Carrying bag included
Cons
One of the best types of jump ropes to keep your heart rate up, this one by SHUQEE features hypoallergenic and skin-friendly handles. Their ergonomic design features mesh vents that work excellently to prevent any slippage and lower your muscle fatigue. Lightweight with an adjustable length, this frosty rope is suitable for kids and adults and can be a great addition to your gym gear.
Pros
Available in 3 pastel colors
Hypoallergenic
Skin-friendly
Adjustable length
Lightweight
Breathable
Cons
Now that we've looked at some of the best cable jump ropes on the market, let's learn how you can pick the right one for your needs. 
There are different types of jump ropes that serve various purposes and skill levels.
The regular jump rope is made of a mix of plastic and steel, making it lightweight enough to be used by beginners or casual skippers. This is a good choice if you're just starting out skipping or can't handle heavy weight.
Weighted ropes often have heavier handles and this causes resistance when you're twirling your wrists, leading to more of a strength training workout. This option is for those who are moving up to the intermediate or advanced level and would like to experiment with a few skills. However, you might want to refrain from this type if you have had wrist injuries in the past.
Electronic jump ropes are a new addition in the market and feature a monitor on the handles. This screen displays the calories burned, jumps made, time, and your weight, allowing you to keep track and improve your performance. However, these are slightly expensive compared to the previous 2 options. A few jump ropes that are electronic can also be weighted to give you the best of both worlds.
It is necessary for a jump rope to have high-quality handles as they are what allow you control over your body's movement. Ergonomically designed handles should be anti-slip with the help of garters or silicone grips. They must also feature mesh vents for breathability or must be made of material that wicks away moisture. And finally for comfort, a soft material like a sponge or foam can help you relax your grip.
A super important factor in a cable jump rope, ball bearing handles work to evenly divide the weight of the rope through its rotation so you can move smoothly. This feature is a unique kind of ball that is located between the inner and outer rings of the handle of the jump rope. This is what allows you to quickly and easily change angles. Ball bearings also reduce the friction caused and as they allow rotation in any direction you like, you can perform efficiently. However, you will have to ensure that they don't make any noise due to the contact as otherwise it can prove quite annoying.
While a lot of people invest in a gym membership to take care of their health, some prefer to take the fun route to exercising. If lifting heavy weights is not your jam, you can always opt for cooler activities like zumba, pilates, and jumping rope. Contrary to popular belief, jumping rope isn't something isolated to kids only as it comes with a host of advantages even to the adult body. Along with keeping your stamina and endurance at their peak, a sturdy cable jump rope can be a means of both cardio and strength training. As you build this skill over time, you can have an endless amount of fun with tricks and you'll probably not want to let go of this light-hearted sport.
Why Trust StyleCraze?
Shreya Vishwanathan, the author, is a health and fitness enthusiast. Her recommendations for the best jump cable ropes will help you burn calories in a fun and engaging way. She prepared this list of top products after thorough research and user feedback review. The author suggests jumping cable ropes improves blood circulation and boosts cardiovascular health.
Frequently Asked Questions
Is PVC skipping rope good?
PVC ropes are a good choice for beginners or those that like to jump rope casually owing to their lightweight nature and durability.
What are the benefits of jumping rope?
Jumping rope improves your cardiovascular health, strength, endurance, balance, and overall coordination. It is also a great way to get in a workout without too much gear which might also be expensive. Jumping rope is also known to improve bone density and agility.
What is a cable jump rope?
A cable jump rope is typically a highly advanced jumping rope made of steel cables with which you can perform rigorous activities and exercises. They are highly adjustable and durable.
What are the 3 different types of jump ropes?
• Basic
• Speed
• Weighted
Is it better to jump rope fast or slow?
It is always better to jump rope slowly and in moderation in order to avoid any mishaps.
Does skipping reduce belly fat?
Yes, jumping ropes can help you reduce overall body fat. It helps strengthen and tone your abdominal muscles and reduce belly fat.
Why do boxers jump rope?
Jumping ropes can increase stamina and strengthen your body's core. It is also an excellent way to warm up your body as well as mind for the big game ahead.
How long should I jump rope a day?
On average, 15 minutes is good enough to jump rope daily.
Are expensive jump ropes worth it?
Jump ropes that are priced at a higher end are usually more durable, flexible, and comfortable.
Is it OK to jump rope every day?
Yes, it is advisable to jump rope every day.
The following two tabs change content below.