12 Best Calf Compression Sleeves To Prevent Injuries And Spasms
Godsend calf sleeves that make your fitness journey easier & decrease fatigue.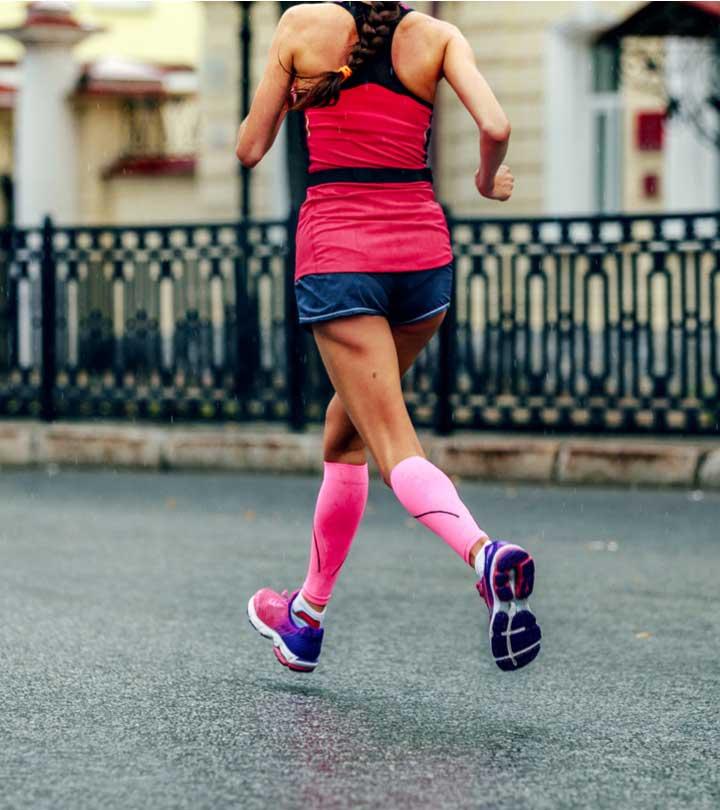 For all you fitness enthusiasts who do not want to be held back by muscle cramps, here's some good news! The best calf compression sleeves are here to prevent injuries and spasms to help you go the extra mile. Whether you are training for a marathon or just sweating it out on the tracks or the treadmill, a good calf compression sleeve will greatly enhance your sports performance.
Physical fitness is a big part of a healthy lifestyle. Be it the gym, the park, the pool, or at home, there are many ways to sweat it out. It is necessary to pay attention to the right kind of gear for each workout type. A good quality calf compression sleeve is a good addition to your workout gear, especially on leg days. In this article, we have compiled some of the best calf compression sleeves to add to your wardrobe. So, go ahead and check them out to take your pick.
What Does A Calf Compression Sleeve Do?
Call it a fashion statement or comfort booster; calf sleeves are a need of the hour for those who take fitness seriously. They deliver the correct compression and pressure around your calves to decrease fatigue. While wearing these sleeves, there is an improvement in blood circulation, and your calf muscles will receive oxygenated blood. Besides this, you can prevent shin splints, cramps, muscle tightness, and even Achilles injuries by wearing them.
12 Best Calf Compression Sleeves In 2023 To Run That Extra Mile
Invoke the runner in you and let no pain and strain be a hurdle with these amazing calf compression sleeves. These sleeves are made of nylon and Lycra materials and deliver a graduated level of compression of 20 mmHg to support your calves and improve blood circulation. The non-slip cuffs and 4-way stretchable fabric hold them in place when you walk, run, or have your cross-fit training. Wear these sleeves to easily prevent deep vein thrombosis, varicose veins, shin splints, and leg cramps.
Pros
 Breathable
 Moisture-wicking fabric
 Non-slip design
 Pain relief
 Above average compression
 Injury prevention
Cons
 They do not cure swollen legs.
Whether trekking or a marathon, your calves need conventional support to keep their energy levels high. These pull-up compression sleeves are designed with 4D-knitted fabric and a kinesiology tape to support your calves and dynamically assist muscle function. Boost your blood circulation with 20-30 mmHg sleeve compression pressure and alleviate the probability of muscle cramps and strains. People with diabetes can use these sleeves to ward off varicose nerves while expecting moms can curb the swelling in their feet by wearing these sleeves. The compression sleeve for diabetic support is easy to maintain and can be machine-washed.
Pros
 Firm fit during any physical activity
 Optimum compression
 Machine washable
 Extra stretchable
 Durable
Cons
The aZengear Calf Support Compression Sleeves will help you complete your workout without compromising on muscle strains or cramps. These are optimized to absorb sudden impacts and perform intense workouts effortlessly for a better user experience. The 65% nylon, 20% elastane, and 15% lycra fabric of the sleeves will help keep your legs warm and speed up muscle recovery. You can wear this pair of anti-odor compression sleeves while hiking or at the gym for pain-free and comfortable sessions.
Pros
Double-stitched seams
Snug-fit
Moisture-wicking
Breathable fabric
Washable
Cons
Shin splints and muscle cramps can happen anytime during work or workouts. Stay prepared to avert them with the best calf compression sleeves that are integrated with compression technology. They begin right at your ankle and go upwards, compressing your calves to give you utmost comfort. The elastic bands on the top prevent the sleeves from digging into the back of your knees. During customer testing, the product demonstrated expertise in speeding up recovery, enhancing performance, and improving overall well-being. These can be the best calf compression sleeves for shin splints, varicose veins, aching calves, and swollen legs. Learn all about this product in this Youtube video review that details the reviewer's experience of testing it.
Pros
 Slim-fit
 Unique pattern
 Stretchable
 Machine-washable
Cons
 The sleeves do not control odor and sweat.
The McDavid Calf Compression Sleeves can help provide post-workout support and assist in fixing shin splints, calf strains, or varicose veins. These are pull-on, contoured, latex-free sleeves, which are used for compression therapy, thermal therapy, and adequate soft tissue support. The best thing about these calf sleeves is that they have a 5-needle stitch for a cleaner, flatter, and durable seam that gives you company during any workout activity, exercise routine, walking, running, hiking, or biking. You can even wear them while playing soccer, basketball, football, baseball, or volleyball. The heavy-duty outer nylon fabric makes the sleeves strong and flexible.
Pros
Heavy-duty fabric
Stretchable fabric
Contoured fit
Durable construction
Offers heat insulation
Latex-free
Cons
If you travel frequently or stand for long hours during work, shin splints, calf fatigue, and cramping are no aliens to you. Get the best support and calf care with these ergonomically designed compression calf sleeves. These sleeves, including the compression sleeve for post-surgery, stretch around your calves to render a graduated compression of 20 mmHg that eliminates toxins and increases blood supply. The reinforced knit at the calf region reduces muscle vibrations that could lead to fatigue and strain. You can wear them all day long and still feel dry with their breathable moisture-wicking properties. Fight edema, spider veins, fatigue, and post-surgical aches by wearing these daily wear calf sleeves.
Pros
 Snug-fit
 Moisture-wicking
 Reinforced knit
 Graduated pressure
 Breathable
Cons
Do those elastic calf sleeves do no good in giving you that tight fit? Check out this customizable calf compression sleeve designed with 3 Velcro straps to provide you with that much-needed snug fit. The neoprene material of the sleeve uses therapeutic heat and gentle compression to increase blood circulation and quickly heal muscle injuries. You can cure or prevent shin splints, varicose veins, cramping, and calf injuries with this adjustable sleeve.
Pros
 Adjustable Velcro straps
 Snug-fit
 Breathable material
 Superior support
 Lightweight neoprene calf compression sleeve
Cons
 It comes as a single unit
Stop at nothing when you decide to get fit and do not compromise on your comfort either. With the best compression calf sleeves for running, your calf muscles will get adequate support and comfort to cover that extra mile. The lightweight expandable fabric of these sleeves stays soft on your skin, covers up your calf muscles, and prevents sudden cramps and strains. When wearing them, your calf muscles get enough blood supply to save you from fatigue, varicose veins, and other leg issues.
Pros
 Non-slip grip
 Stretchable
 Durable
 Even compression
Cons
 It does not control body odor.
Fight pain and strain not just with compression but also with copper. Copper ions have the ability to pull out electricity from damaged nerves and knock down pain, redness, and muscle aches. These copper calf compression sleeves work the same way in soothing your aching muscles and promoting good blood flow. The product is wash-tested to prove that it retains the benefits of copper till the lifetime of the product. Fight varicose veins, shin splints, and other nervous and muscular issues by simply pulling on these weightless sleeves. You can wear them to stay warm during winters and wick off sweat during summer.
Pros
Real copper ions
Lightweight
Sweat-wicking
Joint stability
Temperature control
Stretchable
Cons
Make way for productive workout sessions by keeping your legs fueled with oxygen and nutrients. These athletic calf sleeves evenly compress your calf muscles to increase blood circulation and give each cell nutrients and oxygen. As per clinical studies, it has proven expertise in improving performance, combat injury, and reducing leg pain. They are breathable and wick moisture away to provide you with ultimate comfort when you work out. The hi-tech compression fibers of the sleeves wrap your leg around 300 times to provide the best support and stability. You will have no shin splints, cramps, and strains when you exercise wearing these calf sleeves.
Pros
Breathable
Adequate calf muscle support
Muscle stability
Moisture resistance
Snug-fit
Insulating
Cons
Your calves need care and so do your ankles. Support them in one go with these ankle-calf compression sleeves. They start right from your heel region and go above your calves with the anti-slip cuffs holding them in place. The ribbed micro-fibers compress your calves and ankle to offer you the much-needed support. With this, your legs will be free of leg strain, cramps, and shin splints. The 4-way stretchable material with moisture-wicking ability keeps you feeling fresh when you pull these sleeves on.
Pros
 Breathable fabric
 Odor prevention
 Soft on skin
 Breathable
Cons
Travel for long hours in an airplane or simply have a basketball match in your lane; layer your calves with these pretty pink and white calf sleeves and keep them free from cramps and shin splints easily. The 4-way nylon-spandex stretchable material of the sleeves, serving as a recovery aid, gives you a snug fit and boosts your blood circulation in your leg by providing graduated support of 20-30 mmHg. These calves reduce fatigue and heal edema in pregnant women. You can wear them to recover from leg surgeries or medical conditions like restless leg syndrome, varicose veins, and more.
Pros
 Perfect fit
 Breathable fabric
 Lightweight
 Sweat-proof
Cons
These are the calf compression sleeves reviews for the 12 best sleeves. Take a look at the buying guide here before you choose to buy any of them.
How To Choose The Best Calf Compression Sleeves
Your calves need compression of 20-30 mmHg to have the proper blood circulation. You need to choose a compression level based on your medical issues. For a long day at work or travel, opt for calf sleeves of 15-25 mmHg compression. While choosing calf compression sleeves for varicose veins and other circulatory issues, pick one with a higher compression level of 25-40 mmHg. Sleeves with graduated compression apply maximum pressure near your ankles to send back the deoxygenated blood to your veins. You can choose such sleeves as well.
Look for compression sleeves that are neither too tight nor too loose. A snug fit is good but too tight sleeves can work the opposite way and reduce blood circulation. Similarly, there is no point in wearing loose sleeves that constantly make you tug them. To find the right size, measure the widest portion of your calf and not over it, then pick the right size of sleeves.
The best calf sleeves materials you can be investing in are the ones that have a combination of nylon and spandex or nylon and Lycra. Woolen compression sleeves can be good during winters but make your calves overheat during summers. If you are picking one to support your calves during workouts, opt for breathable sweat-kicking sleeves.
How To Wear Calf Compression Sleeves
 Step 1: Measure the circumference of the widest part of your calf.
 Step 2: Get calf sleeves with graduated compression that are tight near the ankles.
 Step 3: Turn the sleeve tape-side out and flip it upside down on your leg.
 Step 4: Gently pull them up above the calves.
 Step 5: Let the sleeves be 3 inches above the ankle for better grip.
 Step 6: Make those final adjustments so that the sleeve fits comfortably.
Benefits Of Calf Compression Sleeves
 Prevents sudden muscle soreness/cramps
 Prevents shin splints
 Heals and prevents varicose nerve conditions
 Curbs orthostatic hypotension
 Reduces edema
Helps in aiding post-workout recovery
Frequently Asked Questions
Does calf compression sleeve work?
Compression sleeves work in increasing the blood supply. With increased blood supply, your muscles receive oxygenated blood and heal faster.
Are calf compression sleeves good for varicose veins?
Yes, they enrich the blood supply and are good for varicose veins.
How long can I wear calf compression sleeves?
Medical experts recommend you to wear compression sleeves only for 2-3 hours.
Can I wear compression calf sleeves to bed?
It is not recommended to wear compression calf sleeves to bed.
When should I wear my calf compression sleeves?
Wear your calf compression sleeves while you are running, jogging, traveling, or during recovery. These products are known to improve the efficiency of your muscles.
What is the difference between compression socks and calf sleeves?
Compression socks mostly improve blood circulation and cater to the swollen areas of your legs. Calf sleeves offer more support to calf muscles and provide support to your legs during workout.
Recommended Articles