15 Best Callus Removers That Help Uncover Healthy Skin – 2022
Eliminate the dry layers of the skin to keep your feet crack-free and soft.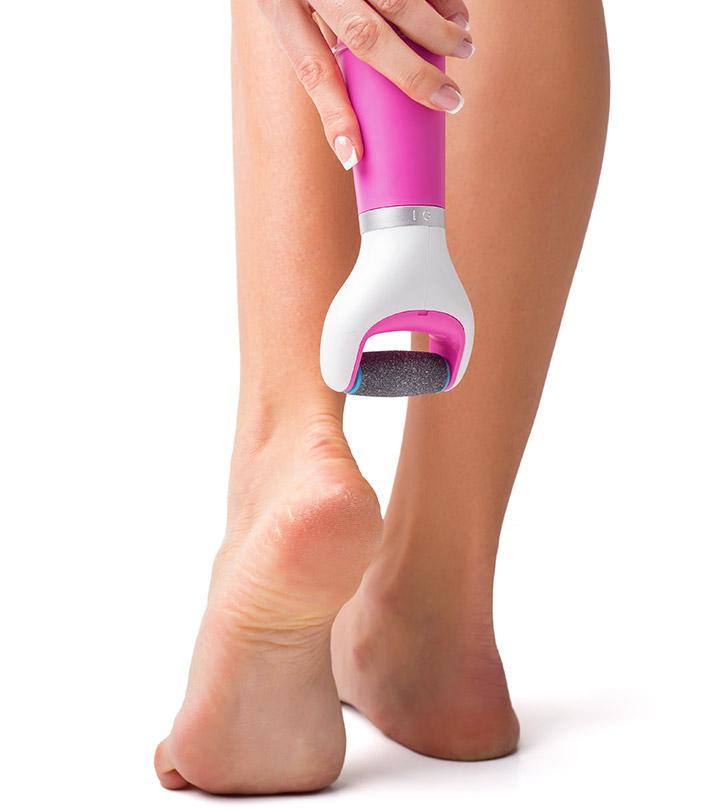 Calluses result from you lifting weights in the gym or weights in general. They can also occur by riding your bike for extended periods as well. You will need the best callus removers to remove them safely if you plan to get rid of them. If you find yourself removing calluses quite frequently, you should go and get yourself examined by a dermatologist. Keep reading this article to know more about calluses, why they occur, and how callus removers help.
Before we get to the best products, let's understand what a callus remover is and its types.
What Is a Callus Remover?
A callus remover is a device or a product that eliminates the dry layers of the skin and uncovers healthy skin, allowing it to breathe and feel fresh. There are different types of callus removers, such as manual callus removers, electric callus removers, and callus removal gels or creams. You can purchase the appropriate product depending on your needs and requirements.
Types Of Callus Removers
There are two common callus removers used to eliminate thick and rough patches of skin from your feet:
A manual callus remover looks more like a foot scrub. It has a rough surface that you need to rub back and forth across dry skin. These devices are completely under your control. You can swipe them how many ever times you want, depending on how much skin you prefer to remove. Manual callus removers are suitable for the effective removal of stubborn skin.
Electric callus removers have semi-rough textured rollers. These rollers spin exceptionally fast and incredibly easy to use. The fast-paced rollers grain the skin into dust, buffing it all down. But the downside to these callus removers is that you may have to replace the rollers frequently.
Following is a list of top 10 callus removers that are in demand.
Top 10 Electric Callus Removers To Buy In 2022
The PRITECH Electric Feet Callus Remover helps make your calloused feet look clean, healthy, and attractive. The 600mAh Li-ion battery can be used for up to 45 minutes. The waterproof design can adapt to all kinds of humid environments. The smart automatic protection turns off the device automatically if the pressure is too strong.
The rough and smooth rollers eliminate the dead skin easily without damaging your skin. The electric foot scraper prevents any bacteria growth and protects your foot from roughness.
This cordless callus remover has an ergonomic design and is comfortable to hold. The pack includes an electric foot file, an extra coarse roller, a regular coarse roller, a clean brush, an electric adapter, and a container bag. Go through this YouTube video to know more about the product.
Pros
Waterproof
Comfortable grip
Ergonomic design
Suitable for wet and dry use
Easy to use and clean
Eco-friendly
Cons
Care Me Rechargeable Callus Remover is made using a powerful motor technology that eliminates dead skin at a fast rate. This product is specially designed to be used on extremely dry skin and cracked feet. For further information, check out this honest review.
Pros
Eliminates dead and dry skin at a fast rate
Rechargeable
Lasts longer
Cons
May not be a good option for sensitive skin.
Emjoi Micro-Pedi Pro Callus Remover is a travel-friendly and easy-to-operate device. It doesn't require you to exert much pressure on the skin while removing the calluses. The micro-mineral particles present in the roller crumple dry skin, making it easier to be removed. To find out more about the benefits of this product, watch this YouTube video.
Pros
Salon-grade quality
Doesn't require much pressure
Travel-friendly
Cons
If you are troubled by dry, flaking, and cracked skin and are looking for something that provides relief for a long duration, Zoe+Ruth's Rechargeable Callus Remover may be the right choice for you. It is portable and easy to use. The roller of this callus remover acts as an exfoliator and makes your skin feel fresh. It comes with three roller heads, and this callus remover for feet is suitable for taking care of sensitive skin.
Pros
Effective results
Rechargeable and lasts longer
Suitable for sensitive skin
Comes with a kit
Cons
This device is made using turbo-boost motor technology. It is safe to use, rechargeable, and durable. power mechanism. The roller of this callus remover spins over 50 times per second.
Pros
Premium quality
Water-resistant
Rechargeable
durable
Cons
Less effective than a model that spins around 30 times per second.
[ Read: DIY Foot Scrubs – 20 Recipes ]
The in-built safety feature of this callus remover sets it apart from the rest of the products. If you press this remover tightly against your skin, the machine stops automatically, thereby making it safe for the user to operate. The premium quality, high speed motor saves your time and money and makes the device last longer.
It helps in scrubbing away the thick and dead skin, making your skin soft and healthier.
Pros
Water-resistant
Travel-friendly
In-built safety feature
Allows you to apply perfect pressure
Cons
The battery doesn't last long.
Lilian Fache's Callus Remover has a diamond-encrusted file head. It is one of the best and popular callus removers. It allows you to experience a spa-like treatment, making your feet feel softer and healthier. It helps in removing dry cuticles, dead skin, calluses, and foot corns. This product saves time and effort as compared to pumice stones or metal scrapers.
Pros
Ergonomic handle
Easy to use and carry
Spa-like treatment and results
Rechargeable
Cons
Applying too much pressure affects its working.
Masirs Rechargeable Callus Remover is made using quartz crystals that remove the dead skin, calluses, and dry cuticles without causing any discomfort. This product gives you professional spa-quality pedicure results in the comfort of your home.
Pros
Long-lasting charge
Premium quality material
Ergonomic handle
Works well on hands too
Cons
Not as powerful as other options.
Silk'n Pedi Electric Callus Remover is a quick, safe, and hassle-free solution for smooth and healthy feet. Its interchangeable and rotating heads smoothen your feet by rubbing away cracked, rough, and dry skin. This product comes with coarse as well as fine rollers, making it suitable for users with normal and sensitive skin.
Pros
Quick results and safe to use
Good for normal and sensitive skin types
Battery-operated
Lasts long
Cons
An ergonomically designed handle, a patented polishing plate, a less chaotic silicon cap, and an easy-to-clean debris container are some of the unique features of this professional foot callus remover. Instead of a roller, which is the most common feature of a callus remover, this product has a perforated polishing plate that removes the callus effectively until there's nothing left behind. If you are looking for something tough and effective, this product may be the right choice for you.

Pros
Perforated polishing plate
Works quickly
Less messy
An in-built safety mechanism stops you from hurting yourself.
Cons
May not have a great effect on tough skin types.
[ Read: How To Do A Foot Spa At Home ]
Top 5 Manual Callus Removers To Buy In 2022
This handheld callus remover tool is a double-sided textured foot file for feet and hands. It smoothes stubborn calluses, buffs rough areas, revealing softer and smoother skin. The natural wooden handle provides a solid grip.
Pros
Easy to use
Double-sided
Safe for daily use
Durable
Cons
None
Tweezerman Safety Slide Callus Shaver is a perfect tool for removing calluses and smoothing skin simultaneously. It is a two-in-one tool with a unique slide and lock mechanism that allows you to remove dead skin and smooth its surface for a soft finish. This salon-grade product is great for travel.
Pros
Easy to use
Multipurpose product
Delivers effective results
Easy to carry
Cons
Chances of accidental cuts
The ZIZZON Pedicure Callus Shaver is made of high-quality, polished stainless steel. It is equipped with a solid wood handle that provides a comfortable grip and smooth control. The removable head enables convenient changing of blades and file heads. This product helps eliminate dry skin from your feet and keeps them moisturized
Pros
Made of high-quality stainless steel
Durable
Non-slip grip
Easy to use
Ergonomic design
Cons
This callus remover is made with nickel. It is designed to eliminate callus for soft and younger-looking feet. The double-sided foot file, which has a medium and a coarse side, makes it easy for you to eliminate callus and smooth dry skin instantly. This product is ideal for sensitive skin as it is made of hypoallergenic and antimicrobial components.
Pros
Reduces corns
Prevents skin damage
Durable metal
Efficient pedicure
Cons
Removes only the first layer
This egg-shaped callus remover has a coarse roller head that spins 360 degrees for maximum results. It works effectively even on thick and damaged skin. It buffs away dry and hard skin to reveal touchably smooth feet. This manual callus remover can be used as a foot massager every day.
Pros
Affordable
Attractive design
Easy to carry
Lightweight
Cons
Difficult to hold the product in place.
Why Trust StyleCraze?
The author Pratyasha Ray loves testing out various gadgets and devices. Her reviews are well-researched, and her opinion is unbiased and direct. This list of feet callus remover was created by researching the most trusted online gadget review platforms to understand user needs and wants. These callus removers are effective, durable, have extra attachments, and are easy to use and clean.
Frequently Asked Questions
Does a callus remover really work?
Yes, callus removers remove stubborn skin while preventing the growth of bacteria on your feet.
Are callus removers safe?
Yes, callus removers are safe. They gently remove dead skin cells without damaging your skin.
Is it better to remove calluses with a tool or with a chemical product?
Chemical products like salicylic acid removers may not be the best for the skin, especially if done without expert guidance. It is better to remove calluses with safe tools that would not damage the skin.
How frequently can I use a callus remover?
Use a callus remover once a day or once every two days. If you use it more frequently, make sure to moisturize your skin well before and after use.
How should I use callus removers?
Pre-soak your feet, especially the area with stubborn callus to make it soft. Turn on your electric callus remover and set it at a safe speed. Rub and glide the device across your feet to remove the dead skin cells gently.
Does using a callus remover make callus worse?
No, using a callus remover properly is not risky. But if you use it carelessly, it can injure your feet tissues or infect the area further by cutting your delicate skin in the process.
Is callus removal painful?
No, calluses don't have nerve cells in them. The thickened area usually contains dead skin cells which can be carefully peeled away.
Can I permanently get rid of calluses on my feet?
Yes, you can consult a podiatrist to surgically remove calluses permanently. At home, you can try to soak your feet in warm water to remove calluses.
Recommended Articles: