15 Best Camping Blankets To Keep You Warm And Cozy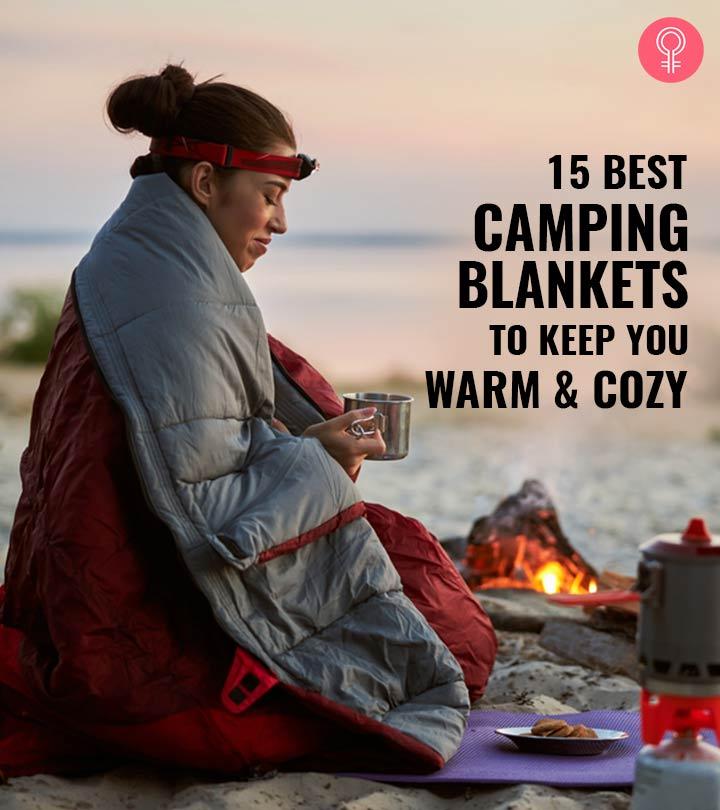 Camping always brings you close to nature. It promotes both physical and mental well-being. But if you want to ensure a comfortable camping experience with the right amount of warmth, invest in a camping blanket.
Camping blankets keep you warm and also protect you from adverse environmental changes. They also safeguard against winds, rain, or even insect bites.
Here, we have listed the 15 best camping blankets available online. These can be used indoors too. Check them out.
15 Best Camping Blankets
The Benevolence LA Mexican Blanket is made of 100% recycled acrylic and cotton blend and a premium-quality blanket to help protect yourself from the cold camping nights. It is soft, thick, and comes in vibrant colors. It is neatly woven on a traditional wooden loom. It measures 65 x 40 inches and weighs 3 pounds, and can easily cover twin beds too. The blanket is made from 100% recycled durable material. It is easy to machine wash in cold or warm water. This handmade, premium-quality versatile blanket can also be used as a yoga mat.
Pros
Soft
Skin-friendly
Covers twin beds
Available in vibrant colors
Suitable for yoga practice
Machine-washable
Cons
Smells of petroleum
Fabric may get loose with use
The Bearz Beach Camping Blanket is ideal if you want to carry a light and compact blanket for your camping. It is lightweight, durable, and travel-friendly. The blanket measures 55 x 60 inches and is cleverly designed to fold and fit into a pocket-sized bag/right into your palm. The unique fabric is waterproof and puncture-resistant. It can be easily accommodated into your camping backpacks. This multi-purpose ground cover is suitable for 2-4 people to wrap themselves on chilling nights. It has pocket loops at each corner for camping stakes.
Pros
Lightweight
Compact and foldable design
Travel-friendly
Easy to use
Four corners sand pockets
Waterproof design
Puncture-resistant
Sand-proof
Corner loops for camping stakes
Cons
The Kelty Bestie Camping Blanket is made of polyester fabric and insulated with a cloud loft for optimum warmth. This super-cozy camping blanket measures 75.5 x 42.5 x 1 inches and weighs 2 lbs. It is lightweight and easy to wrap around.  It comes with a stuff sack for easy handling and transportation.
Pros
Ultra-lightweight
Insulated with a cloud loft
Easy to carry
Stuff sack included
Cons
None
The Snugpak Camping Blanket is travel-friendly. It measures 75 x 64 inches and is ultra-lightweight. It offers optimum comfort and coziness. The water-wicking and breathable fabric protects you from environmental aggressors. Its superior heat retention technology keeps you warm for longer. The fabric is waterproof, sand-proof, and puncture-resistant. The outer shell of the jungle blanket provides a windproof layer. The unique water repellent properties of the blanket prevent odor.
Pros
Ultra-lightweight
Water-repellent
Windproof
Sand-resistant
Puncture-resistant
High-loft insulation
Breathable fabric
Cons
None
The EKTOS Camping Blanket is made of 80% wool and 20% synthetic blend to provide the ideal thermal warmth in the cold nights. The premium-quality woolen blanket is loom-woven and ruggedly designed to last long. The finished edges on all sides prevent fraying. The wool has an excellent warmth to weight ratio, which is a natural insulation method to control body temperature. The blanket is fire-resistant, odor-free, and contains no added fire retardants.
Pros
No fraying
Long-lasting
Controls body temperature
No added fire retardants
Machine-washable
Provides natural insulation
Fire-resistant
Odor-free
Cons
The TEEHOME Camping Blanket is super lightweight. It measures 70 x 58 inches and can accommodate two people. It is made of polyester or nylon fabric that offers optimum comfort, both indoors and outdoors. The blanket is waterproof and windproof and protects you from adverse weather fluctuations. The flexible, compact, and easily foldable design is suitable for camping and picnic. It is machine-washable.
Pros
Durable
Lightweight
Waterproof
Windproof
Machine-washable
Cons
None
The Horizon Hound Camping Blanket weighs just 1 lb. It provides the ultimate comfort for outdoor camping. It also doubles as a great sleeping bed in the cold weather. The blanket is made of water-resistant nylon fabric. It measures 77 x 50 inches when fully lofted and puffed up. The super lightweight comforter is used for camping, hiking, and festivals. It can be fully compressed and packed in your backpacks to make it easy for traveling.
Pros
Lightweight
Durable
Can be used every day
Water-resistant
Odor-less
Machine-washable
Comes with a storage sack
Cons
None
The Get Out Gear Camping Blanket is a lightweight comforter that provides a cozy and warm environment. It measures 80 x 54 inches unpuffed, and 77 x 50 inches when fully puffed. The stuff sack it comes with measures 5 x 12 inches. The blanket is made of a nylon shell to withstand winds and other adverse environmental conditions. The power-down insulation provides optimum warmth in cold weather. The durable water repellent coating protects the blanket from spills and rain. The blanket is dirt-, sand-, and puncture-resistant.
Pros
Heavy-duty blanket
Comes with a stuff sack
Lightweight
Water-repellent
Sand-resistant
Dirt-resistant
Puncture-resistant
Cons
None
The Tirrinia Outdoor Blanket is made from ultra-soft sherpa fleece that makes it water and wind-resistant. It keeps you dry, warm, and comfortable the whole day. This polar fleece camping blanket comes in a compact size to fit into your backpacks. It is big enough to offer comfort to 2 to 6 people. It is machine-washable. It is compact and easy to handle.
Pros
Waterproof
Windproof
Ultra-soft
Machine-washable
Easy to carry
Easy to fold
Comparatively large
Cons
None
The Arcturus Blanket is made of 80% wool and weighs 4.5 lbs. It is extra-large and can easily accommodate 2-4 people. It is loom-woven and hemmed on all sides with contrast lock stitching. The remainder of the fabric is composed of 20% hypoallergenic synthetic fiber that enhances longevity and durability. The wool is naturally fire-retardant and safe for the entire family. The blanket is machine-washable and easy to maintain.
Pros
Long-lasting
Large
Hypoallergenic fabric
Durable
Fire-retardant
Safe for the entire family
Machine-washable
Cons
None
The AmazonBasics Plaid Throw Blanket is dynamic, versatile, and lightweight. The cozy chenille blanket is made of 100% polyester fabric that is durable and sustainable. The eye-catching plaid print gives a contemporary look.
Pros
Lightweight
Durable
Soft
Suitable for all seasons
Cons
None
The Zefabak Camping Blanket is lightweight. It measures 190 x 130 centimeters and weighs a mere 300 grams. The outside layer is made of 20D ripstop nylon material that is water-resistant and stain-proof. This multi-purpose blanket comes with a premium stuff sack that gives a compact look. Its durable design keeps the heat in while resisting the cold. This puffy down blanket wraps around and clips together to provide a warm poncho style.
Pros
Lightweight
Insulated air pockets
Water-resistant
Stain-proof
Cons
The Redcamp Large Stadium Blanket is lightweight and extra-large. It can be used as a picnic or a camping blanket. The durable and premium Oxford material repels water and prevents seepage. It keeps you warm, dry, and comfortable. The windproof and warm stadium blanket is suitable for all outdoor activities. It is big enough to cover the whole body. Its four anti-slip loops hook it properly. The blanket is easy to be cleaned and dries quickly in the dryer.
Pros
100% waterproof
Large
Lightweight
Anti-slip loops
Easy to clean
Soft
Cons
None
The Leisure Co Ultra-Portable Outdoor Camping Blanket measures 4 x 6 feet and weighs just 1.4 lbs. It is made of 100% water-resistant polyester that is super lightweight. It is a perfect camping quilt that protects you from environmental aggressors. It is water-resistant and super easy to clean. You can wear it hands-free, and tying the buttons gives a warm poncho look.
Pros
Super compact
Lightweight
Perfectly fits into a backpack
Water-resistant
Wind-resistant
Easy to clean
Durable
Cons
None
The Sorison Camping Blanket is made with incredibly soft and lightweight 20D ripstop nylon. It is protected with a durable, water-repellent finish. The microfibers are made with ultra-warm anatomic loft insulation for perfect warmth and coziness. The extra-large blanket wraps the entire body perfectly. It can be easily folded to a compact size. The stuff sack includes a shoulder strap and is easy to carry.
Pros
Weatherproof
Ultra-lightweight
Microfiber insulation
Sand-proof
Water-repellent
Durable
Easy to carry
Machine-washable
Dries quickly
Cons
None
These are the 15 best camping blankets that you can buy online. In the following section, we will explore the different types of camping blankets.
Types Of Camping Blankets 
Woolen Blanket: This is among the most durable and long-lasting blankets for outdoor camping. The wool keeps you warm for long hours. It is a perfect pick for chilling nights and winters.
Synthetic Blanket: The synthetic blanket is lightweight and quick-drying. Most synthetic blankets are waterproof and wind-resistant and can withstand adverse environmental conditions. They are travel-friendly and easily fit into backpacks.
Polar Fleece Blanket: This is mainly made of synthetic polyester to keep you warm and dry. It provides ultimate comfort. It is super lightweight and easy to carry.
Using blankets while camping outdoors has its own benefits. Check them out.
Benefits Of Using Camping Blankets 
They help regulate body temperature in extreme weather conditions.
They help wick the dampness away during cold weather and keep your body dry and comfortable.
Their unique fabric draws air during warm weather conditions and keeps your body cool.
Their flexibility protects users from potential injuries.
Camping bags are 30% lighter than regular sleeping bags. They are easy to carry around too.
Their compact and lightweight design makes them easy to accommodate in backpacks.
Scan through the features you need to look for before buying a camping blanket.
Camping Blankets – A Buying Guide
Weight: A camping blanket should be light and easy to carry along.
Size: This depends on who (and how many) you are camping with. Bigger blankets can accommodate six people, while smaller ones can accommodate one to two individuals.
Material: Synthetic or nylon blankets are lightweight and easy to carry around, but woolen blankets offer ultimate warmth and comfort. Check what suits your needs. The blanket material must also be durable and sturdy to withstand adverse weather conditions.
Compressibility: Pick a blanket that can be squeezed down and compressed into a bundle. It must easily fit into your backpacks.
Waterproof: A good camping blanket should repel water and keep you dry and warm all the time.
Weatherproof: Keeping yourself dry and comfortable is essential while camping outdoors. Ensure your camping blanket is sand-resistant, wind-resistant, and keeps you protected from the rain.
Design: The stitching and finishing of the blanket must be durable. If you are going to trek, you need a blanket that is lightweight yet sturdy. If you are camping in a rain-prone zone, you need a waterproof and windproof blanket.
Camping blankets are a great way to set up a comfortable space for yourself outdoors. They ensure you enjoy your camping experience irrespective of the weather. Pick your favorite camping blanket from this list today!
Expert's Answers for Readers Questions
Are camping blankets usually machine-washable?
Yes, the material used for making camping blankets is usually machine-washable. You can use cold or hot water and mild soap to wash a blanket.
Do I really need a camping blanket?
If you do not like being zipped into the cocoon, a comfortable camping blanket is a right pick for you. It offers the ultimate warmth and protects you from environmental aggressors.
How do I carry my camping blanket?
Ensure you are getting a compact camping blanket. You can either accommodate it in the sack that comes along, or even in your backpack.
Are woolen blankets good for camping?
Yes, woolen blankets are ideal for camping. They provide optimum warmth to protect from extreme cold.
Recommended Articles