Top 10 Camping Canopy Tents – 2020 Best Picks And Reviews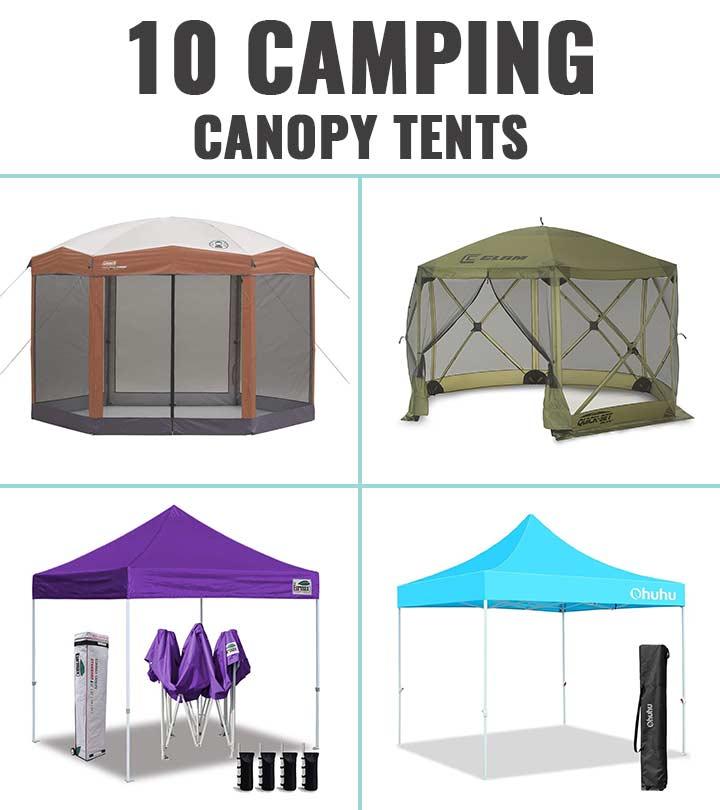 Camping in the wilderness brings you closer to nature. But to make your experience a bit more comfortable, you can make some little arrangements by taking essentials like a camping chair and a camping canopy. The canopy tents listed in this article will serve you well by protecting you from the sun, rain, and bugs. They will make you feel at home while away from home. So, what are you waiting for? Dive right into our list of the 10 best camping canopy tents available right now!
10 Best Camping Canopy Tents
Are you planning your next BBQ with your family and friends? If so, get this instant screen house tent. It is made of UVGuard material that provides 50+ UPF protection from the sun's dangerous UV rays.
It consists of a 1-piece frame and telescoping poles for quick and easy set-up. The 90 sq.ft. space can fit up to six people. It is equipped with the patented Comfort Grip technology that locks your shelter in place.
The tent has two large doors for entry from either side. The double-thick rugged polyguard 2X fabric can withstand the rigors of the outdoors. 
Specifications
Weight: 45.2 lbs
Dimensions: 48" x 13.8" x 10.2"
Material: UV guard 
Pros
1-year limited warranty
Protects from rain, sun, and bugs
High center ceiling
Comes with a wheeled carry bag
Pre-attached guy lines 
Cons
None
This pop-up tent is large enough to hold a group of six people. It is built for harsh climate and bug protection. Its unique design helps you to set it up remarkably fast. The 11 mm fiberglass poles make this tent very sturdy. The durable materials and design give this tent longevity in every season.
This tent offers 94 sq.ft. of floor space and 7.5 ft of head clearance. The rounded design feels even more spacious. It has a pull-away netting that allows a wide welcoming entrance. The doorway has 2 foldaway poles.
This tent is made of a 210 denier poly-oxford fabric with 600 deniers in the center and 50+ UV guard protection. The brand claims that it takes just 45 seconds to set it up. However, if you are doing it for the first time, it may take about 15 minutes. There are a series of pull tabs that help you to pop up the tent easily without snagging. This makes packing it easier and faster.
Specifications
Weight: 34 lbs
Dimensions: 140" x 140" x 75"
Material: 210 denier poly-oxford fabric
Pros
Waterproof material
Wind panels for extra protection
High-quality material
Built to last for years
Cons
Heavy
Difficult to transport
Eurmax Pop Up Canopy Tent is one of the most durable tents on the market. It is built with quick-release push tabs to make setting up quick and easy. It offers a 100 sq.ft. floor space that can accommodate up to 6 people.
The tent frame has a hammertone powder-coated finishing that is rust-resistant. It also offers three height positions. The tent fabric is made of polyester PU that blocks 99% of the UV rays. The stitching lines are sealed thoroughly to prevent water from penetrating.
This tent also includes large and sturdy 2.7″ wheels for easy transportation. The entire package includes a 10' x 10' pop-up canopy frame, a canopy tent top cover, and a canopy tent roller bag. 
Specifications
Weight: 61 lbs
Dimensions: 120" x 120" x 133.2"
Material: Polyester
Pros 
Easy to set up
Waterproof
Heavy-duty frame
Stable shelter on sand and asphalt 
Cons
This pop-up tent is perfect for summer gatherings, picnics, and outdoor sports events. The tent has a silver coating that helps block out 99% of the UV rays. It is equipped with safety push adjustment buttons so that you can adjust the stands to multiple heights.
This tent is made with 420D waterproof oxford fabric that provides both durability and sustainability, all while protecting you against the UV rays, strong winds, and heavy rains.
The canopy comes with a carry bag on wheels for easy storage and transportation. It is very easy to set up. All you need to do is open the frame, fix the roof with velcro straps at the corners, and adjust the height for maximum coverage.
Specifications
Weight: 54 lbs
Dimensions: 65″ x 9.5″ x 9.5″
Material: 420D Oxford Fabric
Pros
Fire-resistant
Provides a large sitting space
Low maintenance
Easy to set up 
Cons
None
Leader Accessories Pop Up Canopy Tent provides ample shade for about 15 people. Its one-piece frame is built with high-gauge sturdy metal, which makes it easier for you to set up the tent.
The tent provides solid protection from sun, wind, and rain. The quality construction of the powder-coated steel frame and 50+ UV protection fabric makes this tent a perfect fit for outdoor events even during the harshest climate.
It comes with 4 tie down lines and 8 steel stakes to secure the tent to the ground tightly. It also has a vented top for additional air circulation. 
Specifications
Weight: 39.9 lbs
Dimensions: 100" x 111" x 100"
Material: 210D Polyester 
Pros
1-year warranty
Includes a carry bag with wheels for easy transportation
Durable fabric
Waterproof
Cons
None
Core Instant Shelter Pop-Up Canopy Tent is a large outdoor canopy that provides 100 sq.ft. shaded space anywhere in just minutes. It features fully-taped seams that protect you from moisture, and the two built-in roof vents provide extra ventilation.
The tent is equipped with Core Instant technology with pre-attached poles and scissor joints that make setting it up quick and easy.
The fabric used in making this test blocks out over 97% of the UV rays.
Take this canopy tent anywhere you go with the included stakes, tie-downs, and wheeled carry bag. It is perfect for tailgating, fairs, sports events, music festivals, and so on.
Specifications
Weight: 38.7 lbs
Dimensions: 120" x 120" x 111.60"
Material: Polyester 
Pros
Easy to set up
Sturdy frame
3 height adjustments
Durable quality 
Cons
None
ABCcanopy Pop Up Canopy Tent claims to provide 20% more shade compared to most canopy tents on the market. It provides a large interior space with an added 23 sq.ft. shade for your family and friends.
It takes less than 10 minutes to set up this tent. Just take the fully assembled frame with the top, place the fabric over it, and extend the legs.
It is available in 3 height options: 89.3", 93.7", 97.2".
Its black powder-coated steel frame with 100% nylon model brackets and thick square-shaped legs make this canopy one of the most durable tents in the market.
The suntop roof provides 50 km/h of wind-resistance.
The entire canopy is wind, water, and fireproof.
Specifications
Weight: 72.5 lbs
Dimensions: 120" x 120" x 135"
Material: 210 Denier Polyester 
Pros
Available in multiple colors
Well-built with sturdy legs
Easy to store
Durable 
Cons
None
This canopy comes with a fully assembled frame for quick and easy installation. It provides shade and shelter wherever you need it. It also quickly folds into a compact size that fits inside the carry bag provided.
The corrosion-resistant powder-coated steel frame can be installed within seconds.
The tent is made of 150D top with 99% UV protection and aluminum-backed fabric.
The brand's patented latch sliders and pushpin leg extenders are designed for easy use.
You can pack this canopy into the 300D carry bag provided. It can be used for camping, backyard parties, and sporting events. The four ground stakes sit perfectly on any surface.
Specifications
Weight: 26 lbs
Dimensions: 120" x 96" x 106"
Material: Polyester 
Pros
Water-resistant
Lightweight
Portable
Available in multiple colors 
Cons
Does not provide enough space for more than 3-4 people
This canopy is perfect for those who are short of assistance in setting up the tent. It only takes a minute to set up this tent and fits up to 6 to 8 people. It is perfect for backyard parties, birthday parties, public exhibitions, hiking, and sporting events.
The sturdy high-grade steel frame with gray powder-coat finish helps prevent chipping, peeling, rusting, and corrosion.
This canopy has a water-resistant top that is made from treated 150D oxford fabric and provides 50+ UV protection.
The package consists of 1 folding steel frame, 1 canopy top, 1 wheeled bag, 4 ropes, and 8 stakes.
Specifications
Weight: 31.6 lbs
Dimensions: 132" x 132" x 101.5"
Material: Polyester 
Pros
1-year limited warranty
Instant set-up mechanism
Portable
Durable 
Cons
None
EzyFast Elegant Pop Up Canopy Tent is a versatile and easily adjustable canopy shelter that is built for outdoor events and recreational uses. It is a lightweight canopy that offers quick set-up. The canopy protects its users from UV rays and harsh climate. Its gravity leg fabric is designed uniquely to look elegant.
The tent has bottom pockets (two at each leg) that can hold the sand at the beach to provide extra stability. That means you don't need to use rope or pegs to hold the tent to the ground.
This canopy has a high ceiling that can fit close to 6'7″ tall people. It is designed for about 4 people. The mesh valance allows good airflow and keeps you cool in hot climates. The durable fabric is made of 190T polyester that helps block 99% of the harmful sun rays.
The metal frame is durable and easy-to-use with its push-button locking mechanism. It also has a full-size wall designed with optimal modes that you can roll down for shade or privacy.
Specifications
Weight: 17 lbs
Dimensions: 84" x 84" x 72"
Material: 190T Polyester 
Pros
Easy to maintain
Highly portable
Easy to assemble
Takes one person to set up the tent
Cons
Not enough room for more than 4 people
Now that you know the 10 best camping canopy tents available right now, check out the important features to consider while purchasing a canopy tent.
How To Choose The Best Camping Canopy Tent – Buying Guide
1. Frame Material
Most canopy frames are typically made of steel or aluminum. The main factors to be considered under the frame material are weight and durability. Let's check out the difference between each material.
Aluminum: For people who move a lot, aluminum frames are a perfect fit. They are light and easy to store. They are easy to assemble and require only one person to install. They are corrosion- and rust-resistant, which is why they have a longer lifespan than steel. However, aluminum frames are not sturdy enough for wind locations. They may also tend to lose their shape after prolonged use.
Steel: For those who camp regularly in harsh climates, steel frames are a perfect fit. They are heavier than aluminum, which makes them suitable for regions that experience heavy rains. However, they are more difficult to assemble and corrode over time.
2. Portability
You should pick the weight of a tent based on the frequency of your travels. If you are a regular camper, choose a canopy that includes a wheeled carry bag for easier transport. Aim to purchase a tent that weighs less as it allows you to hike longer without straining your legs. Wheeled bags are also helpful for carrying the canopy around.
3. Fabric
While picking the fabric, the buyers need to consider factors like durability, water-resistance, and UV-resistance. Most canopy tents are made of polyester. Polyester is water- and wind-resistant. It is prone to less damage. However, it cannot last long in high-impact weather. Other materials options are vinyl and polythene.
4. Size When Folded
If you want to fit your tent into your car trunk, make sure to check the weight and dimensions of the canopy. You need to check how small or large the canopy is when folded.
5. Surface Coverage
Before purchasing your camping canopy, be sure to calculate the number of people who will be using it. On average, a 100 sq.ft. canopy fits around 6 to 8 persons comfortably.
6. Water-, Wind-, And Fire-Resistance
Before purchasing a camping canopy, check if the top fabric is waterproof. This will protect the rest of the canopy from getting drenched.
The canopy tent that consists of steel frames can endure high-impact winds. If you are planning to trek in hilly areas, pick one that has a steel frame and polytene fabric.
In case you are lighting a campfire, be sure to check if your canopy has passed the test on CPAI-84. This tells you if it is fire-resistant.
7. Ease Of Set-up
The last thing you want to do is spend 30 minutes trying to set up the canopy. Most canopy tents have one-piece frames that can be assembled by one or two people in no time. This is the best option for saving time when setting up your canopy.
Camping canopies are a great way to set up a comfortable space for yourself in the outdoors. If you liked any of the products listed in this article, fill your cart, use it, and let us know how it worked for you by commenting below!
Recommended Articles
The following two tabs change content below.

Latest posts by Pooja Karkala (see all)

Pooja Karkala
Pooja is a Mass Communications and Psychology graduate. Her education has helped her develop the perfect balance between what the reader wants to know and what the reader has to know. As a classical dancer, she has long, black hair, and she knows the struggle that goes into maintaining it. She believes in home remedies and grandma's secrets for achieving beautiful, luscious hair. When she is not writing, she learns Kuchipudi, practices yoga, and creates doodles.