11 Best Coolers For Camping In 2020 + Buying Guide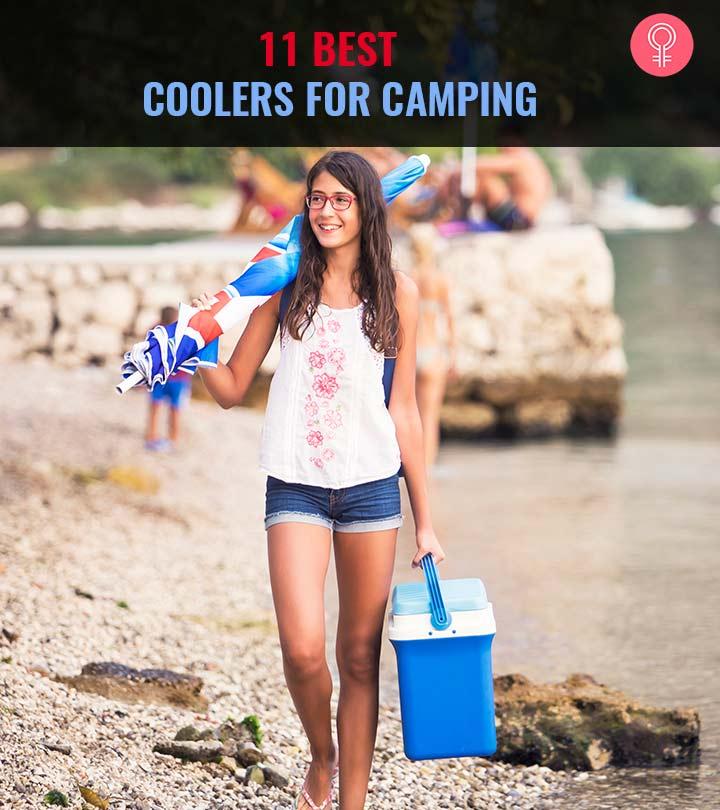 Camping is one of the most loved outdoor activities. There's nothing better than detaching yourself from your regular work life and spending time in the lap of Mother Nature. But you need the right gear and equipment to make a camping trip successful – like a camping cooler. Camping coolers help you store perishable foods and drinks for a prolonged period. We have compiled a list of the 11 best coolers for camping you can invest in. Check them out!
11 Best Camping Coolers
The Cooluli Electric Cooler has an inbuilt thermoelectric system that makes it easy to switch from cold to warmer temperatures – at the click of a button. This cooler has enough space to hold up to six 12-ounce cans. Its ideal size makes it easy to use at your office, home, or dorm room besides camping activities.
You get USB as well as AC/DC adapters with the unit. This camping cooler can be powered by a car battery or a power bank. It has a sleek design and is made of polypropylene plastic. The cooler has a magnetic self-lock latching door and a carrying handle that make transportation convenient.
Specifications
Dimensions: 10.2 x 7.7 x 10.5 inches
Weight: 4.84 lbs
Maximum Capacity: 4 liters
Pros
Lightweight
Easy to clean
Versatile
Low noise
Cons
The Landworks Rotomolded Cooler can keep your food and drinks in perfect condition for more than five days and is compatible with dry ice. It has 3-inch thick insulated walls and a UV protected shell. The commercial-grade 360° D-seal freezer style gasket helps trap all the cold inside. The unit also includes a recessed, leak-free drain plug and molded tie-down slats.
The rubber grips on each side are ergonomic and absorb impact. The cooler has a removable rope handle made of nylon and a built-in stainless steel bottle opener. The non-skid feet ensure stability on the surface, while the tight clasp latches ensure that the contents are sealed.
Specifications
Dimensions: 27 x 16.3 x 16.3 inches
Weight: 26.45 lbs
Maximum Capacity: 42.5 liters
Pros
Sturdy
Easy to use
Durable
Value for money
Dry ice compatible
Cons
The Coleman Xtreme Cooler has a massive capacity – it can hold up to 100 cans. You can close the lid and use the unit as a seat, which supports a maximum weight of 250 lbs. The cooler has cup holders molded inside the top lid to avoid spills and keep your drink handy. The comfort grip handles make it easy to carry. The cleaning process is simple – wipe the exterior of the cooler clean while the interior has a drain channel for easy draining. The unit's lid is insulated to keep ice in good condition for up to five days at 90oF.
Specifications
Dimensions: 28.25 x 15.75 x 18.25 inches
Weight: 11.75 lbs
Max Capacity: 66 liters
Pros
Built-in cup holders
Easy to clean
Sturdy
Durable
Has a leak-resistant drain
Value for money
Cons
Flimsy hinges
Does not keep ice for 5 days as claimed
Does not work well in high heat conditions
The Igloo Polar Cooler has an ultratherm insulated body that claims to keep ice for up to five days at 90oF. The reinforced swing-up handles have a tie-down loop feature. The lid is closed with double snap-fit latches, and there is also a drain plug that can be connected to a hose for easy draining. The cooler has a capacity of 120 quarts and can hold up to 118 12 oz. cans.
Specifications
Dimensions: 38.19 x 17.32 x 17.72 inches
Weight: 18.21 lbs
Maximum Capacity: 113 liters
Pros
Massive capacity
Durable
Ultratherm insulation
Easy to maintain
Threaded drain plug
Cons
Plastic hinges
The Yeti Tundra 45 Cooler has a rotomolded construction that makes it virtually indestructible. The unit combines durability and versatility to offer an overall capacity of up to 26 cans and an ice-to-contents ratio of 1:2. The walls and the lid contain pressure-injected, commercial-grade polyurethane foam for ice retention. The lid latches are made of heavy-duty rubber that does not bust over a long period of use.
The interlock lid system creates a sealed barrier against heat. The handles are made of military-grade polyester for extra durability. The lid has tie-down slots that make it easy to mount the cooler on a trailer or boat. The cold lock gasket ensures to lock in the cold and block the heat. The cooler has a leakproof vortex drainage system for easy draining. The non-slip feet prevent sliding and keep the unit in place.
Specifications
Dimensions: 25.5 x 15.5 x 15.5 inches
Weight: 23 lbs
Maximum Capacity: 42.5 liters
Pros
Durable
Sturdy
Bear-resistant
Superior ice retention
Cons
The Reyleo Cooler claims to retain ice up to three days and hold up to 30 cans at once. The overall ice-to-contents ratio is 2:1. The unit has a sturdy rotomolded construction and is insulated with polyurethane foam. This makes it highly insulated, durable, and reliable. The cooler is made of food-grade, environment-friendly material. It is odorless, non-toxic, and UV-resistant. The unit also features a 16-inch fishing ruler, non-skid feet, cup holders, and a bottle opener.
Specifications
Dimensions: 18.31 x 13.78 x 13.39 inches
Weight: 16.9 lbs
Maximum Capacity: 20 liters
Pros
Easy to use
Durable
Built-in bottle holder and opener
Cons
The Orca Cooler has a rotomolded construction that is sturdy and durable. The unit comes with integrated insulation and a lid gasket that offers the perfect airtight seal for the contents inside. It claims to keep food fresh for almost 10 days. The grip handles on the sides make it comfortable to carry, while the drainage spout facilitates easy drainage of water.
Specifications
Dimensions: 35 x 19 x 19 inches
Weight: 35 lbs
Maximum Capacity: 70 liters
Pros
Massive capacity
Holds ice for long
Cons
The Engel ENG80 Cooler comes in six different colors and is an IGBC certified bear-resistant container. It can retain ice up to 10 days and is also dry ice compatible. This cooler has a rotomolded construction to ensure durability. It has compression latches made of stainless steel that ensure airtight sealing of the contents. The gaskets are made of silicon, and the interior is tapered to facilitate quick and easy drainage. The lid, sides, and bottom have two inches of insulation that helps retain cold and ice. The tie-down points help secure the cooler during travel.
Specifications
Dimensions: 34.5 x 16.5 x 17.5 inches
Weight: 32 lbs
Maximum Capacity: 70 liters
Pros
Easy to use
Sturdy
Dry ice compatible
Bear-resistant
Cons
Leaking drain plug
Faulty sealing of the lid
The Dometic CFX 95DZW Electric Cooler has two separate compartments for freezing and cooling. It comes with connection cables to be used with 12/24V and 100/240V power sources. The unit can hold up to 133 cans, and the electric compressor can keep food contents even at -7oF. It comes with a USB port, a drain plug, and an interior LED light. This cooler is ideal for use in large SUVs or RV basements.
Specifications
Dimensions: 37.7 x 20.8 x 18.6 inches
Weight: 70.5 lbs
Maximum Capacity: 127 liters
Pros
Energy-efficient
Rugged construction
No need for ice
AC/DC power
Cons
The Wagan Thermoelectric Cooler has a massive interior that can house up to 60 12 oz. cans. There is enough space to handle the entire dinner or lunch menu of an average-sized family. The machine comes with dual functionality that can either cool or warm food and drinks, depending on your preferences. It can cool up to 36 degrees below ambient temperatures while heating is limited to 140oF. The unit has polyurethane foam insulation. It has a top-loading mechanism, and the removable lids are magnetically closed. You can easily carry this cooler anywhere using the collapsible handle and built-in wheels.
Specifications
Dimensions: 17.25 x 9.25 x 13.5 inches
Weight: 22 lbs
Maximum Capacity: 43 liters
Pros
Dual function
Removable lid
Easy to clean
Collapsible handle
Easy to clean
Cons
Noisy
Drains batteries fast
The Arctic Zone Titan Deep Freeze Cooler offers high, deep-freeze performance that can keep your food and drinks cold over a long period. The radiant heat barrier and triple-layer ColdBlock base help to create superior cooling. The cooler has a patented flip-open zipperless lid to access food and drinks. You also get a zippered accessory pouch to store your cutlery and napkins.
The interior of the cooler has a durable liner with SmartShelf, which allows separation between drinks and soft foods. The exterior is made of Rhino-Tech material that is tough and resistant to water, puncture, abrasions, and stains. It can also be cleaned easily. This cooler comes with a shoulder strap that makes it easy to carry.
Specifications
Dimensions: 20 x 13 x 12.5 inches
Weight: 6.2 lbs
Maximum Capacity: 46 liters
Pros
Lightweight
Leakproof
Easy to carry
Easy to clean
Water and stain-resistant
Comes with a shoulder strap
Cons
Thin plastic liner
Does not keep ice for long
The above are the 11 best camping coolers you can buy. Let's look into the factors to consider while buying a camping cooler.
What To Look For In A Cooler For Camping – Buyer's Guide
Size
You have to ensure that you can fit all your food and drinks in the cooler. The larger the size or capacity of the cooler, the more things it can hold. Consider what you are planning on packing inside the cooler and then choose a product that can fit these requirements.
Construction
The construction plays a crucial part in maintaining the cooler's durability and sturdiness, which is why you should always choose coolers that come with long-lasting build. Coolers are generally made of polypropylene plastic that is sometimes rotomolded for better reinforcement. Some containers are also certified bear-resistant, which ensures strength and durability.
Cold Retention
Before you splurge on a camping cooler, you should know whether it can retain cold temperatures efficiently. For example, if you are going to be camping for several days, go for a cooler that can retain ice for a specific amount of time. Some models offer ice retention capacity up to 5 days, while others offer up to 7-10 days.
The overall construction of the storage unit will also directly impact the unit's temperature retention capacity. The kind of insulation used inside the unit also matters. If you want a cooler that can retain its cold temperatures for multiple days, look for a product with thick insulated walls (lined with foam) and a well-sealed, leakproof lid.
Portability
The portability of a cooler is essential as it will tell you how easy it is to transport. If you are purchasing a cooler of higher capacity, ensure that it comes with side handles, trolley wheels, and a pull handle for easy transportation.
If you are going for a moderately sized or smaller cooler, ensure that it comes with two side handles. You can also opt for units that come with a carry bag or have shoulder straps for easy portability.
The weight of the cooler also plays a critical role in determining the portability. If you want the ultimate portability, a lightweight, small capacity cooler works best. If portability is not a cause for concern, you can go for a larger, heavier cooler.
Cost
Determine how much you are willing to spend. Camping coolers can vary widely in terms of pricing. The larger and more feature-rich the cooler is, the costlier it is. Hence, decide the budget and the features you want before zeroing in on a model.
The following section will help you keep the inside of your cooler colder for an extended period.
How Do You Keep The Inside Of The Cooler Colder For Longer?
Always Pre-Cool The Interiors
Before you go camping with your cooler and store all your food and drinks, pre-cool the interiors with some ice. Do this a day before you set out on your trip.
Always Use Dry Ice
Ice cubes tend to be extremely inefficient, which is why you should use dry ice. But ensure that your cooler is dry ice compatible.
Put Your Food And Drinks
Once your cooler is sufficiently cooled, it is time to put in your food and drinks.
Layer
The secret to keeping your food and drinks cold for a long time is to start layering. Use one layer of ice and then keep your food. Apply another ice layer and then place the drinks, and so on. Ensure that you fill the container as much as possible.
Don't Open The Lid Unless Necessary
Keep the lid of your cooler closed most of the time and open it only when needed.
Don't Leave Your Cooler In Direct Sunlight
Always keep your cooler in the shade and not in direct sunlight. This will keep the items cool for a longer period.
Whether you want to cool drinks at a beachside party or store food for a camping trip, these camping coolers can be your wingmates. Go through our buying guide and pick a product that suits your needs. Happy camping!
Recommended Articles
The following two tabs change content below.

Latest posts by Harini Natarajan (see all)

Harini Natarajan
As Chief Editor, Harini sets the tone and editorial direction for StyleCraze to deliver engaging, interesting, and authentic content revolving around women's health, wellness, and beauty. She has over 14 years of experience in content writing and editing for online media. She specializes in the areas of Beauty, Lifestyle, and Health & Wellness and is proficient in Medical Sciences (Biology, Human Anatomy and Physiology, and Biochemistry). Her background in Biomedical Engineering helps her decode and interpret the finer nuances of scientific research for her team. Harini is a certified bibliophile and a closet poet. She also loves dancing and traveling to offbeat destinations.