10 Best Cots For Camping in 2020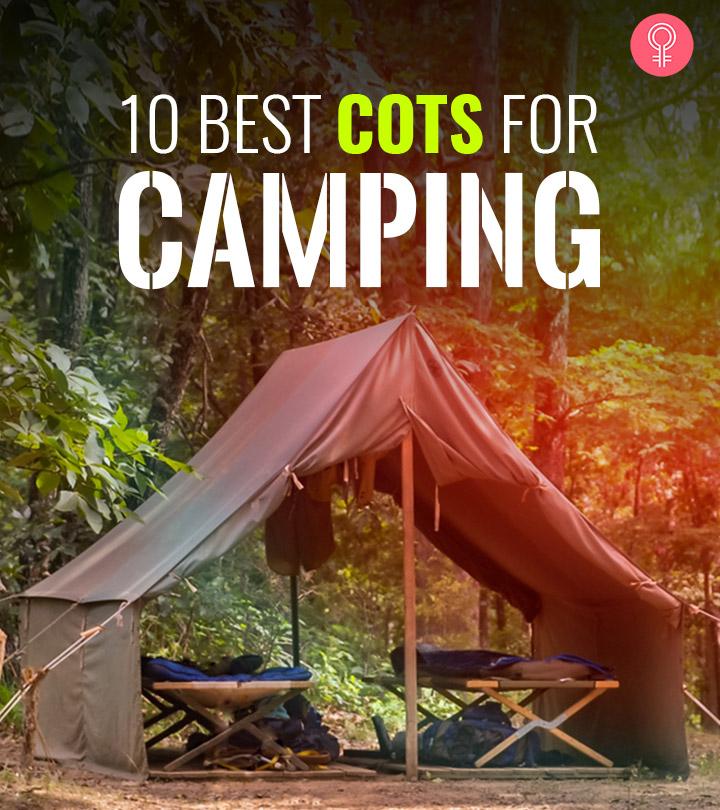 Camping can be fun. It is one of the best ways to connect with nature. But sleeping on the bare ground can be tough, especially if it is uneven. Fortunately, there are solutions to help us get a good night's sleep while outdoors – like foldable camping cots.
Camping cots offer a number of benefits. They are easy to carry and do not take up too much space. They can be folded when not being used or can be used to sit on. They also keep you away from bugs and insects and allow for safe storage of luggage.
But with so many camping cot options on the market, it can be difficult to choose the best. In this article, we have listed the top 10 camping cots that can help you rest and recharge. Take a look!
10 Best Cots For Camping
The Coleman ComfortSmart Cot comes with a thick foam sleeping pad. The pad offers support and is the same length as the cot. The cot is 6 feet 6 inches long, its dimensions are 69x25x15 inches, and it can handle a maximum capacity of 300 pounds.
The cot is made with a thick, durable steel frame that is sturdy. It is easy to set up and lock in place. It is easy to pack and place in car trunks. This camping cot comes with a one-year warranty.
Pros
Easy to set up and take down
One-year warranty
Comfortable and stretchy fabric
Waterproof
Easy to carry around
Comes with a sleeping pad
Cons
Packaging issues
The sleeping pad slides off.
The springs wear out, and the cot sags.
The cot bucks in easily when not set up properly.
The Teton Sports Camping Cot has an inbuilt lever, called the pivot arm. It helps put in the last end bar and lock in the cot. It is made with reinforced steel with an 'S' leg assembly, which adds stability and provides strength.
The cot can be folded and placed in a trunk. It is larger than a twin bed and can handle a maximum capacity of 600 pounds. It has rubber bushings that are good shock absorbers and make the cot stand firm in place. It provides a straight and tight sleeping surface. It comes with a pad to provide a little extra cushioning.
Pros
Easy to set up
Sets in place firmly
Has shock absorbers
'S' leg assembly for stability
Cons
The legs might get rusted due to moisture.
It is very difficult to get the last pole in for assembly.
The legs can fold in if not set up right.
This cot is made from heavy-duty nylon and is a self-contained cot with an expanded private sleeping area cover. The cover stands 11 inches off the ground and provides pockets for storage. The cot has two additional support legs to provide stability. It doesn't use uncomfortable crossbars.
The cot can be easily set up. It can also be used as a lounge chair due to its special hinge design. The cot has dimensions of 90"Lx32"W and can handle a maximum weight of 350 pounds. The sleeping bag over the cot is made with polyester and mesh to provide ventilation. It has two zips for entry and airflow.
Pros
Easy to set up
Comfortable
Waterproof
Special hinge set up
Comes with bag
Cons
The support beams are a little weak.
The zips on the bag break off easily.
The legs poke out of the cot, depending on the ground surface.
The Byer Of Maine Camping Cot is easy to assemble. The legs are already attached to the cot, which makes setting it up simple. The dimensions of the cot are 78"Lx31"Wx18"H. It is 6 feet 4 inches long and can handle a maximum weight of 330 pounds. It doesn't come with end rails, so you can stretch easily.
It comes with a carry bag, which makes it easy to transport and carry around. It is made of polyester fabric. The entire frame is made from steel, and the hinges are welded together. It has five reinforced panels to increase the strength and durability of the fabric.
Pros
Easy to set up
Strong aluminum frame
Canvas bag for storage
Spacious
Waterproof fabric
Cons
The cot sags with weights over 100 pounds.
The legs might fall out during unfolding.
Plastic snaps to hold the legs in place are hard.
The cot's smell might not be pleasing to everyone.
The KingCamp Ultralight Camping Cot is an ultralight, heavy-duty cot. It weighs only 4.9 pounds but can handle a maximum weight of 265 pounds. It is 6 feet 2 inches long and has dimensions of 75Lx25Wx4.7H inches.
It has two elastic straps to keep the sleeping mat from slipping. It is compact and comes with a storage bag. You can put the storage bag in the pillow bag to make a pillow. The frame rods are made with durable aerial aluminum. The cot is made with 420 D polyester material, which is rip-proof and durable. It follows the simple four stents design, which makes for easy setup and take down.
Pros
Four stents design for easy setup
Waterproof
Sturdy aerial aluminum rods
Comfortable
Cons
The leg brackets break easily.
Does not come with instructions.
Assembly can be difficult for a first-timer.
The Osage River Camping Cot is lightweight and designed with tubular carbon steel legs. It can support a maximum weight of 300 pounds. It has flat plastic feet that make ground sinking impossible. Its dimensions are 28"Wx75"Lx18.5"H, and it has an elevated headrest.
It is made with heavy-duty 600D PVC polyester material that is waterproof. It also prevents moisture build-up and mildew. It is easy to set up by pressing down on the four frame joints to lock them in position. To take down the frame, loosen the joints and fold the legs.
Pros
Lightweight and easy to carry
Spacious dimensions
Waterproof cot
Prevents moisture and mildew
Cons
The metal bars might snap off.
The sides of the cot might rip.
The cot might buck at the center.
The seams of the cot might open easily.
The Tough Outdoors Camping Cot has an elevation height of 16 inches. The cot is 75 inches long and 25 inches wide, which makes it comfortable. The cot is military-grade with a full aluminum frame. It is easy to set up and fold away but might require some muscle. It is made of 600D Oxford material and can handle a maximum weight of 300 pounds.
The frame is sturdy with steel legs to hold the cot in place. It comes with an organizer, so you can store your smartphone, glasses, keys, etc. within an arm's reach. The best part is you can stow it away in the free canvas bag when not in use. It is advisable to 'break-in' the cot by setting it up at least 18 hours before sleeping in it for the first time.
Pros
Easy to assemble
Strong aluminum frame
Includes canvas bag for storage
Spacious
Waterproof fabric
Cons
The support legs might break.
Packaging issues
The legs may wobble on a non-flat surface.
The Giantex Camping Cot is a foldable camping cot made for adults and children. It can be used at home as well as outdoors. The cot has a sturdy steel frame, and it is easy to carry around and store.
The cloth is washable and is waterproof. It is 75 inches long and 22 inches wide, along with an elevated height of 12 inches. It can carry a maximum weight of 300 pounds. It is made of 6000D Oxford cloth that stretches easily over the steel frame.
Pros
Stretchable cot fabric
Waterproof
Sturdy frame
Easy to set up and take down
Cons
Difficult to lock the legs in place.
The center may buck in.
If not locked in place, the cot folds easily.
The Slumberjack Adult Big Cot is tough, sturdy, and very spacious. It can carry a maximum weight of 500 pounds. It is easy to set up due to its tension grip and bar assembly. It has a reinforced gusset arm for stability. It comes with a carry bag, which makes it easy to transport and store. The cot is made from waterproof material and stretched easily.
Pros
Easy to set up
Strong frame
Comfortable
Waterproof fabric
Cons
The support might not be comfortable for seniors.
Packaging issues
The KingCamp Camping Cot is a military-grade cot made for civilians. It has dimensions of 74.8"Lx24.8"Wx16.5"H. The cot has an underneath 'V' shape protection to keep any luggage or bags safe. It is made from 1200D Oxford material with a layer of polyester on top. This makes it durable and water-resistant.
The foldable cot is made from lightweight, sturdy aluminum. It can handle a maximum weight of 265 pounds without wobbling. The legs have plastic caps to prevent any moving. The cot has easy-to-set crossbars and can be assembled in minutes. It comes with a two-year warranty and a carrying bag with two handles for easy transportation.
Pros
Sturdy steel frame
Stretchable cot material
Water-resistant
Easy to assemble
Cons
Needs to be kept stretched for 24 hours before using.
Needs level ground, so it doesn't wobble.
Now that you know what the best cots to sleep in while camping out are, here are some things to check before buying one.
Things To Consider While Buying A Camping Cot – Buying Guide
Size: Check the size in the description along with the reviews. Pick a camping cot that is slightly longer than your height so that it is spacious, and you can stretch comfortably.
Weight: The cot shouldn't be too heavy. It should be sturdy but light enough to carry around.
Fabric: Pick cots with waterproof and stretchable fabrics. Most companies choose 600 D Oxford or 100% polyester as they are water-resistant and have good breathability.
Frame: The frame is one of the most crucial elements to keep in mind when picking a cot. The frame has to be easy to set up but sturdy, so it remains in place without folding on its own. Cots with crossbar frames tend to be uncomfortable, so most companies now use welded steel legs. They are also easy to set up.
Weather: Pick cots that can withstand all weather conditions and seasons. Most cots are waterproof to withstand rain. They can also protect from moisture and mildew.
Packed Size: Most foldable cots come with a carry bag. They can be folded and placed in the bag. The cot itself should be pretty compact and lightweight, making it easy to carry on travels.
Accessories: Some cots come with pockets for easy storage of phones, torches, or batteries, etc.
Remember to 'break-in' your cot for better comfort. You can do this by assembling the cot a few hours before sleeping to leave it stretched out. That was our list of the best sleeping cots for camping. Pick one from the above list and have an adventurous and wonderful camping experience with the best sleep!
Expert's Answers For Readers' Questions
What's the difference between an inflatable cot and a foldable cot?
An inflatable cot needs to be filled with air to be used. A foldable cot comes with a frame set up and has to be unfolded and fixed in place.
Can I place a mattress over the cot?
Yes, you can place the mattress over the foldable cot, but keep the maximum weight capacity in mind when picking a mattress.
Do all foldable cots come with storage bags?
Most cots come with their own storage bags, but it is advisable to check before you order one.
Recommended Articles
The following two tabs change content below.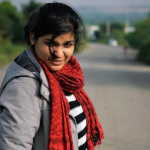 Latest posts by Anjali Sayee (see all)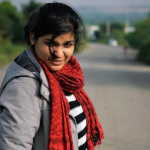 Anjali Sayee
Anjali Sayee is a writer and an introvert. From studying Aeronautical Engineering and wanting to design her own airplane to writing articles on hairstyles, she has been on quite a journey. She believes that hair is one of the key factors that define a woman's personality. To quote her, "What's the first thing they do in the movies to show a personality change? Change the hair – because it has a life of its own." She's here to help you find the hairstyle you need. This bookworm is a self-professed Wholocker, a talented drummer, and an amateur photographer.