10 Best Camping Grills of 2021 – Reviews and Buyer's Guide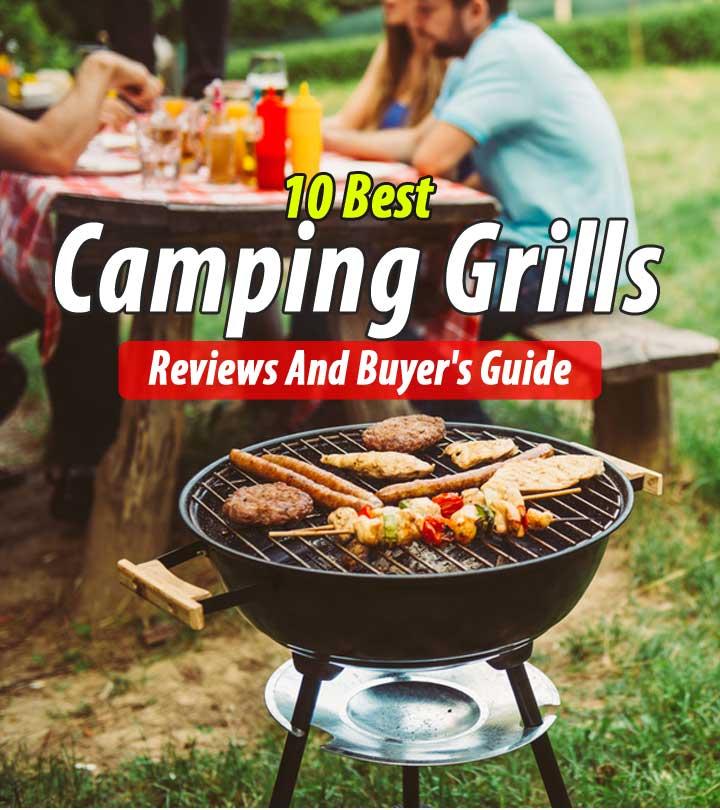 Outdoor camping is the best way to detach yourself from the world and connect with nature. Most of us cannot evade the calling of a starry night, pine trees, breezy woods, and the mountains. When you are out in the wilderness, a portable camping grill is a perfect companion. It is easy to use and can whip up tasty food in minutes! If you are planning to go camping soon, check out the best camping grills you can buy. Scroll down.
Top 10 Camping Grills of 2020
This outdoor grill has a collapsible stand with wheels and folds easily. You can carry it easily and store it anywhere. This grill has dual adjustable burners that offer two temperature zones for precise control. It comes with two sliding side tables where you can keep the tools while using the grill. The porcelain-coated cast-iron grilling grates are durable, easy to clean, and can be changed with other cooktops. Cleaning is easy as the grill has a removable drip tray that ensures less spillage.
Specifications
Type: Propane grill
Power: 20,000 BTUs
Ignition: Push-button ignition
Pros
Lift and lock system
Push-button ignition
Durable
Portable
InstaSmart matchless ignition
Cons
The transport handles are not durable.
This portable grill is best for road trips, camping, and outdoor use. It uses a 1-pound propane bottle for fuels and has stainless steel "H" burner that heats up really fast. The "H" shape ensures even distribution of heat and fast cooking. It also has a built-in grease catcher that draws grease from your food. You can carry it in your hands easily, and it is easy to store. This is a 17-inch grill and is also available in a 22-inch variant.
Specifications
Type: Propane grill
Power: 12,000 BTUs
Ignition: Electric ignition
Pros
Electric igniter
Built-in grease catcher
Good for heavy-duty cooking
Easy cleanup
Cons
Wind may interrupt even heating (no side covers).
The grease tray could be bigger.
This is compact charcoal grill meant for grill-on-the-go. It can easily hold up to five burgers made with a Weber burger press. The cooking grate is made of plated steel that retains heat and is durable and easy to clean. It has a porcelain-enameled lid that helps to retain heat while your food is cooking. It also doesn't rust and peel easily. It comes with dampers, so you can easily control the temperature inside the grill.
Specifications
Type: Charcoal grill
Power: N/A
Ignition: N/A
Pros
Portable
Aluminum ash catcher
Rust-resistant
Easy to clean
No rust aluminum vents for airflow
Cons
This is a Hibachi-style charcoal grill. It is made of cast iron and has a flip-down door from where you can put the coal inside. The cast iron grill is seasoned with 100% vegetable oil and has excellent heat retention. It ensures even cooking using less charcoal. It is sturdy and fit for camping, backyard, and patio barbecues.
Specifications
Type: Charcoal grill
Power: N/A
Ignition: N/A
Pros
Durable
Seasoned with vegetable oil
No chemical coating
Cons
The cover is sold separately.
This portable gas grill has a 145 square inch grilling area and comes with foldable legs that are made of aluminum. It can cook 8 burgers and 6-10 pieces of chicken or 4 pounds of fish at one go. This grill has an integrated lid lock to keep the lid secure while you cook.
Specifications
Type: Propane grill
Power: 5,500 BTUs
Ignition: Electric ignition
Pros
Compact
Porcelain-enameled grate
Briefcase-style carrying handle
Cons
Uneven heat distribution
Replacement parts are not easily available.
The PUPZO Camping Grill has a 2-in-1 design – you can use the grill and the stove simultaneously. The spacious 170sq. inches non-stick grill area accommodates up to 12inches pan. This camping grill is equipped with a heavy-duty grill box and iron grill grate with a powder coat finish. It features a 30incheshigh-pressure propane hose and adapter.
The collapsible design and carrying handle enable easy portability and fit most car trunks. The detachable legs offer an ideal cooking height of 26 inches and great stability in any terrain. The wind block panels shield the burners from wind and can be adjusted for various pan sizes.
The grill pan and the grease management tray are removable and dishwasher-safe. This product facilitates a complete fuel combustion process, enabling effective cooking with less fuel. It is suitable for tailgating, hunting, and backyard cooking.
Specifications
Type: Propane grill
Power: 20,000 BTUs
Ignition: N/A
Pros
Durable
User-friendly
Non-stick surface
Sturdy
Dishwasher-safe
Easy to set up, store, and clean
Cons
None
This stainless steel LPG grill has a 189 square inch total cooking area. You can attach disposable fuel cartridges to it. It has porcelain-enameled cast-iron cooking grates that can be replaced with a compatible griddle. The cast aluminum lid helps to retain heat and cooks evenly.
Specifications
Type: LPG grill
Power: 8,500 BTUs
Ignition: Push-button ignition
Pros
Easy to clean
Removable catch pan
Durable
Stainless steel burner
Flares up easily
Cons
This is a portable grill with a folding design and a built-in handle. The compact design makes it easier for you to carry it anywhere you want. It has an adjustable horseshoe burner that lights up easily at the push of a button. The burner is built with PerfectFlow Technology that ensures steady heating output in any weather. It has a 105 square inch cooktop and may last for 3.5 hours.
Specifications
Type: Propane grill
Power: 6,000 BTUs
Ignition: InstaStart button ignition
Pros
Removable grease tray and grate
Easy to clean
Heats up and Cools down quickly
Cons
The lid is non-removable.
This one is ideal for grilling at home or on-the-go. It has two stainless steel burners along with a wood chip tray and smoke burner. This helps to add a smokey flavor to the cooked food. The grates are porcelain-coated and have a 342 square inch space for cooking. It has three folding legs and a locking hood that make it easy to store and transport.
Specifications
Type: Propane grill
Power: 16,000 BTUs
Ignition: Push-button ignition
Pros
Two main burners and 1 extra burner for smoke control
Chrome-coated warming rack
Built-in temperature gauge
Grease tray
Cons
This is a lightweight, portable barbecue charcoal grill. It has five5 vents on both sides of the grill to promote better airflow. This helps to burn the charcoal efficiently and cook food faster. It is made of premium grade stainless steel.
Specifications
Type: Charcoal grill
Power: N/A
Ignition: N/A
Pros
Scratch-resistant
Durable
Folding legs
Cons
As you can already guess from the above list, there are several types of camping grills available on the market. It is totally up to you whether you want to go for a traditional charcoal grill or a propane-powered grill. However, before you pick one, keep the following points in mind.
How To Choose The Best Portable Camping Grill
For Charcoal Grills
Check The Cooking Area: The size of the cooking area matters. It often depends on the number of people. Go for one that fits your needs.
The Quality: A charcoal grill should be sturdy and sustainable regardless of the heat and weather conditions it is used in. It should remain intact regardless of the frequency of use.
For Propane Grills
Check The Heat: A good propane grill should have high BTU (or British Thermal Units). Check for grills with 60-100 BTU per square inch.
The Build: Steel is considered a good material. It is lightweight and durable. Aluminum is good, but it conducts heat well. Ceramic cooktops usually heat up evenly and retain heat well.
The Warranty: This is important. Anything can go wrong with the grill. Getting it repaired or replaced is crucial.
Power Source: Propane is the preferred power source. Also, check for a simple and single button ignition.
Flames can be dangerous. Hence, you need to follow basic safety practices while using a camping grill.
Safety Tips To Remember When Using A Camping Grill
Grill away from hanging branches. Maintain at least 12 feet distance.
Ensure the camping grill has a stable footing to avoid accidental tip-overs.
Clean the grill. Dirty grills and grease may cause rising flames and give out smoke and cause a grease fire.
Keep the five-minute rule in mind. If the gas grill goes out completely, wait for 5 minutes before re-igniting it.
Treat the grill area as an off-limit-zone while cooking and even after the fire has gone out. Someone might get hurt, or if it tips, the hot grill might cause a bush fire.
Always keep an extinguisher handy. You never know when things might go wrong, and when you will need it.
Now that you are aware of the safety tips, go ahead and pick the camping grill you always wanted. These are your best friends when you are heading to a campsite or want to cook outside on weekends and holidays.
Frequently Asked Questions
What is the difference between a camping grill and a camping stove?
A camping stove is a propane-based burner for pots and pans, while a camping grill is a portable barbecue.
Can I use a camping grill on my apartment terrace?
No, due to safety concerns and possible fire hazards, it is better not to use propane-based or charcoal-based grills in and around your apartment.
Recommended Articles
The following two tabs change content below.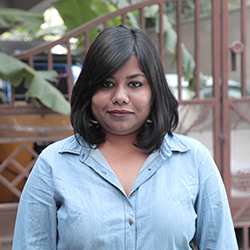 Ramona is an editor at StyleCraze. Prior to that, she authored over 200 articles on skin and hair care. She...
more