The 10 Best Camping Mattresses – 2020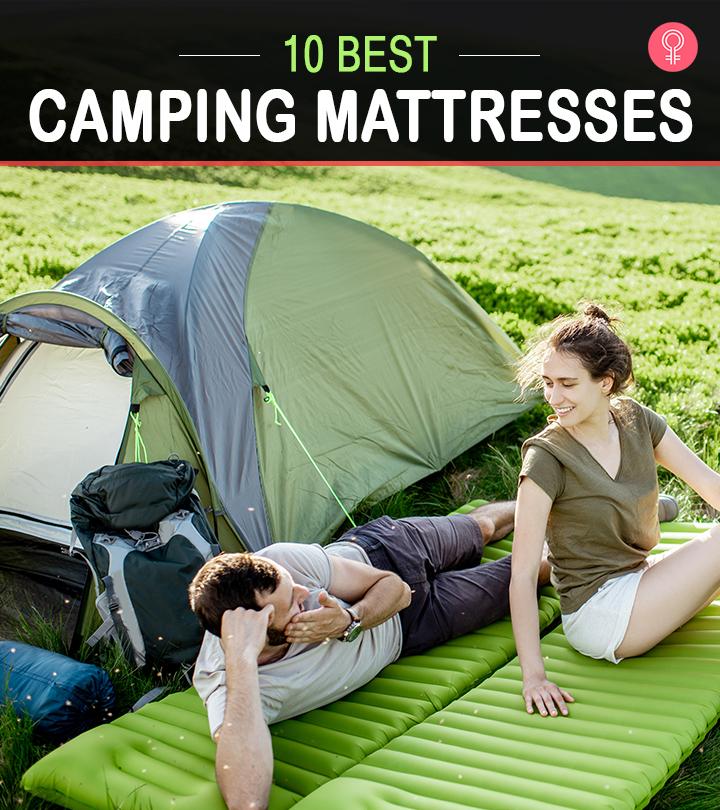 If you are an avid camper, you will agree that a good camping experience is directly proportional to a great camping mattress. Hence, it is always advisable to not compromise on a good camping mattress. Sleep is extremely important, and without an excellent mattress to take care of that, you won't be able to enjoy a great outdoor adventure. We have compiled a list of the best camping mattresses that will be a great addition to your camping trip. To help you figure out which one will be ideal for your taste, we have included a buying guide as well. Scroll down to check them out.
10 Best Camping Mattresses – Reviews
The Sleepingo Camping Sleeping Pad is a comfortable sleeping pad. It is a good-quality portable camping mattress pad. The mat is sturdy and great for any sleep position. It is lightweight, making it convenient to carry around. It is also super strong and waterproof. It is made from camping-grade rip stop nylon fabric that is tear-resistant. The mat is designed to last a lifetime, even in the most severe conditions.
Features
Material: Nylon
Dimensions: 75 x 23 inches
Weight: 4 ounces 
Pros
Sturdy
Portable
Tear-resistant
Designed to last a lifetime
Cons
The Sound Asleep Air Mattress is a great mattress for camping. It uses Comfort Coil technology and a Sure Grip bottom to ensure firmness and stability. The mattress does not slip or slide easily. It has 40 internal air coils that add durability and support to your bed. The mattress will stay flat and firm for you to get a good night's sleep. It is equipped with a patented one-click internal pump that ensures quick and easy inflation and deflation. The mattress is designed for in-home use and reaches full inflation in just under 4 minutes. It ensures a comfortable sleeping experience. Its multi layer, puncture-resistant PVC makes it extra durable and long-lasting. 
Features
Material: PVC
Dimensions: 78 x 19 inches
Weight: 92 pounds 
Pros
l Sure Grip bottom ensures firmness and stability
l Durable
l Easy to inflate and deflate
Cons
WELLAX Ultra Tick Flex Foam Sleeping pad will be a great addition to your camping gear. It is an insulated self-inflating sleeping pad that has an innovative foam frame. This frame perfectly combines the high-loft comfort and compressibility of air pads. The mattress is made from laminated 20D rip stop nylon and TPU layers. This makes it waterproof, tear-resistant, durable, and lightweight. The mattress is 3 inches thick and offers plush thickness, generous space, and increased warmth. The mattress has a 9.6 R-value that will keep your body warm during cold nights.
Features
Material: Nylon
Dimensions: 77 x 30 inches
Weight: 95 pounds 
Pros
Self-inflating
Provides comfort and compressibility
Tear-resistant
Keeps your body warm during cold nights
Cons
Willpo Certipur-US Camping Mattress is made from high-density foam that is resilient and provides constant support. The mattress also has a memory foam, which provides a "wrapped up" feeling. It offers comfort and relaxation to the body, even on rocky terrain. It comes with a removable waterproof sheet that is machine-washable. The mattress is compact in size and comes with a travel bag to carry it around. It is perfect for any outdoor activities. It is easy to fold and unfold and does not give you any trouble while using it. Moreover, this mattress has a damp-proof bottom sheet that keeps it clean.
Features
Material: Memory foam
Dimensions: 75 x 30 Inches
Weight: 8 pounds 
Pros
Comfortable
Damp-free bottom that ensures cleanliness
Comes with a travel bag
Cons
The Air Expect Air Mattress will keep you safe from the cold. It has an extra layer of non-toxic PVC that keeps you insulated. The mattress is puncture-resistant and waterproof, making it perfect for any outdoor adventures. It uses the innovative Duracoil technology with a 40 internal air coils system. This helps provide perfect support to the body and keeps the spine in alignment. The mattress inflates and deflates in just 2 minutes. It is designed for portability and quick use and comes with a pump to inflate the mattress. The mattress valve includes an airtight seal that prevents air leaks. It also comes with a travel bag that makes it easy to carry around.
Features
Material: Non-toxic PVC
Dimensions: 80 x 39 Inches
Weight: 5 lbs 
Pros
Comes with a rechargeable air pump
Portable
Airtight seal prevents air leaks
40 internal air coils to support the body
Cons
None
The Etekcity Camping Air Mattress is a great mattress. It comes with a wireless rechargeable pump that helps to inflate it in just 90 seconds. The mattress has wave beam inner support structures that are durable and stable. It can support up to 650 lbs. It is free from harmful materials like lead, cadmium, and phthalates. This makes it non-toxic and safe for the whole family. The multi-layer flocked top is puncture-resistant and waterproof. The mattress is made from 20% thicker PVC that helps it remain level and firm. It is easy to carry around as it comes with a storage bag. The queen air mattress is safe for everyone. It is structured in such a way that even if you sit on the edge or the side, it does not tilt or flop over.                                                                                       
Features
Material: PVC
Dimensions:80 x 60 inch
Weight: 2 pounds 
Pros
Comes with a rechargeable pump
Inflates quickly
Durable and stable
Supports weight up to 650 lbs
Non-toxic and safe
Cons
Coleman Self-Inflating Camping Pad gives you additional support and cushioning. This sleeping pad features a comfy tufted design that adds an extra layer of padding between your sleeping bag and the ground. It is equipped with a free-flow valve that allows the pad to self-inflate. The pad is made from a polyester shell that is durable and water-resistant. It is equipped with compression straps that force the air out after every use.
Features
Material: Polyester
Dimensions: 76 x 25 inches
Weight: 5 lbs 
Pros
Extra layer of padding between sleeping bag and ground
Self-inflates
Compression straps to force the air out 
Cons
Pillow may not be comfortable
The MalloMe Sleeping Pad is a comfortable sleeping mattress. It is made from a soft foam material that provides enhanced cushioned support to your body. The mattress is portable, compressible, and compact. It comes with a protective drawstring to pack the mattress easily. The mattress is designed to inflate in 15 to 30 breaths of air. It is ultralight that perfect for backpacking, hiking, road trips, etc. It provides sturdy and stable insulation from the rough and cold ground underneath. The mattress comes in 5 different colors: blue, red, green, orange, and gray.
Features
Material: Soft foam
Dimensions: 74 x 25 inches
Weight: 8 lbs 
Pros
Enhanced cushion support
Portable
Compact
Inflates in 15 to 30 breaths of air
Sturdy and stable insulation 
Cons
Not very thick
Leaks easily
The Nemo Tensor Sleeping Pad is considered to bea backpacker's best friend. It is a 3-inch thick cushioned loft that provides a cozy surface. The premium fabric of this sleeping pad provides a luxurious feel. Its insulated model leverages two layers of suspended thermal mirror metalized film. This sleeping pad is remarkably lightweight and provides efficient insulation. It has a micro-adjustable valve that can be used to inflate it as per your comfort. The sleeping pad includes a vortex pump sack that provides fast inflation and minimizes the moisture entering the pad.
Features
Material: Premium fabric
Dimensions: 0 x 3.0 inches
Weight:3 pounds 
Pros
l Easy to inflate
l Lightweight
l Two-layer thermal insulation
Cons
The Flex Form Deluxe Sleep Pad from Light speed offers plush softness that cradles the body. This 3-inch thick foam mat offers a soft and warm surface for sleeping outdoors or away from home. The mat self-inflates and has the option to add more air for more firmness. It is made from stretch jersey that feels great and performs in tough conditions. It is equipped with dual valves that allow for easy inflation and deflation. This sleeping pad also has an integrated pillow for additional comfort.
Features
Material: Stretch jersey
Dimensions:77 x 30 inches
Weight: 19 pounds 
Pros
Easy to inflate and deflate
Integrated pillow for additional comfort
Soft and warm surface
Cons
Check out the buying guide to choose a great camping mattress for your next adventure. Keep scrolling!
How To Choose A Camping Mattress – Buying Guide
Insulation R-value: A mattress with a high R-value will give you better insulation and provide warmth. It is ideal for outdoor camping trips.
Material: The material of the mattress is also very important. Apart from being comfortable, the material should be waterproof and tear-resistant. This will make the mattress durable.
Size And Shape: Campingmattresses come in various shapes and sizes. The most preferred mattress is the straight mattress. These kinds of mattresses provide enough room to sleep comfortably. On the other side, a tapered mattress will help reduce the space used in the tent.
Inflation And Deflation: This is one of the main things to keep in mind as a mattress will not be of much use if it does not inflate and deflate easily when in need. A self-inflating mattress is really helpful as it does not require any manual pumping to inflate it.
Below is a list of the types of camping mattresses that you will find in the market.
Types of Camping Mattresses
Air Mattress: An air mattress, as the name suggests, is filled entirely with air. These mattresses are inflated with the help of a pump or by blowing air through a valve. An air mattress weighs less than any other mattress.
Self-Inflating Mattress: A self-inflating mattress has an open-cell foam interior. This expands and fills with air when the valve is opened. A self-inflating mat has a cushy feel due to the presence of the foam. If you want comfort during your outdoor camping, a self-inflating mattress will be good for you.
Foam Pads: These mats are made from closed-cell foam and do not require any inflating to set up. The advantage of such a pad is that there is no risk of getting punctured. These foam pads are comfortable to sleep.
A great camping mattress will ensure that you get a great night's sleep in the midst of nature and wake up fresh and energized. So, get your hands on one of the camping mattresses listed above and head out the door to your next adventure.
Recommended Articles
The following two tabs change content below.

Latest posts by Sucharita Mishra (see all)

Sucharita Mishra
Sucharita Mishra has a Master's degree in Biotechnology and specializes in writing on Health and Wellness. She has worked on determining various heavy metals present in green tea for her Master's dissertation at CSIR- CFTRI, Mysuru. After completing her degree, Sucharita decided to pursue her passion for writing. She is addicted to all things black and aspires to become a bat one day.