The 12 Best Portable Power Supplies For Camping & Buying Guide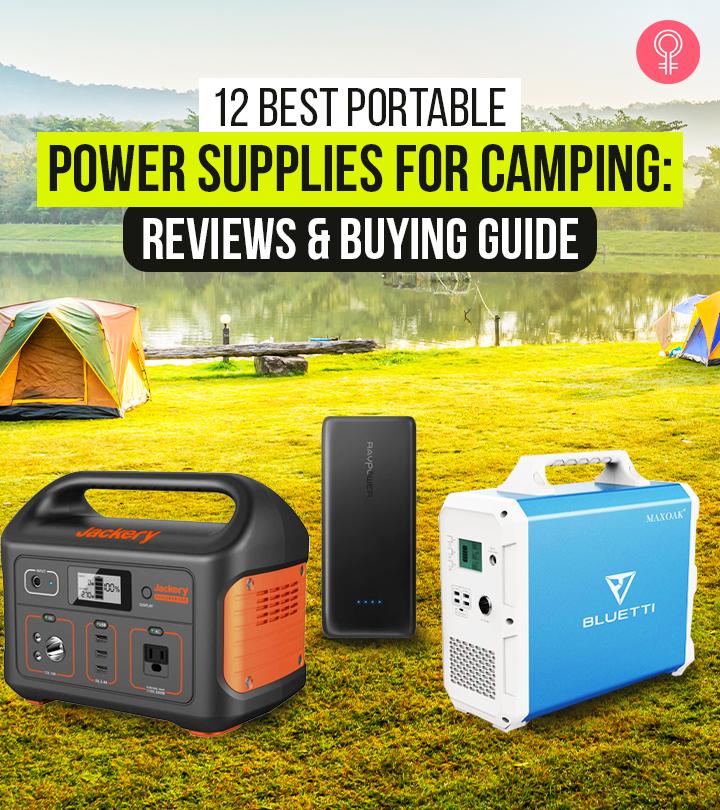 Are you planning to go off the grid for a few days? Camping is the best way to do so. Going off the grid does not mean you cannot enjoy electricity to juice up small appliances like tech gadgets, tent heaters, and lights. No, you don't have to drag along bulky power sources with you. A portable power supply device can provide the required electricity. These power supply devices are compact and easy to carry. We have compiled a list of different types of portable power devices. Scroll down to find out which one meets your needs.
12 Best Portable Power Supplies For Camping
This portable power bank is best for charging your mobile devices and other USB gadgets. It has a durable casing and can charge three gadgets simultaneously. This lightweight power bank has a Li-polymer battery that protects the device from short circuits, over-discharge, and overcharge.  It can retain 70-80% of its total power capacity even after 500 cycles of charge-discharge. The device comes with an LED indicator for power. The package also includes two USB charging cables, a lifetime card, and a carry pouch.
Specifications
Type: Power bank
Capacity: 22000mAH/83.6 W
Output: 5V/ 2.4 A (each) or 5.8 A (total)
Dimensions: 5 x 2.76 x 0.94 inches
Weight: 94 pounds
Pros
Fast charging
Durable
Multi-device compatibility
Airplane compatibility
Lifetime support
Cons
This product works as an emergency radio and power source. The radio can receive emergency weather reports and news broadcasts, making your camping experience safer. It also has a flashlight, reading light, and an SOS alarm. The SOS alarm emits a loud siren and a bright red light to indicate your location to others. However, it does not transmit radio signals or allow any forms of communication. This also works as a 2000 mAH power bank to charge your mobile devices.
Specifications
Type: Emergency weather radio
Capacity: 2000 mAh
Frequency Range: AM-520 to 1710KHz, FM- 87to 108MHz, WB-162.400 to 162.550MHz
Maximum Power Consumption: 2W
Working Voltage: 2.7 to 4.2V
Power Sources: 7V Li-ion
Dimensions: 2 x 2.9 x 2.1 inches
Weight: 68 pounds
Pros
Water-resistant
Rugged covering
USB compatible
Sturdy crank
Cons
Heavy
Headphone incompatible
This is a lightweight and portable rechargeable battery generator. It has multiple output ports and can charge devices like TV, blenders, and small appliances at one go. It has three USB ports for your smart gadgets and a car output. You can charge the battery with an AC outlet or DC carport. This device is also solar panel compatible and can work as a solar generator. It has an LCD screen where you can check the battery status. You can also charge sensitive electronic items without worrying about damage.
Specifications
Type: Rechargeable battery/Solar generator
Capacity: 500 W
DC Input: 12V and 7A
USB Output: 5V and 2.4 A
AC Output: 110V, 500W
Dimensions: 8 x 7.6 x 5 inches
Weight: 3 pounds
Pros
Large capacity
Easy recharging
RV-compatible
Automatic shutoff
Cons
SUAOKI is one of the most compact portable power supplies for camping. It comes with 10 output ports. This power station is suitable for beginners as it can power any device under 100 W. It just takes 8 hours to get charged. This device can be charged with a solar panel or car cigarette outlet. It is a UL-certified and safe product and also has an emergency built-in LED flashlight.
Specifications
Type: Rechargeable battery
Capacity: 150 Wh
Dimensions: 3 x 4.3 x 4.7 inches
Weight: 9 pounds
Pros
UL certified
Lightweight
BMS safety
Lifetime warranty
Cons
This portable charging device has solar monocrystalline panel cells. These cells run on SunPower Maxeon Technology and can give 21-24% efficiency in conversion. The USB ports in this power device charge electronic gadgets much faster because of smart IC technology. It has a dust-proof and waterproof PET polymer cover on the panels.
Specifications
Type: Solar panel charger
Solar Panel Efficiency: 21%- 24%
Output Power: 0 A
Dimensions: 3 x 11.1 x 1.06 inches
Weight: 12 pounds
Pros
Foldable
IPX4 waterproof
Dust resistant
Cons
This solar charger is powered by highly efficient polycrystalline cells and is compatible with multiple devices. The panels are made with PET polymer, and thus, are dirt and water-resistant. The solar charger has an ultra-thin design that is durable and perfect for hiking, camping, and other outdoor activities. It has 11 built-in loops and two carabiners that attach easily to tents, trees, and backpacks.
Specifications
Type: Solar panel charger
Solar Panel Efficiency: 16%
Output: 85 A
Dimensions: 7 x 6.1 x 1.2 inches (folded)
Weight: 1 pounds
Pros
Lightweight
High-efficient
Durable
Waterproof
Dust-proof
Cons
Not compatible with Apple devices
This high-speed and high-efficiency portable solar charger comes with industrial-strength solar panels. The charger can quickly reach 23.5% of conversion efficiency while under direct sunlight. It runs on iSmart Technology that senses the optimal charging power for all connected devices. The polyester canvas body is covered with IPX5 weatherproof protection.
Specifications
Type: Solar panel charger
Solar Panel Efficiency: 85%
Output Power: 1A (per port)
Dimensions: 81 x 6.5 x 0.2 inches
Weight: 65 pounds
Pros
IPX5 waterproof
Lightweight
Foldable
Durable
Cons
Flimsy USB pouch
May overheat
The PowerGreen Solar Charger has a triple fold design and dual USB ports. It is made of industrial-strength PET polymer and is weather-resistant. This durable device comes with short circuit and surge protection to keep your devices safe. If you are looking for a portable power device to keep your phones alive during treks and camps, this is perfect.  The eyehole and mounting loops make it easy to attach the device to trees, tents, and bicycles.
Specifications
Type: Solar charger
Solar Panel Efficiency: 24%
Output: 2A
Dimensions: 4 x 6.8 x 1.3 inches
Weight: 67 pounds
Pros
Durable
Weather-proof
High-efficient
Mounting loops
Cons
This portable power station can charge devices with a maximum power requirement of 1000 W. It has multiple outlets to charge appliances and smartphones simultaneously and takes 8.5 hours to recharge fully by an AC wall outlet. However, it may take longer to charge with solar panels. The decive has a Battery Management System and is safe for outdoor use. It comes with a 24-month replacement or maintenance warranty.
Specifications
Type: Emergency battery
Capacity: 1500 Wh
Output: 14/8 V
Dimensions: 6 x 6.5 x 14.4 inches
Weight: 9 pounds
Pros
High capacity
Built-in LG battery cell
Battery management system
Weather-resistant
Cons
This portable solar charger for smartphones is both solar and USB rechargeable. The iClever Solar Panel Charger has a monocrystalline panel with a 30% conversion rate and 12 W output. The SmartID port in this charger detects the device and allows maximum charge current accordingly. It is designed to withstand harsh weather and temperatures.
Specifications
Type: Solar charger
Solar Panel Efficiency: 28%-30%
Output: 4 A
Dimensions: 89 x 9.52 x 0.75 inches
Weight: 43 pounds
Pros
Compact
Lightweight
Water-resistant
Dust-proof
18-month warranty
Cons
The Anker Powerhouse is a heavy-duty portable power device that is capable of powering TV, laptops, phones, and even mini-fridges. It has triple output modes and a Battery Management System (BMS) to guarantee the safety of your devices. This device has voltage and temperature control and surge protection, making it one of the safest outdoor power supply units on the market.
Specifications
Type: Rechargeable battery
Capacity: 400 Wh
Output: 110 V
Dimensions: 87 x 6.5 x 5.71 inches
Weight: 26 pounds
Pros
Quiet operation
BMS
Durable
Sturdy
Cons
This portable generator is compatible with smartphones, laptops, cameras, drones, and other devices. It can charge nine devices simultaneously. This high-capacity generator takes three hours to get charged and has a Battery Management System for voltage and temperature control to ensure complete safety of your devices. It comes with an 18-months warranty. This generator can be charged with solar panels or a car.
Specifications
Type: Solar generator
Input: 120 W (Dual PD)
USB Output: 56 W (Dual QC2.0 USB)
AC Output: 600 W (Dual AC)
Dimensions: 8 x 6.3 x 7.8 inches
Weight: 3 pounds
Pros
Award-winning design
Quiet operation
Fast charging
Battery armor
Lightweight
Cons
These are our top choices for portable power supply devices. Before picking any of these, there are a few factors to consider.
Factors To Consider Before Picking A Portable Power Supply For Camping
Decide what type of device you want. Do you want a generator, a solar charger, or a power bank? If you want to charge appliances, laptops, and other devices, go for a portable generator. If you want a charger just to keep your phone running or charge an emergency light, go for power banks or solar chargers.  Also, consider the following aspects: What are the voltage requirements for the devices you will charge? Are they USB-compatible? Do you need BMC for your devices? If you want AC output, pick a portable AC power supply camping device.
Portable power devices have different power outputs. Determine the power requirements of the gadgets and pick a power supply accordingly.
If you are a backpacker, choose a lightweight power supply. If you own an RV, go for a compatible battery generator for camping.
Most devices would lose their capacity or quality if left unused for several months. If you are a frequent camper or going or use it frequently, invest in a good quality device.
If you plan a camping expedition closer to a water source, a weatherproof device will be safer. If you are camping in a cloudy or canopy region, do not use solar-powered chargers. Choose a device depending on the location.
Here are some pointers to help you choose the best portable power supply unit.
How To Choose The Best Portable Power Supply For Camping
Number Of Gadgets: Some rechargeable power supply devices have only two ports, while some have eight or nine outlets. Choose as per the number of devices you will be charging.
Age Of Users: If you are traveling with children, you might need a device with high safety factors. Check for power stations that have rugged covers.
Power Type: Check the type of input power for the device. It is best to choose a portable generator with multiple input sources like solar panels and a car battery. For specific needs, you can also select wind-powered or gasoline fuel generators.
Capacity: Check how many devices it can charge and the charging speed.
Size/Weight: If you are backpacking, go for a lightweight or foldable charger. If you are traveling with your RV, you may carry a portable battery. The weight and size may vary, depending on what type of camper you are.
Durability: Check if the unit is weatherproof, dust-resistant, and has a good durable cover. It is best to choose a camping power generator with a warranty.
Features: Check out the additional features of the device. Some might have additional features like a power source with an SOS alarm.
Camping and trekking are great ways to enjoy the outdoors. However, that doesn't mean you cannot use any electronic gadgets. A good portable power supply device is of great help in such cases. These are easy to carry and available in multiple capacities and designs. Go ahead and pick any of the devices from the list that you think matches your requirements.
Expert's Answers for Readers Questions
How many solar panels does it take to charge a 12-volt battery?
One solar panel is enough to charge a 12 V battery.
What is a good size generator for camping?
If you are a heavy equipment user, a 2000-3000 W model is right. If you are looking for portable charging options for electronic devices, a 1000-2000 W device is enough.
Can you bring a portable charger on a plane?
A portable camping battery with Li-ion battery and up to 100 Wh is allowed in carry-on luggage. Check if it is a TSA-approved product.
How long do portable chargers last?
If you are an average user, it can last up to 5 years and hold the charge for 4-6 months. After 500 battery cycles, the capacity usually drops to 80%.
Do portable chargers damage phone batteries?
No. A good quality portable rechargeable battery will not damage phone batteries. However, check if the product has BMS and is compatible with your phone model.
Recommended Articles
The following two tabs change content below.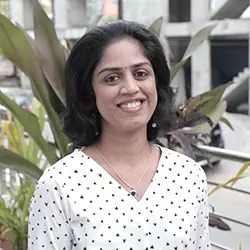 As Chief Editor, Harini sets the tone and editorial direction for StyleCraze to deliver engaging, interesting, and authentic content revolving around women's health, wellness, and beauty. She has over 14 years of experience in content writing and editing for online media. She specializes in the areas of Beauty, Lifestyle, and Health & Wellness and is proficient in Medical Sciences (Biology, Human Anatomy and Physiology, and Biochemistry). Her background in Biomedical Engineering helps her decode and interpret the finer nuances of scientific research for her team. Harini is a certified bibliophile and a closet poet. She also loves dancing and traveling to offbeat destinations.