The 12 Best Canister Vacuum Cleaners – Reviews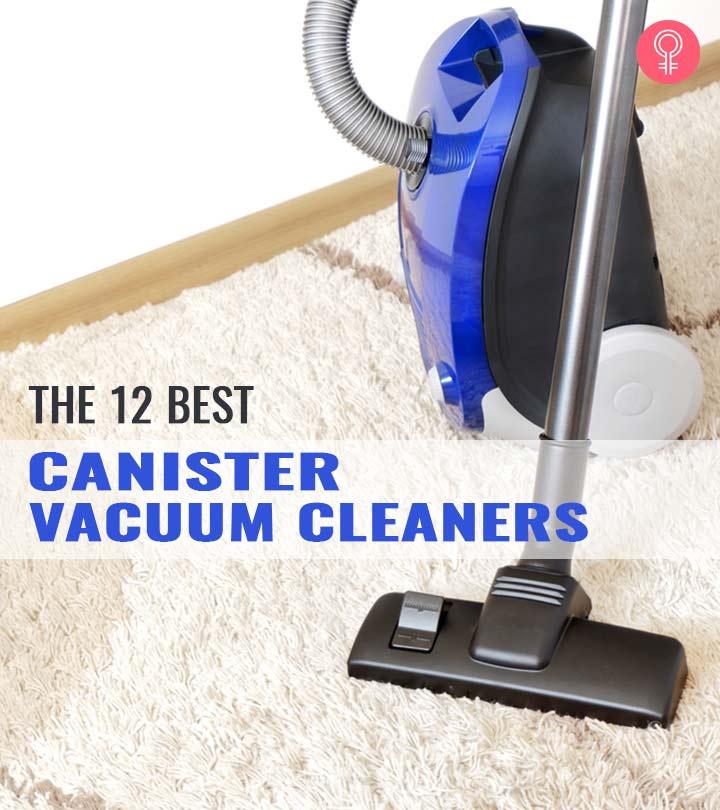 wwCleanliness is godliness, and vacuum cleaners are heavenly. While upright vacuum cleaners are commonly used, the canister vacuum cleaners are gaining popularity. They do more than just back and forth cleaning as opposed to traditional vacuum cleaners. Canister vacuums come with tiny maneuverable heads, adjustable wands, and head attachments. These features enable easy mobility and effortless cleaning of every nook and corner of your house. Check out our list of the 12 best canister vacuum cleaners to keep your place spic and span. Scroll down!
12 Best Canister Vacuum Cleaners
The Bissell Zing Canister Vacuum cleans your carpets and hard floors impeccably with its cyclonic action and powerful suction. It is bagless and easy to maneuver with its carry handle, swivel steering, and retractable cord. The dirt cup and post-motor filters are washable, reusable, and help collect fine dust particles. The device has an easy-empty lid for quick, mess-free bottom-tank emptying.
Specifications
Dimensions: 14 x 11 x 12 inches
Weight: 12.35 lbs
Suction Power: 9 amps
Cord Length: 15 feet
HEPA Filtration: No
Pros
Lightweight
Affordable
Retractable cord
Available in 3 colors
Bagless
Cons
The Dyson Canister Vacuum cleaner features a self-righting technology that picks up the vacuum automatically if it topples. The core components are housed within the ball, which turns on the spot and moves easily. Its carbon fiber filaments sweep off the fine dust particles, and the stiff nylon bristles help remove in-ground dirt.
The device also enables hygienic and contactless ejection of trapped dust and debris. The wand handle moves in three directions, allowing versatile cleaning. This vacuum is also equipped with 2-tier radial cyclones that remove allergens and blow clean air in your home.
Specifications
Dimensions: 12.1 x 15.7 x 13.7 inches
Weight: 17.64 lbs
Suction Power: 250 amps
Cord Length: 10 feet
HEPA Filtration: No
Pros
Removable filters
Bagless
5-year warranty
Cons
Noisy
Cord retraction issues
The Eureka Mighty Might 3670G Canister Vacuum Cleaner is suitable for floors, walls, and carpets. It is lightweight, easy to store, and equipped with a blower port. The triple filtration vacuum system sucks up dirt from all crevices. The vacuum is adjustable with two height settings – bare floor and area rug cleaning.
The crevice tool, upholstery nozzle/dusting brush, and bare floor nozzle reach the hard areas easily. This bagged vacuum features two extension wands that clean the drapes and cobwebs from the ceilings. The blower port blows debris from the garage or workshop, and the easy empty dust bag enables a mess-free cleaning.
Specifications
Dimensions: 9 x 17.5 x 11.63 inches
Weight: 11.6 lbs
Suction Power: 12 amps
Cord Length: 20 feet
HEPA Filtration: No
Pros
Lightweight
Easy to store
1-year warranty
Portable
Cons
Price at the time of publication: $94.55
The Miele Classic C1 Canister Vacuum Cleaner is German-engineered and has a 6-setting rotary dial that adjusts the suction power as per the cleaning surface. The inbuilt thermal protection prevents the machine from overheating. This vacuum cleaner comes with three standard attachments –upholstery nozzle, crevice nozzle, and dusting brush.
The special AirClean exhaust filter prevents dust from affecting the motor. You can shift from hard floor to carpeting mode easily with a foot switch. This vacuum cleaner features a metal sole plate for easy gliding and rubberized wheels to prevent floor scratches. The self-sealing collar ensures that no dirt and dust escapes once it is vacuumed into the filter bag.
Specifications
Dimensions: 18.2 x 11 x 8.7 inches
Weight: 10 lbs
Suction Power: 7 amps
Cord Length: 29.5 feet
HEPA Filtration: No
Pros
Easy to use
Lightweight
7-year warranty
Cons
No bag replacements
No rotator/spinning brush
Doesn't work well on carpets
The Kenmore's 81414 Canister Vacuum has a multi-surface design that cleans your carpet, hardwood floors, den, kitchen, car, and garage. It comes with a triple HEPA filtration system that claims to virtually remove 99.9% of pollen, dust, and debris. The 2-motor system enables powerful suction strength, and four adjustable height provide optimal airflow.
This bagged vacuum cleaner comes with three attachments – a dusting brush, a crevice tool, and a second bare floor tool. The detachable handle is suitable for cleaning furniture, car interiors, and tight spaces. This device is lightweight, easy to store, and easy to maneuver even around corners with its swivel head and quick release handle. You can access the difficult areas with its adjustable wand that lengthens up to 9 inches.
Specifications
Dimensions: 25.9 x 16.2 x 13.6 inches
Weight: 19.4 lbs
Suction Power: 12 amps
Cord Length: 26 feet
HEPA filtration: Yes
Pros
Durable
Lightweight
Easy to store
Cons
The carpet head might malfunction.
The Oreck XL Pro 5 Canister Vacuum is perfect for cleaning stairs, furniture, ceiling fans, molding, bookshelves, curtains, and light fixtures. It makes high-area cleaning (overhead vents and ceiling fans) a cakewalk with its 4-feet hose and adjustable extension wand. The powerful motor sucks in even the minutest dust particles. This canister vacuum cleaner comes with 11 detailing tools and a disposable bag.
Specifications
Dimensions: 13.5 x 5.25 x 8 inches
Weight: 5 lbs
Suction Power: 4 amps
Cord length: 30 feet
HEPA Filtration: No
Pros
Lightweight
Adjustable extension wand
Easy to store
Cons
The Hoover's CH30000 PortaPower Canister Vacuum is easy to maneuver and cleans vehicle interiors, stairways, and down halls with less fatigue. It can use both commercial cloth and paper dust bags for big objects or dust, respectively. The wide cleaning path covers a large area, and the built-in-blower enables easy circulation of debris. The vacuum features a stretch hose that clean ceilings and hard to reach areas easily.
Specifications
Dimensions: 20.9 x 7.8 x 12.5 inches
Weight: 8.3 lbs
Suction Power: 7.4 amps
Cord Length: 33 feet
HEPA Filtration: No
Pros
Lightweight
Extendable hose
Includes a reusable commercial cloth bag
Cons
The Atrix Revo Red Canister Vacuum is bagless, portable, easy to store, and ideal for a home or office environment. It has a variable speed motor and allows you to change the suction force as per the cleaning surface. The HEPA filter traps debris and dry particulates, such as dirt, soot, dust, laser toner, hair, dog hair, color toner, allergens, and mold spores.
Each of its components is washable and reusable. You can install the replacement cartridge filters easily without any mess. This canister vacuum cleaner comes with various accessories and parts – a 6′ hose, a telescopic extension wand, a floor tool, an air-driven turbo brush, a round dust brush, an upholstery nozzle, a crevice nozzle, an accessory holder, a round HEPA canister filer, a foam exhaust filter, and a foam premotor filter.
Specifications
Dimensions: 16 x 11 x 13.5 inches
Weight: 10.4 lbs
Suction Power: 12 amps
Cord Length: 20 feet
HEPA filtration: Yes
Pros
Lightweight
Bagless
Portable
Cons
The Vacmaster Canister Vacuum Cleaner is suitable for cleaning bare and wood floors, and tiles. It is easily movable and cleans every nooks and crevices with the 360° swivel steering and telescopic metal wand. The easy-empty dust cup clears accumulated dust easily at the press of a button.
The washable HEPA filter captures the smallest dust particles, pet hairs, and dirt. Its adjustable suction power enables vacuuming between sofa cushions or baseboards. The smooth wheels prevent scratches or gouges on hardwood floors.
Specifications
Dimensions: 19.3 x 12.4 x 12.2 inches
Weight: 10.6 lbs
Suction Power: 8.5 amps
Cord Length: 16 feet
HEPA Filtration: Yes
Pros
Lightweight
Easy to store
Retractable cord
Quiet operation
Bagless
Cons
Not for carpets
Not durable
The Ovente ST2000 Canister Vacuum features a multi-level, advanced HEPA filter that removes particles as small as 0.3 micrometers – 300 times smaller than hair. Its non-stop suction makes vacuuming efficient and quick, saving time and electricity. This cyclonic vacuum cleaner is equipped with a non-stop suction and the airflow-control, crush-proof hose deep cleans your house in one go.
It comes with premium attachments for versatile cleaning – a floor brush, a combination crevice nozzle/bristle brush for corners, shelves, curtains, and furniture, and a telescopic metal wand for ceilings and hard-to-reach areas. The translucent dust compartment enables you to see when it is full and needs to be emptied and washed. This device operates quietly and eliminates dust, allergens, pet dander, mold spores, and pollen efficiently.
Specifications
Dimensions: 11.5 x 15.5 x 10 inches
Weight: 14 lbs
Suction Power: 12.5 amps
Cord Length 15.7 feet
HEPA Filtration: Yes
Pros
Low noise
Bagless
1-year limited warranty
Retractable cord
Sturdy
Cons
The Bissell Deluxe Canister Vacuum has non-marking rubber wheels and felt treads that enable easy movement on delicate surfaces like drapes and upholstery. The cleaning brush has super soft bristles, and the dirt tank can be emptied from the bottom without any hassle.
This canister vacuum features digital fingertip controls that let you alter the suction force as per the cleaning surface. The specialized onboard tools include a dusting tool, a crevice tool, a telescoping extension wand, and a low pile carpet tool.
Specifications
Dimensions: 13.15 x 10.67 x 8.66 inches
Weight: 9 lbs
Suction Power: 7 amps
Cord Length: 16 feet
HEPA Filtration: No
Pros
Lightweight
2-year limited warranty
Available in 2 colors
Sturdy
Cons
The Eureka NEN110A Canister Vacuum Cleaner features an innovative multi-surface whirlwind technology and three settings – carpet, upholstery, and hard floors. You can adjust the integrated airflow control on the handle easily. This canister vacuum cleaner comes with Snap Fit accessories where the hose, tube, and brush attach easily to the wand with a lock latch, establishing a solid connection.
The dust cup and filter are reusable and washable. The cyclone filtration system ensures air purification. This device is also equipped with a 2-in-1 crevice tool and automatic rewind cord. It is suitable for vacuuming carpets, rugs and hard floors, windows, baseboards, sofas, and hard-to-reach corners.
Specifications
Dimensions: 14.17 x 12.2 x 9.65 inches
Weight: 8.29 lbs
Suction Power: 12 amps
Cord Length: 16 feet
HEPA Filtration: No
Pros
Bagless
Lightweight
1-year limited warranty
Cons
Before buying a canister vacuum, consider these essential points to make the ideal choice.
How To Choose The Best Canister Vacuum
Size: The bigger the size, the heavier the vacuum cleaner will be. Heavy vacuums will be hard to maneuver and make cleaning tiresome. Thus, opt for lightweight devices that will be easy to carry and move around
Type: There are two types of canister vacuum cleaners – bagged and bagless. Bagless vacuum cleaners have no hassles of buying or replacing the filter bags. Bagged devices require timely cleaning and maintenance.
Filtration: The filtration process should be smooth without clogging due to dust accumulation. Opt for HEPA filtration as it is the best for removing fine dust particles, allergens, molds, and pet hair.
High Efficiency Particulate Air (HEPA) filtration removes up to 99.97% dust particles of 0.3 microns. This system ensures thorough cleaning.
Ease Of Use: Canister vacuum cleaners should be lightweight and equipped with 360° moving wheels and a carry handle for ease of use. The longer the cord length, the better.
Suction Power: The more the suction power, the better the vacuum pulls in the dirt and functions non-stop.
Number Of Attachments: The number of standard attachments included in every machine is three. Opt for a vacuum cleaner that comes with a considerable number of attachments for versatility in use.
Cord Length: The cord length decides the reach of the cleaner from the power outlet. A cord length of 10 feet or more is considered ideal.
Warranty: Always buy a product that comes with a warranty. Since the shelf-life of the vacuum cleaner is unknown, the warranty shows the reliability of the brand.
A right canister vacuum cleaner can make your cleaning job less stressful and quick. Buy one that meets your requirements and keep your home dust- and dirt-free.
Frequently Asked Questions
What are the advantages of canister vacuums?
The canister vacuums have high suction power and 360° maneuvering. Many of them are less noisy, pet-friendly, and require little maintenance.
How can we test vacuums?
Testing is done by checking each feature of the vacuum cleaner – how well it removes dirt, portability, noise levels, and whether it retains the debris on washing. They are rated based on their performance.
Which canister vacuum has the best suction?
The Kenmore 81614, Dyson Cinetic Multi-floor, Electrolux Ultraflex, and the Dyson Big Ball have a suction power of 250 amps.
Which are the best Miele canister vacuums?
Although all Miele units are premium, the Miele Marin Complete C3 is the best choice among Miele canister vacuums. It has a powerful suction force and comes with the most versatile accessories.
What is better – an upright vacuum or a canister vacuum?
Upright vacuum cleaners are commonly used, and canister vacuums are gaining popularity recently. A canister vacuum has a lot of benefits. It is simple to operate, has more suction power, and enhances air quality.
Recommended Articles