Best Canola Oil Brands Available In India – Our Top 10
Canola oil is extracted from the seeds of the canola plant. After harvesting, the seeds are crushed and the oil is extracted.  It has 50% less saturated fat than common cooking oil. It reduces heart disease, diabetes and is ideal for any type of cooking. It has a neutral taste and is light in texture. They are Trans fats and cholesterol free and are a rich source of Vitamin E and Omega 3. Which why we simply just had to find out which were the canola oil brands available in India!
Here are the top 10 Canola Oil Brands In India:
1. Hudson Canola Oil:
Hudson Canola is manufactured by Dalmia Continental and contains low saturated fat, high MUFA, high Omega-3, balanced Omega-6 to Omega-3, zero Trans fats. This oil offers a good combination of fats. It is a standard vegetable oil. This oil is light and neutral in taste and flavor. This can be used for all type of Indian cooking. It doesn't have any distinctive taste or smell. They are extracted from the seeds of yellow Canola flower. This is undoubtedly the best canola oil Indian brand you can find.

2. Sunny Select Canola Oil Natural Flavor Spray:
This oil is healthy and very nutritious. Its consumption is a good to stay healthy. This is a natural flavored edible oil that can be used to prepare yummy dishes like Thai yellow curry, steak chicken pot pie, pumpkin soup, and chicken satay. This has some vital fatty acids. It can be used for cooking or as salad dressing. This is the best way to replace butter and margarine in your diet. This oil contains soy lecithin water, canola oil, and propellant non-chlorofluorocabon.
[ Read: Mustard Oil for Hair ]
3. Healthy Living Canola Oil:
This is the healthiest cooking oil in the world. The brand is Canada based. This is high in good fats and low in bad fats. It does not contain any cholesterol and is best source of Vitamin E. This oil can help you get rid of diseases like heart disease or Type-2 diabetes.
4. Laxmi Canola Oil:
Laxmi Canola Oil is pale yellow in color and is the healthiest way to stay fit. This helps to reduce heart attack risk and diabetes. It doesn't have any distinctive flavor or smell.
5. Jivo Canola Cooking Oil:
Jivo Canola Oil is the world's healthiest cooking oil that is now available in India. This contains many nutritional values of Omega, MUFAs and PUFAs, dietary fats, good fats, and zero Trans fats. This brand is also used by many leading retail food outlets like McDonald's, Taco Bell, KFC etc. This is the No. 1 canola brand at present and the largest seller in India.

[ Read: Best Green Tea Brand in India ]
6. Sattvic Canola Oil:
Sattvic Canola Oil contains saturated fat, monounsaturated fat, polyunsaturated fat, Omega-6, Omega-3, Trans fat, cholesterol, and Vitamin E.
7. Wesson:
Wesson canola cooking oil is 100% pure. It helps to maintain the natural taste and shine of food. It is used to fry, dress the salad, bake or for everyday cooking. This brand is best to keep your health in top condition. It is cholesterol-free, and doesn't contain any Trans fat or preservatives.


8. Mazola Canola Oil:
Mazola Canola Oil is best when used for salad dressings, frying, baking and sauteing. This brand of canola oil is one of the top most ones suggested by celebrated chefs. This is purely cholesterol free and is extracted from Canola plant seeds. The packaging is tamper resistant plastic bottles and lightweight.
[ Read: Ayurvedic Hair Oils ]
9. Amber Canola Oil:
Amber Canola is extracted from the canola seeds that contain very healthy composition of nutrients. It is low in saturated fat. Saturated fat is the main reason for heart diseases. It is 100% cholesterol free and is used for all types of cooking, salad oil and frying. This oil has a high smoking point and doesn't solidify in fried foods. It contains large amount of an important nutrient- Omega 3. This has many health benefits:
Heart health maintenance
Blood thinning agent
Reduces hypertension
Balances blood pressure
Reduces inflammation
Reduces pain.
10. Dalda Canola Oil:
Dalda Canola oil contains vitamin power and is extracted from fresh canola seeds. They use Dalda's international technology and expertise for extraction. This oil contains many additional nutrients for extra energy, superior health and delicious taste.
*Subject to Availability

The following two tabs change content below.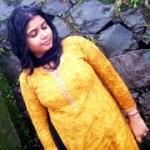 Latest posts by Jayshree Bhagat (see all)