7 Best Carbon Plate Running Shoes Of 2023 To Avoid Injuries
Lightweight and perfect for those who love marathons or long walks and jogs.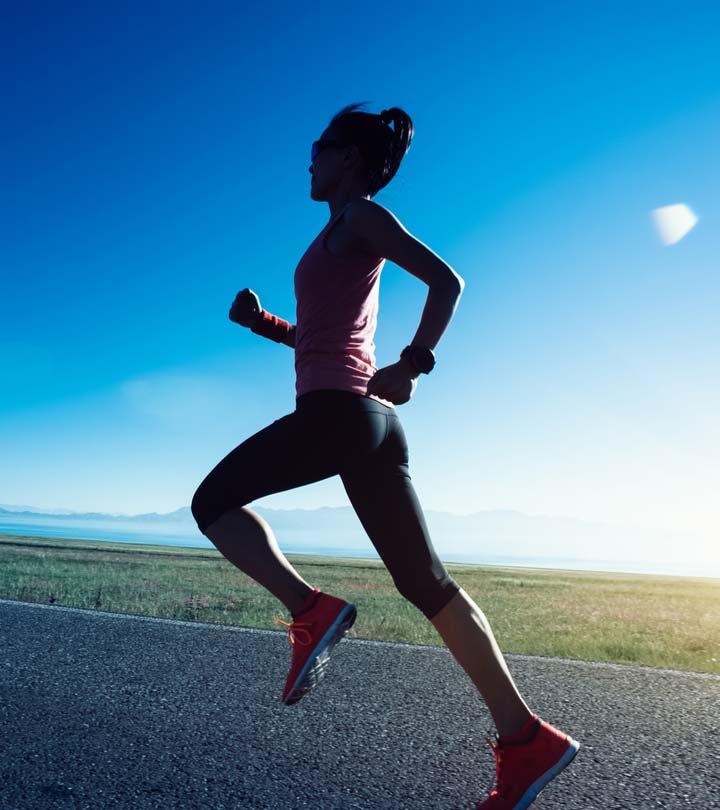 Athletes and professional runners use shoes with lightweight carbon plates on the midsoles of their shoes. The best carbon plate running shoes ensure that you avoid injuries and stress while running long distances. People who run marathons or are professional runners are always searching for the perfect pair of running shoes that will enhance their performance.
But, the best carbon plate running shoes are no longer limited to just the professionals. Anybody that runs long distances for pleasure or cardio can wear these. These shoes are also suitable for fitness enthusiasts looking to avoid injuries, muscle tension, and foot pain during their run. The market now has multiple brands that offer these kinds of shoes, and their demand has increased substantially. Selecting the best ones for yourself may get a little overwhelming. Dr. Benjamin Gibson says "Leg stiffness improved in one study of 18 athletes as a result of the carbon plate of about 5%. Researchers didn't see much changing in other ways of measuring muscle movement. In another study of 24 athletes the effect of spiked shoes and another type of running shoe with carbon plate were compared with each other. Again the carbon plate had an improvement between 2% and 4%. Mizuno funded research into carbon plate running shoes. There was another study with Saucony Endorphin Pro where there was equal benefit going up and downhill. The reason for the study was that the researchers hadn't seen an equal benefit with another brand not listed here, and were happy to report that it gave about a 1.5% benefit over a shoe without the carbon plate." To help you out on this quest, we have listed the top 7 carbon plate running shoes that have been closely reviewed for your convenience. So, go ahead and check them out now!
What Does The Carbon Plate Do In Running Shoes?
Carbon plates help in stabilizing the ankle of the runner by lessening the rotational force and, in turn, reducing the workload of the calves. The stiff carbon plate aids the foam in compressing and expanding rapidly, thus returning more energy to the runner. Moreover, the loss of energy is reduced efficiently as the carbon plate helps keep the runner's toes straight.
7 Best Carbon Plate Running Shoes For An Effortless Gait
Make running feel easy as a breeze with the Mizuno Women's Wave Rider 24 Running Shoe. Fitted with the energy foam, these running shoes with carbon plate offer great responsiveness with each step taken. The midsole optimally reduces shock to the feet while providing a superior ride that is responsive and resilient at the same time owing to the springy cushioning. The wave plate fitted in this carbon fiber running shoe helps to disperse energy to the foot while creating an optimum balance, and the Smoothride technology offers smooth heel-to-toe transition.
Pros
 Rubber sole
 Superior cushioning
 Smooth transition
 Optimal shock reduction
 Responsive
 Lightweight
Cons
 The sole at the bottom begins to fall apart over time.
Price at the time of publication: $100
Bolt away in speed with the Saucony Endorphin Pro Running Shoes. It is equipped with the Speedroll technology that helps to achieve a propulsive ride forward to give you a faster gait. This pair of Saucony carbon plate shoes is for the performance-oriented runner as it is fitted with their signature S-curve carbon fiber plate. A single layer mesh upper ensures breathability and the super lightweight foam cushioning gives your stride a spring. The Formfit technology of these carbon fiber plate running shoes offers a snug personalized fit with the powerful XT-900 outsole providing an optimal traction and durability.
Pros
 Rubber sole
 Lightweight
 Soft cushioning
 Breathable mesh upper
 Easy transitions
Cons
 Some might find the shoe sagging and leaning inwards.
Price at the time of publication: $139.99
Train and race in the ASICS Women's Magic Speed Running Shoes. The shoes perfectly combine overall support, snug comfort, and affordable pricing. This new design is suitable for those who want to experience the benefits of carbon-plated running shoes to push themselves to their best level. The guidesole technology and flytefoam blast sole provides the perfect landing zone for the feet. The lightweight carbon plate lets you roll through your stride with the bounce provided by the midsole foam. The ahar outsole increases the durability of this neutral trainer. The design will help you intensify your speed without straining your feet.
Pros
Breathable mesh upper
Lightweight
Affordable
Shock absorption
Increased grip
Cons
None

Price at the time of publication: $69.95
Get ready for a stable and energetic race with HOKA ONE Carbon X2 Womens Shoes. It has a carbon fiber plate and meta-rocker engineering that gives the shoe responsiveness and propulsive speed. The design of the shoes is adapted for training and racing. The light and soft foam and rubber sole ensure a snug fit and a soft and stable run. The refined collar shape, TPU yarn, reinforcement around laces, notched tongue, and advanced mesh upper make the performance shoes long-lasting.
Pros
Rubber sole
Lightweight
Soft cushioning
Breathable mesh upper
Available in various colors and sizes
Cons
People with wide feet may experience issue with the arch.
Price at the time of publication: $295.12
Facilitate a faster sprint with the Brooks Hyperion Elite II Shoes. With a rubber sole at the bottom and a nitrogen-infused DNA Flash midsole, this lightweight shoe offers optimum energy return. This pair of Brooks carbon plate running shoes provides easy transition with each step you take and conserves energy to allow for a longer and faster run, owing to the propulsion plate attached. It has effective cushioning on the insole, breathable lining, strong lace-up closure, and plush tongue that adds up to the comfort quotient of this Brooks carbon plate shoe.
Pros
 Rubber sole
 Lightweight design
 Easy transition
 Soft cushioning
 Breathable lining
 Plush tongue and collar
Cons
 Some users might experience rubbing at the back of the heel.
Price at the time of publication: $174.95
Pressure-free, seamless running is now made possible with the 361 Women's Meraki 2 Running Shoe. It comes with a rubber sole at the bottom and a breathable mesh upper for a sleek fit. The midsole of this lightweight shoe is powered with qu!kfoam that provides an amazingly comfortable cushioning that lasts as long as the shoe does. These qu!k spine carbon plated running shoes offer a balanced and natural tow off and provide better acceleration by improving the ground contact. Additionally, the pressure-free design of the tongue makes for an irritation-free, comfortable all-day wear.
Pros
 Rubber sole
 Superior cushioning
 Breathable mesh upper
 Balanced tow off
 Improved tongue design
Cons
 Some may experience a slight discomfort at the ankles.
Price at the time of publication: $144.88
Foot fatigue will be a thing of the past with the Pearl Izumi Women's Quest Road Cycling Shoe. This high performance pair of cycling shoes comes with 3 supple straps that help to keep the closure strong along with an adjustability that is easy-on-the-fly. These shoes with carbon plates offer a lightweight stiffness and durability. With a bonded mesh and heavily perforated upper and plush cushioning, you can be sure of breathability and all day comfort when you wear this versatile shoe. Moreover, the BioViz reflective element aids in visibility even in low light.
Pros
 Breathable material
 Lightweight
 BioViz reflective elements
 Strong closure
 Easy adjustability
Cons
 The toe box might seem too tight for some.
Price at the time of publication: $100
The recent phenomenon that is the carbon fiber plate running shoes has taken up the world of athletics by storm. It has improved the running economy by an average of 4%. But what are the things to consider before buying a carbon plate running shoe? Let us take a look below.
How To Choose A Carbon Fiber Plate Running Shoe
Most running shoes are fitted with a very thin carbon fiber plate that helps the shoe to remain feather light to facilitate a faster and longer gait while also maintaining the durability of the shoe.
Carbon fiber shoes mainly grabbed eyeballs because they helped in attaining faster running speeds. But one should also bear in mind the stress that would be incurred on the leg muscles. Therefore, select a pair of shoes that provides a steady momentum and makes you feel at ease even while running.
The life of carbon fiber plate shoes isn't very long if used in rigid conditions. Therefore, it should be paired with a strong, well-cushioned midsole if you like to do off-road running. In case of a trail run, a well-balanced shoe with a powerful grip should be selected.
While carbon fiber plates help in propulsion of the feet, it is equally and more important to find a shoe with the right amount of cushioning. Ample cushioning in the shoes means that the feet get optimal support and are protected from injuries and pain.
While runners need proper push at the feet for energy conservation, it is also important for them to wear shoes that have the correct fit and grip. This helps mostly in the case of a trail run when you can encounter unfavorable weather conditions like rain, sleet, etc. and lends protection from slipping.
The introduction of carbon fiber plates in running shoes is a pretty much novel technology. But since it's advent it has managed to stay in headlines for how effectively it has been able to raise the running speed. Let us have a look at the benefits that a carbon plate running shoe offers.
Benefits Of Carbon Plate Running Shoes
 Carbon fiber plates are stiff and practically lightweight and are attached to the soles.
 They provide a great thrust at the midsole, resulting in a longer and faster run.
 The plate is curved and bends slightly at the ball of the foot for optimal energy conservation.
 It helps in returning energy, especially at the 'toe-off', pushing the runner's toes away from the ground.
 It provides a bouncy and springy effect when coupled with foamy midsoles.
 It reduces the rotational force to support the ankle joint, thus reducing the load on the calves.
 It helps keep the toes straight which in turn helps in maintaining balance.
 It aids in shock absorption that lessens the scope of injuries and pain while running.
 It provides optimum traction and helps maintain a steady gait.
 It helps provide flexibility and increases durability of the shoe.
Why Trust StyleCraze?
The author of this article, Priyam Gupta, is a fashion enthusiast who does not believe in compromising on style to get good functionality. She agrees that athletes and professional runners should use shoes with lightweight carbon plates on the midsoles of their shoes for better performance. She has sifted through thousands of reliable online reviews before curating the list for her readers. The carbon plate running shoes included in the list can be used by anyone who runs long distances.
Frequently Asked Questions
Do carbon-plated shoes make a difference?
Mostly yes. They help in the compression and expansion of the foam and give back energy to the runner, keeping the toe straight to reduce loss of energy, stabilize the ankle and lessen the workload of the calves by reducing the rotational force.
Do carbon-plated shoes make you run faster?
Yes, but it does so in addition to the optimal stiffness of the midsole, velocity of running, and the individual biomechanical differences of the runner. It also reduces fatigue levels and helps recover fast.
Are carbon plate shoes legal?
Yes. Running shoes with a single carbon plate and a midsole height not more than 40mm are legal.
How long do carbon plate running shoes last?
While a normal shoe with rubber fittings might last upto 500 miles or so, a carbon plate shoe might last 300 miles at the most.
Can slow runners benefit from carbon-plated shoes?
Yes, carbon-plated shoes can help individuals run faster by increasing energy return and decreasing fatigue rate.
Recommended Articles: