Best Carolina Herrera Perfumes For Women – Our Top 10
Women love a great fragrance. Men love women who smell good. The fragrance you wear says a lot about you. You will find hundreds of brands with thousand different fragrances on offer. If you are a lover of everything chic and classy, you need to give the Carolina Herrera perfumes a try.
The brand is named after Carolina Herrera, a Venezuela-born American designer. She is the lady responsible for styling first ladies of The US. The designer launched her fashion house in 1980. She has also launched a series of fragrances since 1991. Today, Carolina Herrera perfumes are one of the best perfumes for men and women.
So many options to choose from! How about we make the choice a little easier?
List of Best Carolina Herrera Perfumes Ever Launched
1. 212 Summer:
Launched in 2003, this fragrance from the House of Carolina Herrera is excellent. The attractive blue bottle smells exactly like the icy and refreshing fragrance that it promises. The combination scents of citrus and fruity essence make it a perfect option to wear on a warm summery day.


2. 212 Glam:
This fragrance is inspired by and dedicated to the glamorous urban woman.
A fragrance for young women, this is often termed as the scent of life. It is a modern and charismatic representation of the likes of the urban woman who has a curious and energetic lifestyle. This fragrance uses toffee, caramel and lollipop aromas which makes it romantic and sporty at the same time.


[Read: Antonio Banderas perfumes for women]
3. 212 H2O:
This citrus fragrance, launched by Herrera in 2003, has mandarin orange, grapefruit, bergamot, and ginger type of notes in its fragrance. Its woody and musk-based scents do not fail to please women or men alike!


4. 212 Ice:
212 Ice was created in 2009 and this range is known to accentuate feminine senses. The citrus notes combined with floral accords of rose are an added charm to the union of these scents.


[Read: Best Versace Perfumes For Women]
5. 212 NYC Body Spray:
212 NYC is a limited edition fragrance by Herrera which is available for both the sexes. It is characterized by the urban energy of New York as a city. The spray created for women includes grapefruit, bergamot, orange blossom, mandarin and gardenia scents very well to create a fresh sensation.


6. 212 On Ice:
This floral and fruity scent is a favourite with women who like a combination of these fragrances. The top notes of bergamot, grapefruit and orange are loved by women. It also includes favourite scents of flowers such as jasmine and rose to its fragrance, adding more appeal to the scent.


[Read: Best Escada Perfumes For Women]
7. 212 Pop:
212 Pop is another version of the limited edition collection. It is a modern and fresh representation of the life that women live. Its fruity and floral fragrances can be attributed to Pop culture liked by women.


8. 212 Sexy:
212 Sexy is the sensual fragrance from Carolina Herrera perfumes range, launched in 2005 for women. This one uses the charming and irresistible notes of pink pepper, gardenia, and geranium with sandalwood in musk-based fragrance.


[Read: Best Britney Spears Perfumes For Women]
9. 212 Splash:
212 Splash from Herrera's range of perfumes is a limited edition scent. It features the pleasant notes of jasmine, litchi, cedar wood and sandalwood with musk. The bottle, so designed, is said to have been styled in a way that women find it romantic to choose.


10. 212 VIP:
212 VIP is another classic perfume from Carolina Herrera. It is said to be inspired and specially made for fun loving people. With aromas like rum, gardenia, vanilla and musk added together, this perfume is a favourite amongst young and creative people.


*Subject to Availability
Which one of these are you investing in next? Leave us your comments below and tell us what caught your attention?
Recommended Articles:

The following two tabs change content below.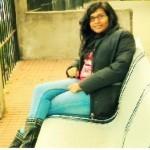 Latest posts by Anamika M (see all)