7 Best Deep-Clean Carpet Cleaners That Your House Needs Right Now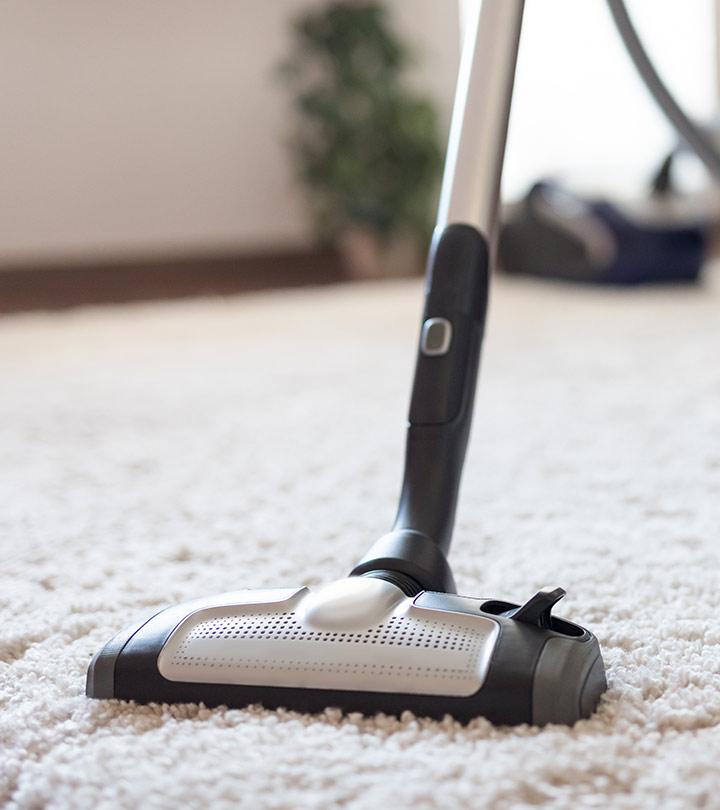 "How am I going to get rid of that stain now?" is a common phrase that we hear from every carpet owner. Sometimes, maintaining the carpet can be an expensive affair because the professional dry cleaners charge a lot to clean your carpets. And, by the time a professional takes care of it, the stain would have dried out which makes it that much harder to get rid of. For houses that are overrun by kids and pets, there is no way your carpet will retain its original color without regular maintenance.
How about you get home a carpet cleaner that will save you the hassle of sending the carpets to the professionals? By that, we don't mean you need professional carpet cleaning machines, just something simpler. We have compiled a list of the 7 best carpet cleaners that will give you stress-free maintenance.
7 Best Carpet Cleaners For Your Home
Was your movie night interrupted with wine spilling all over your carpet? Scrub through the stain in minutes with Hoover Power Scrub Deluxe Carpet Cleaner. The SpinScrub Brush Technology is supported by DualV Nozzle that offers a strong and even suction in a 360° motion. The Heated Drying feature forces hot air towards the floor to speed up the drying time. It has a Smart Tank system that lets you fill and empty the tanks without making any mess.
Pros
It weighs less than 19 pounds for easy movement.
The package includes an 8-inch, ready-to-use hose to clean every nook and cranny.
It has a 20-feet cord that can be taken from room-to-room without unplugging.
The Wash/Rinse mode on the tank provides a balanced mixture of detergent and water for cleaning.
Cons
The water tank might leak over time.
Price at the time of publication: $149.99
Are you still trying to scrub the dirt and stain off of your carpet with just soap water? It is high time you move on to something handier. The PowerDash Pet Compact Carpet Cleaner has 2X the cleaning power than any other lightweight cleaners in the market. That kind of cleaning power is combined with HeatForce to deliver a faster drying on any type of fabric. The PowerSpin Pet Brush Roll provides a powerful clean even in the most congested areas. Considered as one of the best carpet cleaners in the market, it sure to make your carpets look like new again.
Pros
Extremely lightweight
Detachable nozzle for easy cleaning
The compact size lets you store it in small places.
The brush roll has antimicrobial protection.
It has a 20-feet cord for extended reachability.
Cons
It may leak water while using it.
Price at the time of publication: $74.99
This lightweight carpet cleaner offers a quick and easy cleaning experience that works on both carpets and bare floors. . It works on a rechargeable cordless system which makes it all the more convenient usage. It features a 2-speed setting that is optimized for cleaning even the dirtiest surfaces with ease. It has a swivel steering mechanism for easy maneuvers and powerful suction to pick-up stubborn pet hairs from any surface.
Pros
The 7.5-pound weight makes it portable-friendly.
The dust cup has a capacity of 0.64 quarts.
The detachable cups make it easy to empty the contents.
The motor can run for an extended period of time compared to other lightweight carpet cleaners.
Cons
The battery may not be durable enough to last long.
Price at the time of publication: $129.99
We understand that kids are very playful (or rather chaotic), they play outdoors and then indoors. Between all this, your carpet and furniture endure a lot of stains and dirt from all the stamping. To tackle the mess, we present to you Little Green from Bissell. The strong spray and powerful suction on this portable machine can remove even the toughest stains. And, when you are done with it, you can use the hydro rinse tool attachment to clean the hose. This is one of the best small carpet cleaners that you can get for your carpet and upholstery problems.
Pros
It weighs only 9.65 pounds.
The compact design makes it easy to store in small cabinets.
It has a 48-ounce removable water tank for easy filling and emptying.
It includes a trial-size formula and a 3-inch stain tool to loosen the stains.
It can be used on different surfaces — stairs, area rugs, upholstery, auto interiors, and more.
Cons
Removing any non-liquid items from the water tank might be a hassle.
Price at the time of publication: $109.99
It might take some extra effort and time to train your dog but cleaning up that mess on your carpet, definitely will not. The TurboClean Power Brush Pet is one of the best upright carpet cleaners that offers powerful cleaning for every corner of the house. The 4-row dirt lifter power brush and powerful suction help in removing dirt from the deep parts of the carpet. The EdgeSweep Bristles help you clean the baseboards and the area around the furniture. Apart from their awesome products, every purchase you make from Bissell, a part of the money goes to saving homeless animals. Need more reason to buy this?
Pros
Weights just 12-pounds
It has a removable nozzle for easy cleaning.
It has a retractable handle which makes it easy to fit it in small places.
It has a two-tank system to keep dirty and clean water separate.
Bissell Oxy-based formula (included in the kit) helps you to get rid of any kind of spots or stains.
Cons
It might not soak water efficiently.
Price at the time of publication: $91.99
If you have some heavy-duty carpet cleaning requirement, the Mighty Pro X3 from Rug Doctor ticks every box on your checklist. It utilizes the powerful jets to inject cleaning solutions to clean set-in dirt, filth, stains, grime, and household pet messes with this commercial-grade equipment. It has an enhanced vacuum motor for powerful suction and fast drying time. You can clean for an extended period of time with the help of a 2.6-gallon tank that does not need to be emptied every few minutes. You can either rent or purchase this equipment.
Pros
It has a 3.9-gallon recovery tank.
It has a foldable handle for easy storage.
It has a Triple Action Vibrating Brush to scrub every inch of the carpet.
It has large wheels so that you can take it to any room in your house with ease.
It is independently-tested and awarded the Gold Rating by The Carpet and Rug Institute.
Cons
The water pump might not last a long time
Price at the time of publication: $521.67
Get the best cleaning results with Dirt Devil Endur Max. The patented 3-stage filtration system with Endura Performance System offers deep and effective cleaning results without any loss of suction for continuous performance. It has an Endura filter, which is a pleated filter (that is rinsable) and foam sleeve. It comes with a 2-in-1 dusting brush and crevice tool for the corners and tight spaces. And, to clean those high-reach places, the package includes a 10-feet quick-release wand for cleaning flexibility.
Pros
Weight just 11-pounds
It has detachable XL-sized cups for easy dumping of wastes.
It comes pre-assembled out of the box, so you can get to cleaning immediately.
Spin 3 Pro Brush Roll and CleanPath Technology help you collect dirt from the carpet as well as hard floors.
Cons
You might need to support the equipment while using it to prevent it from falling.
Price at the time of publication: $69.99
That was our list of the top 7 carpet cleaners that you need to consider for your home. We will share with you a few pointers that will help you understand these machines better so that you can select the one that works best for you.
Carpet Cleaners – A How-to And Buying Guide
When it comes to carpet cleaning, using soap water just won't cut it. You need the best carpet cleaning equipment for a hassle-free job. So, here are some pointers that you need to know before making a purchase.
How To Use A Carpet Cleaner?
Using a carpet cleaner is a simple and straightforward process. Here is a quick guide:
If you are new to using a carpet cleaner, read the instruction on its various features and functionalities.
Move all the furniture out of the room before starting.
Put an aluminum foil under the legs of furniture that are too heavy to lift. This avoids any wood staining to occur.
Vacuum the area to clean the surface-level dirt and debris.
You can start from the opposite side of the door and make your way back to exit the room when done.
For better circulation and to prevent mold from forming, keep the windows and doors open until the carpet is completely dry.
Once it is dry, vacuum again to remove any leftover dust particles.
What Should You Consider When Buying Carpet Cleaner?
Suction: For a carpet cleaner to be called effective, it needs to have a high suction power to pull all the water or shampoo from the carpet. If you don't have a powerful carpet cleaner, then the carpet will remain damp even though it is cleaned. It will take a very long time for it to dry which will keep you from entering the room for hours.
Portability: If you live in a house that has multiple floors and rooms, then having a carpet cleaner of the right weight is a huge life-saver. If the cleaner is too heavy, you would probably sprain your back while carrying it up and down the floors or you might get tired pulling it from one room to the other. So, make sure to choose something with an appropriate weight.
Scrub Brushes: One of the basic and most important features that a vacuum should have is a good scrub brush. It needs to have a brush that can remove the stains made by pets or the stubborn dirt that is stuck deep down. But, you also need to know how hard the brush is too. If the brush is too hard, it will not be suitable to be used on light carpets, as it might tear it apart. So, make sure that your carpet cleaner has the right kind of brush that you need.
Water Heater: Once you are done cleaning the carpet, it might take some time to dry naturally. Some of the products on this list also include a heating feature to speed up the drying time. The machine forces hot air towards the floor because of which the water will be evaporated and the carpet will be usable again in no time.
Separate Tanks: This is a feature that is often not considered, but having separate tanks for freshwater and dirty water is an advantage. This avoids any chances of both getting mixed or else instead of cleaning the carpet, it might just leave it dirtier than before. Also, it is ideal that the tanks are big enough to store a lot of water so that you will not have the need to empty or refill them multiple times.
Easy Cleaning: By the time you are done cleaning your carpet, the machine would have collected a lot of waste. The nozzle, filter, and the water tanks will collect a lot of dirt that needs to be cleaned; otherwise, it will affect the durability of the cleaner. For equipment like this, it can be extremely difficult to clean. So, having a carpet cleaner where these parts are detachable is very helpful.
Easy Storage: Some carpet cleaners are known to take too much space in the cupboard. If you do not have a lot of storage area, then consider buying a cleaner that is compact or at least has detachable parts.
There you have it! That was our list of some of the amazing carpet cleaners that you can own right now. With products like these, your life becomes very easy and stress-free. Let the carpet cleaner handle the stains while you handle your kids and pets.
Frequently Asked Questions
Should you vacuum the carpet after shampooing?
It is recommended to vacuum before and after shampooing. Vacuum the carpets before, to remove any large particles from the surface; vacuum after shampooing to remove particles that were stuck deep in the carpet.
Is steam-cleaning bad for carpets?
Steam-cleaning is one of the best ways to clean your carpets. It uses a combination of hot water with cleaning formulas not just to clean the surface but also to remove the dirt deep down.
Can urine on a mattress cause mold?
If the urines dry on the mattress and are not tended for a long time, it could cause mold to form.
Can I use carpet cleaners on the floor?
Not all carpet cleaners can be used on hard surfaces. A few brands do offer carpet floor cleaners. For example, Dirt Devil Endura Max can be used to clean both carpet and hard surfaces.