14 Best Carrier Oils For Hair That Give A Velvety, Voluminous Look
Volumize your tresses with organic oils that provide nourishment to your scalp.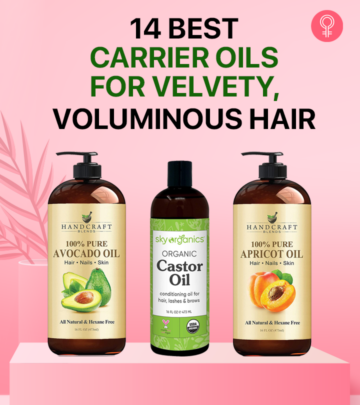 The right oil can help you achieve smooth and soft hair. If you struggle with dry, dull hair, find the best carrier oils to add to your hair care routine. Carrier oils are natural oils extracted from nuts, seeds, and plants that can be applied to the hair directly or mixed with essential oils. They have micronutrients and minerals that provide nourishment to the scalp and reverse hair damage. They add shine to your hair, boost volume, and promote hair growth. Read on to know more about the benefits of these oils and find the best oil suitable for your hair type.
How Are Carrier Oils Beneficial For Hair And Scalp Health?
Carrier oils are versatile and highly beneficial in treating multiple hair issues. They are known to:
 Treat dandruff-prone and dry scalp
 Stimulate hair growth
 Protect hair from damage due to heat and hair styling
 Nourish and moisturize hair
 Add shine to hair
 Protect hair from chemical additives and non-natural ingredients
In short, carrier oils are the hair care superheroes. Here are bestselling carrier oils available online in 2022.
14 Best Carrier Oils For Hair
Want luscious, long hair? Try this cold-pressed organic castor oil from Sky Organics. It is replete with nourishing fatty acids that moisturize and condition hair. This thick oil rejuvenates dry, dull hair and scalp. Its anti-inflammatory properties help soothe dandruff, while its natural fatty acids lubricate the hair shaft. The oil also promotes fuller-looking lashes and brows. It is free from artificial additives and chemicals too. Click this video to learn more about the product.
Pros
 Reduces scalp inflammation
 Cruelty-free
 Vegan
 Hexane-free
 Fragrance-free
 Alcohol-free
 Preservative-free
 100% organic
Cons
 May cause allergies in some
Give the right treatment to your hair at home with this 100% pure, cold-pressed avocado oil from Handcraft Blends. This premium quality oil is not just great for your hair but also for your skin and nails. It is a powerhouse of omega-3 fatty acids and vitamins A, D, and E. It is also a prime ingredient in most moisturizers, face creams, and sunscreens. The oil controls frizz, detangles hair, and adds sheen to your strands without making them greasy. The antioxidants in the oil protect hair from UV damage, soothe itchy scalp, and promote hair growth. The bottle contains 100% pure, unfiltered, undiluted avocado oil free from preservatives and additives. Learn more about the product in this video.
Pros
 Minimizes frizz
 Hexane-free
 Lightweight
 Fast-absorbing
Cons
None
This cold-pressed apricot oil from Handicraft Blends is one of the best carrier oils for massage and aromatherapy. Its vitamin- and fatty acid-rich formula offers endless benefits to the skin, hair, and nails. The oil is a great moisturizing agent that penetrates the scalp to provide intense nourishment and lasting hydration. Apricot oil is one of the most preferred ingredients for hair care. It helps condition and moisturize dry strands, promotes hair growth, and adds shine to the tresses. It's a great source of vitamins A and E that help prevent split ends and reduce dandruff. This video gives you more information about the product.
Pros
 Offers UV protection
 Vegan
 Hexane-free
 Lightweight
Cons
None
Jojoba oil is a common ingredient in eco-friendly hair care products. This 100% organic, unrefined, cold-pressed jojoba oil is extracted from the simmondsia chinensis seeds locally grown in Arizona. The oil is packed in a dark, amber bottle that protects it from oxidation and photosensitivity. Pure jojoba oil moisturizes dry scalp, prevents split ends, and manages frizzy hair. It also leaves your hair soft and shiny. The Leven Rose jojoba oil also works magic by healing chapped and dry lips, treating acne, and reducing stretch marks. You can even use this oil as a makeup remover.
Pros
 Works as a makeup remover
 Cruelty-free
 Organic
 Great for curlier hair
 Fights split ends
 Non-sticky
Cons
None
Almond oil is rich in fatty acids and vitamin E, making it perfect for skin and hair care routines. The expeller-pressed Sweet Almond Oil from Viva Naturals retains the vitamins and antioxidants during the extraction process, delivering the nourishment your skin deserves. It is quick-absorbing and has a non-greasy texture. Sweet almond oil hydrates, strengthens, and smoothens dull, dry hair. It also soothes scalp inflammation and promotes healthy hair growth. You can use this oil in your DIY hair masks or substitute it with a hair serum for impeccable results.
Pros
 Quick-absorbing
 Non-greasy
 Non-GMO
 Non-allergic
 Hexane-free
 100% natural
 Unscented
Cons
 May trigger allergies in some
This 100% Pure Sunflower Oil from Maple Holistics is rich in fatty acids, antioxidants, and vitamin E. It helps soothe dry scalp, seals moisture and adds shine to your hair. The fatty acids in the oil provide essential nutrients to repair hair follicles and preventing further damage. You can pair this oil with essential oils to boosts its efficacy. It boosts your hair quality while adding radiance to your skin. It perfectly complements your daily beauty regimen.
Pros
 Suits dry hair/scalp
 Detangles hair
 Can be used in DIYs
 Cruelty free
 Vegan
 Cold-pressed oil
Cons
None
Coconut is touted as the ultimate go-to fix-everything product for hair care. This pure organic fractionated coconut oil from Pura D'or Professional is a non-greasy beauty oil that works wonders on your hair. It moisturizes hair, reduces irritation, protects from UV damage, and infuses natural antioxidants into your hair. On the other hand, it is a great DIY beauty blend and magical carrier oil for hair. It penetrates your scalp to promote blood circulation and boost hydration. It also stimulates hair follicles.
Pros
 Hexane-free
 Non-staining
 Light consistency
 Controls frizz
 Great for over-processed hair
Cons
None
The oil extracted from grape seeds helps balance scalp moisture. It is rich in antioxidants, vitamins A, E and K, and fatty acids that protect skin from environmental aggressors, reduce visible signs of aging, and enhance the skin's natural radiance. It is also a great carrier oil that blends seamlessly with essential oils to help strengthen brittle hair, moisturize hair strands, combat split ends, and soothe the scalp. Its lightweight and non-greasy formula helps reduce hair loss, protects your hair shafts from UV damage, and controls signs of premature aging.
Pros
 Non-greasy
 Lightweight
 Fragrance-free
 Vegan
 Cruelty-free
Cons
None
Moringa oil is extracted from the seeds of drought-resistant plants. This nutrient-rich multipurpose oil has been in use in beauty care for thousands of years. The SVA Organics Moringa oil is pure and authentic and is free from hexane, alcohol, and other solvents. This premium therapeutic grade oil is great for aromatherapy and is rich in vitamins and omega 3 and 6 fatty acids that stimulate hair follicles. This emollient oil penetrates your scalp, strengthens your hair strands, and adds glow to your skin. This non-greasy oil is among the best carrier oils that stimulate hair follicles for improved hair health.
Pros
 Non-greasy
 Hexane-free
 Alcohol-free
 Cruelty-free
Cons
The Maple Holistics Primrose Oil is enriched with essential fatty acids and is suitable for all hair types. This cold-pressed, premium, therapeutic grade primrose oil complements your hair growth by minimizing hair loss. Besides adding volume, it also helps add sheen to your frizzy, dull hair. The oil also helps moisturize your hair and helps fight the signs of premature aging.
Pros
 Lightweight
 Versatile product
 Minimizes hair fall
 Adds volume
 Improves hair elasticity
Cons
The oil extracted from the core of an argan tree is a well-known beauty elixir. It is a natural source of vitamin E and omega-6 fatty acids that work magic on hair. Argan oil adds glow to your skin and boosts hair growth by strengthening the strands. This aromatic oil gets absorbed quickly and leaves your hair non-greasy and shiny. A soothing massage with this magical oil alleviates stress and conditions your hair. This oil from SVA Organics is a cold-pressed variety free from hexane, alcohol, and other solvents.
Pros
 Non-greasy
 Quick-absorbing
 Manages frizz
 Hexane-free
 Alcohol-free
 Cruelty-free
Cons
None
US Organic has come up with premium grade, 100% pure, cold-pressed pumpkin oil that benefits your hair. The antioxidants in the oil promote hair growth and heal scalp infection. It adds a boost of hydration to the hair follicles and reduces hair loss to a great extent. Moreover, this GMP- and USDA-certified oil is a great carrier oil that gives off miraculous benefits when blended with essential oil extracts.
Pros
 Paraben-free
 Alcohol-free
 Fragrance-free
 Cruelty-free
 No fillers
Cons
None
Sesame oil is a great lifesaver for those looking for an effective carrier oil that works wonders to provide nourishment and lubrication to their hair. This oil is rich in antioxidants that help treat dandruff, reduce premature hair graying, maintain scalp health, boost hair growth, and reduce hair loss.
Pros
 Prevents premature hair greying
 Hexane-free
 Food-grade
 Gentle on scalp
Cons
None
This 100% pure natural and cold-pressed hemp seed oil from Premium Nature is a fast-acting carrier oil that promotes hair health. It is enriched with omega 3 and 6 fatty acids that maintain scalp moisture levels, promote cell regeneration, and protect scalp and hair from damage. It has a non-greasy formula. This hemp oil-infused hair mask moisturizes the strands, boosts hair growth, revives damaged hair, and boosts hair shine and thickness.
Pros
 Vegan
 Cruelty-free
 Paraben-free
 100% natural
Cons
None
Carrier oils moisturizes and nourishes your hair, adding volume and managing frizz in the process. While Picking up a carrier oil for your hair becomes an easier job, when you can keep the following things in mind.
How To Choose The Best Carrier Oil?
Here are a few factors you must consider while choosing the best carrier oil for your hair.
1. Purpose: Each carrier oil is loaded with a unique combination of nutrients and antioxidants. While some carrier oils can help in taming frizz, other one might help in controlling hair fall. Underneath we have listed few oils and their benefits.
 Coconut oil, jojoba oil, argan oil, and almond oil work great on dull and dry hair. They also boost hair moisture.
 Lavender oil, lemongrass oil, and almond oil help soothe and hydrate the dry scalp.
 Coconut, almond, olive, and jojoba oils are great for repairing damaged hair.
 Lemongrass, almond, and grapeseed oils are excellent hair growth boosters.
 Opt for coconut and almond oils for faster hair growth.
 You can treat dandruff-prone hair with jojoba oil, almond oil, grapeseed oil, lemongrass oil, or olive oil.
2. Comedogenic Rating: When buying a carrier oil do look for its comedogenic rating – especially if you have oily, acne-prone skin and scalp. Highly comedogenic oils can clog your pores and risk break outs. Argan oil, and hemp seed oil are non-comedogenic, while coconut oil, cocoa butter, and flaxseed oil are fairly high on the comedogenic scale.
3. Aroma: Although most carrier oils are little or no aroma, few might possess an overpowering odor that can be too much for people with sensitive noses.
4. Absorption: Your skin and hair can absorb lighter carrier oils effortlessly. Most users prefer masking their hair with heavier oils pre-shampoo, while lighter oils are used post shower as a serum.
Envy-worthy hair is a great way to amp up your appearance. A nutritive cocktail of essential oils and carrier oils would be ideal for boosting hair quality and counteracting the effects of seasonal changes and environmental pollution. Browse through the list above to pick one that best suits your needs the best.
Why Trust StyleCraze?
The author of this article, Shiboli Chakraborti, is a certified skin care coach and also has a keen interest in hair care. She loves to research various hair care products to curate the best list for the readers, making their choices easy. After extensive research and reading many consumer reviews online, she has curated the list of carrier oils for hair. These oils support healthy hair and effectively reverse hair damage. The best part is that the carrier oils listed in the post can also be applied directly to the hair or mixed with other oils.
Frequently Asked Questions
How to mix carrier oils with essential oils for hair?
You must choose your carrier oil as per your hair type. Add two to three drops of essential oil to your carrier oil before applying it to your scalp and hair. Massage it well for better results.
Which carrier oil is best for hair growth and thickness?
Coconut and castor oils would be ideal for improving hair growth and thickness.
How many carrier oils can you mix together?
Two or three carrier oils can be mixed at a time to enhance the outcome. But try not to mix too many oils as they may cause an allergic reaction (and understanding which oil caused the allergy could be a challenge).
Should you use a carrier oil for your hair every day?
A nice and warm hair massage once a week is more than enough for boosting your hair health. Overuse of these oils can make your scalp oily and greasy, leaving your hair limp, dull, rough, and weak.
Recommended Articles