10 Best Carrier Oils For Skin That Are Worth Trying In 2021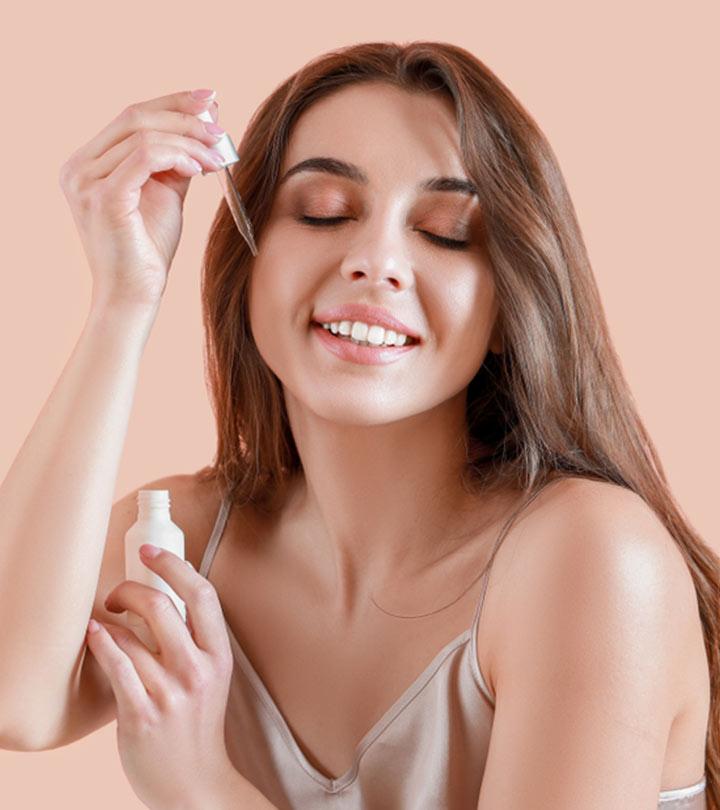 If essential oils were Olympic level gymnasts, then carrier oils would undoubtedly be their loyal coaches. After years of raving about the benefits of essential oils, it is time for us to know the truth. Essential oils are all that they claim and much more, but only because there is a range of carrier oils for skin, allowing them to deliver their promised benefits without causing any harm.
Carrier oils for skin are best understood as vehicles of suspension for essential oils or other potent and possibly irritating actives. However, this doesn't stop them from being wholesome, active ingredients on their own. They can also be used in various other forms such as face oils, serums, lotions, cuticle treatment, and much more! They are loaded with natural fatty acids, vitamins to maintain the skin's health without causing harm, giving you more reasons to include them in your skin care! To help you with the process of picking out the perfect one, we've curated this list of the top 10 carrier oils for skin that are worth trying in 2021, enjoy!
Top 10 Carrier Oils For Skin Available In 2021 With Buying Guide
Cliganic gives us this USDA-certified cold-pressed 100% pure and natural jojoba oil to elevate our skin care regime one drop at a time. The oil's consistency resembles the skin's natural oils allowing it to absorb better and quickly without clogging any pores! It is also rich in vitamin B, C, and E. Together, they make the skin brighter, moisturized, and supple! This all-rounder can be used on your skin, scalp, and hair. Loaded with nutrients that are ideal for all skin types, you too can enjoy the numerous jojoba carrier oil benefits with this product.
Pros:
Organic
Non-greasy
Cruelty-free
Lightweight
Multipurpose oil
Ideal for all skin types
Does not leave a residue
Cons:
May lose properties and color if stored incorrectly
If you are on the lookout for carrier oils but want to start slow and safe, this is your best bet! This Majestic Pure product is a fractionated and purified form of the traditional coconut oil found in your local market. The fractionating process essentially removes all the things we hate about coconut oil and leaves behind all the goodness. It is odorless, clear to a yellow tint, and non-greasy. It maintains its liquid form, does not stain, and most importantly, it is versatile! In addition to being used as a great moisturizing carrier oil, this product can also be used as an ingredient in at-home recipes for toothpaste, lip balms, and conditioners. This tops our list of being one of the best antibacterial carrier oils that can also be used as a natural deodorant, makeup remover, shaving cream, and for sunburn remedies.
Pros:
Versatile
Odorless
Lightweight
Quick absorbing
Convenient to use
Does not leave a residue
Cons:
It may not have an extremely long shelf life.
Premium Nature's cold-pressed castor oil is filled with fatty acids that are compatible with and complement all essential oils. Start by adding a few drops of essential oil in a small vial castor oil and watch your concoction transform. Castor oil proves to be a great carrier oil for the skin due to its versatility and ability to penetrate deep into the skin. It is commonly mixed with tea tree oil or eucalyptus oil to fight acne and blemishes. It also serves as a great hair oil that stimulates hair growth, promotes root strength and overall scalp health.
Pros:
Vegan
Organic
Cruelty-free
Absorbs quickly
Treats sunburns
Safe for children
Hydrating formula
Ideal for all skin types
Cons:
May lead to clogging of pores in rare circumstances
Leven Rose's rosehip oil is a carrier oil for skin that is cold-pressed, unrefined, and contains no parabens, fillers, or additives. As a one ingredient formula, Leven Rose gives you 100% rosehip seed oil and nothing else. It works great with other essential oils and improves their application experience. These carrier oils include jojoba, tamanu, and argan oil. The vitamin E and C rich properties of rosehip oil make it great for the skin. You can apply this rosehip carrier oil to your face, around the eyes and lips, and any other parts of your body without hesitation.
Pros:
Potent
Contains omega-3
Moisturizing properties
Improves application for essential oils
Cons:
May oxidize if stored incorrectly
Life-Flo scientifically formulates and uses the latest technology to manufacture this sunflower carrier oil. Unlike other traditional sunflower oils that have a dense texture, this one is gentle and lightweight. It is loaded with fatty acids and antioxidant vitamins. Although it serves as a great moisturizing agent, it is best used for reducing the appearance of fine lines and wrinkles. By mixing it with other essential oils, you can make an all-rounder oil, which helps you overcome skin damage and reduces aging signs. It is also a great carrier oil for aromatherapy and massage.
Pros:
Anti-aging
Lightweight
Ideal for all skin types
Hexane and paraben-free
Responsibly-manufactured
Protects skin from free radicals
Cons:
Some may find the smell overpowering
Are you looking for the best anti-aging carrier oils that not only fight acne but also reduce signs of aging? This Maple Holistic product is the answer! By itself, you can use it as an everyday moisturizing body oil that nourishes your skin while improving the moisture barrier. You can also mix this hypoallergenic carrier oil with other essential oils to make yourself an all-natural anti-aging and acne serum.
Pros:
Undiluted
Hypoallergenic
Replenishes dry skin
Therapeutic properties
Contains a blend of antioxidants and vitamins
Cons:
The scent may be overpowering for some
Hemp seed oil has such great and potent qualities of its own that it is often mistaken as an essential oil. However, unlike other essential oils, hemp seed carrier oil is versatile. A few drops can be added to moisturizers or shampoos to make them nutrient-rich and allow for deeper absorption. It can also be used as a potent base to dilute other irritable essential oils. Used in either form, this hemp seed oil will nourish the depths of the skin without making it greasy.
Pros:
Versatile
Quick absorbing
Leaves no residue
Does not clog pores
Helps in minor pain relief
Cons:
May cause dryness on sensitive skin
May cause irritation in rare circumstances
French plum oil has been around for centuries and yet remains a highly underrated carrier oil for skin. Botanical Beauty's french plum oil is rich in gamma linoleic acid, a derivative of a combination of fatty acids, squalene, and vitamins. Together, they help reduce wrinkles, scars, stretch marks, rashes, burns, acne scars, cellulite, acne, and chapped lips. This one is considered the best carrier oil for dry skin also helps plump and firm the skin. Although it is suitable for all skin types, it is highly recommended for drying, brittle and damaged skin.
Pros:
Non-oily
Non-greasy
Suitable for dry skin
100% pure, natural, unrefined, virgin oil
Can be used on the face, body, and hair
Cons:
May lose properties if stored incorrectly
Primrose oil is rich in omega-6 and 9 known for their healing, soothing, and nourishing properties. Combine this Pure Body Naturals' evening primrose oil with other potent acne-fighting essential oils to ensure a fast reduction of acne and blemishes. Due to its soothing properties, this product dilutes concentrated essential oils allowing them to work most effectively without causing any irritation. It is used independently to fight early signs of aging, such as wrinkles, smile lines, uneven roughness, and texture. It is also used on the hair to promote scalp health, leaving you with long, thick tresses.
Pros:
Long-lasting
100% pure oil
Healing and hydrating
Can be added to moisturizers
Reduces inflammation and irritation
Can be mixed with potent essential oils
Cons:
Scent may be overpowering for some
With all the international attention avocados are getting, it was bound to be somewhere on our list. Plant Guru gives us this cold-pressed avocado oil rich in vitamin A, B, D, and E. Collectively, they ensure that the hair, skin, and scalp are receiving the best nourishment. It is highly suited for dry, mature, skin damaged, and irritated skin and hair. Its high potency and dense texture are usually used in combination with other essential oil and carrier oil when formulating massage lotions.
Pros:
Versatile
100% pure
Unscented
Undiluted
Rich in vitamins
Penetrates deep into the skin
Cons:
Some may find the dense consistency and texture hard to apply.
Carrier oils can be a life-changing ingredient in your skin and hair care. Now that you have a fair idea of 2021's top 10 carrier oils for the skin, here is a buying guide to help you make your purchase.
Guide To Choosing The Perfect Carrier Oil For Your Skin
Before purchasing a carrier oil for at-home use, it is best to keep the following things in mind:
This one is a no-brainer, but quality is an aspect you cannot overlook when picking out the best carrier oil for your skin. We suggest you opt for cold-pressed, 100% pure, unrefined oils, that do not contain any harmful substances that may lead to unwanted skin conditions like acne, itching, inflammation, etc.
Texture and property of carrier oil
Carrier oils are vast in variety and properties. While some are lightweight and fast-absorbing, others are thick and sticky, and both have different properties that assist in overcoming specific issues. Depending on the one that ticks your preferences, you can make your pick.
Compatibility with other essential oils
To be a suitable carrier oil, they need to be compatible with many essential oils. Lucky for us, all carry oils mentioned on our list are highly compatible and tend to have a soothing effect to counter potent essentials. These include jojoba oil, coconut oil, almond oil, and more.
Skin type makes a lot of difference when it comes to choosing the right product for yourself. For dry skin, we recommend using avocado and olive oils as they both are lightweight carrier oils that can penetrate deep into the skin and provide moisture while stimulating collagen production and correcting skin conditions like eczema, psoriasis, and rosacea. For oily skin, pick products that are hypoallergenic, non-comedogenic, and contain anti-inflammatory properties. Jojoba and sweet almond oil are both non-comedogenic carrier oils that can be considered. For sensitive skin, go for light, mild, and non-irritating oils. You could try sesame seed or apricot oil, as both of them are good carrier oils for skin.
Gentle, effective, and truly a friend in need, carrier oils are what you need to achieve healthy hair and skin. On their own, carrier oils nourish and hydrate skin. When they are mixed with essential oils, they dilute their potent properties and "carry" them effectively into your skin. Remember to steer away from the harmful chemicals and choose pure and organic carrier oils to experience the best results. It is also crucial that we choose antibacterial and anti inflammatory carrier oils for sensitive or acne prone skin. We hope that our list of the 10 best carrier oils for skin that are worth trying in 2021 has helped you pick one that works best for you, and we wish you the best of luck in your journey to beautiful hair and skin. Happy shopping!
Frequently Asked Questions
Can two carrier oils be mixed together?
Yes, two or more carrier oils can be mixed together to reach the desired result. This is most often done to build massage oils and healing oils. However, it is important to exercise caution while dealing with oils that are potent.
Does putting oil make your skin dark?
Not always. Some oils such as coconut oil and olive oil tend to cause more tanning if applied before going into the sun. However, oils in themselves do not cause any oiling.