10 Best Castor Oils For Hair Growth And Thickness – 2022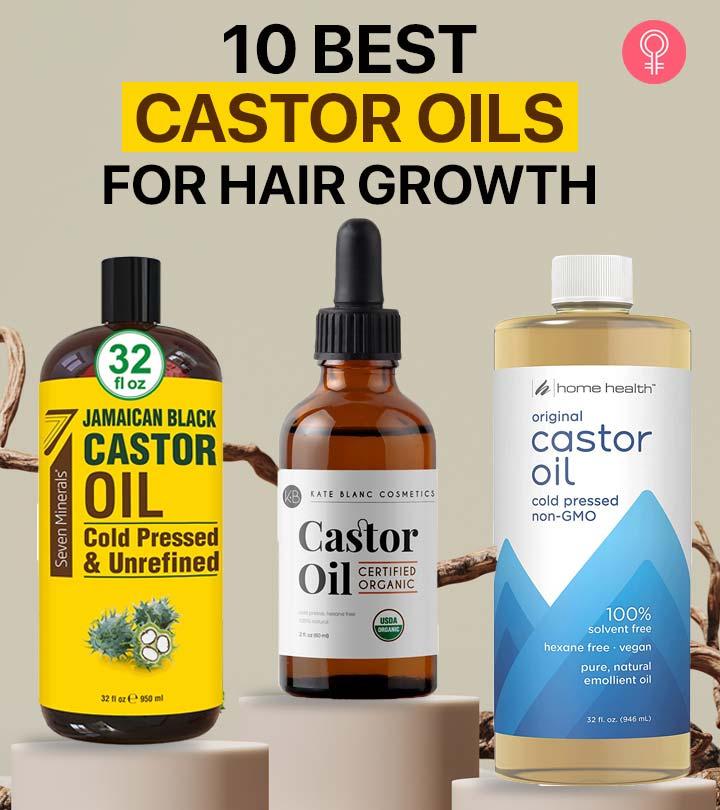 The benefits of castor oil are well-recorded in the beauty world. The best castor oil for hair care is a remedy that helps with hair fall, breakage, and dandruff issues. In fact, you can even apply it to other spots, such as your eyebrows and eyelashes, to promote growth. According to Board-certified dermatologist Dr. Lucy Chen, MD, FAAD, "Although castor oil doesn't necessarily promote hair growth, it provides some benefits for your hair. Castor oil is often used as a conditioning agent that can improve the flexibility of hair fibers and fight off bacterial overgrowth on the scalp that could potentially damage the hair."
10 Best Castor Oils For Hair Growth And Thickness
The Jamaican Black Castor Oil by Seven Minerals promotes thick, strong, and healthy hair. It can also be used to strengthen your brows and lashes and keep your skin soft. This cold-pressed castor oil is extracted from roasted castor beans and is free of additives. It helps combat free radicals, soothes redness, irritation, and keeps your skin clear. Regular use of this oil also improves blood circulation to your scalp. You can combine this oil with any essential oil for a relaxing massage or soothing aromatherapy. Check out this video to know more about this product.
Pros
 100% pure
 Hexane-free
 Additive-free
 GMO-free
 Vegan
 Cruelty-free
Cons
None
The Kate Blanc Castor Oil is an organic cold-pressed oil with no added preservatives. It is lightweight and gets absorbed into the scalp easily. The oil can also be used as a hair growth serum for longer and thicker lashes. In addition, it softens dry, brittle hair, moisturizes a dry scalp, and eliminates dandruff. Besides hair growth, this oil also works as a natural moisturizer for the skin. Before buying, have a look at this video for more details.
Pros
 Cruelty-free
 100% organic
 Hexane-free
 Comes with a glass dropper
Cons
None
The Home Health Castor Oil is packed with all the essential nutrients for healthy hair growth. It deeply penetrates the scalp to moisturize and condition your hair, leaving it soft and supple. The oil is cold-pressed from the castor seeds and contains no added preservatives. It is therapeutic and 100% solvent-free and does not contain any synthetic ingredients. You can use it for the skin, hair, and other DIY beauty purposes. Watch this video to know more about the product.
Pros
 Non-greasy
 Non-GMO
 Hexane-free
 Vegan
Cons
None
The Cliganic Organic Castor Oil is 100% pure, natural, cold-pressed, and unrefined. It is naturally enriched with vitamins and fatty acids and can help hydrate your skin, hair, and scalp. In addition, it can help strengthen and repair dry or damaged hair. The oil can also effectively enhance the appearance of your hair, eyebrows, and eyelashes. It may be used to reduce wrinkles and fine lines, strengthen your nails, and nourish the cuticles. The oil works perfectly for all hair and skin types. This video will give you more insights into the product.
Pros
 Lightweight
 Fast-absorbing
 100% natural
 Non-GMO
 No additives
 Cruelty-free
 Vegan
Cons
None
This cold-pressed castor oil by Heritage provides deep hydration and nourishes the hair follicles to give you thicker brows. It is 100% cold-pressed, and its sticky texture holds each hair strand for maximum nourishment. It can also be used as a massage oil. The Heritage Store Castor Oil is naturally enriched with omega-9 fat, minerals, and ricinoleic acid to help hydrate dry skin and nourish your hair.
Pros
 100% cold-pressed
 Vegan
 Cruelty-free
 Hexane-free
Cons
The Tropic Isle Living Jamaican Black Castor Oil is specially formulated to promote healthy hair growth. It is made in the traditional, hand-processed way to preserve the goodness and benefits of castor beans. The oil is naturally rich in omega fatty acids, vitamin E and minerals, and also contains botanical extracts like neem oil, aloe vera, jojoba, and avocado oils to provide intense nourishment. All these ingredients are packed with essential nutrients and antioxidants that fight hair thinning and breakage.
Pros
 100% organic
 Suitable for all hair types
Cons
The Handcraft Blends 100% Pure Castor Oil is super versatile and has many benefits. It is 100% pure, natural, unfiltered, and undiluted, rich in vitamins and fatty acids that help improve overall skin and hair health. This castor oil enhances the natural color and shine of your hair. It locks moisture in the hair shafts, making each strand thicker and stronger. It is packed with potent nutrients that promote natural lash growth as well. Besides promoting hair growth, this oil also helps soften your skin.
Pros
 100% organic
 Not tested on animals
 Easy to dispense
Cons
The Eve Hansen Castor Oil is a certified organic and antioxidant-rich product with anti-inflammatory, antibacterial, and antifungal properties. It moisturizes dry hair, reduces split ends, improves hair texture, and adds shine to it. The oil also moisturizes the skin and may help soothe acne and sunburn.
Pros
 100% organic
 Includes a spoolie brush
 Paraben-free
 Vegan
 Cruelty-free
 Phthalate-free
Cons
The IQ Natural Jamaican Black Castor Oil is 100% organic and extracted through cold-pressing the seeds. It acts as a natural moisturizer that conditions damaged hair and skin. The oil moisturizes the scalp, strengthens roots, and promotes healthy hair growth. It can be used on the skin and eyelashes and is suitable for all hair types. The product is infused with a natural lavender scent to enhance your hair and skin care experience.
Pros
 Organic ingredients
 Easy to use
 Pleasant lavender scent
 Hexane-free
Cons
None
The RejuveNaturals is rich in nourishing fatty acids and other nutrients that help with hair growth. It is 100% pure, certified organic castor oil that nourishes and moisturizes dry and brittle hair. This oil is USDA and ECOCERT-certified and does not contain any fillers. It can be used on the skin and claims to improve hyperpigmentation and the appearance of acne scars and reduce premature graying.
Pros
 USDA and ECOCERT-certified
 Hexane-free
 Non-GMO
 Paraben-free
 Sulfate-free
 Phthalate-free
Cons
Before buying castor oil for topical use, ensure it is authentic and does not contain any additives. Many brands may add preservatives to increase the shelf-life of the product. However, such additives may often cause allergic reactions. Here are a few pointers to keep in mind before purchasing castor oil.
What Is Castor Oil?
Castor oil is extracted from the seeds of the Ricinus communis plant. It is a colorless to pale yellow vegetable oil with a sharp taste and odor. Castor oil contains ricinoleic acid (a primary fatty acid) and is used for medicinal, industrial, cosmetic, and pharmaceutical purposes. It is said to have anti-inflammatory, antifungal, and wound healing properties.
Castor oil is preferred by many for promoting hair growth and maintaining its health. If you want to include it in your hair care routine, check out the listed products.
Things To Consider Before Buying Authentic Castor Oil
Pure castor oil is free of artificial ingredients, chemical compounds, and harmful toxins. It shouldn't contain artificial ingredients, such as fragrances, alcohol, or other flavorings, as these ingredients may dry out or irritate your skin.
Look for products with the USDA or ECOCERT Certified label. Organic castor oil uses natural ingredients and castor seeds grown without pesticides, fertilizers, or growth enhancers.
Always purchase from authorized sellers. Look for the product in pharmacies, branded stores, and healthcare stores. If you are purchasing it online, make sure that you buy it from reputable e-commerce store or the official website.
Castor oil comes in two grades, and you can choose one based on your preferences:
a. AA Standard or "Pale Pressed": This type of castor oil is prepared from the first pressing of the seed, also known as 'virgin oil.' It is diluted and light.
b. Imported: It refers to mixing the first batch of seed pressing with the next batch of seeds. It is a continuous process, prepared multiple times.
Hexane is a solvent used to extract oil from the seeds. Using hexane for oil extraction often increases the risk of impurities and may affect the oil quality. Therefore, avoid buying castor oils that contain hexane. Other than these factors, you should also check the type of castor oil you are buying.
Types Of Castor Oil
There are three types of castor oils:
 Organic/Cold-Pressed Castor Oil: Organic/cold-pressed castor oil is extracted directly from the castor seeds without heating.
 Jamaican Black Castor Oil (JBCO): Jamaican black castor oil is prepared by roasting and crushing the castor seeds in a mortar and slow-boiling the seeds with water.
 Hydrogenated Castor Oil (Castor Wax): It is produced by the hydrogenation (a chemical reaction process in the presence of a catalyst) of pure castor oil, often in a nickel catalyst.
Pure castor oil is mostly viscous and may take time to get absorbed into the skin. Here are some tips on how you can apply castor oil to your hair, eyebrows, and eyelashes.
How To Apply Castor Oil The Right Way
For The Hair
 Cover your shoulders with a towel.
 Pour some oil in your palm.
 Massage your scalp with it for 3-4 minutes.
 Apply the oil to the rest of your hair.
 Let it sit for at least an hour.
 Wash out the oil.
For The Eyebrows
 Clean your eyebrows and remove any traces of makeup.
 Apply castor oil to your eyebrows with a cotton swab or a clean mascara wand. Ensure it does not get into your eyes. If it does, wash it out immediately.
 Leave it on overnight.
 Wash it off the next morning with a mild cleanser.
For The Eyelashes
 Clean your eyelashes and remove any traces of makeup.
 Apply castor oil to your eyelashes with a Q-tip or a mascara wand (just like you apply mascara).
 Leave it on overnight.
 Remove the castor oil with water or makeup remover.
While castor oil is a widely used remedy for hair growth and people have found it quite useful, there is no substantial evidence to prove this claim. Experts also voice their concerns over the use of castor oil for hair growth.
Is Castor Oil Beneficial For Hair Growth?
Dr. Chen says, "No, castor oil does not promote hair growth. There has yet to be substantial clinical evidence to say that castor oil accelerates hair growth. Due to its polarization, it's commonly seen as a gentle method of cleansing the skin, but there is no sufficient evidence claiming it can increase hair growth. In addition, some people can be allergic to it and experience inflammation, which could do more harm than good."
Why Trust Stylecraze
Oyendrila Kanjilal, the author, is well-versed in hair care and loves writing informative articles on the same. She sought the help of certified dermatologists to find the best castor oils that promote hair growth. She also conducted a thorough research of product specifications and user feedback to curate this list. These oils not only prevent hair fall, breakage, and dandruff issues, but you can even apply it to other spots, such as your eyebrows and eyelashes to boost hair growth.
Frequently Asked Questions
How long should I leave Jamaican black castor oil in my hair?
Leave it on for two to three hours before washing your hair.
Can I use castor oil for colored hair?
Yes, it is safe to use castor oil on colored hair.
Is castor oil safe on all hair types?
Yes, castor oil is safe for all hair types unless you are allergic to it. Do a patch test before using it.
Recommended Articles