The 15 Best CC Creams That Work Efficiently – Our Top Picks
The one-stop solution to conceal your redness and easily achieve even-toned skin.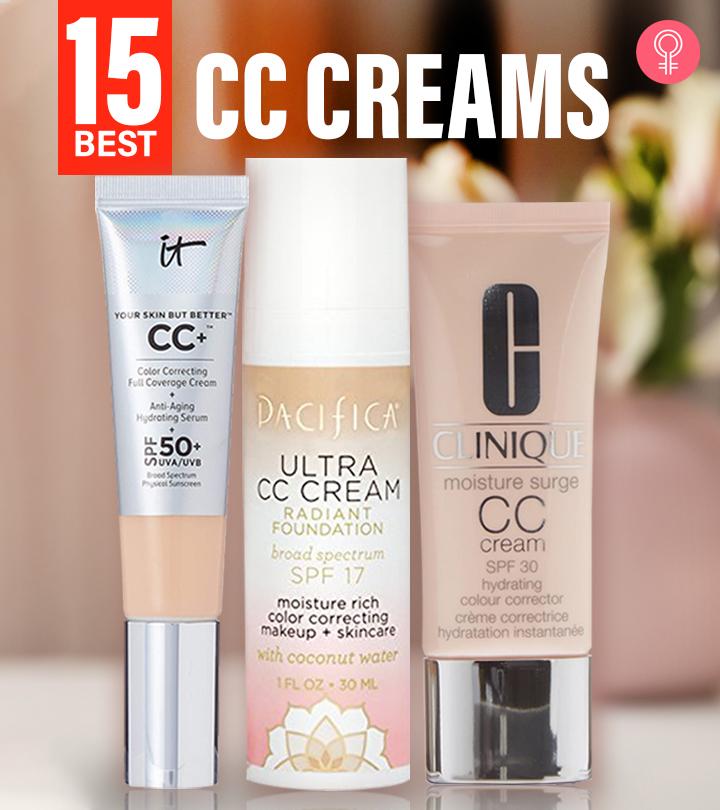 When applying a full face of makeup, a foundation is not your only option. There are BB creams, liquid skin enhancers, and tinted moisturizers. Then, you also have the best CC creams that fall somewhere in between. CC creams, aka color-correcting creams, are versatile and multitaskers that efficiently work like a foundation, concealer, moisturizer, and sunscreen. These creams focus on the more problematic areas of your skin, like redness and discoloration. So, if you don't like using a lot of products on your skin, the best solution is to buy a good CC cream. If you don't know which one to choose, here is a list of the best options for you. Keep reading to explore our top picks!
What Is A CC Cream, And What Does It Do?
CC Cream, also known as the complexion corrector and color corrector, is a 2-in-1 skincare product. It combines the goodness of foundation and moisturizer. This magic product targets the discolored areas of your skin and evens out your dark and red patches. Those who do not like wearing heavy foundation on a regular basis can find a quick fix in CC creams. Some of these lightweight formulas even boost moisture in the skin tissues. Certain CC creams also are infused with the benefits of the SPF. These creams protect your skin from harmful UV rays while hiding your blemishes.
15 Best CC Creams Available Right Now
IT Cosmetics CC+ Cream SPF 50 is a cult-favorite. It has SPF 50+ that protects you from the harmful UVA/UVB rays. It offers full coverage and acts as a color corrector on all kinds of discoloration, leaving you with spotless skin. It contains vitamins, antioxidants, hyaluronic acid, and collagen that prevent the signs of aging and nourish and hydrate your skin. It is easily one of the best CC creams out there as it works to improve the overall skin texture. Check this video to learn more about the IT Cosmetics Your Skin But Better CC+ Cream.
Pros
Clinically tested
Paraben-free
Covers pigmentation
Broad spectrum SPF 50+
Cons
Not available in a wide range of shades
Price at the time of publication: $27.0
The weightless and non-greasy Clinique Moisture Surge CC Cream covers imperfections without causing breakouts and leaves you with a healthy glow. It minimizes the size of your pores while delivering a matte finish and excellent coverage. If you prefer the "no makeup" makeup look, this one's for you. Look at this video to better understand the Clinique Moisture Surge CC Cream.
Pros
Moisturizes the skin
Paraben-free
Silicone-free
Tested for allergies
Non-acnegenic.
Reduces dullness
SPF 30
Cons
Available in limited shades
Price at the time of publication: $35.8
The Mary Kay CC Cream offers light to medium coverage and also protects your skin from UVA and UVB rays. It is formulated with niacinamide to deliver a flawless look and an instant brightening effect. It also has vitamin E, antioxidants, and emollients that hydrate your skin, blur blemishes, and redness to make your texture smooth and radiant. In addition, the mineral-based ingredients in this cream help you to achieve a natural look without being cakey. It is available in six different shades to suit all skin tones. Take a look at this video for a detailed demo and review of the Mary Kay CC Cream.
Pros
Lightweight
Has SPF 15
Sheer effect
Suitable for all skin types
Easy to use
Travel-friendly
Blends smoothly
Cons
Price at the time of publication: $26.89
Beauty gurus have been raving about the Bare Minerals Complexion Rescue Tinted Hydrating Gel for a while now, so you need to give it a shot. With its natural-looking finish and hydrating properties, this cream protects you from the sun while leaving you with a subtle tint. This antioxidant-rich cream is a top-rated CC cream for a reason. It contains marine extracts that brighten your skin and improve its overall texture.
Pros
Lightweight
Hydrates the skin
Easy to blend
Brightens the skin
Sheer to medium coverage
Cons
Price at the time of publication: $22.5
The Erborian CC Creme works like magic on your skin as it blends smoothly and gives your skin a flawless look. It blends evenly on all skin types and is good for reducing uneven skin tone. It prevents the harmful effects of the sun from showing up on your skin.
Pros
SPF 25
Can be used as a foundation
Suitable for all skin types
Reduces fine lines
Cons
Price at the time of publication: $22.79
Juice Beauty Stem Cellular CC Cream is a proprietary blend of fruit stem cells and vitamin C. It also contains resveratrol-rich grape seed extract that tightens your skin and makes it firm. It offers mineral-tinted coverage that protects you from UV rays and repairs damaged skin.
Pros
Improves the overall skin texture
Silicone-free
Non-chemical sunscreen
Suitablefor all skin types
Cons
Price at the time of publication: $39.5
Lancome UV Expert Mineral CC Cream is an all-in-one color corrector and mildly tinted moisturizer that has SPF 50. It offers medium-full coverage that lasts all day. If you are aiming to go for a "no makeup" makeup look, you should try out this CC cream.
Pros
Broad spectrum SPF 50
Lasts all day long
Suitable for all skin types
Made with 100% mineral filters
Cons
None
Price at the time of publication: $55.9
Physicians Formula Super CC Cream covers age spots, pigmentation, and fine lines. It also reduces the appearance of dull patches and redness to even out your skin tone. It hydrates your skin and protects it from the sun, thus working as a moisturizer, anti-aging serum, and sunscreen at the same time.
Pros
Covers hyperpigmentation
Multipurpose
Non-comedogenic
Dermatologist-approved
Suitable for sensitive skin
Cons
Price at the time of publication: $17.58
Get that natural glow back on your face with Andalou Naturals 1000 Roses Color + Correct CC Cream. This lightweight CC cream has a naturally hydrating formula infused with Alpine rose stem cells. It hydrates your skin and gives you a flawless-looking complexion with sheer coverage. Octavia Lewis, a Master Esthetician reminds, "Contrary to popular belief, not everyone needs a full-coverage product. Sometimes less is really more, especially for those with naturally radiant skin who like to sport the no makeup look!" This product is composed of organic ingredients that are naturally derived.
Pros
Sheer coverage
Hydrates the skin
Gluten-free
Cruelty-free
Broad spectrum SPF 30
Cons
Requires constant reapplication
Strong fragrance
Price at the time of publication: $13.9
The Olay Total Effects CC cream is a lightly tinted moisturizer that smoothly covers your skin's imperfections. It works as a mild foundation that hydrates your skin. It has SPF 15 that protects your skin from sun damage. Its creamy formula gets absorbed in your skin quickly and does not make it appear greasy.
Pros
Brightens the skin
Vitamin-enriched formula
Broad spectrum SPF 15
Suitable for sensitive skin
Cons
May feel a bit heavy on the skin
Price at the time of publication: $22.47
Whether you want to conceal dark spots or scars, Lumene CC Color Correcting Cream is a one-stop solution to all these problems. It is a long-lasting CC cream with an SPF 20 formula that protects your skin from the harmful UV rays. It gives your skin a flawless matte look, and its shades are formulated to neutralize redness naturally. 
Pros
Conceals redness
Prevents premature signs of aging
Creamy formula
Long-lasting
SPF 20
Cons
Not suitable for oily skin
Price at the time of publication: $19.99
Pacifica Beauty Ultra CC Cream is the perfect CC cream for all skin types. It instantly illuminates your skin and gives it a radiant glow. It is exclusively formulated with color-correcting minerals that suit your skin tone and skin-nourishing ingredients like coconut, kelp, and ginseng. It has a creamy formula that hydrates your skin and covers up blemishes.
Pros
Hydrates the skin
Creamy formula
Suitable for all skin types
Broad spectrum SPF 18
Cruelty-free
Vegan
Paraben-free
Phthalate-free
No mineral oil and petroleum
Cons
Might leave an orange tinge on the skin
Price at the time of publication: $17.99
Almay Smart Shade CC Cream diminishes the imperfections on your skin – like dullness and discoloration – with ease. It is lightweight and formulated with SPF 35 that acts as a fantastic shield from the sun. This cream is available in three versatile shades that adjust to your skin tone.
Pros
Hydrates the skin
High-quality ingredients
Dermatologist-tested
Hypoallergenic
Broad spectrum SPF 35
Suitable for sensitive skin
Cons
Feels heavy on the skin
Moderate coverage
Price at the time of publication: $24.99
Reduce the appearance of your fine lines and wrinkles with the Neutrogena Healthy Skin Anti-Aging Perfector. This tinted CC cream is infused with SPF 20 that protects your skin from sun damage and offers blendable coverage. The light tint evens out your skin tone and texture.
This clinically-proven CC cream is rich in vitamins and antioxidants and gives you younger and healthier-looking skin with a natural dewy finish. You can include this tinted moisturizer in your regular beauty regimen.
Pros
SPF 20
Moisturizes the skin
Evens out the skin tone
Reduces fine lines and wrinkles
Suitable for daily use
Cons
Price at the time of publication: $9.79
Do you lovedoing a full face of makeup every day but run out of time? If you are looking for a quick-fix, the CLE Cosmetics CC cream is going to be your ultimate solution. It is a multifunctional CC cream that combines all the benefits of skin care, foundation, primer, and sunscreen. This hydrating CC cream has a lightweight, color-correcting formula that blends effortlessly into your skin. Its Micro Capsule Technology offers you a natural finish. This soothing formula is enriched with SPF 50 and is free from added chemicals.
Pros
Multipurpose
Broad spectrum SPF 50
Cruelty-free
Vegan
Lightweight
Blends evenly
Cons
None
Price at the time of publication: $38.0
If you need a little more help deciding which CC cream to buy, check the following section. We have discussed all the factors to consider before buying a CC cream.
How To Choose The Best CC Cream (Buying Guide)
Coverage and Finish: Different CC creams offer different coverage. Some offer a natural finish, whereas some offer a more matte but radiant coverage. Opt for the one that matches your requirement.
Shade: CC creams are available in many shades. Know your skin's undertone and buy a shade accordingly. For example, if your face is filled with red patches, opt for a sheer green shade of CC cream.
Skin Type: Buy a CC cream based on your skin type. Check the ingredients before choosing a brand. If you have dry skin, look for products with hydrating agents like hyaluronic acid. However, if you suffer from excessive oily pores, buy a CC cream with oil-absorbing ingredients like clay and tea-tree extracts.
Having the right CC cream is not enough. Knowing to apply it properly is equally important. If you are unable to blend the CC cream properly, your base makeup will look cakey. Read on to learn the steps of using a CC cream.
The Best Way To Apply CC Cream
Deep cleanse your face with a good face wash or a cleanser.
Once your skin is dry and clean, dot the cream on your face. Use only a little amount at the beginning.
Apply more in your problem areas that need concealing and color correction, such as under your eyes and around the mouth.
Use a clean, damp beauty blender to blend out the product evenly on your skin. Apply more cream until you achieve your desired coverage.
Complete your base makeup with a light layer of makeup setting powder. This will provide you with a sheer matte look.
Why Trust StyleCraze?
Oyendrila Kanjilal, a certified skincare coach, is an expert at reviewing skincare products. She applies her knowledge and expertise to understand the ingredients in beauty and skincare products and what they can do for the skin. She looked at the available cc creams on the market and dug deep into user reviews and product formulations to shortlist a handful of top options. The cc creams listed here come with skin-friendly ingredients and help you replace multiple beauty and makeup products with their multiple properties and functions.
Frequently Asked Questions
Which one is better – CC cream or BB cream?
Both BB and CC creams are multifunctional. They not only nourish or moisturize your skin but also offer coverage. However, CC creams give you a bit more coverage than BB creams. CC creams also tend to have more substantial and thicker formulas.
Can we use CC cream daily?
Yes, CC cream can be used daily. It naturally moisturizes your skin, so it works wonders for people who have dry skin. It covers up all your blemishes and pigmentation and gives you a flawless look before you step out of the house.
Can we mix BB and CC creams?
You can mix BB and CC creams to camouflage all your blemishes and improve your skin tone.
Do you need to use a primer with CC cream?
If your CC cream is formulated with the ingredients of a primer, then you don't need to use a primer before applying a CC cream. If not, you can use a primer for a more even finish.
Can I use CC cream instead of foundation?
Yes, you can always use a CC cream instead of foundation for a natural yet finished look. But if you are looking for more coverage, using a full coverage foundation is a better option.
Recommended Articles: