13 Best Celebrity Perfumes – Top Picks Of 2022
Indulge yourself with these much-loved, enchanting fragrances to stay refreshed all day.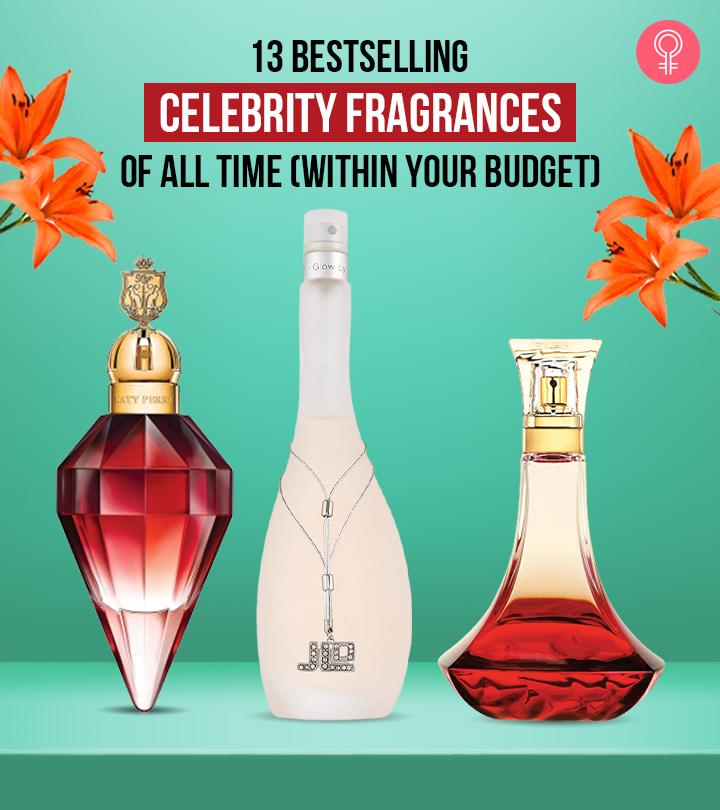 Do you want to try a new scent? Do you want to know the best celebrity perfumes, both new and old? Fragrances are an extension of your personality. They help you create a lasting impression and keep your spirits high all day.
Celebrity perfumes come in a variety of scents, from floral and mellow to spicy and smoky. If you're looking for a smell that will remain on your skin for a long time, you've come to the perfect place. Take a look at the top 13 best-selling celebrity perfumes of all time. Scroll down to pick one for yourself!
13 Best Celebrity Perfumes
The Beyonce Heat Eau De Parfum has an oriental vanilla-scented spicy fragrance and is endorsed by pop singer and actress Beyonce. This fiery, fruity, and floral fragrance has attractive top notes of neroli, peach, orchid, and magnolia. Its middle notes consist of macarons, almonds, honeysuckles, and musk, while the base notes are tonka bean, amber, and sequoia. This celebrity perfume is designed to mesmerize the senses with its extended stay.
Pros
Long-lasting
Attractive bottle
Sufficient quantity
Can be applied with other scents
Cons
White Diamonds was introduced by Elizabeth Taylor in 1991.The invigorating, subtle, and long-lasting perfume has a soft and aromatic blend of florals that imparts a glamorous fragrance. The top notes of this classic bestseller begin to settle into your skin within a couple of seconds of spraying. The top notes are orange, Amazon lily, neroli, bergamot, and aldehydes. The middle notes consist of jasmine, cinnamon, Turkish rose, Italian orr is root, ylang-ylang, Egyptian tuberose, and narcissus. The base notes of musk, sandal, amber, patchouli, and oakmoss linger to leave the best impression.
Pros
For daily wear
Long-lasting stay
Non-fading
Attractive bottle
Cons
Killer Queen by Katy Perry has an intoxicating, edgy, sophisticated, and royal fragrance packed in a red ruby-shaped elegant bottle. The soft and sweet fragrance lingers all day long without fading. The top notes of this delicious perfume are made of dark plum, bergamot accords, and wild berries. Its middle notes consist of sambacjasmine, rainbow plumeria, and celosia. The base notes contain patchouli, liquid praline, and cashmere.
Pros
Fruity scent
Long-lasting stay
Attractive bottle
Cons
None
The Curious Eau De Parfumby Britney Spears is a bright, lively, and floral fragrance for the independent woman with attitude. This romantic and mischievous blend, launched in 2004, is perfect for daytime wear and stays on your skin for long. Its base is asensual composition of vanilla, musk, and precious woods. The heart notes have pink cyclamen, tuberose, and jasmine. The top notes consists of Louisiana magnolia, deliciousanjoupear, and refreshing dewy lotus to surround you with an instant burst of freshness and life.
Pros
Bold fragrance
Refreshing effect
Long-lasting
Mild
For daily use
Cons
Smells a little like alcohol.
This EDP spray from Kim Kardashian presents an irresistible and bold fragrance for today's women. This feminine aroma has sultry top notes, luscious mid notes, and sexy down notes to revive your senses. The top notes of this luxurious blend contain mandarin orange, honeysuckle, and African orange flower. Its middle notes are jasmine, tuberose, spices, and gardenia. The base notes consist of woods, musk, orchid, sandal, and tonka bean. This oriental perfume is suitable for all skin types and produces different effects based on the skin type, age, mood, stress level, etc.
Pros
Long-lasting stay
Non-fading
Oriental fragrance
Cons
The Glow Eau De Toilette by Jennifer Lopez is ideal for women in their late teens or early twenties. This sweet and clean-smelling perfume with a powdery trail, first launched by Jennifer Lopez, is described as a 'skin scent' with luscious notes of florals and vanilla. Its top notes are grapefruit, neroli, and orange blossom. The middle notes consist of rose, jasmine, and tuberose. The base notes are vanilla, musk, sandalwood, orris root, and amber.
Pros
Floral scent
Ideal for day use
Long-lasting stay
Non-fading
No reapplication
Cons
The Shawn Mendes Signature Eau De Parfum Spray is the first-ever fragrance from the Canadian singer, Shawn Mendes. It was launched in 2022 and crafted for both men and women. This soulful scent has an oriental and woody fragrance that provides edge and energy to your senses. Its elegantly designed bottle reflects the subtle scent. The top notes are lemon, pineapple, and red apple. Rose and frangipani form the mid notes, while the base notes consist of musk, white cedar extract, and Dulce de leche.
Pros
Unisex
Long-lasting
Non-fading
Cons
Requires reapplication on dry skin.
Jennifer Aniston's Eau De Parfumexudes a light and airy aroma with a sweet finishing note. It is a subtle and nuanced fragrance best suited for your romantic date nights. This tempting perfume spray has floral and aromatic woody notes, consisting of rose water, citrus grove accord, amazon lily, amber, musk, sandalwood, jasmine, and violet to offer an exhilarating experience.
Pros
Light scent
Long-lasting
For daily wear
Cons
The Fairy Dust by Paris Hilton EDP Spray is inspired by floral fields and the aromatic fragrance of exotic blossoms. This daywear perfume for women has a delicate yet tempting and long-lasting fragrance. It has top notes of orange blossom and pink peony. The middle notes consist of lotus, spring gardenia, and peach nectar. The base notes are musk, vanilla cream, patchouli, and cashmere. This new edition comes in an elegant-looking fairy tale bottle.
Pros
Daily wear
Attractive bottle
Long-lasting
Cons
This Eau De Parfumfrom Sofia Vergara is ideal for daily use and features juicy floral notes. Theoriental notes of musk offer a long-lasting stay without fading away so that you don't need to reapply. The top notes include plum, juicy blackberry and sparkling cassis bud. The mid notes consist of Colombian orchid, rose, and violets, while the base notes are earthy woods, vanilla, and sandal.
Pros
Long-lasting
Non-fading
Value for money
Cons
The Lady Gaga Fame Eau De Parfumuses the unique push-pull technology to derive each fragrant note at the same time without following any hierarchy of ingredients. Its light, dark, and sensual accords include the accords of belladonna's toxic flowers and incense clubbed with the sensual notes of apricot, honey drops, and saffron. It also contains tiger orchid and sambac jasmine to embody lightness and beauty. The innovative black liquid becomes invisible on touching the skin. The bottle is crafted in collaboration with Nick Knight.
Pros
Light scent
Non-fading
Long-lasting
For casual/daily wear
Cons
May require reapplication.
The Ariana Grande Thank U Next EDP Spray opens with juicy and flirty notes. It is infused with sparkling white pear, wild raspberry, creamy coconut, and soft pink rose petals. The delicate fragrance represents femininity and attitude. This velvety, musky, and classy perfume hastop notes consisting of raspberry and white pear. The middle notes are of rose and coconut, while the indulging base notes include musk and macaroon sugar.
Pros
Sweet and subtle scent
Long-lasting
Non-fading
Value for money
For daily use
Cons
The Crush By Rihanna EDP spray has a sexy and mysterious scent to represent the bold, empowering, confident, and ruling side of every woman. Its floral-oriental fragrance comes with top notes of pink pepper, juicy mandarin, and bergamot to create a juicy floral elixir for your skin. The heart notes consist of a sweet and sour blend of red berries, pink rose, and spicy ylang-ylang. The woody base notes are cedar, creamy musk, and sexy patchouli. The bottle is designed by Rihanna and is similar to the RiRi edition decorated with shades of gold with pink details.
Pros
Fruity scent
Long-lasting
Non-overpowering
Value for money
Cons
Recommended Articles