13 Best Ceramide Skin Care Products In 2022
Try the non-greasy, long-lasting products to strengthen your skin's barrier.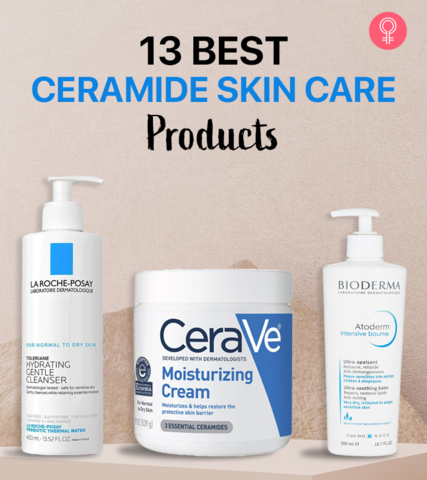 The ceramide skin care products are a must-have for every individual with dry skin. Our skin is vulnerable to environmental aggressors and is easily affected by aging. That is why ceramide-based products are essential.
The fatty acids found in the outer layer of our skin are known as ceramide. They trap moisture into your skin by boosting cellular functions. These fatty acids help maintain the skin barrier. But your skin may start to lose the necessary ceramide, which is when it is provided through skin care products.
This anti-aging ingredient can replenish your skin barrier and rejuvenate dull and dehydrated skin. It can also delay premature aging and give your skin a youthful look. In this article, we have listed the 13 ceramide-based skincare products that customers love. Swipe up!
Benefits Of Ceramides For The Skin
Replenish the skin barrier.
Lock moisture into the skin and prevent water loss.
Make your skin firm, smooth, and supple.
Protect your skin from environmental damage.
Treat dry and irritated skin conditions.
Prevent fine lines, wrinkles, and signs of aging.
Reduce inflammation and soothe the skin.
Now let's look at the best ceramide products for your skin available online.
13 Best Ceramide Skin Care Products Of 2022
The CeraVe Moisturizing Cream contains hyaluronic acid and essential ceramides. The three types of ceramides – 1, 3, and 6-II replenish the skin's natural barrier. This cream enhances the ceramides levels of your skin in only four weeks while preventing dryness, flaking, and itching. The MVE technology keeps your skin hydrated for 24 hours. This product is easily absorbed into the skin without feeling sticky or greasy. To get a better understanding of the product, you can check out this video on YouTube.
Pros
Gentle formula
Non-comedogenic
Allergy-tested
Paraben-free
Oil-free
Fragrance-free
Non-sticky
Non-greasy
Hypoallergenic
Dermatologically tested
24-hour hydration
Suitable for normal to dry skin types
Cons
Might cause allergic reaction
The La Roche-Posay Toleriane Hydrating Gentle Cleanser buffs away dirt, impurities, and makeup from the skin while maintaining its pH level and natural barrier. It contains ceramide-3,  prebiotic thermal water, niacinamide, and glycerin, which hydrate and soothe the skin. This product leaves your skin fresh and clean without any residue or clogging of the pores. Check out the review of this product for more information.
Pros
Oil-free
Non-comedogenic
Suitable for sensitive skin
Allergy-tested
Paraben-free
Fragrance-free
Soap-free
Sulfate-free
Dermatologically tested
Cons
This Atoderm Intensive Baume from Bioderma contains zinc that treats redness and inflammation. The Lipigenium Complex soothes your skin while maintaining its natural barrier. This ultra-soothing balm forms a layer on your skin and keeps it moisturized. It contains purifying ingredients like palmitoylethanolamide, mineral oil, and glycerin, which soften the skin.
Pros
Safe for babies
Paraben-free
Alcohol-free
Fragrance-free
Corticosteroid-free
Dermatologically tested
Cons
 The Elizabeth Arden Retinol Ceramide Capsules Line Erasing Night Serum fades wrinkles and fine lines while enhancing your skin tone. This encapsulated serum strives to maintain quality and freshness to deliver the best to your skin. You will get clear skin free of discoloration, age spots, and enlarged pores. This product contains skin-smoothening retinol, fortifying ceramides, youth-restoring peptides, and moisturizing emollient oils. If you want to know more about the benefits of this product, check out this quick review on YouTube.
Pros
 Non-sticky
Absorbed quickly
Non-irritating
Preservative-free
Fragrance-free
Cons
 Dr. Denese's HydroShield Ultra Moisturizing Face Serum provides essential lipids to your skin, maintains the skin barrier, and keeps it protected.  The Hydro Shield Technology locks the skin moisture and reduces the appearance of wrinkles and fine lines. This skin-plumping serum contains essential fatty acids and ceramides that offer healthy-looking, youthful skin. It also contains retinol that boosts collagen production and firms the skin, improving its elasticity. You will get intensely hydrated skin in just 15 minutes.
Pros
Soothes the skin
Suitable for all skin types
Clinically tested
Cruelty-free
Cons
None
The Face Shop Rice & Ceramide Moisturizing Emulsion hydrates and soothes your skin. The silky touch formula contains rice extracts, ceramides, and lecithin. Rice exfoliates dead skin and delivers a whitening effect. Ceramides prevent moisture loss, promote better nutrient absorption, shield the skin's natural barrier, and fade fine lines. This emulsion reduces irritations, retains natural moisture, and protects your skin from a harsh environment.
Pros
Mild formula
Absorbed quickly
Talc-free
Mineral oil-free
Tar-free
Paraben-free
No added colors
Cons
Leaves residue
Strong scent
The SkinCeuticals Triple Lipid prevents aging signs and reduces pore size. It contains concentrated lipids, ceramides, fatty acids, and natural cholesterol. These ingredients maintain the skin's moisture barrier and offer firm, radiant skin.
Pros
24-hour hydration
Suitable for all skin types
Pleasant fragrance
Long-lasting
Cons
None
This ultra-moisturizing cream from Ceramedx soothes and protects dry, sensitive, and irritated skin types. It contains the goodness of hyaluronic acid and shea butter that prevent dryness. This cream locks moisture,  conditions your skin, and maintains the skin barrier without being sticky. The Riceramide-3  Complex helps replenish, nourish, and hydrate your skin. This product supports skin renewal and helps balance the pH level of your skin.
Pros
Absorbed quickly
Long-lasting
Mild formula
Non-sticky
Steroid-free
Non-GMO
Gluten-free
Paraben-free
Vegan
Cruelty-free
Fragrance-free
Cons
Might cause a tingling sensation
The SkinMedica TNS Ceramide Treatment Cream helps restore the skin's moisture balance. The Ceramide Technology soothes and hydrates your skin and boosts collagen production. This cream rejuvenates your skin and reduces wrinkles, fine lines, and uneven skin tone. It contains proteins that maintain epidermal health and keep your skin youthful.
Pros
Suitable for dry skin
Can be used daily
Non-irritating
Long-lasting
Value for money
Cons
None
The Beplain Bamboo Hydrating Ampoule contains bamboo water and hyaluronic acid, which keep your skin hydrated all day long. It fades aging signs and protects the skin's natural barrier. This ultra-hydrating serum is infused with antioxidants that improve skin resilience, reduce oxidative stress, prevent moisture loss, and treat skin damage caused by UV rays. It keeps the skin firm and plump and deters environmental aggressors.
Pros
Long-lasting
Suitable for daily use
Absorbed quickly
Cruelty-free
Cons
None
The Ceramidin Liquid Moisturizing Toner from Dr. Jart intensely moisturize the skin by repairing and protecting its natural barrier. The potent formula smoothens and strengthens the skin, making it appear plump. It contains centella asiatica, phytoextracts, panthenol, and fig that repair cracked and flaky skin.
Pros
Suitable for all skin types
Long-lasting
Value for money
Pleasant fragrance
Cons
Might aggravate breakouts
The Inkey List Ceramide Night Treatment repairs your skin and protects its natural barrier. It is formulated with 3% ceramides that diminish wrinkles and fine lines caused due to environmental aggressors. The 2.5% multi-molecular hyaluronic acid hydrates your skin, leaving it bright and nourished.
Pros
Suitable for dry skin
Lightweight
Non-irritating
Long-lasting
Value for money
Cons
Might cause a tingling sensation
The Comfort Ceramide Cream Mist from Cosrx help set your makeup and reveal radiant skin. The skin-strengthening formula contains six ceramides that hydrate your skin. This lightweight mist repairs the skin barrier and soothes your skin.
Pros
Mild formula
Lightweight
Hypoallergenic
Absorbed quickly
Cons
None
You must keep in mind the following points before purchasing any ceramide products for your skin.
Things To Consider Before Buying Ceramide Skin Care Products
Ceramide products suit almost all skin types but, it is better to opt for a product that matches your skin type. If you have very dry skin, go for a creamy ceramide product that helps treat rough, scaly skin. For normal, oily, or other skin types, look for a product that nourishes your skin and keeps it healthy and plump.
If you are trying ceramides on your skin for the first time, you might experience breakouts. To prevent this, opt for a non-comedogenic product. These products are oil-free and do not clog your pores.
Hypoallergenic products are specially crafted for sensitive skin types. Look for ceramide products that are non-irritating and will not aggravate your sensitive skin conditions.
Why Trust StyleCraze?
The author of this article, Shiboli Chakraborti, is a certified skin care coach. She has gone through many reviews on ceramide products and believes that these are the must-have ones for dry skin. She has prepared the list keeping some important parameters like skin type and skin concerns in mind. These products can trap moisture into the skin and help rejuvenate dull and dehydrated skin.
Frequently Asked Questions
Does ceramide moisturizer cause breakouts?
No. Ceramide moisturizers do not cause acne and breakouts. However, ceramides can be rich for people with oily skin types. So look for a lightweight, non-comedogenic ceramide product. Also, your skin might purge if you are trying ceramide formulas for the first time.
Recommended Articles