13 Best Chafing Creams That Help Heal Your Skin & Reduce Friction
Reduce inflammations, redness, and irritation with these effective emollients.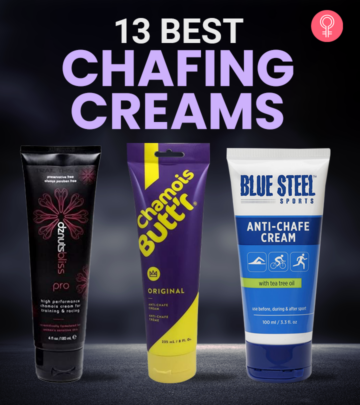 A busy day in the sun or a heavy workout in the gym often makes your skin irritating and red. We call it skin chafing, and you can easily prevent it by using anti-chafing creams. So, here we have listed out the best chafing creams available to heal the chafed skin. These creams can eliminate redness, soothe inflamed skin, and reduce and prevent friction. Scroll down to check out the best 13 chafing creams that help heal your skin heal and reduce skin discomfort.
Scroll down to check out the best 13 chafing creams that help heal your skin heal and reduce skin discomfort.
What Is Chafing?
Chafing occurs due to repetitive friction between the skin and garments. Sweat and moisture make the condition even worse – your skin might sting, burn, and form rashes. This kind of skin irritation usually happens in vulnerable areas like the inner thighs, groins, and glutes. Although uncommon, armpits and nipples can also develop chafing.
Let's now look at the 13 best chafing creams available online.
13 Best Chafing Creams
The Chamois Butt'r Anti-chafe Cream is non-greasy and long-lasting. It can also be rinsed from your skin and clothes quite easily. It protects your skin day long while performing daily activities. This product is ideal for recreational cyclists, runners, swimmers, and triathletes. This cream is gentle on the skin, and acts as a skin lubricant, offering all-day protection.
Pros
Non-greasy
No synthetic fragrances
No artificial colors
Paraben-free
Gluten-free
Phthalate-free
No animal testing
Cons
Might cause a burning sensation.
The dznutsbliss Pro Chamois Cream has antibacterial properties and pre/probiotics complex. It reduces the risk of infection and keeps your skin healthy. This anti-inflammatory cream minimizes itching, prickling, and skin discomfort caused due to intense physical activities such as cycling, racing, riding, etc. It is formulated with masterwort, evodia, and tea tree oil. This cream strengthens the natural biological skin defenses and heals damaged skin. The moisture-absorbing polymers control excess moisture, protecting your skin against chamois.
Pros
Heals the skin
Preservative-free
Paraben-free
Long-lasting
Cons
The Blue Steel Sports Anti-Chafe Cream protects your skin against blisters, skin rashes, and saddle sores. It helps hydrate your skin without being sticky or greasy, and provides skin protection by creating a moisture barrier with its hydrating formula. This cream is enriched with Australian tea tree oil that helps soothe chafed skin. It prevents skin infections without any burning or tingling sensation.
Pros
Long-lasting
Non-greasy
Non-sticky
Suitable for water sports
No stinging or burning sensation
Cons
None
The Pure Romance Chafe Escape quickly absorbs into the skin and changes into a velvety powder which helps in friction prevention by lowering skin-to-skin contact for a long time. It also helps to reduce redness and soothe and rejuvenate the skin. It is formulated using vitamin E, cassava root, and tapioca starch, that make your skin soft without any greasy residue. This cream can be used on thighs, nipples, chests, and arms.
Pros
Unscented
Lightweight
Absorbs quickly
Non-greasy
Paraben-free
Talc-free
Cons
This cream offers long-lasting relief for chafed skin. It protects your skin during sports activity. The non-greasy formula does not stain your clothes and is perfect for daily use. You can apply it to the feet, inner thighs, and underarms. With its non-messy application, you can enjoy the benefits of this cream without any hassle.
Pros
Long-lasting
Non-greasy
Non-staining
Subtle fragrance
Cons
None

The Movement Balm prevents chafing, rubbing, friction, sores, and windburn. This cream is quick-drying and has nourishing ingredients that soothe discomfort. It contains six therapeutic botanicals – beeswax, calendula, olive oil, sunflower oil, propolis, and lemon essential oil. The all-natural formula relieves itchy, sore, rough, and bumpy skin and helps treat blisters, dermatitis, rash, eczema, and psoriasis. You can also apply this cream to chapped lips, dry feet, or elbows.
Pros
All-natural
Sweat-proof
Safe for babies
Cruelty-free
Chemical-free
Cons
None

The Sports Akileïne Anti-Chafing Cream protects your skin against skin irritation, blisters, and friction. It is enriched with shea butter extract that prevents damage and discomfort caused by friction during physical activity. This cream helps soften the skin and prevents redness. It also soothes the feet, groin, inner thighs, underarms, and nipples.
Pros
Long-lasting
Unisex
All-natural
Cons
None

The Gooch Guard Chamois Cream lubricates the skin and protects it from chafing. It is long-lasting and prevents itching caused during long bike rides. This product is free of allergens, parabens, silicone, fragrance, and petroleum.
Pros
Long-lasting
Paraben-free
Petroleum-free
Silicone-free
Fragrance-free
No allergens
Not tested on animals
Gentle formula
Cons
This cream prevents chafing, reduces friction, and conditions the skin. It is enriched with aloe, beeswax, cocoa butter, coconut oil, jojoba seed oil, safflower seed oil, shea butter, and vitamin E. This anti-chafing cream maintains the pH level of your skin, is non-greasy formula and lightweight, and can be applied during summer days or damp cold seasons.
Pros
pH-balanced
Non-greasy
Lightweight
Suitable for all seasons
Cons
The Monistat Care Chafing Relief Powder Gel is a unique combination of powder and cream. The gentle formula is breathable and provides UV protection. This silicone-protective product offers strong protection against blisters and chafing and prevents chafing in the inner thigh and bikini area.
Pros
Breathable
Provides UV protection
Silicone-based
Non-greasy
Sweat-proof
Non-staining
Long-lasting
Fragrance-free
Cons
This anti-chafing cream is tested on athletes and recommended by marathon runners and can be worn during any season. It forms MicroLayers to support the cellular structure of the skin. This cream prevents blisters, hot spots, and callouses and reduces skin irritations caused by clothes, shoes, water, sand, and thigh rubbing.
Pros
Absorbed easily
Recommended by runners
No synthetic fragrances
Gluten-free
Silicone-free
Petroleum-free
Cruelty-free
Fragrance-free
Non-staining
Cons
The PINXAV Healing Cream helps to soothe and heal chafed skin. It is laden with the goodness of aloe, vitamin E, and eucalyptus that promote tissue healing. It also contains zinc oxide, which helps to reduce inflammation and protects the skin against wetness. This formula lubricates the skin and can be used by everyone in the family, including babies and the elderly. This cream is sweat-resistant and odor-free, providing easy application and fast absorption for a hassle-free experience.
Pros
Reduces pain
Creamy consistency
Anti-inflammatory
Cons
The Beach Gladiator protects the inner thighs and other rubbing body parts from irritation and friction. It creates a protective barrier that prevents chafing and rashes. This anti-chafing cream is suitable for kids, sports lovers, surfers, strollers, and high rollers. It can be easily removed with regular soap and water.
Pros
Waterproof
Non-greasy
Long-lasting
Non-toxic
Non-staining
Cons
Before purchasing the best chafing cream, there are certain factors to consider. Scroll down to the next section to find out what they are.
Features To Look For In Anti-Chafing Creams
Chafing creams are applied topically and used almost regularly. Therefore, it is important to check the ingredients before purchasing any. A good chafing cream contains organic and natural ingredients. Avoid products that contain artificial or chemical compounds.
Chafing creams that contain petroleum jelly might make your skin greasy and cause discomfort during activities. Choose a cream that is lightweight and absorbed easily into your skin. You can also opt for waterproof and sweat-proof formulas that do not require frequent reapplication.
A chafing cream should not have any side effects. Thus, avoid products that cause a tingling or burning sensation. Buy hypoallergenic creams that do not affect your skin adversely.
Why Trust StyleCraze?
Oyendrila Kanjilal is a certified skin care coach. She knows the ins and outs of skin care and breaks down the ingredients listed on the labels to get an unbiased picture of the products. She has narrowed down a list of the best chafing creams after reading thousands of unbiased reviews on different online forums. These products can reduce redness, heal inflamed skin, and reduce friction.
Frequently Asked Questions
How do I treat chafing?
Wash the affected area with warm water and antibacterial soap. Gently pat it dry, apply anti-chafing ointments, and allow it to heal.
Where does it occur?
Any part of the body exposed to friction between the skin and fabric can lead to skin chafing. It usually occurs in the thighs, armpits, and nipples.
Which ingredients should I look for in a chafing cream?
Look for dimethicone, mineral oil, petroleum jelly, or coconut oil in a chafing cream. They moisturize and strengthen the skin barrier. Also, choose creams that contain soothing ingredients like aloe vera to calm irritations caused by chafing.
Should I have multiple chafing creams for different areas?
No. You can use the same chafing cream to prevent chafing in different parts of your body.
How often and for how long should I apply chafing creams?
Apply chafing creams twice a day to moisturize and smoothen your skin. You may have to keep applying the cream for a week to protect your chafed skin from further moisture loss.
What type of clothing should I wear after applying chafing cream?
Wear loose-fitting clothes to avoid excessive abrasion after applying the chafing cream. Fitted clothes may rub off the cream, so opt for oversized clothing. Try to avoid dresses with irritating seams or tags, as they can tug against the skin.
Recommended Articles