5 Best Chair Cardio Exercises To Burn Calories
Lose weight as you sit and work with seated jacks, skater switches, and more.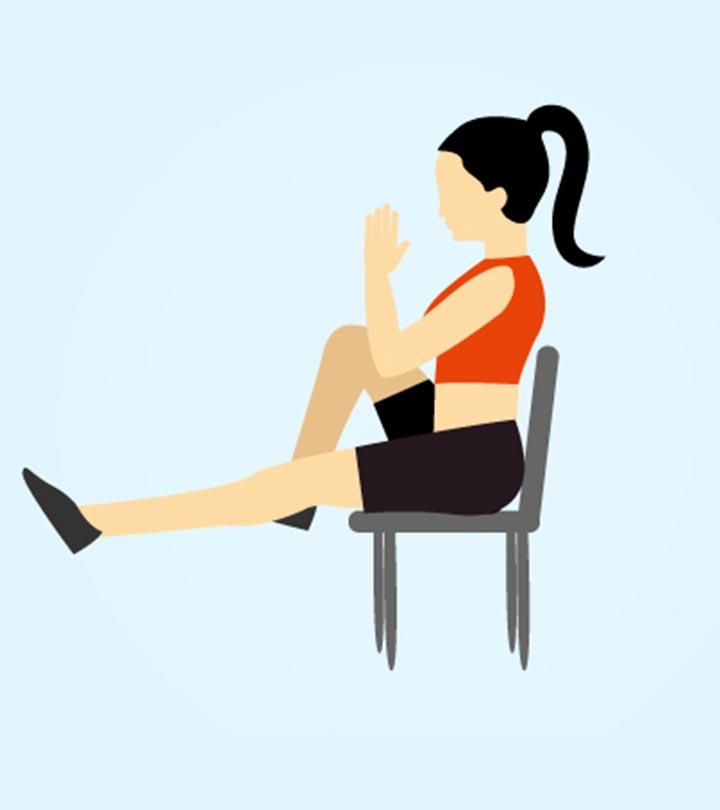 Did you know that you can perform a great weight burning cardio workout while sitting on a chair? Well, it's true! Chair Cardio routines, such as chair leg lifts, chair push-ups, chair yoga, chair Zumba, and chair boxing are the latest fad, and you can burn calories by performing these lovely low-impact exercises and get benefitted!
Read this post and learn how to perform these simple, yet effective chair cardio exercises and the precautions to take while doing them.

Did You Know?
Chair cardio exercises are a great way to improve your posture along with burning calories. You can also improve your upper body flexibility with these exercises.
Top 5 Chair Cardio Exercises For Burning Calories
Equipment Needed:
A flat-backed sturdy chair (without wheels)
Once the equipment is ready, proceed to the first exercise:
1. Seated Jacks:
Usually, we begin most routines with a round of jumping jacks for warming up. What is more incredible is that you can also perform seated jacks, which help you burn a good amount of calories without getting drenched in sweat.
Directions:

Sit straight with your knees together.
Join your knees and keep your toes pointed.
Your elbows should be bent and your arms open to the sides.
Your palms should face forward.
Take both legs out to the sides and flex your feet.
Let your legs land on the heel and bring your arms together above your head, just like a normal jumping jack.
Now begin returning to the starting position.
Perform 25-30 reps in a row.
2. Skater Switch:
This low-impact version of a side skater blasts calories while engaging the core, inner thighs, arms, and shoulders.
Directions:
Move to the edge of your chair.
Bend your right knee out to the side and extend your left leg out to the other side.
Keep your toes pointed.
Begin extending your arms and leaning forward.
Try and reach the inside of your right foot with your left arm.
Immediately, switch over and do the same with the right arm and the left foot.
Rest and repeat.
Perform 25-30 alternating reps.
3. Leg Lift And Twist:
This routine is quite beneficial for your body. The leg-lift and twist tones your inner thighs, abs and quadriceps.
Directions:

Sit on the edge of the chair.
Begin extending your right leg straight. Remember to keep your foot grounded throughout.
Cross your arms over your chest and brace your abs tight.
Rotate your torso to the right as you lift your right leg to the left knee.
Squeeze your knees together and begin returning to the starting position.
Switch sides and repeat.
Perform around 15-25 reps.
4. Hinge And Cross:
This routine is good for strengthening your abs and back muscles, while also working out your lower body.
Directions:

Sit straight with your knees together.
Keep your toes pointed and lift your hands and bring them behind your head.
Bracing your abs, hinge back a bit so that your shoulder blades barely touch the chair's back.
Cross your right elbow and your left knee.
Begin returning to the starting position.
Switch sides and repeat.
Perform 20 alternating reps.
5. Chair Running:
This is probably one of the funniest chair cardio exercises on this list. Running from the comfort of your chair might sound ludicrous, but this routine has been proven to work your arms, abs and legs while providing you with an excellent cardio workout. Moreover, with this routine, you can run even when you wear heels. Similarly chair marching and chair cycling can also be performed as an effective cardio exercise.
Directions:

Sit straight and extend your legs.
Keep your toes pointed and your arms bent at the sides.
Brace your abs tight and let your shoulder blades touch the back of the chair lightly.
Begin bending your right knee into your chest and turn your left shoulder towards your knee.
Pull your right elbow back and switch sides immediately.
Alternate and do 25-30 quick repetitions.
Now, let's check out some precautions you need to take to do these exercises safely.
Precautions To Take
Always choose a sturdy chair that does not shake or fall over easily.
Don't push yourself too hard during your workout. Aim for doing moderately intense exercises that leave you feeling a little out of breath and possibly a little warmer than usual.
Avoid holding your breath when working out.

Did You Know?
Chair cardio exercises are one of the best seated workouts and a great way to burn calories for people with a sedentary lifestyle or those who have a knee injury. They can also be performed by pregnant women with the advice of their gynecologist.
Infographic: 3 Effective Chair Cardio Exercises To Shed Calories
Chair cardio exercises are simple, low-impact exercises that help burn calories and improve upper body flexibility. All you need is a flat-backed sturdy chair with no wheels and some motivation. Check out the below infographic to understand how to perform three effective cardio exercises to shed calories faster


Cardio exercises are good for your health and help burn those calories. While cardio is often associated with vigorous exercises or intense outdoor activities, that isn't always the case. Chair cardio exercises are easy to do in the comfort of your home. All you need is a handy, sturdy chair, and you're ready to go! No need for those bulky cardio machines. You can turn those tedious working hours into fulfilling exercise time to get fitter. However, make sure you do the exercise correctly, as an incorrect form can lead to injuries or muscle pains. And while the above exercises may seem sufficient, a few more can be performed for better results. These include seated arm circles, seated chest press, seated overhead press, seated lateral raises, and seated torso rotations.
Frequently Asked Questions
Why are chair exercises good for seniors?
According to research, chair exercises are useful for maintaining and building strength in elderly adults and should be promoted as easy workouts that can be done anywhere (1).
Can you lose weight by doing chair yoga?
Yes, chair yoga and chair aerobics are good low-impact methods to include movement in your daily routine. Anecdotal evidence suggests that most people can burn between 120 and 250 calories in a 32-minute exercise session, which can be increased by including weights or resistance bands in their routine.
How often should seniors do chair exercises?
Studies suggest that adults should strive to engage in 150-300 minutes of medium-intensity aerobic activity and muscle-strengthening activities per week (2). Senior citizens should also practice balance exercises at least three times each week.
Key Takeaways
These moderately-intense exercises burn calories, strengthen your body, and boost cardiovascular fitness.
Leg and twist and chair running are a few chair cardio exercises you can include in your routine.
Use a sturdy chair and avoid holding your breath during these exercises.
While chair cardio exercises can be followed by everyone, senior citizens and individuals with knee or lower leg injuries and a sedentary lifestyle may benefit the most from it.
Sources
Articles on StyleCraze are backed by verified information from peer-reviewed and academic research papers, reputed organizations, research institutions, and medical associations to ensure accuracy and relevance. Read our editorial policy to learn more.
The Effect of Chair-Based Exercise on Physical Function in Older Adults: A Systematic Review and Meta-Analysis. Klempel N, Blackburn NE, McMullan IL, Wilson JJ, Smith L, Cunningham C, O'Sullivan R, Caserotti P, Tully MA. Int J Environ Res Public Health. 2021 Feb 16.
https://www.ncbi.nlm.nih.gov/pmc/articles/PMC7920319/#:~:text=The%20findings%20suggest%20that%20chair,develop%20strength%20for%20older%20adults
An Overview of Current Physical Activity Recommendations in Primary Care
https://www.ncbi.nlm.nih.gov/pmc/articles/PMC6536904/