10 Best Chanel Makeup And Skincare Products Of 2023
Enhance your natural beauty with a touch-up from the best products to glam you up.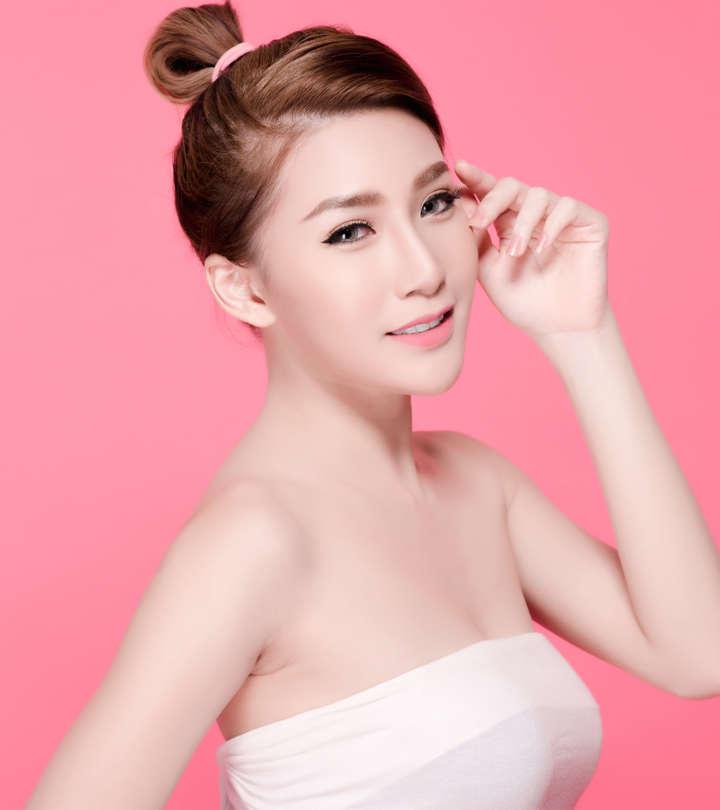 Chanel has been a well-reputed brand, catering to women's needs for a while now. The best Chanel makeup products are top-rated and popular all over the globe. This high-end brand offers products made of high-quality ingredients and fail-safe formulas. Their reliable and professional-quality cosmetics have given women the confidence to be their most authentic selves.
Chanel caters to all skin types and has some of the most skin-friendly formulas. Not only that, these formulations of their timeless beauty products are light and gentle on your skin and do not make you feel uneasy. In addition, this luxury brand has products that lend a flair of elegance to their users. Chanel also makes a range of perfumes that smell oh-so-lovely and sophisticated. In this article, we have compiled a list of the best Chanel makeup products that have ruled the cosmetics world for a good while now. So, go ahead and check them out.
10 Top Rated CHANEL Makeup And Skincare Products That You Must Try In 2023
Whether you have dry or combination skin, a crème formula that nourishes the skin and doesn't feel heavy, is the real requirement. Chanel presents one such formula that induces hydration deeply into your skin. This hydra beauty crème is formulated to keep your skin immensely nourished and free from dryness. With the perfect texture and excellent moisturizing abilities, this beauty crème serves as an excellent makeup base. The crème contains amazing active ingredients like ginger root extract, glycerine, shea butter, etc. which target dryness and soothe the skin too. For a more detailed review of this product, here's a video.
Pros
 High quality
 Makes skin soft
 Adds freshness to skin
 Good for combination skin
Cons
 Fragrance might feel too strong for some
Price at the time of publication: $62.62
If you're looking for a fabulous and luxurious gift for your BFF, check out this lip color. This product from Chanel is loved by all the lipstick lovers out there and gives you red carpet-worthy makeup. It comes in many wonderful shades and the formula is perfect beyond imagination. This Chanel lipstick is a vibrant shade of deep red, which works like a charm in making your face attractive. The color is super pigmented with a matte finish. Made with ultra-thin pigments, this lip color feels soft and velvety. For all those people who like plump lips with great wearability, this lip color is worth trying to flaunt a signature Chanel beauty. Know more about this product in this video.
Pros
 No drying
 No feathering
 Intense color
 Does not fade evenly
Cons
Price at the time of publication: $45.55
The perfect body cream from Chanel. It has a rich, velvety texture that glides beautifully on to the skin, making your skin wonderfully moisturized. The cream comes in a cute glass jar that is easy to carry. Its soft and smooth formula keeps the skin nourished by inducing hydration. Suitable for dry skin, this heavenly cream keeps dryness at bay. You can use it on a daily basis, especially during winters. The formula is light and can be used generously on the skin without any stickiness. The rose and jasmine fragrance of this body cream keeps you delighted the whole day long.
Pros
 Simple to use
 Great fragrance
 Satin smooth texture
 Leaves the skin smooth
Cons
Price at the time of publication: $117
Vitalumière Aqua's is a unique makeup product from Chanel. It is a foundation that feels as light as a feather and spreads wonderfully over the skin to lend a soft and light texture to it and is a perfect suit to do a couture-inspired makeup. The Chanel's foundation formula gives a natural finish that looks flawless and lasts for around 8 hours. If you are someone who has acne-prone skin and deals with frequent acne, pimples and marks, then this Chanel product is something you should try. Ideal for normal to combination skin, this foundation is sure to surprise you with its smooth texture. With active ingredients like titanium oxide, the formula serves with SPF protection against the harmful UV rays of the sun. This high-end cosmetic also contains sodium hyaluronate, which keeps your skin deeply moisturized. Learn more about this product in this video.
Pros
 Oil-free
 Non-comedogenic
 Non-comedogenic
 Water-light texture
Cons
 Slightly limited shade range
Price at the time of publication: $69.7
LE LIFT CRÈME YEUX is a skin firming, anti-wrinkle cream that has the goodness of alfalfa concentrate, phyto-active complex along with Indian chestnut and yeast extract. With these powerful active ingredients, this cream helps reduce the appearance of puffiness, wrinkles, fine lines and dark circles. Enriched with shea butter and beeswax, the cream feels very smooth and melts into the skin perfectly well. By simply applying the cream to the entire eye area in the morning and evening, you can replenish your eye area and ditch fine lines and dark circles. It is a must have in one's beauty essentials.
Pros
 Quick-drying finish
 Tightens the skin
 Makes skin smooth
 Adds radiance to the skin
Cons
Price at the time of publication: $109.99
A good hand cream is one that moisturizes your skin, brightens it and protects from damage and dryness. This one from Chanel is an excellent example of a high-quality hand cream. Made with rose wax, iris root extract and jojoba oil, Le crème Main deeply nourishes the skin. The formulation is light and non-greasy that gets easily absorbed and leaves no residue. The cream provides deep skin care, keeps the skin hydrated and enhances nail strength. It has a floral scent that is not very strong but very pleasing to all senses.
Pros
 No stickiness
 No matte finish
 Creamy texture
 Innovative formula
Cons
 Pump might be difficult to operate for some
Price at the time of publication: $49
When you want to add some drama to your eyes effortlessly, use this special eyeliner and kohl pencil. It is a versatile eye product that lets you enjoy the benefits of both liner and kohl. The eye pencil has a smooth finish that glides easily on to the eyes without hurting your delicate eye area. Makeup Artist Nyssa Green says "The key to a great liner is one that's smooth and glides easily. This is a winner." Formulated with a blend of waxes and film-forming agents, this eye liner provides the perfect eye definition and utmost comfort. This smudge-proof formula has a soft texture and lasts long. Whether you wish to have a cat-eye look or draw precise lower lines, this product is perfect to get it all.
Pros
 Waterproof formula
 Ophthalmologist tested
 Extremely gentle formula
 Suitable even for contact lens wearers.
Cons
 Eyeliner might crease with the passing time
Price at the time of publication: $42.92
When you wish to invest in one of the best mascaras from a top-notch brand, this one from Chanel, an iconic beauty brand, has to be your choice. It has an amazing formula and an innovative brush that adds volume to the eyelashes, covering the entire length from root to tip. For all the makeup minimalists and makeup lovers, this Chanel mascara gives a wonderful lash experience. Available in three wonderful shades, this mascara lets you enjoy long, colored lashes that make your eye makeup game strong. This high quality mascara is perfect for all those occasions when you want smudge proof long lashes that dry quickly and gives you a sophisticated makeup look.
Pros
 No clumping
 Matte finish
 Natural look
 Easy-to-use
Cons
Price at the time of publication: $47.88
As the name suggests, this is a transitional skincare product. This cleanser gets skin clean without damaging the barrier. This cleansing cream-to-foam product has a creamy texture that feels soft and transforms into a generous foam when applied on skin. It cleanses the skin and removes makeup efficiently. Infused with blue micro-algae and marine salicornia extract, this product helps in protecting the complexion and moisturizing the skin. CHANEL LA Mousse also refreshes the skin by being gentle and keeping the traces of pollutants away. Including it into your skincare ritual can help you keep your skin soft and free from dirt and other pollutants.
Pros
 Adds glow
 Non-comedogenic
 Dermatologist tested
 Leaves skin comfortable
Cons
 Might not suit all with sensitive skin
Price at the time of publication: $53
The Joues Contraste formula from Chanel is one of its kind. From a buildable coverage to sheer radiance, this blush has it all and is one of the most liked Chanel beauty accessories. Whether you are looking for a natural glow or dramatic pink radiance, this makeup product from Chanel has the ability to amaze you with its diverse features. Nyssa Green exclaims, " These blushes blend so easily, I want them in every color! This formulation is amazing!" The pigmentation comes in a variety from semi-sheer to opaque, and a color range for all skin tones. Without any accumulation, it blends easily on the skin and stays for long hours and gives you a glamorous makeup look. When you want rosy pink cheeks instantly, simply dab your blush brush in this product and swipe it over to your cheeks. The silky, soft feel lets you enjoy the beautiful color even more.
Pros
 Easy-to-apply
 Consistent quality
 Enhances the complexion
 Comes in wide range of shades
Cons
 Slightly less evitable scent
Price at the time of publication: $60
With elegant glass jars, tubes of magical creams, sleek black compacts, lipstick tubes, and eyeliner pencils, Chanel knows how to bring luxury into your skincare and makeup routine. Their elegant and gentle formulas sit comfortably on the skin and help you look your best! Check out some factors to keep in mind to find the best Chanel makeup and skincare products for your vanity kit.
How To Choose the Best Chanel Makeup And Skincare Products
Undertone plays a major role to help you find the correct makeup to match your skin tone. Identify your undertone by looking at the veins of your wrist, red or blue veins indicate cool undertone, green or yellow indicate warm, while a mix means you have a neutral undertone. Choose the shades of blush, eyeshadow, lipstick. and foundation to match these tones.
Skin type plays an important part in determining which skincare products will work for you. Oily, dry, and combination skin all require different treatments. For dry skin, choose a hydrating cream that contains active ingredients like glycerine, ginger root extract, and shea butter that target dryness and soothe the skin. Products containing alpha hydroxy acids and hyaluronic acid work for oily skin to control excess sebum production while hydrating specific areas.
Consider the requirements of your skin while choosing your Chanel product. For clogged pores and dull skin, opt for an exfoliating gel that has jojoba wax beads, zinc gluconate, niacinamide, sodium salicylate to eliminate surface impurities and enhance the skin's texture. Signs of premature aging can be treated with a cream containing retinaldehyde and pre-tocopheryl which are forms of vitamin A and vitamin E respectively.
Makeup and skincare products should sit comfortably on your skin, whether it is a lipstick or a foundation. Look for a non-sticky and non-greasy consistency that is easy to apply and easy to remove as well.
Look for products that double up to give your skin sun protection or all day hydration. Active ingredients like titanium oxide offer SPF protection against the harmful UV rays and sodium hyaluronate keeps your skin deeply moisturized.
Look for products that are free of fragrance, sulfates, parabens, formaldehyde, and formaldehyde releasers, and alcohol. These are potential allergens and can be harmful to the skin. Opt for products that are dermatologist recommended or tested.
Find the perfect shade by actually applying the foundation on your jawline and leaving it for a couple of hours. If you can't tell the difference between your skin and the foundation you have found your perfect match. Use this method to check if you are allergic to any ingredient in your skincare product.
Why Trust StyleCraze?
Srijani Roy Chowdhury is a makeup enthusiast and loves experimenting with new makeup products. She is a big fan of Chanel makeup products. She conducted thorough research and went through thousands of product reviews and user feedback on multiple forums to pick the best ones for her readers. The products listed in the article will instantly elevate your look without damaging your skin.
Frequently Asked Questions
Are Chanel makeup products cruelty-free and paraben-free?
No, not all Chanel makeup products are cruelty-free and paraben-free.
Do Chanel products contain retinol?
No, Chanel products do not contain retinol.
Is Chanel makeup chemical free?
Yes. Chanel makeup products are 97% natural and derived from organic ingredients such as camellia extracts, petals, and seeds.
Is Chanel's foundation good for mature skin?
Yes. Chanel's foundations are unique as they are age-minimizing formulas. Chanel's foundation is good for mature skin as the foundation floats on top of lines, and wrinkles but will not settle in them. Its natural luminous finish can be worn as both medium to full coverage foundation to look flawless.
Recommended Article