12 Best Charcoal Face Washes Available In India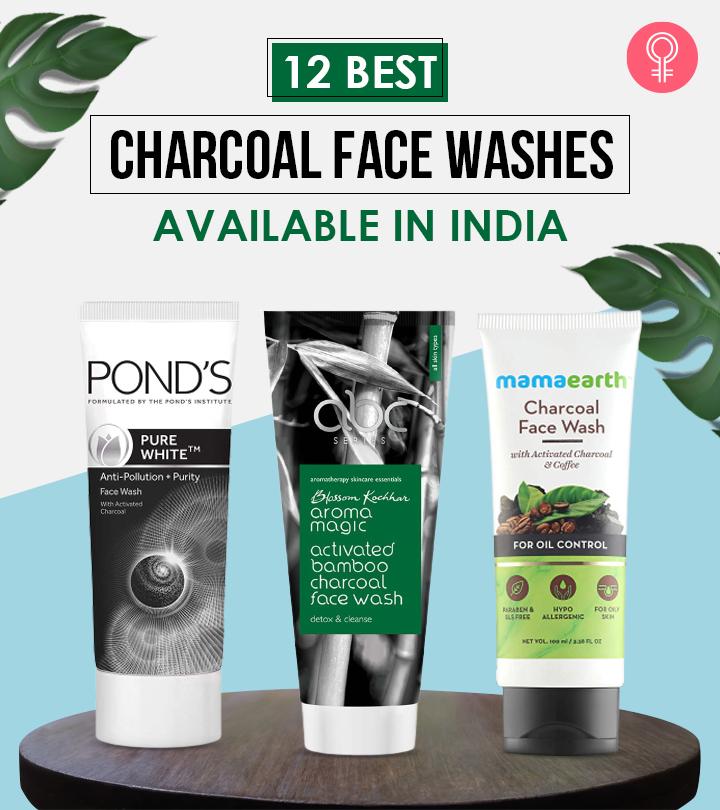 Are you confused between a face wash that deep cleanses, one that brightens complexion, another that clears acne and blemishes, or perhaps an exfoliating cleanser for dead dry skin? What you need is a face wash that does it all! Activated charcoal has superpowers that can solve all your skin issues. We have listed 12 best charcoal face washes available in India that will remove adult acne, pimples, blemishes, and tan and rejuvenate your facial skin. Scroll down to check them out!
12 Best Charcoal Face Washes In India– Reviews
The aroma magic Charcoal Face Wash is a six-way formula that transforms your skin. It removes toxins, dead skin, and impurities, allowing the pores to breathe. This face wash increases blood circulation in the face and enables cell regeneration to impart a refreshed glow to the face. Bamboo charcoal has antifungal, antiviral, and antibacterial properties that protect the skin from free radicals. It tightens the pores, increasing elasticity of the skin, toning it, and leaving the face feeling smoother.
Pros
Paraben-free
Soap-free
Alcohol-free
Artificial color-free
Odorless
Cons
Not suitable for very oily skin
The POND'S Charcoal Face Wash is a deep cleanser that removes impurities and pollutants from the skin. Pollutants damage and darken the skin cells, causing pimples, rashes, dryness, dark pigmentation, and premature aging. This face wash exfoliates dead, damaged skin and restores a fresh, radiant look. The activated charcoal technology acts as a magnet to pull out impurities from the surface and penetrates the skin to disinfect it from the inside.
Pros
Suitable for all skin types
Value for money
Smells nice
Cons
Not suitable for sensitive skin
WOW SKIN SCIENCE Activated Charcoal Face Wash contains charcoal beads that filter out toxins, bacteria, pollutants, and micro-particle impurities from the skin. The grainy texture of the product helps in exfoliating dead, dry skin. It contains tea tree oil beads that not only disinfect but also heal and calm the skin.
This face wash relieves clogged pores and allows the skin to breathe. It fights acne and blemishes and can be used as a mask as well to soak excess oil, leaving the skin smooth and glowing. The sulfate- and paraben-free face wash works on all skin types, giving you a fresher, cleaner feel.
Pros
Paraben-free
Sulfate-free
Silicone-free
Artificial color-free
Toxin-free
Cons
This face wash from mamaearth uses activated charcoal to pull out impurities, dirt, and micro-particles from the inner layers of the skin. It leaves the skin feeling clean and fresh.
The clay penetrates deep into the pores, unclogging them and exfoliating excessive oil and buildup from the skin. Coffee helps you get rid of dead skin cells and maintains the natural skin tone. This product detoxifies the skin without over-drying or irritating it. It is pH-balanced and provides gentle care to the face. This product is free of sulfates and parabens and leaves the skin smooth and supple.
Pros
Paraben-free
Sulfate-free
Petroleum-free
Mineral oil-free
No artificial preservatives
No synthetic colors and fragrances
Cons
This face wash from oriental botanics is powered with vitamins C, E, B3, and pro-vitamin B5. These ingredients protect the skin from free radicals and other irritants and maximize its luminosity. The activated charcoal blended with tea tree oil removes excess oil, micro-impurities, and dirt that clog the pores. This helps in removing blackheads and pimples.
This face wash uses a skin purifying technology that soothes the skin and prevents sunburns while menthol imparts a refreshing feel. It is a botanical product with natural extracts that penetrate the skin and rejuvenate it for a healthy complexion. This deep cleanser is free of parabens, sulfates, and other harmful chemicals.
Pros
Silicone-free
Sulfate-free
Paraben-free
Phthalate-free
Cruelty-free
Vegan
Cons
Not suitable for oily skin
the moms co. Face Wash is a 100% natural product made with Moroccan lava clay that pulls out impurities and excess oil from the skin. It is also enriched with kaolin that absorbs oil deposits and acts as an astringent. Witch hazel extract reduces acne while plant AHAs act as exfoliators, removing black and whiteheads.
The five natural alpha hydroxy acids in this product reduce wrinkles and fine lines. Activated charcoal acts like a magnet that draws out pollutants from the skin. This clay face wash unclogs and tightens pores and detoxifies the skin, giving you a bright and fresh look.
Pros
Paraben-free
Mineral oil-free
SLS-free
Phenoxyethanol-free
DEA/TEA-free
No synthetic fragrances
PEG-free
Cons
Not suitable for dry skin
This face wash from VLCC is rich in Moroccan lava clay, activated charcoal, essential oils, and herbs. It helps remove oil deposits, reduces acne, and formsa protective layer on the face to repel pollutants. The face wash nourishes the skin while repairing damage and protecting vulnerable, open pores. The blend cleanses the face of impurities and detoxifies the skin from within, giving your face a refreshed glow.
Pros
Paraben-free
Sulfate-free
Value for money
Smells nice
Cons
May cause breakouts in sensitive skin types.
The Nature Trail Charcoal Therapy Face Wash gently exfoliates dead skin and cleanses the face. The activated charcoal is a dirt magnet that pulls out toxins, excess sebum, bacteria, and metallic impurities that clog the pores.
This face wash is powered with tea tree oil and green tea extract that reduce acne, clear blemishes, and protect the skin against pollutants. Aloe vera, natural betaine, and glycerin provide intense hydration, leaving the skin moisturized and soft. This certified natural face product is free of sulfates, parabens, and other harmful chemicals to maintain the natural oil balance of the skin.
Pros
Paraben-free
Sulfate-free
Cruelty-free
Silicone-free
EDTA-free
Mineral oil-free
PEG-free
BHT-free
Organic
Cons
Not suitable for oily skin
This NEWISH Charcoal Face Wash is an antibacterial and anti-pollution product. The activated charcoal cleanses and reduces face pores, thereby controlling pimples and acne. It nourishes and rejuvenates the skin while exfoliating dead and dry skin cells. This facewash diminishes discoloration and suntan and repairs free radical damage caused by pollutants. It provides intense hydration and reduces red patches, blemishes, and dark circles to balance the natural oil content of the skin. This product is non-toxic and natural.
Pros
Paraben-free
SLS-free
Mineral oil-free
GMO-free
SLES-free
Cruelty-free
100% Vegan
Cons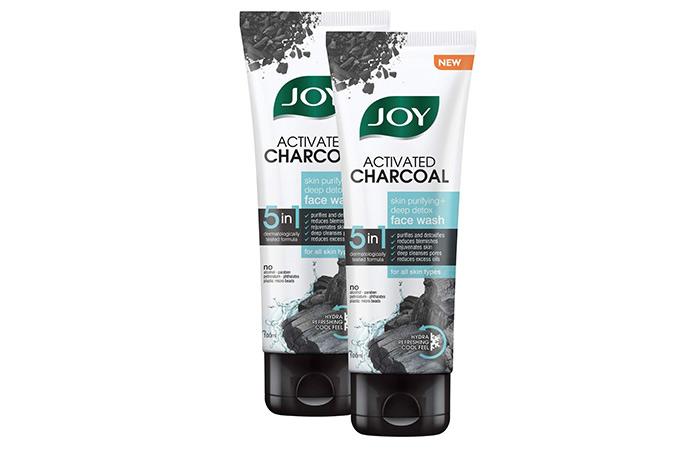 This face wash from JOY deeply cleanses the skin pores, drawing out excess oil and pollutants. It exfoliates dead skin cells and reduces dark spots, blemishes, pimples, and blackheads. Activated charcoal pulls out microparticles, dirt, and bacteria to the skin's surface, making it easier to get rid of them. This deep detox formula evens out the skin tone and makes the skin smoother, cleaner, and fresher.
Pros
Alcohol-free
Paraben-free
Petrolatum-free
Glycol-free
Phthalate-free
Plastic-free
Microbeads-free
Cons
The OXYGLOW Charcoal Face Wash is a 7-in-1 skin cleanser. Activated charcoal removes impurities like oil, dirt, and pollution while cleansing the skin inside out. This face wash has a grainy texture that helps to gently exfoliate dead skin cells. It removes whiteheads and blackheads, fades spots and blemishes, fights germs causing acne, and controls excess oil levels in the skin. OXYGLOW leaves your face feeling fresh and helps you achieve flawless, healthy skin in the long run.
Pros
Reduces pigmentation
Suitable for all skin types
Value for money
Cons
Contains SLS and parabens
This charcoal face wash from kaya everyday essentials cleanses and protects the skin. The activated bamboo charcoal is more porous than normal charcoal and has excellent absorption powers. It pulls out dirt and pollutants from the inner layers of the skin and helps rid the pores of toxins, micro-particles, and bacteria, thereby unclogging them. This face wash is specially formulated for acne-prone and normal skin types to eliminate impurities, leaving the face soft, fresh, and clean.
Pros
Dermatologically-tested
Suitable for sensitive skin
Value for money
Cons
Contains SLS and parabens
That was our round-up of the 12 best charcoal face washes available in India. If you haven't had the chance to experience the wonders of activated charcoal, now is the time. Choose a product from the list and let your skin shine.
Frequently Asked Questions
Is charcoal face wash good for acne?
Yes, it is an excellent product for acne-prone skin since it exfoliates, deep cleanses, and removes excess oil, grime, and bacteria from the innermost layers of the skin. This minimizes the chances of developing acne.
Are there any side effects of using charcoal on skin?
No, but overuse could cause dryness.
Recommended Articles