15 Best Charcoal Peel-Off Masks Of 2023 For Clearer And Radiant Complexion
High-quality charcoal peel-off masks help you achieve smooth and clear skin easily.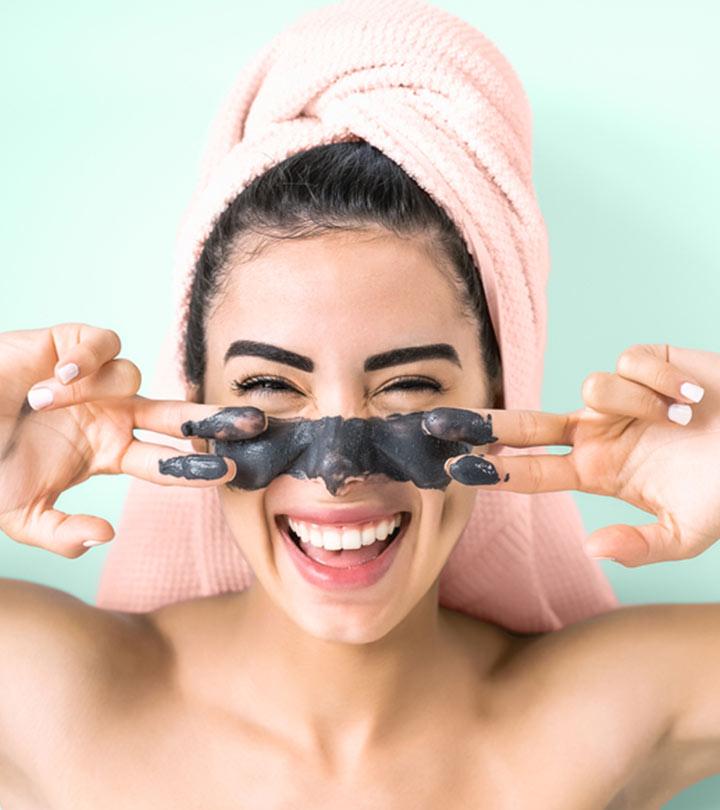 Charcoal is a great skin detoxifier. It attracts all dirt, impurities, grime from the clogged pores and absorbs excess oil from the skin. Using the best charcoal peel-off mask comes with a multitude of skin benefits. It removes blackheads and offers clean and glowing skin instantly. Charcoal peel-off masks are especially beneficial for oily and acne-prone skin. They are loaded with a combination of other skin care ingredients that can benefit your skin in multiple ways. They can soothe and calm the skin and help it stay clear and healthy.
Moreover, using charcoal peel-off masks once or twice a week can also help prevent future breakouts. And most of us also find it extremely satisfying to watch the peel-off masks take away everything that has been congesting the skin pores. So, if you feel your skin is missing the much-deserved TLC and you do not use a charcoal peel-off mask, it is time to give it a try. Scroll down to check out the 15 best charcoal peel-off masks.
15 Best Charcoal Peel-Off Masks That Are Great For Unclogging Pores
Want to get your pores cleansed and shrunk? This Piero Lorenzo Suction Black Mask will come to your rescue! With the ability to penetrate the pores deeply, this black charcoal peel-off mask will help degunk, remove stubborn blackheads, and absorb oil while also improving skin health over time. The result is smooth and firm skin along with smaller pores. This leave-on and peel-off mask is formulated with 100% safe plant-based ingredients such as bamboo charcoal, green tea, hyaluronic acid, and chamomilla.
Pros
Super-absorption quality
Rich in vitamins and nutrients
Tones and brightens skin
Reduces blemishes and fine lines
Helps balance moisture level in the skin
Cons
Price at the time of publication: $6.59
Brighten your complexion instantly with Vassoul Black Mask! All it takes is just 15 minutes to give you results that last for at least a week or 2. This activated charcoal peel-off face mask will eliminate oil spots and stains while also diminishing blackheads, strawberry nose, enlarged pores, and acne. Enriched with plant extracts and vitamins, this face mask will leave your skin moisturized, glowing, and younger-looking.
Pros
Evens skin tone
Boosts blood circulation
Removes facial hair
Smoothes skin texture
Cons
Might be a little difficult to remove
Price at the time of publication: $11.99
Stubborn blocked pores, be gone! This skin-purifying charcoal peel-off face mask is all you need to get rid of bacteria, oil, and dead skin cells trapped in your pores. It is formulated with key ingredients, namely, activated bamboo charcoal, rosemary, calendula, and oats, which work together to unclog and shrink pores while also regulating oil secretion to avert future acne and breakouts. It can also remove fine hair from your cheeks, chin, nose, and forehead. This results in soft, luminous, and flawless skin.
Pros
Moisturizes and hydrates skin
Improves skin tone and texture
Reduces redness and blemishes
Suitable for every skin type
Comes with an applicator brush
Cons
May not work well for extremely sensitive skin
Price at the time of publication: $14.39
Say hi to a blackhead-free face with this charcoal blackhead remover peel-off mask by PTKOONN. This deep cleaning formula will purify and cleanse your pores by drawing out all the impurities and eliminating blackheads and acne. It will leave your skin brightened and refreshed. Safe and easy to use, this product contains ingredients like bamboo charcoal, aloe vera, hamamelis, and other natural ingredients, which will calm and moisturize your skin. This natural charcoal mask is also known to fight the signs of aging by tightening pores and reducing blemishes. Depending on your skin type, you can decide to use it either once or twice a week.
Pros
Removes facial hair
Provides nourishment
Absorbs oil and dirt
Makes skin baby soft and younger-looking
Cons
The consistency might be too thin.
Price at the time of publication: $9.99
This bamboo charcoal mask is a one-stop solution for most of your skin concerns! From treating clogged pores to getting rid of acne and blackheads, this detoxifying face mask seeps deep into your pores and cleans the accumulated dust, dirt, and acne-causing oil. Besides activated charcoal, this formula is also infused with ingredients, such as aloe vera that soothes skin, witch hazel that helps even skin tone, and hyaluronic acid that has hydrating benefits. Meanwhile, the calming scent of lemon will leave you and your skin more relaxed.
Pros
Lightens skin tone
Removes fine hair
Promotes skin regeneration
Suitable for all skin types
Leaves your skin refreshed
Excellent absorption quality
Cons
Price at the time of publication: $9.99
Make your skin appear smooth with the Meliza Charcoal Black Mask. This peel-off mask removes excess oil, blackhead, whiteheads, and impurities. It also effectively minimizes the pores and exfoliates your skin. The charcoal mask is packed with charcoal, witch hazel, aloe vera, and vitamin E that not only deep cleanses you but also makes your skin clear, soft, and radiant.
Pros
Suitable for all skin types
Easy to use
Gentle on sensitive skin
Cons
None
Price at the time of publication: $13.99
If you have sensitive skin, using a charcoal face mask can make things worse sometimes. But if you really want to try one, this organic charcoal peel-off mask is your best bet. It is non-irritating and safe to use. In addition to charcoal that removes impurities from deep beneath the skin's surface, this formula features a powerful blend of hydrolyzed wheat protein, vitamin C, and apple, aloe, and rice extracts. These natural ingredients work effectively to provide moisturization, brighten skin tone, and boost cell regeneration and blood circulation, thereby reducing the look of wrinkles and delaying the aging process. It also comes enriched with vitamins B3, B5, C, and E that have a skin-pampering effect. Rest assured, you won't have to be worried about irritation or redness.
Pros
Allergen-free
Painless peeling
Anti-aging formula
Paraben and PEG-free
Ideal for all skin types
Cons
If not peeled off at the right time, it may become flakey and ineffective.
Price at the time of publication: $9.79
If you have blackheads and you're also struggling with acne, this may be the product you should try. This non-painful charcoal peel-off mask is designed to sop up oil and draw out impurities and dead skin cells from clogged pores to refresh and refine your skin texture. While there's no way of making large pores disappear, you surely can shrink and tighten them with the help of this formula. It leaves your skin feeling smoother and looking healthier. Also formulated with polypeptide collagen, it moisturizes your skin. This product includes an applicator that allows for easy and even application.
Pros
FDA-approved
Makes skin clearer
Brightens skin
Contains natural ingredients
Suitable for normal, dry, and oily skin
Cons
May take a long time to dry
Price at the time of publication: $15.99
Have you been battling acne breakouts, blackheads, and large pores for a long time now? If so,, reach for this formula that features a combination of skin-clarifying ingredients. While the activated carbon and rosemary work as deep cleansers that pull out all the dirt and oil blocking your pores, grape seed, mandarin orange, and oat extract even out the tone and smoothen the texture of your skin. With enhanced purification and exfoliation properties, this deep cleaning peel-off mask is proven to extract 97% of blackheads and is the best solution for oily, breakout-prone skin.
Pros
Gentle formula
Decreases the size of pores
Works well for normal and oily skin
Safe to use once or twice a month
Cons
Price at the time of publication: $9.95
All of us struggle with blackheads at some point in our lives, and the only way to prevent them is by following a good skincare regime. And what better way to keep blackheads under control than using a charcoal peel-off mask? Activated charcoal masks such as this one are known for their deep cleansing power that helps soften the blackheads lodged deep inside your pores so that they come off easily while peeling away the mask. That aside, it also reduces blemishes, dwindles the pore size, and controls oil secretion. When you're not in the mood to use a face mask, you can use the included blackhead extractor tool instead. Simply steam your face to soften your skin and open up the pores, which makes for easy removal.
Pros
Super-absorbing power
Skin-firming effect
Leaves the skin silky-smooth
Gets rid of impurities from the skin's surface
Includes an application tool
Cons
The peeling off process might be a little painful if you have tiny hair.
Price at the time of publication: $9.98
This Phebe Beauty Black Mask is ideal for skin concerns like blackheads, acne, and enlarged pores. All thanks to its star ingredient activated charcoal, which is loaded with antioxidants and has antibacterial properties that remove toxins and excess sebum. This, when paired with lavender oil and rosemary, stimulates skin regeneration to resurface the skin and slows down aging. Once or twice a week, apply a thick, even layer on your face, leave it on for 20 minutes or until dry, and then peel it off.
Pros
Strong absorption feature
FDA-approved ingredients
Makes the skin look younger
Lends clean and blemish-free skin
Cons
May not be ideal for sensitive or fragrance-sensitive skin
Price at the time of publication: $9.95
If you're all for clean beauty, make this charcoal and pearl peel-off mask by Azure Cosmetics a part of your skincare routine. It's formulated with 95% natural and 100% vegan ingredients like bamboo charcoal, collagen, pearl powder, olive fruit oil, hyaluronic acid, argan oil, and vitamins B5 and E that cleanse the congested pores to draw out impurities while also moisturizing your skin. Plus, it is free from parabens, dyes, fillers, and phthalates. This is not only a skin-purifying mask but also an anti-aging formula that helps restore your skin's elasticity and diffuses the appearance of fine lines and wrinkles. This will leave your face rejuvenated, lifted, and gleaming. Use this peel-off formula, and you will feel like you have had a luxurious facial treatment.
Pros
Hypoallergenic
Cruelty-free
Minimizes imperfections
Does not clog pores
Non-GMO and sustainable
Nourishing and toning formula
Cons
Might be a little difficult to spread
Price at the time of publication: $11.99
When in need of a skincare hack to remove blackheads and whiteheads, leave it up to activated bamboo charcoal to work its magic. This star ingredient helps clear out pores by lifting up acne-causing oil and impurities without drying out the skin. Plus, thanks to a blend of natural ingredients like hyaluronic acid, stem cell extracts, and retinol, this formula will also soothe and hydrate your skin. But that's not all! It also contains niacinamide, aloe vera, and d-Panthenol, among others, which are amazing at improving your skin texture and tone, leaving you with smoother skin and a brighter complexion. It's a perfect pick for every skin type as it is free from chemicals like parabens, sulfates, synthetic dyes, and drying alcohol.
Pros
Hypoallergenic
Non-comedogenic
Moisturizes skin
Has anti-aging benefits
Vegan and cruelty-free
Comes with a silicone applicator
Cons
Might leave a black residue
Price at the time of publication: $13.99
With its powerful absorption and deep pore cleansing qualities, this peel-off mask by Velam will decongest pores by drawing out oil, dirt, and other impurities, leading to the elimination and prevention of blackheads, whiteheads, and other types of acne. Plus, it will also help decrease the size of the pores. This skin-purifying face mask combines activated bamboo charcoal and glycolic acid to gently exfoliate your skin, which will help you achieve smooth-textured skin and radiant complexion. It is also enriched with aloe vera to calm and glycerin to moisturize your skin.
Pros
Mild formula
Dermatologist-tested
Removes hair follicles
Ideal for all skin types
Cons
May hurt a little while peeling off
Price at the time of publication: $5.99
This Premium Nature Black Peel-Off Mask will not only clear your pores but will also tighten them in the process. It penetrates deep to pull out excess oils, grime, dirt, and dead skin cells from your pores while drying out pimples, banishing blackheads, and averting breakouts. It does the trick without uncomfortably stiffening your skin. Rich in essential vitamins and minerals, this mask will also revive the youthful appearance of your skin, thanks to its anti-aging benefits that will regenerate skin tissue and lessen wrinkles. Overall, this will lead to cleaner and refreshed skin with smaller pores.
Pros
Reduces scars
Evens skin tone
Decreases pore size
Boosts blood circulation
Lends healthy-looking skin
Cons
May take a long time to dry
If you're still unsure about which charcoal peel-off mask is right for you, here are a few points to keep in mind.
Buying Guide
How To Choose A Charcoal Peel-Off Mask?
Formulation: When choosing peel-off charcoal face masks, it's important to pay attention to the ingredient list. Some products may contain ingredients that are harmful or you might be allergic to, such as parabens, fragrances, phthalates, which you may want to avoid. Or you might be looking for specific ingredients. For instance, aloe vera, hyaluronic acid, glycerin, witch hazel, vitamin C, glycolic acid, or salicylic acid, which can be incredibly beneficial for the skin.
Purpose: The main function of charcoal peel-off masks is to remove and prevent blackheads while drawing out impurities and regulating oil production. However, some masks do much more than that — they can also reduce blemishes, stop future acne breakouts, and eliminate fine hair on your face. Choose a product depending on the result you're looking for.
Skin type: While most of these products are suitable for every skin type, they might contain ingredients that may work well only for certain skin types. If you have oily skin, opt for clay-based masks that can absorb excess oil and clean out pores. As for dry skin type, choose a product that contains essential oils and moisturizing ingredients. And individuals with sensitive skin type should choose masks that are made from natural ingredients and are non-irritating.
Now that you know how to pick the right mask, follow the step-by-step guide to applying and removing the mask the right way to get the best results.
How To Apply And Remove A Charcoal Peel-Off Mask?
Step 1: Use your regular moisturizer or micellar water to cleanse your face to get rid of dust and makeup, prepping your skin for the mask treatment.
Step 2: Exfoliate your face with a gentle exfoliant or steam your face to open up the pores.
Step 3: Take a pea or quart-size amount of the formula in a small bowl, dip a brush or fingers in the mixture, and spread it evenly across your face. You could apply it all over your face or just the T-zone area.
Step 4: Leave it on for 15 to 20 minutes or wait for it to dry completely.
Step 5: Once dry, peel off the mask starting from the bottom of the neck or chin and moving upwards towards the top of your face.
Step 6: If there are any remnants of the mask on your face, you can clean it by washing your face with a cleanser and then rinsing it off with cold water.
Step 7: Apply a moisturizer to keep your pores hydrated.
Why Trust StyleCraze?
The author, Kirtana Divakar, is a skin and hair enthusiast who loves trying out new products and is aware of the latest beauty trends. She has done in-depth research before recommending these top-rated charcoal peel-off masks right here for you. She has gone through various beauty forums and customer testimonials to make sure you get to select nothing but the best. These peel-off masks not only cleanse your skin but also help keep your skin well-nourished, soft, and smooth, adding that visibly radiant glow to your face.
Frequently Asked Questions
Are charcoal peel-off masks good for your skin?
A good charcoal peel-off mask will work towards eliminating blackheads, whiteheads, acne, and excess oil to make your skin smoother and pores smaller. But you need to choose a product based on your skin type.
Can I use a charcoal peel-off mask every day?
It is not ideal to use a charcoal peel-off mask every day as it can dry out your skin completely, which could lead to further damage. The recommended usage is 1-3 times a week or month, depending on your skin type.
Does charcoal remove dark spots?
Activated charcoal has exfoliating and detoxifying properties. Hence, it will help slough away dead skin cells, which won't completely remove, but visibly reduce dark spots.
Can a charcoal mask remove blackheads?
Yes, activated charcoal can remove blackheads. It is a super absorbent substance that can pull out oil build-up and bacteria lodged in the pores to the surface of the skin, eliminating blackheads. Plus, it diminishes the pore size to prevent the formation of these pesky black bumps.
Can charcoal remove pimples?
Yes. Activated charcoal has antibacterial properties, which means it will eliminate acne-causing bacteria, oil, dirt, and other impurities to treat and prevent pimples.
Can a teenager use a charcoal peel-off mask?
Yes, it is safe for a teenager to use a charcoal peel-off mask. It helps to exfoliate the skin and remove dead skin cells. Use a mild moisturizer afterward.
Does a charcoal peel-off face mask remove a tan?
Yes, charcoal peel-off face masks pull out dead skin cells and excess oil and remove excess tan from the face. It has de-tanning, anti-aging, and deep cleansing properties.
Recommended Articles