10 Best Charcoal Skin Care Products For The Perfect Exfoliation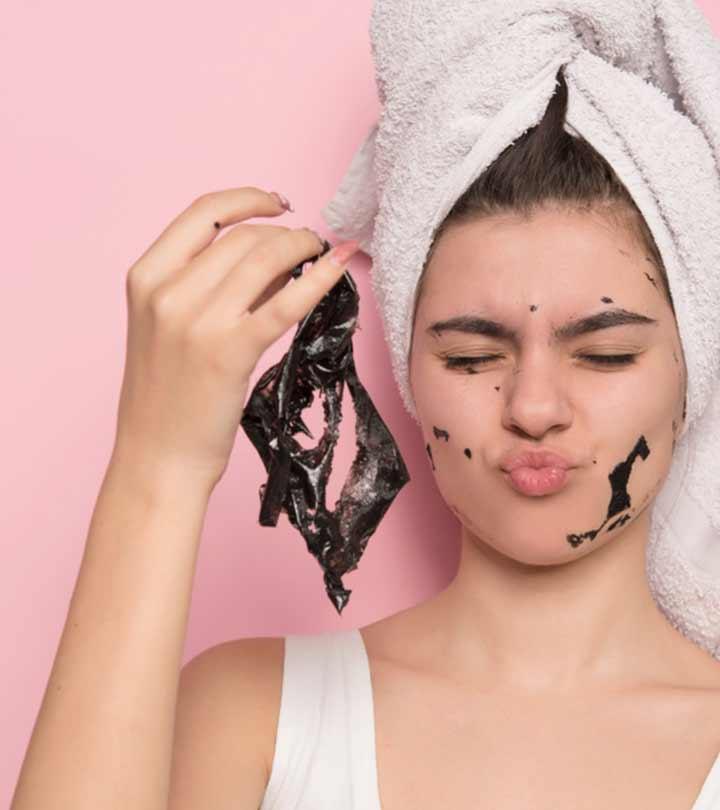 Only the best charcoal skin care products are equipped to remove impurities from constantly clogged pores. Products infused with this activate ingredient exfoliates and extracts pollutants and dust deeply embedded in the pores without ripping your skin of its natural minerals and moisture. Besides drawing out impurities, charcoals products also cleanse the skin and regulate sebum production. Hence, it is crucial you use these products at least once a week as these pollutants can leave skin looking and feeling dry, dull, and lifeless.
From skincare experts to influencers and celebrities, everyone swears by this effective ingredient as they can see quick results within no time. While it is ideal for most skin types, you must get your hands on this magic ingredient right away if you have particularly oily skin. If the options in the market overwhelm you, don't fret. Simply look at our list of the best charcoal skin care products and make your pick. From scrubs to soaps and cleansers, our list has got it all. We're sure at the end of this article you'll find your skincare buddy that will help you achieve the flawless, clear skin you've always dreamed of!
10 Best Charcoal Skin Care Products To Draw Out Impurities
This little tub of activated charcoal for skin is a little ray of sunshine, if you want a charcoal face treatment that not only cleanses and unclogs your pores but also exfoliates your skin. Along with restoring and maintaining your pH levels, M3 Naturals Charcoal Scrub's blend of collagen and stem cells boosts the production of collagen in your skin, which in turn increases the life and strength quotient of your skin cells. So your face is left feeling youth, nourished, hydrated, and radiant. Its ingredients also include dead sea salt, which treats skin allergies, eczemas, and psoriatic skin. There's a beautiful blend of essential oils like jojoba, coconut, and olive fruit oil, all of which improve skin elasticity, treat stretch marks and scars, and have antioxidant, antibacterial, and deeply nourishing properties. And guess what? You can use this baby all over your body and get a real scrub-a-dub-dub!
Pros
Deeply cleanses and exfoliates
Unclogs pores
Treats acne, blemishes, and premature ageing
Boosts collagen production
Increases skin cell longevity
Restores pH levels
Cons
May have a greasy consistency
May not be suitable for open cuts or wounds
If you are someone with severe angry acne breakouts and are hesitant to try a charcoal face treatment, you're in luck. Bioré's Charcoal Acne Clearing Cleanser is the best charcoal mask for acne. It contains salicylic acid, an FDA-approved beta-hydroxy acid used to treat acne in skin care products topically. It's also known to deeply penetrate your pores to cleanse excess oil and reduce excess sebum production, so this cleanser is great for people with oily skin as well. A few pumps of this little number every day will help you clean up your acne, keep excess oil out of your face, and leave your skin nourished and glowing!
Pros
Ideal for oily and acne-prone skin
Fragrance-free
Prevents future breakouts
Dermatologist tested
Oil-free
Cons
May not be suitable for sensitive
May leave a messy trail
Now, this is undoubtedly the best charcoal face mask for you if you're looking for a nighttime fixer-upper while you wind down from a long and tiring day. LAPCOS Charcoal Pore Care removes toxins and impurities of the day, and it also goes deep within your pores to clean out any hidden gunk you wouldn't be able to spot with a naked eye. It contains salicylic acid, which is a miracle potion for acne breakouts and excess oiliness. Charcoal detoxifies your worn-out skin and pulls out impurities, harmful bacteria, and environmental pollutants from your pores. And finally, tea tree oil soothes, hydrates, and helps retain moisture in your skin, leaving it soft, lush, clean, and clear for the next day!
Pros
Hydrates, soothes, and cleanses pores
Brightens skin
Reduces blackheads and blemishes
Affordably priced
Cons
May take several sheets for visible results
May require assistance to stay in place
Feel like you've lost your shine lately? Don't worry. It's not you. With environmental pollutants assaulting your skin every day, it's no wonder that your skin tone has gone awry, and your youthful skin is buried under dead skin and everyday wear and tear. All you need is good polishing! Thanks to L'Oreal Paris's Pure Clay Mask, you can give your skin much-needed TLC and radiance in just a few applications. Formulated with kaolin, montmorillonite, and Moroccan lava clay and activated charcoal, this is the best charcoal face mask for dull skin. This powerful, earthy blend of ingredients helps draw out skin impurities, dirt, and pollution evens out your skin tone, lets your skin breathe, and increases luminosity. Regular use leaves your skin smooth, soft, light, and radiant!
Pros
Ideal for dull skin
Evens out skin tone
Unclogs pores
Cleans out dirt, oil, and pollutants
Creamy and moisturizing
Cons
Fragrance may come on too strong for some
If you're struggling with that stubborn eczematous or psoriatic skin, with acne breakout that gives you a headache, or oiliness that won't let any makeup stay in place, this bar of soap is the king of all charcoal face treatments. While charcoal helps suck out impurities, dirt, and environmental pollutants from deep within your pores, this bar of soapy goodness also contains montmorillonite clay which further reduces the appearance of pores quite significantly. Peppermint oil is considered a natural antioxidant, antibacterial cleanser, whose cooling effect soothes your skin and treats irritations and inflammations, too! Blend that with tea tree oil, and you'll get relief from redness, swellings, acne scars, and rashes. Go ahead, give yourself some extra lovin'! Keika Natural Charcoal Bar is truly an all-natural soap for troubled skin.
Pros
Ideal for oily, acne-prone, psoriatic, and eczematous skin
Suitable for sensitive skin
Eco-friendly and cruelty-free
100% natural, vegan and non-GMO
Free from chemicals
Natural, light, and pleasant fragrance
Cons
May feel a little rougher in texture
Not keen on getting your hands and fingers all gooey and clay-like while treating your skin? Not to worry! PureSOL's Konjac Sponge is just the ticket for your face care regimen. This exfoliating sponge gently removes dead skin and dirt from your skin, all the while caressing and massaging your skin with love and care. The sponge is made of natural woven fibers, which stimulate blood flow, balance pH levels, restore even skin tones, and make your skin feel squeaky clean! Bamboo charcoal contains activated carbon and essential minerals, which absorb excess sebum, toxins, and dirt from your pores, visibly shrinking them over time. In addition, this bundle of activated charcoal for skin is easy to use, hang up by your mirror, or pop in your travel kit!
Pros
Extremely soft and gentle
Cleanses and exfoliates
Restores pH levels
Absorbs excess sebum production
Free of parabens and sulfates
Vegan and cruelty-free
Easy to use
Cons
If you're looking for an honest-to-goodness activated charcoal face wash, Chic Republic's All Natural Detoxifying Face Wash is a must-try. A few pumps of this incredibly soothing face wash on your skin every day, and the activated charcoal will release from your pores all the tensions and toxins of the day. It also contains an antioxidant triple-tea extract with rooibos, white, and green, whose powers combine to protect your skin from free radicals and environmental pollution. Aloe vera hydrates your skin, while coconut oil reduces inflammations and soothes irritated or chafed skin. Vitamins B5 and C strengthen and protect your skin barrier, while orange peel oil works as an antibacterial and antifungal balm. Your skin is left feeling cleansed, soothed, and fortified.
Pros
Hypoallergenic
Cruelty-free and paraben-free
Reduces appearance of wrinkles, fine lines, and blemishes
Antioxidant ingredients help protect skin barrier
Cons
May not be suitable for sensitive skin
If you're aching for super smooth, clean, clear, and radiant skin, you've got to try the Essential Skins Solutions Perfect Peel-Off Purifying Bamboo Charcoal Black Mask. Definitely a contender for the best charcoal mask, it is a gently exfoliating activated charcoal mask, which not only cleans out dirt, acne stimulants, and dead skin cells but also improves your skin texture. It also minimizes pores, evens out your skin tone, reduces the appearance of scars, blemishes, and fine lines, and preps your skin for toners, serums, and moisturizers. It's the perfect end-of-day facial spa, just before you moisturize and get into bed for a deeply relaxing slumber. Wake up feeling fresher than ever!
Pros
Deeply cleanses and exfoliates
Reduces acne, blackheads, and clogged pores
Brightens skin
Suitable for all skin types
Cons
May not be easy to apply and remove
This cute tub of gray is the best-activated charcoal scrub for premature aging gives your skin some love and a natural lift! LilyAna Naturals' Charcoal Face Scrub is filled generously with a beautiful blend of activated charcoal, aloe vera juice, and sunflower, lavender, and tea tree oils. While your natural derived charcoal gently but efficiently scrubs away dead skin cell buildup, aloe vera reduces inflammations and deeply hydrates your skin cells. Tea tree oil treats acne, redness, rashes, scars and fine lines, and skin irritations. Lavender oil works beautifully as a moisturizer, keeping your skin supple and young while treating eczematous skin.
Pros
Anti-ageing exfoliator
Clears away dead skin
Unclogs and tighten pores
Ideal for oily, acne-prone skin
Free of gluten, parabens, phthalates, SLS, SLES, and petroleum
All-natural and vegan ingredients
Cons
Fragrance may be too strong
If you want something tired and tested, without having to do too much exploring and experimenting, try this one. boscia's Luminizing Black Mask is a charcoal-rich face mask that absorbs excess oil, impurities, dirt, and toxins from your skin cells, reduces your pores, and pretty much banishes blackheads! With natural plant-based extracts like honeysuckle, jojoba, willow herb, rosemary, and grapefruit seed, in the mix with anti-inflammatory eucalyptus oil and detoxifying activated charcoal, this is the best charcoal mask a clean, clear, and luminously youthful complexion that could light up a room!
Pros
Suitable for all skin types
Absorbs excess oil and skin impurities
Reduces appearance of pores and blackheads
Skin feels fresh and soft
Cons
May feel sticky
May not be able to apply or remove easily
Remember that just because it says 'charcoal' on the label, it isn't something you should pick up blindly. Our buying guide offers important information you should consider so you can buy the best charcoal face mask for you!
What To Look For In A Charcoal Skin Care Product
Different skin types require different needs. If you're on the oilier side, look for ingredients like clay, which absorb excess sebum production. Consider hydrating oils like jojoba, olive, and hyaluronic acid if you're on the drier side. They will replenish your skin with moisture and fill it with hydration. If you have sensitive skin, ensure your ingredients are gentle and not too intense.
Some people are of the belief that harmful chemicals must be avoided only if you have sensitive skin. But this cannot be further from the truth. Regardless of the skin type you have, it is wise to stay away from products with fragrances, parabens, dyes, and other harmful chemicals. These may strip your skin from its natural oils, leaving it dry, dull, and lifeless.
While most charcoal products can absorb toxins and harmful bacteria in your body, they are mixed with other ingredients to fight specific skin concerns. For example, activated charcoal with antibacterial properties helps treat acne breakouts and dead skin build-up. With regular use, you will find a significant reduction in acne and blemishes. Others have ingredients like aloe vera that reduce the sting-induced irritation and swelling that one experiences with insect bites.
Why Trust StyleCraze?
The author, Kirtana Divakar, is a skin and hair care enthusiast. She loves to read and try out different beauty products that keep the skin and hair health intact. Kirtana read hundreds of online reviews and conducted in-depth research to compile a list of the best charcoal skin care products. These products reduce acne, blemishes, and blackheads and prevent breakouts. They also restore the skin's pH balance and protect it against aging signs.
Frequently Asked Questions
What is activated charcoal?
Also known as activated carbon, activated charcoal is an odorless, black powdery substance that is used in different fields of healthcare for its toxic-absorbing qualities. While charcoal is derived from burnt wood, charred bones, and shells, it becomes 'activated' charcoal when it goes through various chemical processes including exposure to oxygen, steam, carbon dioxide, and certain acids and chemicals.
Are charcoal products good for your skin?
Yes, in fact, activated charcoal is said to be one of the best ingredients for natural deep pore cleansing and removal of impurities and toxins, and also can be used as a gentle exfoliant.
Can you use charcoal face wash daily?
No, that's not a good idea. Ideally, charcoal face washes should be used anywhere between 1 and 3 times a week. Daily usage of a charcoal face wash will suck out all the moisture and natural oils in your skin, leaving it dry.
Can charcoal remove dark spots?
Activated charcoal doubles up as an effective exfoliant, doing away with excess dead skin. This does contribute to reducing the appearance of dark spots and evening out your skin tone.
What are the side effects of activated charcoal?
There are some side effects to watch out for, which if you experience you must consult a doctor right away. Possible side effects of using activated charcoal include abnormal and frequent peeling of skin, redness or mucous-like oozing, excessive dryness, extra warmth on the skin, and a tingling or stinging sensation.