Best Charlie Perfumes For Women – Our Top 10
A woman is never fully dressed without wearing a good perfume. The amount of time she takes to decide on the fragrance she will wear is as important as the time she takes to get completely dressed up. You can predict what a lady is feeling by the fragrance she wears. And "Charlie" seems to have discovered this secret.
Charlie was launched in 1973 by the Cosmetics house, Revlon. It is classified as flowery and sharp fragrance range and became popular among girls for its fresh fragrance and its affordability. This must be the perfume that you saw your mum wearing and always longed to have. It was a rage among women back then, who have very fond memories of it. It is featured as a classy perfume for the independent lady.
So read below to know more about 10 best Charlie Perfumes for women:
1. Charlie Red:
Charlie Red perfume for women was introduced in 1993 which has a sweet scent to it with a fruity flavor which adds freshness to a casual day. It is subtle yet noticeable. You can wear it anywhere. Be ready because compliments are on your way.

2. Charlie Blue:
Charlie blue perfume for women was introduced in 1973 is a classic and all time favourite. This is a signature perfume from Charlie. It has a floral fragrance of jasmine, sandalwood and musk making it ideal for all your romantic outings. It compliments well with classy and stylish attire making it an ideal pick for the evening.

3. Charlie Gold:
Charlie gold perfume for women was introduced in 1995.It was an instant hit and a great daytime fragrance. It became very popular among women for its spicy aroma which was subtle and not overpowering their personality. It's a great option for a work day.

4. Charlie Silver:
Charlie silver perfume for women was introduced in 1998 will drift you away with its traditional fragrance of pear and musk. You can feel the rich scent on you which is light and deep at the same time. This is a perfume with a twist making it perfect for a day on the move.

5. Charlie Sunshine:
Charlie sunshine introduced in 1997 has a fun fragrance to it with base of grapefruit over a fresh cut floral heart. It can boost your mood with its summery scent for a party in the spring. It will provide you with uplifting energy in the sun.

[Read:Best Vintage Perfumes]
6. Charlie White:
Charlie white perfume for women is a sweet combination of watermelon and jasmine. This perfume will light up your day be it to work or for a summer afternoon. This would surely make heads turn wherever you go.

7. Charlie White Musk:
Charlie white musk was launched in 1997. It has fruity and floral fragrance with a subtle sensuality to it. It is for today's independent woman who isn't shy to highlight herself and wants to make a statement as this scent would do all the talking. It has a balance of tangy melon, white musk and sandalwood.

8. Charlie Black:
Launched in 2009, Charlie black from the house of Revlon is a very sparkling and sophisticated perfume. It has caramel and almond in its heart whereas amber, musk, vanilla and heliotrope as its base notes.

[Read:Musk Perfumes For Women]
9. Charlie Blushed:
Charlie blushed was launched in the year 2006. It has a very sweet, sensual and romantic fragrance which has the essence of lavender, lily-of-valley, jasmine, woods, rose and vanilla.
10. Charlie Chic:
Charlie chic from the house of Revlon Charlie was launched in the year 2009. It belongs to the floral fragrance family. It has very fresh, exotic and floral base notes of fruits, flowers, sandalwood, amber, spices and patchouli.
Women who wear Charlie do not need approval of others to feel good about themselves. They are today's women who are proud of their power and femininity. She wears it for herself because she likes it and feels good and confident about it.
Charlie does not try too hard to win you over. It is a perfect blend of notes. It does not attempt to over seduce you or impress you because it doesn't have to. This fragrance is powerful, edgy and floral.
*Subject to Availability
So which one are you picking up first?

The following two tabs change content below.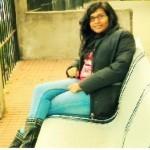 Latest posts by Anamika M (see all)