8 Best Charlotte Tilbury Eyeshadows To Up Your Eye Makeup Game
Only the best ever luxe eyeshadow palettes to try from this world-renowned brand.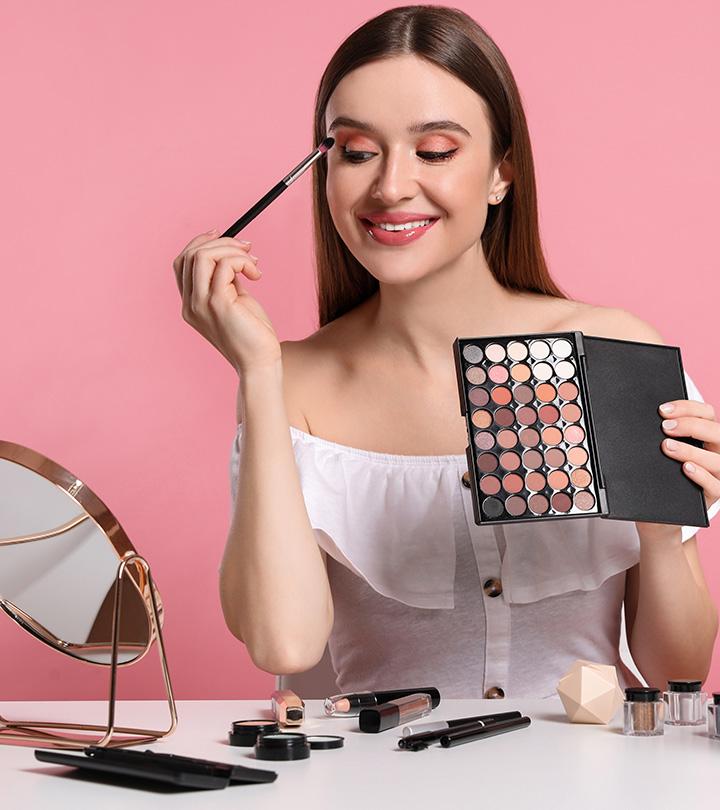 If you are a makeup addict, then you surely know the brand Charlotte Tilbury. This high-end brand has revolutionized glamour and has everything that you need. Today, we have got the best Charlotte Tilbury eyeshadows for you to glam up your eye makeup look. They look not only heavenly but also feel luxurious by touch. All eyeshadow palettes from Charlotte Tilbury come with flattering shades that are super versatile and add an extra oomph to your overall look. You can wear the shades alone or combine a few colors and create a unique shade of your own to get a head-turning look instantly.
Charlotte Tilbury eyeshadows are available in all textures that you can think of: cream, pencils, or even classic powders. The rich colors are so versatile that you can play around with them from morning to night. From a soft, warm appearance in the day to a dramatic, bold finish in the night, you can achieve so much with these eyeshadow palettes. Whether you are a dramatic makeup enthusiast or a minimalist makeup admirer, the brand has got your back. Stop no more and explore the 8 best Charlotte Tilbury eyeshadows listed below!
8 Best Charlotte Tilbury Eyeshadows For Eyes That Speak Volumes
If soft glam is more your jam, the Charlotte Tilbury eyeshadow palette in the shade Pillow Talk will help you achieve a whimsical eye makeup look. This Charlotte Tilbury eyeshadow quad contains mostly nude pinks with golden undertones and the combinations are a perfect match to create a rosy, sparkly smokey eye. A fantastic Charlotte Tilbury eyeshadow for hazel eyes, you can use a single color or mix and match the champagne pink, soft matte brown, matte dusky rose and the rose gold sparkle to give your eyes more dimension. Subtle enough for the everyday look and fancy enough for a cocktail party, this most popular Charlotte Tilbury eyeshadow will make your eyes the star of any party. Watch this video for a thorough understanding of the product.
Pros
Ideal for a natural, soft look
Contains 2 shimmer shades and 2 mattes
Creamy consistency
Buildable formula
Travel-sized
Cons
Price at the time of publication: $32.72
The night sky has a poetic beauty to it, and who says you can't steal some of that for yourself? From one of the most versatile Charlotte Tilbury eyeshadow palettes comes the Starry Eyes To Hypnotize with which you can create 4 glowy eye looks with color coordinated eyeshadows! Create a seductive golden eye with a hint of matte caramel brown with The Happy Glow Eyes trio, and this is perfect for a Saturday brunch with the girls. Love Glow Eyes is a trio full of the softest pinks that you can wear for a romantic night out to charm your date. And if you want to stun on the red carpet, Dream Glow Eyes brings to you dusky green shades with a soft gold for a twist on the ever-so-classic smokey eye. If you want to wear the night sky on your eyelids, reach out for the Seduce Glow Eyes trio which has stunning shades of midnight blue and silver, perfect for making a statement at any party! Click here to check out a detailed personal review of this product.
Pros
Made with real diamond powder to improve complexion
Creates 4 subtle and dressy eye looks
Wears from day to night
Easy-to-build eyeshadows
Long lasting
Cons
Might not have high color payoff
Price at the time of publication: $57.99
If you're looking to recreate a magical sunset on your eyes, look no further than the Rose Gold in the Eyes To Mesmerise line, which is a Charlotte Tilbury eyeshadow cream. For a cooling effect on the delicate area around the eyes, this Charlotte Tilbury cream eyeshadow comes packed with a water-infused formula and vitamin E for antioxidant benefits. The rose gold Charlotte Tilbury eyeshadow features soft-focus pigment that smoothes out lines and won't settle in the creases for a youthful glow.
Pros
Smooth, creamy consistency
Moisturizing formula
Glittery, effortless finish
Doesn't settle in creases
Formula glides on easily
Travel-sized
Cons
May not suit all skin tones
Price at the time of publication: $32.95
This Charlotte Tilbury palette is going to make you the talk of the town no matter where you go, and make you something of an icon. Don't believe us? The Icon Eyeshadow Palette contains 12 dazzling shades ranging from golds to reds, and even a dark shade or two for the ultimate eye look that won't fail to impress. Not only can you use these electric colors to doll up your eyes, but one swipe of this satin formula across your cheeks or lips can help you achieve a unique look. Use the shades dry, or wet them with some liquid primer or water for a creamy consistency that blends like a dream. Next time you're stepping out for a clubbing night with your pals, mix and match some stunning shades from this Charlotte Tilbury eye palette for statement eyes. Here's a review video to help you get a better understanding of the product.
Pros
Suitable for every skin tone
Rich pigments
Can be used on lips and cheeks
Can be used wet or dry
Glide on easily
Rich in emollients to soften skin
Cons
Might settle into creases
Price at the time of publication: $22.99
Charlotte Tilbury's Instant Look Eyeshadow & Face Palette is convenience galore for all you beauties out there that can't be bothered to carry a bunch of products for a full-face of makeup. If you're a beginner, this palette is more than ideal as it contains numbered pans to make step-by-step makeup application easier. With powders that are creamy and easy to blend, the colors are mostly neutrals that can be used on the daily as an everyday eyeshadow palette. You get 3 eye shades to create a full-dimension eye makeup look, 2 shades for blush, and 1 bronzer and highlighter each to achieve a complete glam ready for a full work day.
Pros
Ideal for travel and beginners
Contains neutral shades for a natural look
Numbered pans make application easy
Creamy powders
Long-wearing makeup
Easy to blend
Contains 3 eyeshadows, 2 blush shades and 1 bronzer and highlighter
Cons
Price at the time of publication: $134.99
Green-eyed beauties are in for a treat with the Bronzed Garnet Charlotte Tilbury eyeshadow stick, which will truly bring out your eyes. Warm red shimmers mix with synthetic sapphire, a mineral gemstone that softens lines and graces green eyes to instantly light up any room you walk into. With a single stroke, you can easily shade your eyelids or use the pencil as eyeliner for a bolder look. Wear it in the daytime for a reunion brunch, or on carefree, wild nights at the bar. No matter when you choose to rock this pop shade, it'll serve you for up to 10 hours without budging.
Pros
Staying power of 10 hours
Doubles as an eyeliner
Enhances green eyes
Paraben-free
Perfect for on-the-go
Good color payoff
Cons
The stick may cause tugging on dry and mature skin types
Price at the time of publication: $30
If you're an eyeshadow connoisseur, you're going to more than love this Instant Eye Palette in the shade Pillow Talk as it comes 12 of the dreamiest shades of pink and nude. This single palette allows you to create 4 unique eye looks to match your mood or whatever occasion you're going to show up at next. With diamond powder, your eyes will glow softly and this is what makes this palette perfect for date nights! The matte shades contain silicone pigments that glide on like butter and are infused with emollient oils that make it a dream to blend. There's also shades with a metallic pearl finish which have emollient esters to make the eye area super soft. Choose from a shimmery rose gold, peachy-caramel, and champagne pink of the Day and Desk trio, or a soft brown, shimmery pink, and berry rose of the Date and Dream trio.
Pros
Nude-pink shades for a full eye makeup look
Convenient for on-the-go
Ideal for day and night
Contains diamond powder for soft-focus
Contains emollients to soften skin
Cons
Price at the time of publication: $58
To rock some sparkling eyes or the softest smokey eye, this Easy Eye Palette will be your guide. A combination of the best-selling shades from Charlotte Tilbury's luxury eyeshadow palettes can be found here for the most bedazzling of eye looks. The shades are made with a powder coating technology in which the pigments are coated with silicones, and emollient oils, making them super soft on your skin. Infused with the signature diamond powder, the formula lends a luminous glow that can power a whole city! Take your pick between the bronze copper, peachy pink, rosy terracotta, and chocolate brown shades to replicate a whimsical sunset on your eyelids!
Pros
Can be used wet or dry
Easy blendability
Smooth texture
Can be used to create 5 glowy looks
Matte and metallic finishes
Cons
May not offer long-lasting wear
Price at the time of publication: $39
Now that we've seen the 8 best Charlotte Tilbury eyeshadow palettes, let's dive into how you can choose the best one for yourself.
How To Choose The Best Charlotte Tilbury Eyeshadows
Choosing an eyeshadow based on your eye color will add more depth and character to your overall eye makeup look. Pink is the most universally suitable color for all eye colors, and you'll notice that almost every Charlotte Tilbury eye palette carries a pink shade in some form or the other. But if you've got blue eyes, you can use warm shades like coppers, bronzes, corals and oranges to create contrast and make them pop. If you want to explore a subtle look, reach out for champagne shades with hints of glitter. Nude or brown shades help soften the already bright look of green eyes and are ideal for daytime wear, but if you want to make a statement, purples and lavender make green eyes stand out, especially in the evenings. A soft smokey look with warm and earthy colors like browns or bronzes suit brown eyes best, and a bright blue or green can be used as a bolder option. Those with hazel eyes can rock pastels or metallics, and even dusty pinks can help them sparkle. Bright and electric colors like blue and green, either matte or shimmery, will take black eyes to the next level as they make for a striking contrast.
Charlotte Tilbury offers eyeshadows in the form of powders, creams and pencils. Powder eyeshadows are easier to blend, and you can use 2 or more shades to achieve a multi-dimensional. You can use matte powders for basic looks and those with a shimmer finish for fancy occasions. Powders are mostly applied dry as they are, but you can add some water or liquid primer for a creamier consistency to create a wet eyeshadow. This has a better staying power than dry powders, but lesser than cream eyeshadows. Cream eyeshadows, on the other hand, can have shimmer and are generally long lasting and allow for high blendability, but it can cause the issue of creasing. Since they're not waterproof, it's best to avoid wearing them during the summer months. Sticks are the best option if you want something on-the-go, as they not only stay put for long, but also offer a high color payoff. And the best part is that it also doubles as an eyeliner, so fewer products for you to carry!
Now that you've got your favorite Charlotte Tilbury eyeshadow palette sitting on your dresser, let's get into how you can use it to create an impossible-to-forget eye look.
How To Apply Charlotte Tilbury Eyeshadow
Let's try 2 Charlotte Tilbury eyeshadow looks using her best-selling palettes, the Luxury Palette in the shade Pillow Talk.
Step 1: Prep your eyelids with a dash of regular moisturizer or eye primer, to ensure that the skin is soft for even application of the eyeshadow.
Step 2: With an eye blender brush, apply the Prime shade evenly over your entire eyelid, and add a dot in the inner corner of your eyes.
Step 3: In the outer corner of the eye socket, use a smudger brush to nestle the Enhance shade and blend it gently.
Step 4: Using your smudger brush, lightly brush some of the Enhance shade on your upper and lower lash lines for a complete look.
Step 5: If you're opting for an evening look, repeat the process above replacing Enhance with Smoke, and you're good to go!
Why Trust Stylecraze
Chaitra Krishnan, the author of this article, is a makeup enthusiast and is in love with Charlotte Tilbury eyeshadows. Therefore, for those who love the brand, she has prepared this list of the best picks from their wide range of eyeshadows. She checked the products, pigmentations, color, and also went through the reviews and feedback on trusted online platforms to shortlist the top-rated products for the list that give you the best results.
Frequently Asked Questions
Is Charlotte Tilbury eyeshadow toxic-free?
Yes, Charlotte Tilbury eyeshadows are made with natural ingredients and are free of parabens, sulfates, and phthalates.
Are Charlotte Tilbury eyeshadow good for dry skin?
Yes, Charlotte Tillbury eyeshadows are good for dry skin. They are made with natural ingredients; they hydrate the skin and make it plump and moisturized.
Is Charlotte Tilbury eyeshadow cruelty-free?
Yes, Charlotte Tilbury eyeshadow is cruelty-free. It has never been tested on animals.
Recommended Articles