7 Best Inexpensive Bath Bombs Of 2021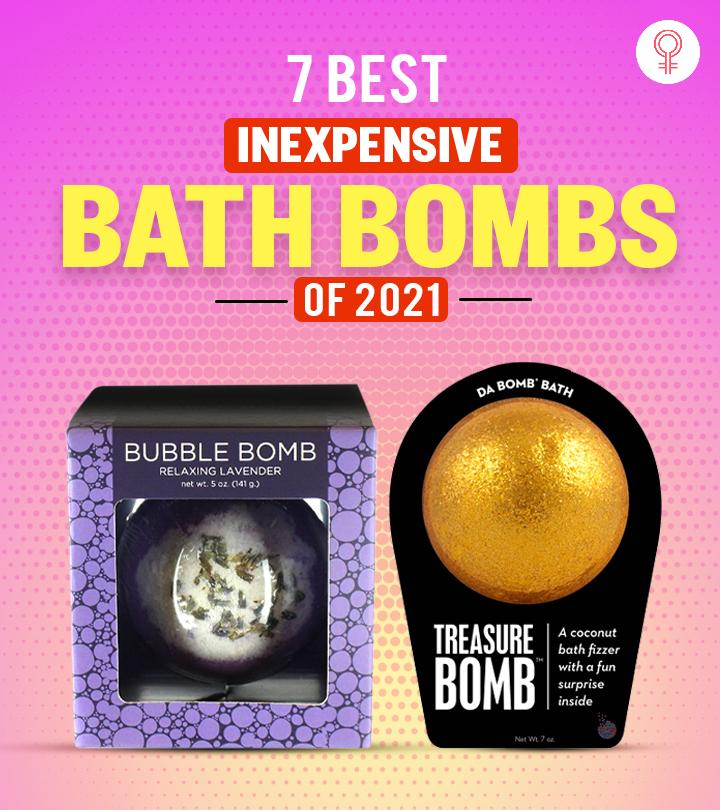 Do you want a spa-like experience in the comfort of your home? This is where bath bombs come into the picture! These little self-care companions contain exfoliators like bath salts and moisturizing ingredients like lush butter and essential oils that act as gentle cleansers. Immerse them in water to release a glorious array of gorgeous colors, soothing fragrances, and nourishing ingredients that relax your senses and rejuvenate your skin. In this article, we have shared the 7 best cheap bath bombs. Scroll down to choose your favorite!
7 Best Cheap Bath Bombs
The Shopkins Bath Bomb by Addicted to Soap is infused with sweet almond oil, shea butter, Epsom salt, and kaolin clay. Sweet almond oil is rich in vitamin E that protects the skin from free radical damage. Shea butter is rich in fatty acids that moisturize your skin. Epsom gives you a relaxed and refreshed feeling, while kaolin clay gently exfoliates your skin. This handmade bath bomb leaves your skin super clean and hydrated without leaving any residue. It makes a wonderful gift for kids as it contains surprise toy gifts inside.
Pros
Mild
Paraben-free
Phthalate-free
All-natural ingredients
Petrochemical-free
Smells good
Cons
This bath bomb by Premium Nature is a Christmas-themed holiday bath bomb. It is infused with premium essential oils for an aromatherapeutic experience. This bath fizzy is formulated to soothe your nerves with festive colors and a beautiful scent. The quality ingredients in this bath bomb will leave your skin soft, radiant, and moisturized. It suits all types of skin and nourishes sensitive skin.
Pros
Suits all skin types
Aromatherapeutic
Calming
Beautiful colors
Cons
The Happy Easter Bath Bombs by body & earth are a perfect gift for the holidays. These cute easter egg-shaped bath bombs come in a set of six flavors – cherry blossom, lavender, coconut, green tea, ocean, and vanilla. The cherry blossom bath bomb is infused with rich natural coconut oil to deeply moisturize and soften your skin. The stress-busting lavender soothes skin irritation and calms your mind and body. The sweet vanilla bath bomb energizes your skin and revives your senses. The pastel-colored bubbles and fresh spring scents relieve stress.
Pros
Smells good
All natural ingredients
Dissolves quickly
Cons
The Treasure Bomb by DA BOMB BATH is ideal for adults and kids alike. It is infused with potent ingredients like baking soda and citric acid. It has a sweet coconut scent and will leave your senses revitalized without leaving any residue behind. It does not stain your tub or your skin. This handmade product is free of harsh chemicals and leaves your skin super clean and hydrated. The beautiful golden-crusted bath bomb comes with a surprise gift inside.
Pros
All-natural ingredients
Mild
Smells good
Paraben-free
Phthalate-free
SLS-free
Nut-free
Cons
The Rainbow Bath Bombs are handmade and perfect for dry skin. They are infused with natural organic ingredients like juniper essential oil, grapefruit essential oil, sea salt, avocado extract, rose extract, olive oil, and tea tree oil. These bath bombs have a unique rainbow effect on contact with water. The cloud-shaped bombs have a moisturizing effect and suit all skin types.
Pros
Colorful
Aromatherapeutic
Calming
Large
Long-lasting
Cons
This rejuvenating hand-made bath bomb is infused with 99% natural ingredients like moisturizing Italian extra virgin olive oil, aromatherapeutic essential oils, witch hazel, and detoxifying Epsom salt. The skin-nourishing oils, soothing fragrance, bubbles, and purple color provide a relaxing home spa experience. The therapeutic, moisturizing, and stress-buster bath bomb induces better sleep by releasing melatonin. The brand offers a 30-day money-back guarantee if you are not satisfied with the product.
Pros
Mild
Therapeutic
Smells good
Vegan
Paraben-free
Gluten-free
Cruelty-free
Phthalate-free
SLS-free
Cons
The 5-in-1 Bath Bomb Gift Set by Nagaliving comes in a set of five different flavors. The blue-hued bath bomb is infused with mint essential oil and has a green tea scent. The yellow-hued bath bomb is infused with lemon essential oil, milk, and honey to brighten and even out the skin tone. The purple-hued bath bomb is enriched with lavender essential oils to calm stress, relax your mind, and help you sleep better.
The green-hued bath bomb is enriched with lemon essential oil and Gucci perfume. The orange-hued bath bomb is infused with rose essential oils with antiseptic properties, and it minimizes irritation and redness and heals damaged skin. All these bath bombs are made with organic ingredients and suit all skin types. They are infused with shea butter, coconut oil, soap flower, and grape seed oil for deep moisturization.
Pros
Natural ingredients
Dissolves quickly
Good color
Cons
Bath bombs are a mixture of emollients, essential oils, and body softeners that make your skin silky, smooth, and hydrated. You can use a single bath bomb twice by cutting it in half. Make sure you do a patch test to ensure the bath bomb does irritate your skin.
Now that you have an idea about the various pocket-friendly bath bombs, quit waiting and experience spa-like luxury from any of the cheap bath bombs listed in this article.
Frequently Asked Questions
How long do bath bombs last?
Bath bombs can last up to 6 months. The longer your bath bombs wait, the more likely they are exposed to moisture and lose their power. Ingredients like citric acid may lose potency and not fizz.
Recommended Articles