13 Best Cheap Leggings Under $30 You Can Buy ASAP – Top Picks
Because just one pair of black leggings is not enough, we need so much more.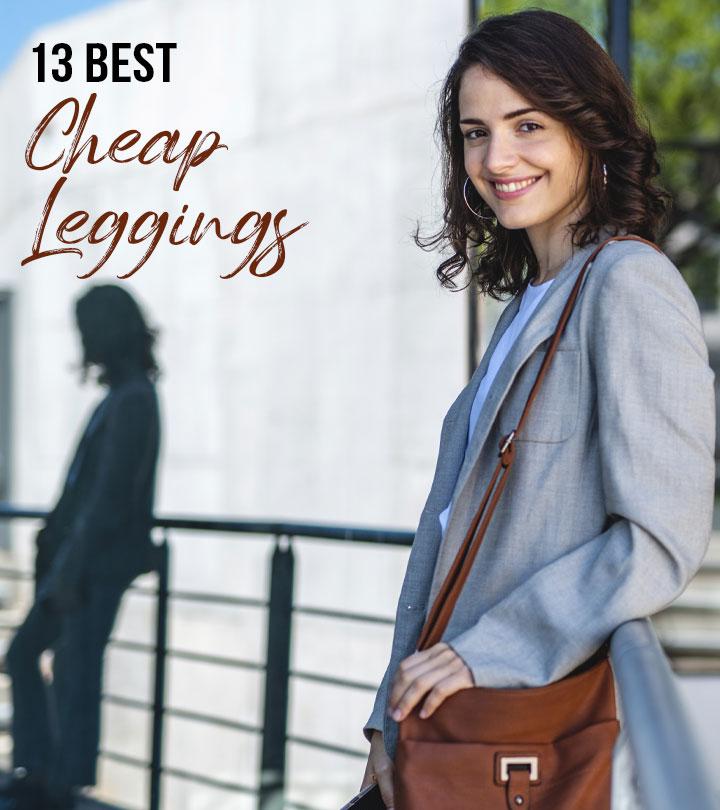 If you want comfort with fashion, we have got the best cheap leggings for you. Yes, you read that right; you can now be stylish while comfortable without drilling holes into your pockets. These leggings will work like magic with almost every outfit. So, if you want to ditch your old skinny jeans for something better and new, these leggings are exactly what you need. Not only this, you can wear these leggings for a workout as well as for lounging around at home. So, go ahead and make this comfy fashion item your new staple.
These leggings are great for controlling moisture, and they are durable, comfortable, and trendy too. We bet you will fall in love with all the 13 leggings listed below. Now, what are you waiting for? Keep scrolling and let your pocket-friendly shopping session begin.
13 Best Cheap Leggings Under $30
Treat yourself to utmost comfort during your yoga classes with these high-waisted ⅞ leggings from Leggings Depot. These butter-knit soft yoga pants work out well for any occasion. These ankle-length tights come with an elastic waistband that helps in tummy control. Its flexible, stretchy fabric allows you to perform the most difficult yoga postures with absolute ease. Moreover, it comes in multiple color options and has hidden pockets where you can stash your mobile, keys, and other small stuff.
Pros
High-waisted
Tummy control
Perfect fit
Hidden pockets
Soft and comfortable
Cons
Color bleeds
See-through fabric
Price at the time of publication: $13.99
Make your in-house fitness sessions a bit more comfortable with these fleece leggings from MUK LUK. Made from a polyester and Spandex blend, these bottoms are incredibly lightweight and perfect for all-day comfort. The pull-on closure system ensures the leggings stay in place without slipping down. Besides, the burgundy, navy, charcoal, and black color options render a fashionable look that flatters you.
Note: Machine-wash in cold water and gentle cycle, and tumble dry on low heat. Avoid using bleach.
Pros
Fashionable
Comfortable
Lightweight
Soft and warm
Cons
Price at the time of publication: $18
Embrace comfort with these jersey fabric women's stretchy leggings from Hanes. A perfect blend of cotton, Spandex, and polyester helps you achieve the peak of coziness. These ankle-length leggings come with a 29-inch inseam and are made of heavy opaque fabric, preventing see-through accidents during your workout sessions. Plus, the comfortable waistband of this activewear offers mild compression on the abdomen area to flatter your figure. If you are looking for comfortable bottoms that render a fashionable look within your budget, then try out these bottoms.
Pros
Not see-through
Heavy fabric
Stretchy
Perfect fit
Good elasticity
Cons
Price at the time of publication: $8.99
These super-comfy plus-size stretchy jersey leggings from Just My Size are a must-have for your daily workout sessions. The soft, stretchy cotton-Spandex blend fabric supports your body during high-impact workouts, while its non-chafing and flat inside seams add to your comfort. The bonus is that you get an ultra-slim and smooth appearance due to its classic fit and narrow elastic tag-free waist. Though this machine-washable bottom comes without drawstring or pockets, it offers versatile styles for any occasion.
Pros
Comfortable fit
Narrow elastic
Slim look
Non-chafing inseam
Cons
Double thickness tag below the waistline
Price at the time of publication: $10.5
These high-waisted leggings from TNNZEET provide extreme stretch and comfort while exercising. The high-quality polyester-Spandex blend fabric makes these leggings a suitable fit for all seasons. The buttery-soft material combines style and comfort, while its completely opaque texture ensures worry-free movement. Plus, its 4.5" flat waistband compresses the waistline and abdomen, resulting in a trimmed and toned figure.
From navy and burgundy to dark gray leopard and galaxy prints, you get a host of classic yet unique options to experiment with different styles. You won't regret investing in this high-quality activewear as it imparts an appealing look and gives you freedom of movement.
Pros
Opaque
Comfortable
Stretchy material
Available in a variety of patterns
Cons
Price at the time of publication: $10.99
These No Nonsense cotton leggings are undoubtedly a great option for those looking for workout bottoms. These incredible leggings are made from a blend of cotton, polyester, and Spandex, ensuring a perfect combination of strength and comfort.
These easy-to-wear leggings with no-show coverage provide a slim and trim look that flatters your figure. Moreover, they are machine-washable, hold their shape and color, and do not look baggy after a few washes. You can pair these stylish and trendy cotton leggings with a colored tunic or ballet flats, making them a wardrobe essential.
Pros
No baggy knees
High-quality fabric
Slim fit
Breathable
Cons
Price at the time of publication: $14.44
Explore unique styles with these multi-purpose leggings from Sissycos. These butter-soft stretchy leggings are the ultimate comfort wear for your casual walks, yoga classes, or workout sessions. The breathable, opaque fabric of these ultra-cool leggings provides maximum comfort during your high-impact workouts. At the same time, the soft, stretchy, elastic waistband allows you to without causing any discomfort.
These workout bottoms flatter your natural curves, and its 3D printing technology offers amazing digital prints that don't fade. Experience perfect fit and buttery-soft comfort with a touch of fashion with these daily-wear capri leggings.
Note: Though these leggings are machine-washable, it is recommended to hand-wash them with cold water and hang dry.
Pros
Buttery-soft fabric
Stretchy
Comfortable
Breathable
Avaialble in all sizes
Lovely digital prints
Cons
Price at the time of publication: $12.99
Finding a good pair of leggings at an affordable price is not an easy task. But, Satina High Waisted Leggings have got you covered with their comfortable and perfect fit. These gorgeous leggings support your body no matter what you do or where you go. The bottoms come with a wide waistband that prevents unwanted sagging, while the butter-soft stretchy fabric fits all sizes. Its Peachskin material is opaque, ultra-smooth, and comfortable enough for all-day wear. You can pair these budget-friendly leggings with casual, formal, or workout wear.
Note: Tumble-dry on low heat.
Pros
Low maintenance
Suitable for all body shapes
Soft fabric
High-waisted
Cons
Price at the time of publication: $14.99
No more worries! Stretch and bend as much as you want with these ultra-soft high-waisted leggings from Sissycos. The buttery soft fabric evokes a feeling of being enveloped by silk, while the stretchy material stays opaque no matter how you move. Its wide and high waistband neither sags nor digs into your skin, thereby providing a comfortable experience with a confident look. These yoga tights accentuate your curves and can be paired with casual or loungewear to create high-fashion outfits. Moreover, its high-quality dyeing technology does not fade and is skin-friendly and non-hazardous.
Note: Though these leggings are machine-washable, it is recommended to hand-wash them in cold water and hang dry.
Pros
No fading
Skin-friendly
Breathable
Opaque
Thick fabric
Soft and stretchy
Cons
None
Price at the time of publication: $12.99
Spanding is a popular name in the world of women's activewear. Their capri leggings are functional and affordable, ensuring a trendy look and a perfect fit. Whether stepping out for shopping or in-house activities, these leggings are the ideal go-to bottom wear. The stretchable cotton fabric ensures 4-way stretch that makes these leggings super comfortable. Moreover, their wide waistband and soft texture not only support your figure but also prevents them from sliding down.
Pros
Four-way stretch fabric
Flexible
Super comfortable
Machine-washable
Good fit
Cons
Sheer fabric
Stitches are not strong
Price at the time of publication: $29
These high-rise tummy control leggings from Marika are the perfect sportswear that ensure easy movement during your fitness sessions. The four-way stretch fabric provides comfort and mobility during workouts. These double-knitted Cameron leggings are crafted with Bio-Polish technique that adds extra softness, thus enhancing its feel-good factor on the skin. To add to its unique features, its Onyx-colored fabric has moisture-wicking technology that reduces sheen, keeps you cool, and accelerates drying. The powermesh of its waistband ensures tummy control for slimming fitness. Whether planning to run a few errands or go out for a coffee, these bottoms suit all purposes. Moreover, it comes with pockes that allow you to stash in your mobile or keys.
Pros
Moisture-wicking fabric
High-rise waistband
Double-knit
Tummy control
Machine-washable
Durable
Four-way stretch
Side pockets
Cons
None
Price at the time of publication: $22.98
Indulge in comfy bottomwear from Jockey to experience the feel-good factor of their premium capri leggings. Thess leggings exude chic elegance and feel soft and smooth on the skin.  The cotton-Spandex blend fabric is stretchable and durable. Besides providing complete coverage, these leggings maintain your body temperature and keep you cool with its moisture-wicking liner. The wide elastic waistband contours your shape and ensures a flattering fit. Plus, the mid-rise waistband allows these leggings to stay put on the waist without sliding or slipping down.
Pros
Wide waistband
Strechy
Durable
Moisture-wicking liner
Comfortable
Cons
Fabric splits after a few washes
Price at the time of publication: $30
The super-stretchy squat-proof capri leggings from SPECIALMAGIC are not only perfect sportswear but a great option as loungewear. The perfect blend of nylon and Spandex makes it ultra-comfortable. These breathable leggings offer a comfortable and slim fit, and its peach texture fabric ensures an appealing look. The elastic waistband does not slide down, thereby enhancing your mobility during your daily workouts. Besides its non-see-through texture, its tummy control feature compresses your belly and thighs, giving you a trimmed look and flattering your natural curves. It also comes with not just two side pockets but also one waistband pocket to help you carry your essentials.
Note: Machine-wash below 40°C or hand-wash to maintain the fabric quality.
Pros
Buttery soft fabric
Breathable
Good elasticity
High-waisted
Not see-through
Tummy control
Side and waist pockets
Cons
None
Price at the time of publication: $9.99
Leggings are a wardrobe staple and most of us own at least a pair or two of this clothing item. The market offers a plethora of brands that make some amazing affordable and cheap leggings that you can shop from. However, there are a few factors to consider while shopping for the best cheap leggings under $30.
Things To Consider While Buying The Best Cheap Leggings Under $30
Material plays a vital role in picking the best cheap leggings. Just because the leggings are affordable, you must not compromise on the quality. Look for high quality fabric that is not see-through or transparent. Pick leggings with great stretchability and moisture-wicking quality. It must be breathable and comfortable to be worn for long hours without leaving you sweaty and chafed. Choose materials like nylon, cotton blend, polyester, or spandex as these fabrics are highly breathable and keep you dry and comfortable all day long.
As different brands have different size charts, make sure you compare your measurement with the available chart. Choose the right size to achieve a flattering look while being comfortable. Comb through the customer ratings and reviews to understand the accuracy of the size chart. Also, check the length of the leggings. If a pair is portrayed to be a high waist, then it must fit at the belly button or higher.
Opt for a pair of leggings that cater to your requirements perfectly. Be it for yoga, workout, or even to wear casually while running for an errand, look for pieces that offer utmost comfort and are easy to style. Look for 100% opaque leggings with interlocked seam design and a gusseted crotch area.
Maintenance And Durability
Pick leggings that are easy to maintain and sustain their durability through the washing process. If hand washing is time-consuming for you, pick a pair that is machine washable to be safe.
Apart from the comfort and opacity, ensure that your leggings have pockets or high waist bands. A pair of leggings with pockets makes it easy to carry your keys or phone. And, a high waist band stays on comfortably and offers proper compression for an mazing fit and tummy control.
Why Trust StyleCraze?
Baishali Bhattacharya is a certified image consultant. She has carefully browsed through online reviews to bring forth this list of the best cheap leggings under 30 dollars for her readers. The leggings chosen will control your tummy, help you look slim and they come in many digital prints. These leggings are made with soft and breathable material and also cater to your personal style.
Frequently Asked Questions
What is the alternative for leggings?
Joggers are a great alternative to leggings because they fit loosely and allow your skin to breathe more.
Is there a difference between yoga pants and leggings?
The difference between leggings and yoga pants is that yoga pants are intended for fitness exercises, but leggings may be too thin to use during fitness exercises. Furthermore, yoga pants aren't usually very hugging, but leggings are always skin-fit.
Why are leggings so popular?
Leggings are popular due to their great adaptability, allowing you to wear them as regular pants during simple workouts, as tights during cold weather, and also as formal attire at work. Leggings are made of soft fabric that stretches and is comfortable to wear. They are also breathable and sweat-wicking.
Why are Lululemon leggings so nice?
Lululemon leggings are created with Everlux fabric, which is breathable, stretchy, moisture-wicking, and cool to the touch. This is what makes them a favorite among all leggings-lovers.
Can you wear leggings as pants?
Yes, you can wear leggings as pants.
Recommended Articles