15 Best Cheap Perfumes For Women That Smell Super Luxe – 2023
Delightful and enchanting fragrances that bring out the Goddess in you on a budget!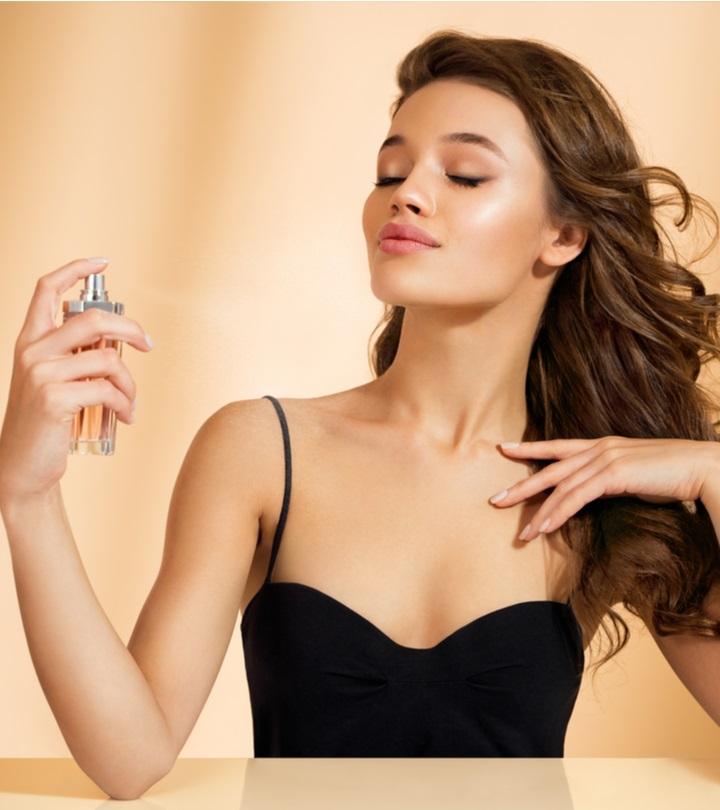 Picking up a luxurious perfume often creates a dent in our pockets. But, today, there are some best cheap perfumes available in the market that smell heavenly and last as long as their pricey counterpart. When we say cheap perfumes, we are sure many think about its quality, sillage, and simply if it is worth it. We are here to make you believe that some affordable perfumes are equally good as expensive ones.
Oriental, floral, woody, citrusy, you name it, there are affordable perfumes that smell good and are available in your preferred fragrance family category. While you will save your hard-earned money, you will also invest in good quality, long-lasting perfume. Without a nauseous headache, you can find a perfume that's not just inexpensive but also smells great.
But it is not wise to buy a less costly perfume without proper research. So, our team of perfume experts has narrowed down the search for you, and we bring you the 15 best affordable yet pleasing perfumes that you will fall in love with. Scroll down to find your best fragrance right now.
The 15 Best Cheap Perfumes For Women  – Our Top Affordable Fragrances
Pros
Amber-floral perfume
Ideal for daytime in the spring
Makes for a great gift
Good longevity
Suitable for casual wear
Cons
May not be best suited for winter
Price at the time of publication: $25.0
Pros
Sheer floral fragrance
Ideal for fall and winters
Suitable for fancy evening occasions
Subtle and pleasant
Cons
Some may find it too intense
Price at the time of publication: $15.95
Pros
Ideal for fall and winter months
Long-wearing
Good for gifting
Floral perfume with an oriental twist
Cons
Might be a little too heady for some people
Price at the time of publication: $30.33
Pros
Soft floral perfume
Wears from day to night
Light and refreshing
Perfect for spring
Not overpowering
Cons
May not offer long-lasting wear
Price at the time of publication: $20.96
Pros
Vegan
Cruelty-free
Travel-sized
Contains essential and natural oils
Made without parabens, GMOs, and phthalates
Can be layered with other fragrances
Recyclable packaging
Cons
Some people may find it to be too sweet-smelling
Price at the time of publication: $21.47
Pros
Woodsy-musky perfume
Has citrusy accords
Soft feminine fragrance
Crisp and light
Perfect for spring and summers
Cons
Some may feel like it is best suited for mature ladies
Price at the time of publication: $23.53
Pros
Sweet and warm notes
Ideal for winter nights
Comforting fragrance
Suitable for fancy evening occasions
Ideal for gifting
Color-less formula
Mild fragrance
Cons
Price at the time of publication: $14.49
Pros
Ideal for gifting
Pleasant fragrance
Long-lasting formula
Suitable for a date night
Attractive packaging
Captivating strong scent
Cons
None
Price at the time of publication: $8.38
Pros
Vegan
Paraben-free
Phthalate-free
Never tested on animals
Ideal for everyday use
Lasts for 3 to 5 hours
Cons
Overpowering and strong fragrance
Might not be suitable for everyone
Price at the time of publication: $12.49
Pros
Superior staying power
Rose-heavy perfume
Contains woody and citrusy accords
Ideal for spring and summer in the daytime
Cons
Some people might find it to be too strong
Price at the time of publication: $11.87
An amber-citrus hybrid, Fire & Ice is a cheap cologne that smells good and will carry you through chilly days and nights. The first spritz welcomes to your olfactory orange blossom, tangerine, and osmanthus, developing into tuberose, orchid, magnolia and narcissus for a sweet kick. To warmly embrace the fresh and lively accords, you'll find amber, musk, incense, and some woody notes at the base for the ultimate oriental scent. On winter evenings when you're out Christmas gift shopping, reach out for this good cheap cologne by Revlon!
Pros
Citrus-meets-oriental cologne
Sweet but warm
Florals are mellow and not overpowering
Ideal for winter and fall nights
Suitable for casual use
Cons
May not be very long-lasting
Price at the time of publication: $15.18
Pros
Refreshing fruity fragrance
Suited for casual wear
Ideal for gifting
Sultry and romantic
Perfect for summer
Cons
Price at the time of publication: $22.71
Pros
Smells clean and fresh
Vegan
Cruelty-free
Gluten-free
Free from phthalates and toxins
Suitable for spring and summer days
Cons
May not stay on for very long
Price at the time of publication: $44
Pros
Cruelty-free
Suitable for sensitive skin
Vegan
Soft and warm vanilla fragrance
Free from parabens, phthalates, synthetic dyes and fragrances
Ideal scent for winter months
Cons
Price at the time of publication: $48
We all know Shakira's hips don't lie, but her nose doesn't either, because Dance will become one of your favorite affordable fragrances! Citrusy accords of tangerine, bergamot, grapefruit, and pear on the top dance with the sweetness of peony, lily, neroli, and orange blossom. The comforting base of vanilla, caramel, musk, and wood ends the scent profile on a warm yet aromatic note. Spritz this bold and youthful perfume before your next salsa class and watch your confidence skyrocket!
Pros
Ideal for warm days
Floral-fruity gourmand fragrance
Caramel accords add creaminess
Long-lasting wear
Cons
Some people may find the scent to be overly sweet
Price at the time of publication: $15.6
Cheap perfumes for women are one of the best ways women can introduce themselves to any gathering without having to drop big bucks on the more expensive brands. All you need is to know what to look for and here is where this guide comes in handy.
How To Choose The Perfect Cheap Perfumes For Women
1. Fragrance: You've probably noticed after some time that the cheap perfumes tend to fade away. This is because many of the cheap perfumes are made with synthetic perfume oils. You should make sure you are purchasing one that uses essential oils and not synthetic oils. This will ensure that it has more staying power and smells better.
2. Price: Like any other product, cheap perfumes for women can range dramatically in price. Their price depends on many factors like the brand, quality of essential oils, and the amount of alcohol used in the formula. As long as you are getting one that is loaded with quality essential oils and not too much showing off on the bottle, you should be fine.
3. Online Reviews: If you are looking for a great-smelling perfume, start your research online. There is a lot of information out there on perfume ratings and comments from women who know what they are talking about. This can save you a lot of time when trying to find the best cheap perfume as you already have an idea of what to look for in a quality cheap perfume.
4. Sillage: Perfumes with high sillage linger to the highest degree. This means that you would like to go for a scent that lasts long in the air with you throughout the day. A lot of cheap perfumes for women are weak because of the alcohol used in their formula. You would want to look for an oil formula that has more staying power and will last longer.
5. Season: Choose according to the seasons. The perfume fragrance will not be the same in summer, winter, or rainy seasons. So do well research before purchasing since the fragrance will react with your skin differently, depending on the time of the year according to the body temperature. Also, if you are continuously in contact with an air conditioner, you will find it harder to smell the fragrance so opt for a stronger perfume.
Spraying on a good perfume before getting started with your day is an experience in itself. Not only does it complete your whole look, it adds to it some character that comes along with you wherever you go. And, the best part is that you don't have to shell out all your hard-earned cash to smell luxe. You can very well do it on a (tight!) budget, as our list of the 15 best cheap perfumes will show you how. Whether you want fresh citrus notes, a field full of fragrant flowers for floral scents, or even a brooding woody perfume, it's all totally doable with budget fragrances. Now, stop worrying about your bank account, and get spritzing!
Why Trust StyleCraze?
Srijani Roy Chowdhury is a beauty and lifestyle enthusiast with a flair for perfumes. She loves trying different perfume brands and has carefully researched many perfumes and reviewed them to help her readers pick the best ones. She believes in using cost-effective perfumes that not only make you smell fabulous but also have every kind of smell you have been looking for in your favorite perfume. Their long-lasting scent and heavenly smell are ideal for people who want the essence of a luxurious scent on a budget.
Frequently Asked Questions
Why do expensive perfumes smell better?
Expensive perfumes are made of premium-quality ingredients with multiple fragrance layers that last longer. Their formulas are skin-friendly too.
Does perfume expire?
Yes, perfumes expire. They have a shelf life of 1-3 years once their seals are broken.
How many perfumes should I have?
That is absolutely your choice! But ideally, something for regular formal wear, something for the nighttime, and a spare for days you want to mix things up a bit. While you choose the perfumes, keep in mind the seasons.
How do I find my signature scent?
Here are some steps to find your signature scent:
• When you go out perfume shopping, try a maximum of three perfumes to avoid overwhelming your senses.
• Decide if you want a fragrance that is citrusy, floral, fruity, musky, oriental, or a mix of these scents.
• Begin with lighter scents that are more aqueous or musky.
• Pay attention to how the perfume is setting in with your body chemistry.
• Check how the perfume smells after some hours, or if it is still around.
How long should I keep perfumes?
Once you have broken the seal, a maximum of three years is how long you should store your fragrances. Also, check the packaging for the expiry date.