13 Best Chemical Exfoliants For Naturally Glowing Skin – 2023
Gently strip away layers of impurities to reveal a brighter, cleaner, fresher skin.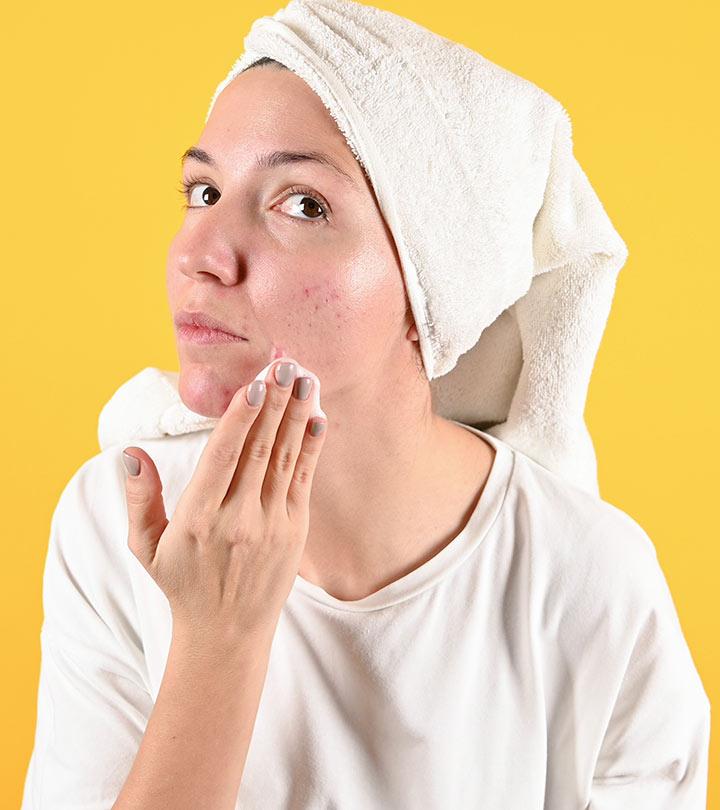 If you are someone with inflamed pores and frequent acne breakouts, you probably know the reason for them could be excess oil, dirt, bacteria, sweat, and dead skin cells. Though your skin keeps renewing itself, some dead skin cells don't go away easily. Therefore, using the best chemical exfoliants is important to eliminate these stubborn impurities and buildup from your skin. They are available in different forms like toners, peeling gel, serums, creams, and peeling pads. These exfoliators are not harsh on your skin and use enzymes and acids to buff away the dead skin cells. The active ingredients include alpha-hydroxy acids (AHA) and beta-hydroxy acid (BHA) that penetrate deep into the layers of your skin and reveal a natural and healthy glow.
As the skin care industry has flourished tremendously over the years, multiple brands have come up with chemical exfoliators. So, choosing one out of the myriad options can be tricky. But, fret not. We have your back. In this article, we have listed the best chemical exfoliants on the market. Scroll down and take your pick for clear, smooth, and supple skin in no time!
Top 13 Chemical Exfoliators To Buff Away Dead Skin Cells
Slough away dull and dead skin cells with this BHA chemical exfoliant that is gentle but effective for every skin type. The gentle leave-on formula contains 2% BHA, green tea extract, and pH balancer that gives you moisturized, bright, and youthful skin. The cruelty and paraben-free exfoliator follows the natural exfoliation process, and removes dirt, oils, and debris from pores to impart your skin good health. It targets redness, signs of aging, enlarged pores, and blackheads, and promotes even toned skin. It also helps visibly reduce the appearance of sun damage.
Pros
Gentle leave-on formula
Clears breakouts
Calms redness of skin
Paraben and fragrance-free
Cruelty-free
Moisturizes skin
Smooths fine lines
Cons
Some may find the scent unpleasant.
Price at the time of publication: $34.0
Get a beautiful and radiant skin in just 10 minutes with this drugstore chemical exfoliant. The exfoliator harvests the power of AHAs and BHAs, aloe vera leaf juice, salicylic acid, lactic acid, vitamin B5, and Tasmanian pepperberry to exfoliate dead skin cells and give you a brighter and radiant look and feel. It clears pore congestion and helps fight blemishes to improve the texture of your skin. The peeling solution reduces the appearances of fine lines and other signs of aging. It also reduces inflammation and promotes healing. So, if you dream of a flawless skin, you need this chemical exfoliator in your skincare regimen.
Pros
Clears pores
Fights blemishes
Improves skin texture
Reduces appearance of fine lines
Promotes healing of skin
Cons
May take some time to get used to
May increase your skin's sensitivity to sun
Price at the time of publication: $8.0
Not everyone can have the luxury of taking bath in milk and honey like Cleopatra did for beautiful skin. But do not worry. This chemical exfoliator for oily skin infused with 10% glycolic acid, bamboo, shea butter, willow bark, tea tree, and seaweed, can almost do the same trick. It deeply cleanses your skin by pulling out excess oil, dirt, and other impurities from the pores. It also gives a radiant and bright skin tone. The facial wash reduces acne scars and sun spots, fights signs of aging, and rejuvenates your dull and tired skin in addition to exfoliating.
Pros
Ideal for oily skin
Sulphate and paraben-free
Fights dark spots and hyperpigmentation
Treats acne scars
Prevents fine lines and wrinkles
Nourishes your skin
Cons
May not be suitable for sensitive skin
Price at the time of publication: $22.9
Give your skin a fresh glow with this fast-acting First Aid Beauty KP body scrub. Tested by dermatologists, this body scrub with chemical exfoliators offers the benefits of microdermabrasion treatment. The drugstore chemical exfoliant features 10% of glycolic and lactic acids, oatmeal, willow bark extract, feverfew extract, vitamin E and Camellia sinensis that exfoliate dead skin cells to promote a healthier skin. It removes pore congestion to give you an exceptionally smooth skin. The cruelty-free and soy-free scrub fights free radicals, soothes your skin, and nourishes it.
Pros
Dermatologist-tested
Cruelty-free and vegan
Gluten and soy-free
Paraben and sulphate-free
Instant relief from skin bumps
Cons
Price at the time of publication: $12.0
Get that clear and bright skin that you have always been dreaming of. This BHA chemical exfoliant is made with natural ingredients like 4% BHA and 64% white willow bark water. This cruelty-free and vegan product deeply cleanses the pores to gently remove dead skin cells without causing any irritation. It fights excess sebum and removes blackheads. All you need to do is apply it with a cotton pad every day for a hydrated and healthy skin with a natural glow. It is best to use during the night but for daytime use, you should apply sunscreen with SPF 30 or higher to prevent any damage to the skin due to UV exposure.
Pros
Hypoallergenic
Paraben and sulphate-free
Cruelty-free and vegan
Dermatologist tested
Prevents blackheads
Nourishes and rejuvenates skin
Cons
Price at the time of publication: $24.9
This drugstore chemical exfoliant is a cult favourite as it has a host of good-for-you ingredients. The kojic acid infused formula contains antioxidants, green tea extract, lactic acid, vitamins E and C, and licorice that helps with deep exfoliation to clear your skin off any dead skin cells and revitalize your skin. The chemical peel assists in fading the freckles, wrinkles, fine lines, age spots and other signs of aging. It boosts production of collagen and improves elasticity of skin. The facial peel helps even out your skin tone by controlling the production of melanin and effectively locks-in moisture in your skin. But since it's a stronger peel, it is recommended that you use level 1 Lactic peel before using this product.
Pros
Promotes production of collagen
Evens out your skin tone
Offers deep moisturization
Fades wrinkles and fine lines
Minimizes freckles and age spots
Cons
It may increase skin's sensitivity to the sun.
Price at the time of publication: $29.95
The secret to perfect skin is now in your hands. Improve your skin tone and complexion with one of the best drugstore chemical exfoliators. This exfoliating toner targets several skin problems. Formulated with 5% glycolic acid and aloe vera, the cruelty and alcohol-free product gently exfoliates and washes off all impurities from the pores. Add this invigorating toner to your daily skincare routine to prevent acne and moisturize your skin. It can be used in the morning and evening on your face and neck. It balances your skin tone and preps it for makeup application, giving you a radiant and bright complexion.
Pros
Alcohol and cruelty-free
Soothes and hydrates skin
Clears pores of impurities
Makes skin even toned
Suitable for all skin types
Accelerates skin cell renewal
Cons
Some may find it slightly expensive.
Price at the time of publication: $29.0
Whether it is that you call 'strawberry skin' or 'chicken skin', consider it gone. This chemical exfoliation for face is infused with glycolic acid and soothing botanicals like witch hazel, licorice, and calendula flower extract. It works alongside your skin's natural repair cycle and slowly releases glycolic acid while you are asleep to correct your skin imperfections and give a natural glow to your skin. You need to rinse it off after its application. It fades fines lines and discolorations, and helps reduce inflammation. Help your skin wake up for the day with this PETA-certified and paraben-free gentle chemical exfoliant.
Pros
Paraben and SLS-free
PETA-certified
Reduces inflammation
Fades fine lines and discolorations
Offers radiant skin
Cons
May not be suitable for extremely sensitive skin
Price at the time of publication: $19.54
If your skin imperfections including acne have persisted beyond your troublesome teenage years, and it still concerns you, this gentle chemical exfoliant is what you may need. Developed by a board-certified dermatologist with more than 25 years of experience in skincare, this fast-acting peel sloughs away dead skin cells, excess oils, and impurities to give you an evenly toned skin. It minimizes the appearance of pores, fine lines, and prevents other signs of premature aging. Experience a more balanced and ageless skin with this universal formula that contains 5 acids— salicylic, lactic, glycolic, citric, and malic acid along with witch hazel water, matricaria flower extract, glycerin, and Camellia sinensis leaf extract. Suitable for all skin types, it is also ideal for those using peels for the first time.
Pros
Can be used daily
Gives faster results
Improves uneven tone and texture
Cruelty-free and vegan
Paraben-free
Refreshed and glowy skin
Ideal for first time peel users
Cons
Contains alcohol and fragrance
Price at the time of publication: $149.79
Grab onto those 'good genes' bottled in this product for a flawless skin as this drugstore chemical exfoliant rapidly exfoliates dead skin cells and unclogs your pores from impurities, dirt and excess oil, to reveal a clearer and smoother skin. The multitasking product also fights hyperpigmentation, fades wrinkles and fine lines, and improves the appearance of dark spots and discolorations. The ingredients like lactic acid, licorice, lemongrass, prickly pear extract, aloe vera leaf extract, and arnica montana flower extract have been clinically proven to immediately aid in boosting skin radiance and give you younger-looking skin in 3 minutes.
Pros
Clinically-proven
Clarifies skin
Non-irritating formula
Brightens look of dark spots and discolorations
Fades wrinkles and fine lines
Cruelty-free
Cons
Contains xanthan and alcohol
Price at the time of publication: $85.0
Forget about booking appointments at spa as this drugstore chemical exfoliant gives a spa-quality facial treatment at home. This chemical exfoliant coming from the world-renowned skincare expert offers smoother and softer skin texture in just 2 minutes. The AHA lactic acid and BHA salicylic acid, silica, papaya, pineapple, and pumpkin enzymes, rosewood and cinnamon extracts, aloe vera, honey, and vitamin E present in the product promote glowing complexion. It removes surface dullness, chemically exfoliates and clears the pores, and softens the appearances of fine lines and wrinkles to provide smoother and softer skin. Just sit back and experience the unbelievable transformation of your skin.
Pros
Immediate results
Improves skin texture
Reduces crow's feet, fine lines, and wrinkles
Enhances appearance of pores
Smooths and softens skin
Cons
Price at the time of publication: $98.0
Be confident that you are using the best acid you and your skin will love. This best drugstore chemical exfoliator contains AHAs, PHAs, and pineapple extract that clear the pores to gently exfoliate and give you a brighter skin. This K-beauty product is also infused with vitamins C and B3 and bromelain extract that promote smoother and radiant skin. The ultra-soft and dual-sided pads fight blemishes, redness, and reduce the appearances of dark spots. This do-not-rinse formula can be used every day in the morning and evening for brighter complexion.
Pros
Cruelty-free and vegan
Paraben and gluten-free
Ultra-soft and dual-sided pads
Brightens and evens skin tone
Reduces appearance of wrinkles
Improves looks of blemishes
Cons
Price at the time of publication: $25.0
Enjoy a clear, smooth skin with this at-home facial treatment. The drugstore chemical exfoliant revitalizes your skin by restoring its natural glow and vitality. It promotes healthier skin with its non-irritating formula that includes ingredients like glycolic and salicylic acid, and witch hazel. Suitable for all skin types, it is clinically proven to boost collagen production and improve elasticity of the skin. Apart from exfoliating dead skin cells, these pre-medicated pads also reduce the appearances of fine lines, wrinkles, and age spots to provide hydrated, healthy, and younger-looking skin.
Pros
Clinically-proven
Paraben and fragrance-free
Minimizes fine lines and wrinkles
Evens out skin tone
Improves elasticity
Promotes production of collagen
Fights hyperpigmentation
Cons
It may increase skin's sensitivity to the sun.
Price at the time of publication: $61.6
You must have got an understanding of chemical exfoliators and their multiple benefits. Now, let's find out how they work.
How Do Chemical Exfoliants Work?
Chemical exfoliants are basically acids — Alpha Hydroxy Acids (AHAs) or Beta Hydroxy Acids, (BHAs) that help get rid of your dead skin cells. When you apply it, the acid penetrates into your skin and dissolves the glue of these dead skin cells. It breaks the bonds, clears any buildups that can cause breakouts, wrinkles or dry patches, and removes the dead cells along with any trapped dirt and excess oils easily, giving you a refreshed and healthy skin.
The word 'acids' might have freaked you out but do not worry, they are safe to use. In fact, AHAs have arguably emerged as one of the safest acids to use to loosen the bonds between the dead cells while exfoliating. Now, let's look at the factors you need to keep in mind while picking the best exfoliant.
How To Choose A Chemical Exfoliant?
If you are especially new to using exfoliators, it is best to start with a mild formula so that you can check how your skin reacts. Also, many products with gentle formula can be used more frequently and hence, can give effective results faster.
Do read the label of ingredients on the product before you make the final decision. It is best to avoid exfoliators that contain some irritating ingredients like alcohol, sulfates, parabens, phthalates, and formaldehydes, especially if you have sensitive skin. It is also safer to pick a hypoallergenic product.
When looking for the right product, you should consider your skin needs as it can help you zero down on the product quicker. Apart from exfoliation, if you are looking for something that can help treat fine lines, hyperpigmentation, or uneven skin tone, you can pick one with AHAs. But if sun damage and redness are your major concerns, BHAs would be a better bet.
If you have dry or oily skin, you can choose chemical exfoliators with lactic acid or glycolic acid. And if you have sensitive skin, you may choose some PHAs and exfoliate less frequently, maybe once or twice a week.
Why Trust StyleCraze?
Kirtana Divakar, the wordsmith who wrote this post, has a deep understanding of the skin and what it needs to stay healthy and glowing. Everyday dirt, pollution, sweat, bacteria, and dead skin cells can cause inflammation and breakouts. She recommends using products from this carefully curated list of chemical exfoliators to thoroughly cleanse your skin. The author checked their reviews before finalizing the list. These products were selected based on their formula and ingredients, cleansing capabilities, and absence of harsh elements like parabens.
Frequently Asked Questions
Are chemical exfoliants bad for your skin?
Chemical exfoliants are gentler on the skin than physical exfoliants as they do not involve scrubbing. They unclog pores and remove dead skin cells gently.
How often should I use a chemical exfoliant?
As chemical exfoliants tend to cause irritation and dryness when used every day, you can use them 2 or 3 times a week.
How long does it take for a chemical exfoliant to work?
If you have found the right chemical exfoliant for your skin, you should see results with reduction in hyperpigmentation and supple skin in 2 to 3 weeks.
Do you wash off chemical exfoliants?
It depends on the type of product you are using. If you are using a peel that works like a mask, you have to rinse it off after a couple of minutes of application. Check the label of your product and follow the direction to use mentioned on it.
Is it bad to use chemical exfoliants every day?
Experts usually suggest to use chemical exfoliant twice or thrice a week but if you feel your skin can use some more without developing any allergic reactions, you can increase the number of times you use it. Many people find it okay to use every day too.
Recommended Articles