11 Best Chemical Peels For Wrinkles You Can Use At Home
Peel out your aging signs and flaunt your youthful radiance even in your 50s.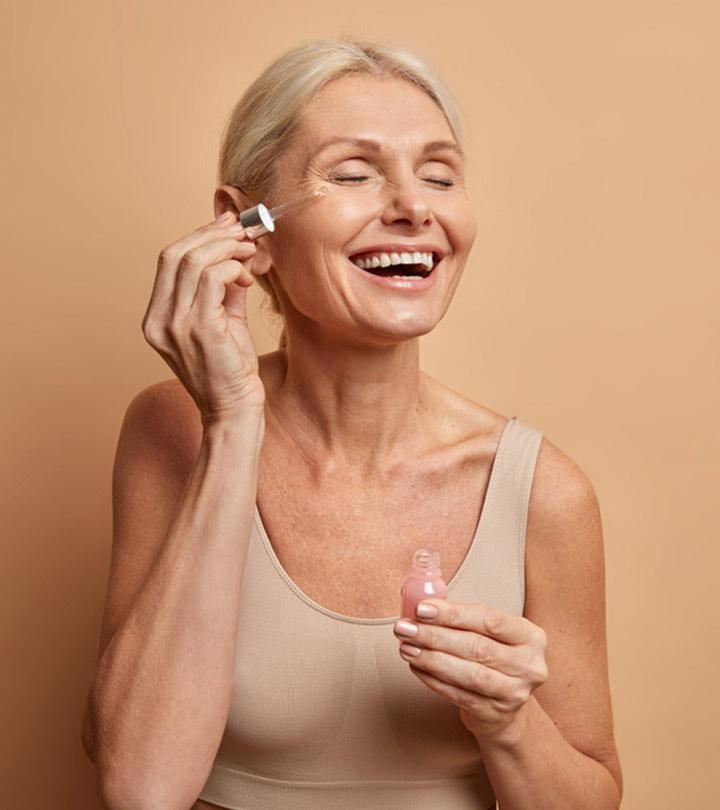 Wrinkles are no longer a skin woe that only the elderly must worry about. Thanks to pollution, poor lifestyle, and health choices, even women entering their 30s easily witness wrinkles and fine lines making their first appearance. Thankfully, beauty and skincare brands are well aware that premature skin aging is one of the major skin problems in today's day and age. And so, they bring us the best solution for wrinkles and fine lines— chemical peels. When you pick the best chemical peel for wrinkles trusted by experts in dermatology, you'll notice the fine lines and wrinkles slowly fading and disappearing while your face looks younger.
There is a whole range of acids used in chemical peels for wrinkles, and we're here with a list of the best ones that are ideal for wrinkles and fine lines. Below is a list of the 11 best chemical peels for wrinkles and fine lines that will easily take care of your skin concerns and help you reclaim younger-looking skin. But before that, let's take a look at what exactly a chemical peel does to wrinkles.
What Does A Chemical Peel Do For Wrinkles?
Chemical peels formulated for wrinkles generally have glycolic acid in varying concentrations. Glycolic acid helps eliminate or fade wrinkles by penetrating the skin and promoting the natural collagen production process of the skin. The peeling process also gets rid of dead skin cells and transforms the skin to be more elastic, firmer, and tighter. When your skin becomes elastic and firm, it prevents the formation of wrinkles and fine lines and supports improved skin cells' renewal, thus slowing down the aging process of the skin.
11 Best Chemical Peels For Wrinkles And Fine Lines – Our Top Picks
Pros
Applies in less than 5 minutes
Smooths skin texture
Offers multiple skin benefits
Supports natural cell turnover
Fades skin discoloration
Repairs skin damage caused by UV rays
Offers deep exfoliation
Cruelty-free
Cons
May cause a mild tingling sensation
Price at the time of publication: $16.99
Pros
100% vegan
Sulfate-free
Lanolin-free
Paraben-free
Mineral oil-free
GMO-free
Gluten-free
Cons
May not be suitable for dry skin type
Price at the time of publication: $15.32
Pros
Moisturizes skin
Free of SLS
Deeply penetrates epidermal layers
Softens skin
Free of parabens
Free of gluten
Cons
May not peel properly and may require to be washed away
Price at the time of publication: $29.95
Pros
Reduces the appearance of scars
Professional-grade results
Can fade sun spots
Has an actual gel-like consistency
Also contains sorbic acid
Cons
The high concentration of lactic acid may not be suitable for those with sensitive skin.
Price at the time of publication: $19.95
Pros
Reduces the appearance of scars
Rejuvenates and brightens skin
Lightweight
Grease-free
Non-comedogenic
Cruelty-free
Vegan
Oil-free
Fragrance-free
Cons
May cause a slight burning sensation and redness.
Price at the time of publication: $21.99
Made from naturally occurring fruit sugar acid, that is, alpha hydroxy acid, this chemical face peel for wrinkles works gently by getting rid of the outermost, damaged skin while also stimulating healthy cell regeneration and collagen production. When collagen is produced, it helps combat wrinkles and reduce fine lines. This product is great for under-eye wrinkles and fine lines as it moisturizes your face and reduces dryness and flakiness. It is free of overwhelming artificial scents and with consistent use, you will witness firmer and thicker skin that is no longer prone to developing premature wrinkles. Some of the reviewers claim to have seen visible results within a day.
Pros
Moisturizing formula
Gentle
Free of fragrance
Free of parabens
Silicone-free
Shrinks large pores
Eliminates blackheads
Cons
Not suitable for sensitive skin
Price at the time of publication: $26
Loaded with oh-so-healthy ingredients such as cucumber extract, green tea extract, and chamomile extract, this product is the best chemical peel for deep wrinkles with the active ingredient glycolic acid. With a strength of 20%, this chemical peel for fine lines and wrinkles comes in the form of acid pads, making it extremely easy to use especially when you're on the go. A lot of reviews mention that this is a no-mess solution to wrinkles and aging signs. These resurfacing pads help exfoliate your skin while restoring its glow and smooth texture. They are also a great alternative for beauties with sensitive skin. Use them on a regular basis and get ready to see your skin look smoother and beautifully dewy!
Pros
Suitable for delicate face skin
Easy to use
Exfoliates
Sulfate-free
Cruelty-free
Cleanses pores
Targets acne scars
Cons
Some might find the pads thin.
Price at the time of publication: $23.9
If you're on the lookout for medical chemical peel for wrinkles, this one from Dermalure is not the one to disappoint. A blend of medical-grade salicylic acid, lactic acid, and resorcinol in 14% strength each work in unison to reduce wrinkles, fine lines, clean clogged pores, and remediate seborrheic dermatitis and eczema. This solution is also hailed as the best type of chemical peel for wrinkles as it promotes collagen and elastin production that keep your skin looking young and healthy. However, this solution is best recommended for those with lighter skin tones.
Pros
Not tested on animals
Free of parabens
Made from medical-grade ingredients
Suitable for acne-prone skin
Cons
Not suitable for those with dry skin type
Price at the time of publication: $34.95
Pros
Cruelty-free
Paraben-free
Phthalate-free
Sulfate-free
Vegan
Easy to use
Cons
Price at the time of publication: $20
If your primary skin conditions are fine lines, age spots, hyperpigmentation, and uneven skin tone, we recommend one of the best at-home chemical peels for deep wrinkles from Medpeel which contains glycolic acid in 30% concentration. In addition to that, this chemical peel is also effective in eliminating blackheads, sun damage, clogged pores, and it does so to give you tighter, firmer skin with a lifted appearance. The clinically-proven formula helps give you clean and clear skin that looks and feels healthy along with a balanced skin tone and softer and radiant skin. However, doing a patch test before 3 days of actual application is recommended to avoid skin sensitivity.
Pros
Free of environmentally hazardous material
Not tested on animals
Free of parabens
Professional-grade results
Made from GRAS ingredients
Cons
May cause a slight burning sensation for some
Price at the time of publication: $26
A combination of glycolic acid in 50% concentration along with pH balancing distilled water is here to address your skin woes from wrinkles to dullness. This chemical peel for aging skin gently yet deeply exfoliates the skin while getting rid of bumps and lumps, mild blemishes, while also tightening the skin. The high concentration of glycolic acid also helps in increasing cell turnover. Using this dermatologist-tested chemical peel for wrinkles on a daily basis can also help in fading away acne spots, scars, dark spots, red stretch marks, and the consequences of sun damage. So, invest in this must-have chemical peel if you need an overall good-for-skin kind of product.
Pros
Not tested on animals
Dermatologist-tested
100% pure
Low pH level
Lightens acne blemishes
Cons
We are sure that our list of the 11 best chemical peels for wrinkles will help you get a step closer to understanding what's the best product as per your requirements. However, when choosing a chemical peel, you must be all the more cautious and take certain factors into consideration so that you pick one that delivers the benefits that you expect. With that said, here's a comprehensive buying guide on what to keep in mind when investing in a chemical peel for wrinkles.
How To Choose The Right Chemical Peel For Wrinkles?
You'll easily find chemical peels for wrinkles that range in concentration from 10% to 70%. However, not all chemical peels of varying concentrations are made equally. A light or superficial peel uses 20% to 30% of acid, most commonly glycolic acid. And this kind is left on the skin for a couple of minutes before washing it away. A chemical peel with 40% to 50% concentration is used when you deal with hyperpigmentation so that the acid penetrates fairly deep to tackle the root cause of the hyperpigmentation.
However, when you need your chemical peel to address deeper wrinkles and fine lines, you can opt for a 55% to 70% concentrated acid peel. This type of peel also acts on acne scars. However, this may not be the best solution for those with sensitive skin.
"Always remember to start off with a lower percentage of acid and then gradually move higher as your skin build tolerance," reminds Raisa Zarin, a Licensed Esthetician
Chemical deep peels are generally drying in nature, and this is because they are made with strong and potent acids such as AHAs, glycolic and salicylic acid, among others. If you already have dry skin, it would be a good idea to either invest in one that has additional ingredients such as jojoba oil, vitamin E, shea butter, etc. that help provide a certain amount of hydration to your skin. However, for those with combination or oily skin, a chemical peel for wrinkles and fine lines that is solely made from acid will do the trick.
The most common active ingredients used in chemical peels are salicylic acid, which is a beta hydroxy acid that is popular for remediating acne-related issues. Glycolic acid, which is an alpha hydroxy acid, is known for exfoliating the skin and getting rid of dead skin cells to eliminate and prevent wrinkles and fine lines from forming. A TCA peel works as a chemical exfoliation to get rid of dead skin cells and clogged dirt. It is effective against acne scars, sun damage, melasma, and hyperpigmentation.
Lactic acid, also an AHA, brightens the skin. However, when compared to glycolic acid, it does not penetrate as deep into the skin. When buying a chemical peel for wrinkles and fine lines, one with glycolic acid will work best. However, a combination of these acids as active ingredients will help tackle several skin-related issues.
Since chemical peels incorporate acids to tackle wrinkles, fine lines, and exfoliate, it is crucial for you to ensure that it does not irritate your skin. And for this reason, you should go for a chemical peel that has passed dermatologist tests and is proven to be safe to use on the skin.
The Bottom Line
Why Trust Stylecraze
Kirtana Divakar, the author, is a makeup and beauty enthusiast who believes that when it comes to skincare, you deserve nothing but the best. She has spent hours going through several health and beauty forums and reviewing all valued customer feedback before curating this list of the best chemical peels for wrinkles and fine lines. These not only help reduce these evident signs of aging but also help nourish and strengthen your natural skin barrier.
Frequently Asked Questions
Do chemical peels really work for wrinkles?
Chemical peels do work for wrinkles and fine lines, especially when they contain glycolic acid. However, you need to be patient as it always takes time for any skincare product to eliminate or reduce wrinkles and fine lines. This happens by promoting natural collagen production.
What is better for wrinkles- microdermabrasion or chemical peels?
Microdermabrasion is more suited for those with rough skin that results from sun damage. If you have deep wrinkles and fine lines, it is best to take a chemical solution for your skin issue such as a medium or deep chemical peel, as it penetrates deep into the skin and promotes collagen production while improving overall skin cell turnover.
Will chemical peel help with under-eye wrinkles?
Chemical peels that have medium to high concentrations of glycolic acid can help remediate under-eye wrinkles.
What are the benefits of at-home chemical peels?
At-home chemical peels will exfoliate your skin, help reduce hyperpigmentation, and help in rejuvenating your skin by unclogging your pores.
How often should you use an at-home chemical peel?
You can use at-home chemical peel every once or twice a week. If the formula is highly concentrated, once a month will also do the trick.
Are chemical peels good for deep wrinkles?
Yes, chemical peels such as retinol peels work well at deep wrinkles.
What is a Jessner's peel?
It is a type of chemical peel that breaks down the surface layer of the skin making it slough off, revealing healthier skin from underneath.