11 Best Chemical Peels For Acne Scars (2023) + Buying Guide
Get the two-in-one action of eliminating your acne scars and exfoliating your skin.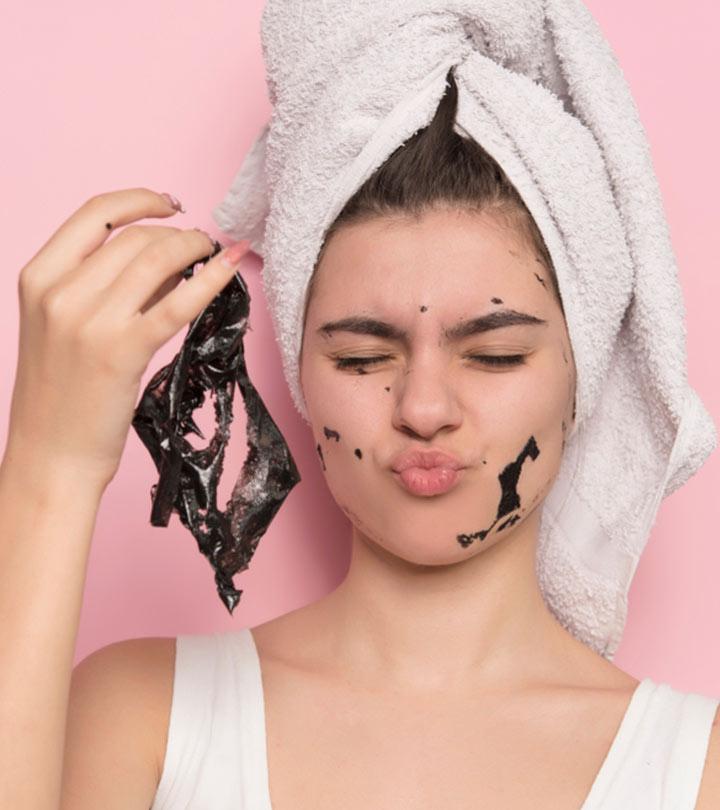 Chemical peels are prepared with acids like salicylic, glycolic, and other AHAs and BHA to unclog the pores. They help remove the acne-causing agents from the skin and exfoliate the dead skin cells. "Acne scaring, fine lines, enlarged pores and dull skin are very common skin issues. By incorporating these chemical peels in your weekly routine, you will be on your way to youthful, radiant skin faster than you think," says Annētta McBain, an Esthetician.
Since they are a convenient product to use at home, many prefer this over other methods to fade acne scars. However, you should know which peel is best suited for your skin. Do not worry! We can help you choose the best product for your skin. Scroll down to check out the list of the best 11 chemical peels that can do wonders for your skin and fade away the stubborn scars.
11 Best Chemical Peels For Acne Scars – Our Top Picks
The Divine at home OTC chemical peel for acne scars is the holy grail you need for skin that acts up every chance it gets. It contains 40% glycolic acid, which effectively rids the skin of acne scars, reduces fine line, pore size, and tightens the skin to restore its youth. You simply need to carve out 5 minutes of your busy schedule if you don't have the time and energy for beauty treatments. It is suitable for all skin types, saving you the hassle of finding a product that doesn't make your face feel too dry or too greasy.
Pros
Improves skin tone
Stimulates collagen production
Reduces pore size and fine lines
Repairs skin damage from UV rays
Cruelty-free
Cons
May take time to deliver results
Price at the time of publication: $16.99
The Yeouth glycolic acid gel peel is a blend of 30% glycolic acid, green tea, and retinol. These potent ingredients work their magic to boost skin collagen production to save you from early aging signs. This acne scars chemical peel pulls away blackheads and whiteheads with regular use, revealing cleaner skin. If you have complaints of hyperpigmentation and sun damage, count on this gel peel to fade them away with time. Check out this YouTube video for more information on the Yeouth Glycolic Acid 30% Gel Peel.
Pros
Fights blackheads and whiteheads
Fades hyperpigmentation
Nourishing
Paraben-free
Cruelty-free
Vegan
Cons
Price at the time of publication: $9.99
The QrxLabs Salicylic Acid 20% Gel Peel can be the best choice for you if you want to obtain glowing skin. There is no need to shell out cash for pricey spa treatments when you may receive nourishing skin from the comfort of your home with this peel. The 20% concentration of medical-grade salicylic acid in the gel peel works wonderfully for any difficult skin treatment. You can expect to achieve healthy skin from the goodness of green tea extracts and tea tree essential oil, both of which are crucial for battling acne and thus reducing skin irritation. It is advised that you properly wash your skin before using the treatment, and then use an applicator pad to gently apply the gel peel. Thoroughly rinse your face after letting the mixture sit for 5 to 10 minutes.
Pros
Treats acne
Controls sebum production
Silicone-free
Paraben-free
Dye-free
Fragrance-free
Cons
None

Price at the time of publication: $19.95
The Voibella Beauty chemical peel packs the goodness of anti-aging perks on top of its acne scar-clearing properties. This triple action peel is a concoction of glycolic acid, pyruvic acid, and lactic acid, which are among the most remarkable AHAs for the skin. This peel comes off in the form of small particles to prevent pulling of the skin and irritation as a result. It provides gentle chemical exfoliation for acne while also acting on aging signs like wrinkles, and dull skin from the accumulation of dead cells. This is the best chemical peel for acne scars if your requisite is a paraben and sulfate-free peeling gel.
Pros
Eliminates dead skin cells
Brightens skin
Reduces the appearance of wrinkles
Boost collagen production
Made with natural ingredients
Cruelty-free
Cons
May not be suitable for severe acne
Price at the time of publication: $20.97
Hyperpigmentation, fine lines, wrinkles, or dead skin cells— put your finger on any of the skin issues and this deep chemical peel for acne scars will solve it for you. It contains 10% glycolic acid that helps loosen the bond between dead cells to peel them off easily. With a low pH level and a pure unbuffered formula, you can count on this peel if you have sensitive skin. If you're switching to natural skincare, this one is worth considering as the ingredients in this at-home chemical peel for acne scars are naturally sourced from sugar cane. Leave this peel on for 5 minutes and follow it up with a moisturizer for best results.
Pros
Smoothen skin
Evens the skin tone
Exfoliates
Low pH level
Cons
Some may find the consistency runny.
Price at the time of publication: $16.98
If you're losing hope because of the stubborn acne scars that just won't fade, you need this 20% glycolic acid-based acne scar chemical peel from Organys. It goes deep into the pores and cleans them of acne-causing agents while ridding the skin of visible scars. It is formulated with sodium hydroxide to make it suitable for sensitive skin. If you have an uneven skin tone due to exposure to UV rays, this peel will also work to brighten your complexion while clearing away excess dirt and pigmentation. When you're using a chemical peel primarily for deep exfoliation, this is the best chemical peel for acne scars that you can invest in.
Pros
Minimizes acne scars
Exfoliates dead skin
Reduces appearance of dark spots
Improves texture of the skin
Cons
Price at the time of publication: $11.97
If you're up for change from glycolic acid, set your hands on this lactic acid chemical peel from Skin Beauty Solutions. It brushes away excess oil and dirt and adds a burst of refreshment to your dull skin. We love this chemical peel for hyperpigmentation and acne scars because it blesses aging skin with its wrinkle and fine-line fading properties. This acne scarring chemical peel can be your go-to skincare solution for uneven skin tone, sun spots, blackheads and whiteheads.
Pros
Slows the aging process
Fades acne scars
Removes blackheads and whiteheads
Reduces pore size
Cons
Price at the time of publication: $23.0
Flawless complexion and brighter skin are no more a dream too far-fetched if you're using the OZNaturals micro peel. The key ingredient in this chemical peel is 30% glycolic acid that helps clear and smooth skin while lightening dark spots. It hyper exfoliates without irritating the skin— all you need is 4 minutes out of your busy day to witness the benefits of this chemical peel. Add it to your skincare regime and the results will be worth the investment and wait.
Pros
Adds glow to the skin
Non-GMO formula
Higher potency
Cruelty-free
Cons
Price at the time of publication: $20.0
These anti-aging exfoliating peel pads are all you need for a no-mess, hassle-free peeling experience if that's your style. Formulated specifically to address aging skin issues, this peel is enriched with salicylic acid and glycolic acid— a potent combination for reducing fine lines, dark spots, acne scars, wrinkles for enhanced skin texture. It is an alcohol, paraben, and sulfate-free formula so your skin stays safe from harsh chemicals. It is dermatologist-recommended so you can rest easy when using these effective pads for chemical peeling at home.
Pros
Reverses signs of aging
Dermatologist-recommended
Offers gentle exfoliation
Free of alcohol
Paraben
Sulfate-free
Cruelty-free
Cons
May have a tingling sensation
Price at the time of publication: $22.98
This 3-ingredient acne scars chemical peel instantly brightens the skin by exfoliating dead skin cells to reveal healthy, glowing skin. It contains water, 20% glycolic acid, and sodium hydroxide, which makes it suitable for sensitive skin. It reduces the appearance of acne scars and dark spots within several days of use. It is also nut-free, which takes care of those who have nut allergies. If you make it a point to shop cruelty-free skincare products, you'd totally want to use this chemical peel as it is leaping bunny certified. If you want to know more about the Open Formula Glycolic Acid Peel, click on this video.
Pros
Exfoliates
Brightens
Improves uneven skin tone
Suitable for all skin types
Silicone and paraben-free
Cruelty-free
Cons
May not have a very thick consistency
Price at the time of publication: $26.0
This chemical peel from Profounda's Jo Collections transforms the skin to youthful, glowing, and flawless-looking by conveniently replacing expensive skin treatments. It is infused with AHA and BHA that reduce the size of pores and fade away stubborn acne scars while keeping your skin hydrated. Some of the key natural ingredients that make it potent are lactic acid, glycol acid, salicylic acid, and pineapple enzymes. Let the peel stay for 2 minutes before peeling it off and washing it away to reveal a fresh and dewy face.
Pros
Moisturizes
Nourishing formula
Reduces sun damage
Fades hyperpigmentation
Cons
Contains artificial fragrance
Price at the time of publication: $39.0
Types Of Chemical Peels For Acne Scars
Superficial chemical peels are generally formulated with milder acids like AHA that aid in gentle exfoliation. Since superficial chemical peels only penetrate the outermost layer of the skin, you can use them when your acne results from agents like excessively oily skin, dirt, and environmental aggressors that settle on your face.
Medium chemical peels reach both the outermost and middle layer of the skin. A medium peel can cleanse your pores; thus, eliminating the oils and dirt trapped in the pores that might cause acne. Medium peels contain glycolic acid or trichloroacetic acid in different concentrations such as 10%, 20%, and 30% based on how potent you would like your chemical peel for acne to be.
Deep peels are game changers for people who have dull skin as they fully penetrate the middle layer and get rid of dead skin cells that may cause dullness, fine lines, and uneven skin tone. These peels often contain trichloroacetic acid or phenol.
When you set out to buy a chemical peel for your acne problem, you have to consider a few factors. Here's a segment on how you should choose a chemical peel that does your skin right.
How To Choose The Best Chemical Peel For Acne Scars?
If you have dry, oily, combination, or sensitive skin, make it a point to read the label and ensure that the chemical peel is crafted for your skin type. Some chemical peels may make the skin feel too dry. However, you can always follow it up with a moisturizer. For those with sensitive skin, chemical peels with sodium hydroxide are best suited. Ensure that the label reads hypoallergenic and the acid percentage is fairly low.
Are you trying to solve acne and scarring problems or do you need a chemical peel for other skin issues as well? Identify your skin issues to make the most out of your peel. Chemical peels can help fade hyperpigmentation, eliminate blackheads and whiteheads, reduce pore size and fine lines. So, understand your skin problem and find a peel that helps improve your skin.
The most common ingredients you'll find in a chemical peel are glycolic acid, AHA, salicylic acid, and phenol. The percentage of acids also varies from one peel to another. Glycolic acid in higher doses and phenol are suitable for severe acne. You can settle on a peel with salicylic acid if you have mild to moderate acne.
It is best to keep away from potential irritants and harsh chemicals, especially when you're trying to remediate acne, such as parabens, sulfates, alcohol, and silicones because you're letting the peel sit on your face for a while. You can also avoid gluten and nuts if you have allergies.
How Do Chemical Peels Help With Acne Scars?
Chemical peels contain acids that either offer deep cleansing or penetrate the skin surface to get rid of dead cells and promote the growth of new skin cells. They also cleanse the pores and eliminate the clogged substances. This helps in preventing you from breaking out and also lessens the appearance of acne scars over time.
How Often Should You Use A Chemical Peel?
Chemical peels are not your regular exfoliators as they contain acids. While these acids are completely skin-friendly, you shouldn't use chemical peels frequently. The ideal interval to leave between 2 chemical peel treatments is anywhere between 4 to 6 weeks. If the chemical peel for acne scars is too mild, you can increase the frequency of use, but limit it to twice a month.
We hope that our list of the 11 best chemical peels for acne scars help you find what's right for your skin type. While skin type is one factor to consider when picking the right peel, it would be useful to first identify what you expect your chemical peel to do for you. This will help you settle for either a superficial, deep, or medium peel. If you're still confused, do refer to our buying guide to steer clear of any confusion and make the right decision.
Frequently Asked Questions
Do chemical peels work for acne scars?
Yes, when formulated with the right ingredients, chemical peels work for acne scars.
Can chemical peels make acne worse?
If there are certain ingredients in the peel that don't suit your skin type or you're allergic to, it may worsen the acne.
Do chemical peels brighten the skin?
If your skin looks dull or dark from hyperpigmentation, many chemical peels help fade the hyperpigmentation to reveal brighter skin.
Can chemical peels damage your skin?
If a chemical peel has an irritant or it's formulated with an ingredient that you're allergic to, it may damage your skin. Sometimes, chemical peels can also damage sensitive skin if they're not formulated for such a skin type.
Is a chemical peel or microdermabrasion better for acne scars?
Chemical peels are a better alternative for active acne as microdermabrasion can irritate the skin or cause other issues like reddening of the skin.
Do chemical peels remove dark spots?
Yes, most chemical peels that contain glycolic acid can remove dark spots. However, it depends on the concentration and potency of the formula to decide how much time it might take and how evident the outcomes would turn out to be.
Can a chemical peel burn your face?
Some people may experience a burning sensation from a chemical peel if they have sensitive skin or if the peel is too strong for their skin.
Recommended Articles