Best China Glaze Glitter Nail Polishes And Swatches – Our Top 10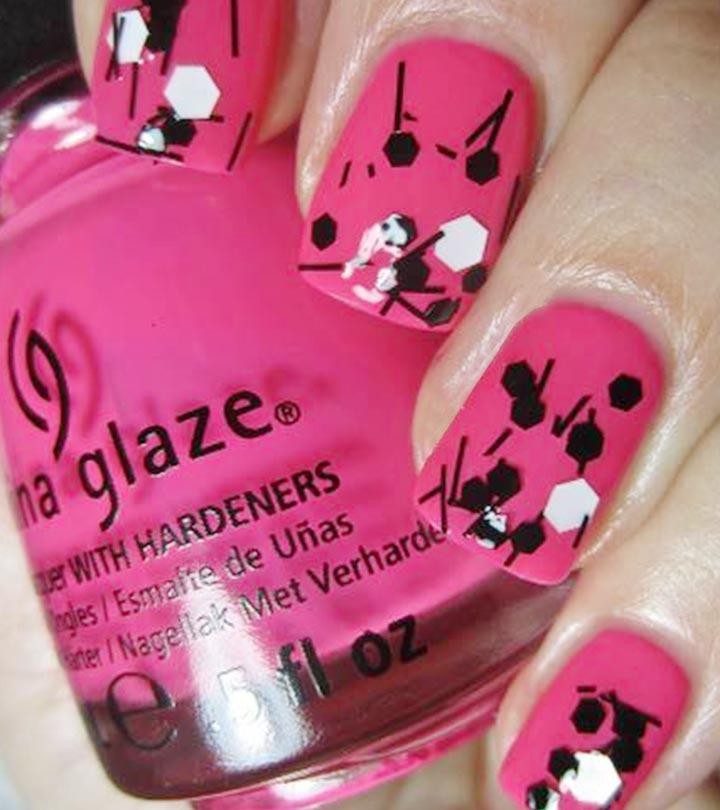 If you love to have glitter in your nail polish stash, China Glaze is one brand you definitely have to check out.
China Glaze can definitely be credited for having some of the most exotic and complex combination of glitters. And since they keep on coming up with new collections frequently, you will surely be spoilt for choice. All their gorgeous polishes contain China Clay as a nail hardener which gives nails a shiny, porcelain like finish. Check out the list of some of best among the China Glaze nail polishes with glitter combos that will surely make you drool
Here are some of the best and most lovable china glaze nail polish colours:
1. China Glaze Medallion:
We have come across so many gold polishes but none can match this one. Medallion is a clear polish packed with fine gold glitter and tonnes of holographic hexagon glitter. Check out how sparkly it is! Wearing this one is going to be like having real gold on your nails :) You can wear multiple coats or layer it over a dark polish.
2. China Glaze Glitter All The Way:
I think this is one of the most unique glitter polishes I have ever seen. Glitter All The Way is a clear polish with green, gold, red and purple glitters in different sizes. It looks so good on its own rather than layering it.
3. China Glaze Mosaic Madness:
Hexagon glitter polishes are quite common but it becomes so much fun with others added to it. Mosaic Madness is a clear polish with medium light blue, chunky dark blue, large black hexagon glitters and black bar glitters. I love how it looks over the light blue polish. Just one coat over any polish is enough to get all that glittery goodness on your nails.
4. China Glaze Its A Trap-eze:
Here is a polish with glitters that is not too in your face. Its A Trap-eze is a milky white polish filled with multicolored glitter in different sizes. It includes pink, red, green, gold, blue, orange and white ones. Pretty pastel looking polish. Requires two coats.
[Read:Nail Art Tattoo Designs]
5. China Glaze Full Spectrum:
This one belongs to their Prismatic Chroma Glitter collection. Full Spectrum is a clear polish packed with so many different glitters, it is hard to point out which ones it has. The complexity of the glitters makes it pretty and unique. Requires three coats but you can also layer this one on a black polish.
6. China Glaze Whirled Away:
Black and white glitters are really difficult to find but once you have them, you can jazz up almost any polish with it. Whirled Away is a clear polish with chunky black and large white hexagon glitters and black bar glitters. This is my favorite of the lot due to its versatility. Add two coats for best results.
7. China Glaze Scattered and Tattered:
Scattered and Tattered is a clear polish with different sizes of red and black hexagon glitters and some black bar glitters. I love how this one looks over the pink polish but it will also go well with white. Layer on about two coats.
8. China Glaze Cosmic:
I love black polishes and with glitter, it is like icing on the cake. Cosmic is a black polish filled with fine holographic glitter. It reminds me of the night sky with lots of twinkling stars. Requires two coats.
[Read:French Tip Nail Art Designs]
9. China Glaze Glitter Goblin:
Glitter Goblin is a pretty polish from their Wicked Halloween collection. It is a clear polish with fine copper, silver and holographic silver glitter. It sparkles like crazy in sunlight. Here are two coats over a red polish but you can get full opacity in three coats on its own.
10. China Glaze Tinsel Town:
This is the perfect polish to wear to a party. Tinsel Town is a gorgeous clear polish with blackish silver glitters. Requires only two coats to achieve full opacity.
The following two tabs change content below.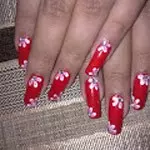 Latest posts by Neha Mane (see all)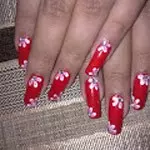 Neha Mane
I am a degree college professor who loves hoarding makeup. Totally addicted to nail polishes and nail art :)