Best China Glaze Nail Polishes And Swatches – Our Top 10
Paint or harden your nails with these colorful shiny hues from China Glaze.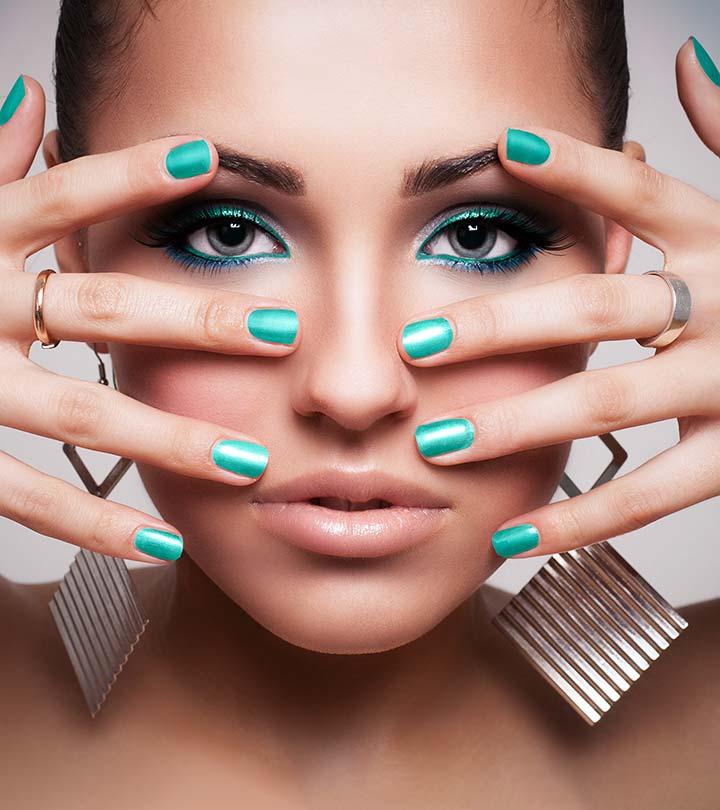 China Glaze nail polishes incorporate China clay in their formula to give them a shiny finish. They also work as nail hardeners. You can find the best China Glaze nail polish with a shimmery, matte, and creamy finish. These nail colors are smooth and do not have a very thick consistency. For more than 13 years, China Glaze has been blessing us with high-quality nail polishes that have been a favorite of modern women. We have rounded up the best China Glaze nail polish and swatches of various shades. Check them out below!
The Best Of China Glaze Nail Polish Colours
This polish comes from their Hunger Games collection. Stone Cold is a dark grey polish with silver shimmer and a matte finish. I like how the shimmers and the matte look give the polish a sandy feel. If you do not like it matte, you can also add some topcoat to bring out the silver in it. Requires two coats.
This polish screams neon. Pool Party is a bright neon fuchsia pink in a creme finish. Not a shade that everyone will dare to wear, but it would look awesome during summers. Requires two coats.
Agro is a lovely metallic olive polish with gold shimmer in it. A refreshing change from the regular greens so everyone can try this. Requires two coats.
 [Read: Top Indian Nail Polish Brands]
Another pretty polish for summers. Four Leaf Clover is a really bright aqua type green in a creme finish. This one is going to attract a lot of attention. Requires two coats.
Here is a polish in one of my favorite colors. Igniting Love is a gorgeous orange – red polish in a creme finish. Those of you who want to try reds but are afraid to do so, try this one. It is bright but still not too loud. Requires two coats.
What is not to love in this one? Strawberry Fields is a pretty pink polish with lots of gold shimmer in it. This one is something that everyone can wear. The polish would look great for festive occasions. Requires three coats.
This hot pink color is made with a balance of polymers and resins to offer long-lasting color and shine. This nail enamel is chip-resistant and does not fade easily, and is quick to dry. It requires no thinners as the nail enamel doesn't thicken inside the bottle. The brush with 36% more fibers is uniquely designed to offer more coverage in fewer strokes.
A gorgeous polish for all red lovers. Ruby Pumps is a dark red polish with lots of glowing red shimmer in it. It is perfect polish to wear for a festive occasion or a night out. Requires three coats.
[Read: Revlon Nail Polishes And Swatches]
If you wanted to wear yellow on your nails but shied away from the color, here is the answer to your problems. Lemon Fizz is a muted light yellow in a creme finish. I love this shade for bits and am waiting to get my hands on it. Requires three coats.
Diva Bride is a pretty nude polish in a creme finish. Requires three coats.
*Subject to Availability
Why Trust Stylecraze?
Jyotsana Rao is a makeup enthusiast who loves wearing China Glaze nail polishes because of their shiny finish and nail hardening quality. After conducting a thorough research, she has carefully curated the list by picking the best ones for her readers. She is a die hard fan of these nail colors because these versatile nail lacquers offer shimmery, matte, as well as creamy finish.
Frequently Asked Questions
Is China Glaze a gel polish?
Yes, China Glaze offers gel nail polish for salon-styled manicures and pedicures.
How long does China Glaze last?
China Glaze nail polish lasts approximately 2-3 weeks when applied the right way.
How do you keep China Glaze from chipping?
Use a good-quality base and top coat to seal your China Glaze nail polish and prevent it from chipping.
How long does it take for China Glaze to dry?
The fast-drying China Glaze polishes dry in two minutes.
Does China Glaze require UV light?
Unless the packaging mentions it, most China Glaze polishes dry naturally.
Is China Glaze vegan?
No, only some products from the brand are vegan.
Recommended Articles