Top 30 Chocolate Brown Hair Color Ideas
Give your hair that natural brown color that makes you stand out in the crowd.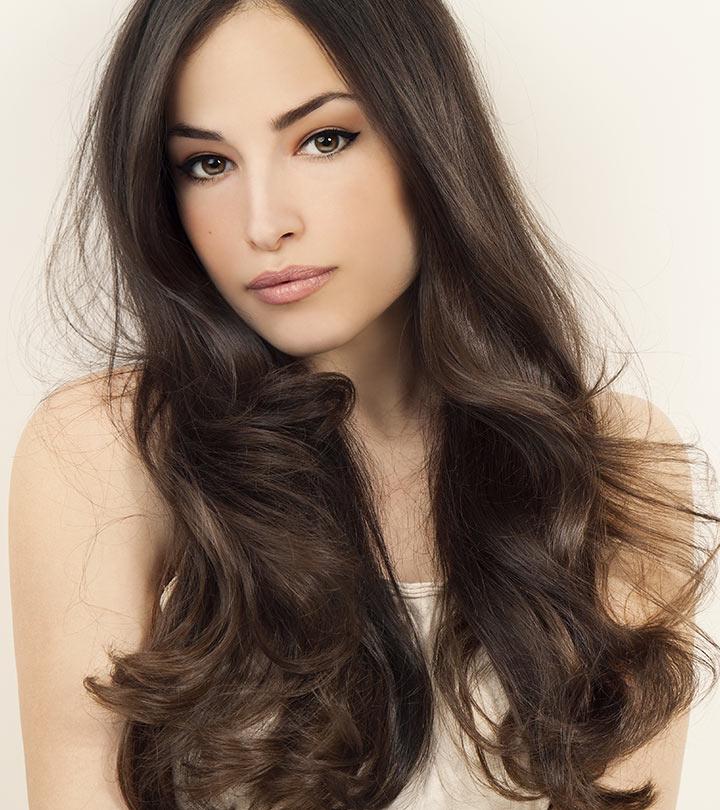 Rich, creamy, melting chocolate. Find me one woman who does not love this food of the gods. Naturally, it doesn't come as a surprise that one of the most popular shades is the chocolate brown hair color trending on Instagram, blogs, and other hair care platforms. It is rich, vibrant, and oh-so-classy. From rich cocoa fudge to creamy mocha, these hair dyes come in so many different shades, giving you a multitude of hair coloring options to choose from.
Once you have your color down, all there is left to do is decide on the style and placement. Below is a list of 30 chocolate brown hair color ideas that have just the right amount of brio to get you inspired.

Quick Hair Color Guide: Chocolate Brown
How To Choose A Shade: For fair skin tones with warm undertones, try warm undertones like rich brunette brown. For medium-dark skin and cool undertones, pick ashy colors and deep brown shades.
Level Of Maintenance: Medium
Suitable For: All skin tones and hair types
Looks Best With: Golden or brown eyeshadow and dark lip shades like wine
Chocolate Brown Hair Color Ideas
1. Smooth Chocolate
Chocolate with micro ombré to add dimension is one of the best ways to make fine hair appear full and voluminous. If you have straight hair, this might just be the style for you. Not only is the color rich and vibrant, but it also has well-blended highlights that make the style dynamic.
2. Mocha With Highlights
Finding the right shade of chocolate brown can be a little tricky when you have a cool skin tone. This unusual blend of ice-blonde highlights with milk chocolate brown looks great on cool skin. The hairstyle is dynamic and works for people with fine hair. The trick to getting the perfect highlights is to ensure that they aren't chunky.
3. Molten Caramel
This amazing melt from a rich chocolate brown to molten caramel is the stuff that dreams are made of. The warm colors look stunning when paired with warm toned skin and eyes that are hazel or brown. The balayage begins at the mid-lengths of the hair creating a beautiful melt. You can also use toffee hair color instead of caramel for a warmer undertone.

Trivia
Selena Gomez showed off her gorgeous molten caramel highlights at the 2020 Hollywood Beauty Awards.
4. Cherry Ripe
Spruce up your natural brunette with dark cherry tones. This chocolate and cherry combination is off the rocks and the perfect way to change up brunette locks. The best thing about the deep red hue is that it looks great on cool and warm skin tones alike.
5. Dimensional Brunette
This two toned chocolate brown lob has dimension and screams out chic. If you've been planning a massive hair change, haircut included, this is probably the perfect style for you. It is seasonless with perfect beach waves and a winter color that is rich and full of character. It also looks good on all skin tones and complexions.
6. Chocolate With Cinnamon
Here's another awesome color for all the cool-tone lovers of chocolate brown. The smooth transition from dark brunette to cool cinnamon creates an amazing balayage that adds volume and texture. If you have cool toned skin, this is possibly one of the best hair color options for you.
7. Smooth Dark Chocolate
This is one of the richest chocolate browns out there. Although the style is single-toned, the invisible layers add depth and put the hair's smooth texture on show. The dark chocolate hair color looks amazing on warm and olive skin tones, especially when paired with brown eyes. This is one of the easiest hairstyles to maintain.


Trivia
Actress Scarlett Johansson sported a dark chocolate mane at the Avengers: Infinity War premiere.
8. Rich Caramel Twists
Burnt caramel sauce. It might not sound appetizing, but that's probably only because you have not tried it. This gorgeous hair color pairs so well with chocolate brown. The rich red hues combined with the dark brunette create a beautiful combination that looks like a rich chocolate cake with just enough dimension. It looks great on all skin tones but exceptionally gorgeous on olive skin and hazel eyes.
9. Cocoa Goodness
The perfect color for hair that looks like it was dipped in cocoa beans. If you want the whole world to see your love for chocolates, there is no better way to do it than with hair color. This deep warm color looks great on people with a warm skin tone.
10. Piecey Balayage
If you have cool-toned skin, getting some chunky balayage pieces with dark chocolate hair might be a great idea. Unlike the traditional balayage this style does not transition into a lighter color. Rather, it incorporates chunky balayage-style highlights from the mid-lengths of the hair. This would pair really well with jewel-toned eyes.
11. Milk Chocolate Swirl
If you love chocolate brown but aren't sure whether you should dive right into it, this might be just the color for you. The milk chocolate roots transition into a smooth creamy blonde in this beautiful balayage style. It is perfect for women with cool toned skin and jewel-toned eyes.
12. Dark Chocolate Waves
Dark chocolate waves are an all time favorite. The best way to rock this classic color is to get subtle micro highlights that make the color pop and style more dynamic. The dark color resembles a chocolate syrup waterfall and looks great on everyone regardless of skin tone or eye color.
13. Cool Milk Chocolate Highlights
Can't decide between dark chocolate brown hair color and milk chocolate brown hair color? Why not just do both? This style incorporates the two favorite colors in a textured balayage. The balayage starts quite close to the dark roots and transitions smoothly into a creamy milk chocolate color. This color looks best on warm skin tones and dark eyes.
14. Milk Chocolate Melt
We've looked at a lot of dark chocolate melts that incorporated rich caramel tones, but here's something for the milk chocolate lovers. The beautiful light brown transitions into a creamy lighter color. This is perfect for warm skin tones.
15. Warm Chocolate Brown
This is another preferred chocolate brown color. The warm shade looks like a beautifully molten chocolate bar and is best styled with beach waves. Although it looks amazing on all skin tones, it is best worn by women who have warm-toned skin. If you want a natural look, this shade should be on top of your color options.
16. Cool Honey Balayage
This beautiful hairstyle is very similar to a chocolate brown balayage. However, the transition is a less smooth seeing that the highlights do not start at the mid-lengths and are focused more near the ends of the hair. This is an excellent way to add texture to your hair while coloring it.
17. Copper Highlights
Copper is a favorite warm tone, especially if you have smooth hair that needs a little bit of sprucing. The best way to get copper highlights is to go micro and ensure that they are well blended. This is an amazing style for fine hair as it adds texture and volume.
18. Chocolate And Chestnut Blend
Chestnut and chocolate, the two favorite brown tones blended into one style. This vibrant color is perfect for women with warm and olive skin tones. The dark brown lowlights add depth and dimension to the style. It pairs well with both brown and jewel-toned eyes.
19. Cappuccino Balayage
This sun-kissed balayage incorporates the perfect melt from dark brunette to a cool cappuccino. It is an awesome color for women with cool skin tones. It pairs well with jewel-toned eyes as well as brown eyes. The smooth transition means fewer touch ups and the style is easy to maintain.
20. Chocolate Fondue
Ever seen a hair color that feels like it will melt if you stare too long? This is one of them. The smooth and gorgeous style looks almost as if it gained its color after being dipped in a creamy bucket of chocolate fondue with milk chocolate chips sprinkled on top. The micro highlights make the warmth of the color pop. This shade looks amazing on women with an olive skin tone.
21. Sleek Mahogany
Who does can not admire mahogany? The rich warm color is perfectly displayed with the use of dark chocolate lowlights. If you have fine straight hair, this style will go a long way in making your hair look more textured. The color looks good on women with warm skin tones.
22. Rich Chocolate Lob
Chocolate hair and a shaggy lob—one of the biggest causes of hair envy. If you are super low-maintenance. This is the style to go for. Apart from your occasional touch-up and trim, you will spend close to no time on making your hair look good because it's so extremely hard to go wrong with this style.
23. Two-Toned Dark Chocolate
Did someone say dark chocolate? Because this color is its perfect embodiment. The black in this style perfectly enriched with the darkest of brown tones. The color is vibrant, bold, and so hard to go wrong with. Regardless of skin tone or complexion, this is one color that anyone can pull off.
24. Brunette Sombre
A sombre is nothing but a subtle ombre, and this hairstyle is the sombre at its finest. If a long natural look is what you are going for, this is probably where the search stops. The gradual lightening of the hair is so smooth that it leaves no need for a touch up. This gorgeous color is best worn by women with cool and olive skin tones.
25. Honey Glaze
Talk about sun-kissed. This honey-caramel glazed chocolate brown hair is a serious cause of hair envy. The color is rich, warm, and vibrant. The honey highlights and chocolate brown lowlights create some serious dimensions that will leave even the finest of hair looking dynamic and voluminous.
26. Textured Chocolate Brown
Milk and dark chocolate come together again to form this perfectly textured chocolate brown hair color. The long bob needs minimal maintenance and the two-toned hairstyle makes this simple style more dynamic. It's a style that looks good on any skin tone, but best on women with cool toned skin.
27. Hazelnut Balayage
It is so hard not to love a good balayage. From a dark chocolate brown to a rich creamy hazelnut shade, this melt is one of the best ones we've seen. The highlights begin at the mid-lengths and have also been shrewdly placed towards the front for some meticulous framing. This beautiful style looks good on all skin tones as well as eye colors.
28. Chocolate Root Melt
This is one of the most gorgeous root melts that we've seen. If you want to keep your natural chocolate brown hair color, but have been wondering what you'd look like if you were to go blonde, this might be just the color for you. Starting off with a beautiful milk chocolate brown this color fades to a creamy blonde. This style should be on top of your color options if you have a cool skin tone.
29. Warm Espresso
Hair that glossy should be illegal! Have you ever admired the colors in your espresso when drinking it in a well-lit area? This beautiful hairstyle seems to have all those shades down to the tee. There is no possible way you could go wrong with this gorgeous color as it looks good on all skin tones and pairs well with all eye colors.
30. Copper Tinted Ombre
And finally here's a good old ombre. If you can't help but admire the warm tones, this is probably the right color for you. The chocolate brown fades beautifully to a copper. This is the perfect hair color for women with warm skin tones and brown eyes.
Infographic: Top 10 Gorgeous Chocolate Brown Hair Colors To Experiment With
Chocolate brown hair, much like the favorite sweet, is rich, creamy, and utterly delightful. It's no surprise it's a trending hair color. While this article has many chocolate brown shades for you to choose from, we curated a list of the highest trending shades for you to try.
Check out the infographic below to know the top ten gorgeous chocolate brown hair colors to experiment with.


Chocolate brown hair color is one of the most commonly seen hair colors. The color is trendy, stylish, classy, and looks so rich and elegant on anyone who dons it. There are several shades of chocolate brown, like the rich cocoa shade, creamy milk chocolate shade, molten caramel, or smooth dark Chocolate. These shades help accentuate your hair pattern and add depth and style to your hair. The hairstyles and coloring ideas shared above may help you choose the one that suits you.
Frequently Asked Questions
Does chocolate brown hair make you look older?
No, chocolate brown hair doesn't make you look older. On the contrary, it has a warm tone that gives you a youthful appearance.
Is chocolate brown lighter than dark brown?
Chocolate brown is a deeper shade of brown with red and golden undertones. On the other hand, dark brown combines cool and warm undertones and is a muted shade of brown.
Is chocolate brown hair hard to maintain?
Depending on the natural color of your hair, the level of maintenance for chocolate brown hair dye ranges from medium to easy. For instance, if you naturally have dark hair, trying to maintain chocolate brown hair dye won't be a problem. If you have lighter hair, you'll need touch-ups as your hair grows out
How long does chocolate brown hair dye last?
The dye begins to fade at about two weeks, and is gradually lost over time.
Is chocolate brown hair warm or cool?
Chocolate brown hair dye is a warm, medium-to-dark color that is richly evocative. All skin tones can benefit from this product's subtle cocoa undertones, but those with warmer complexions will gain the most because it brings out the bronze and gold undertones in their skin.
Can I dye my hair chocolate brown at home?
Chocolate brown is the perfect hair color to dye at home. The only advice one should keep in mind for this color is to opt for a lighter shade than your natural hair color, as brown hair dyes tend to go darker.
Who can wear chocolate brown hair color?
Women of all ages and skin tones can wear chocolate brown hair color because it is dark, timeless, and incredibly flattering. Chocolate hair can be made to take on a variety of accents and be altered to appear fuller, shinier, and richer by using various dyeing methods and fashions.
Looking for some inspiration for your next hair color? Check out the video that features 50 chocolate brown hair color ideas with names and get ready to rock your new look.
What are your favorite chocolate brown hair colors? Tell us in the comments section below.
The following two tabs change content below.