The 10 Best Chopsticks – Reviews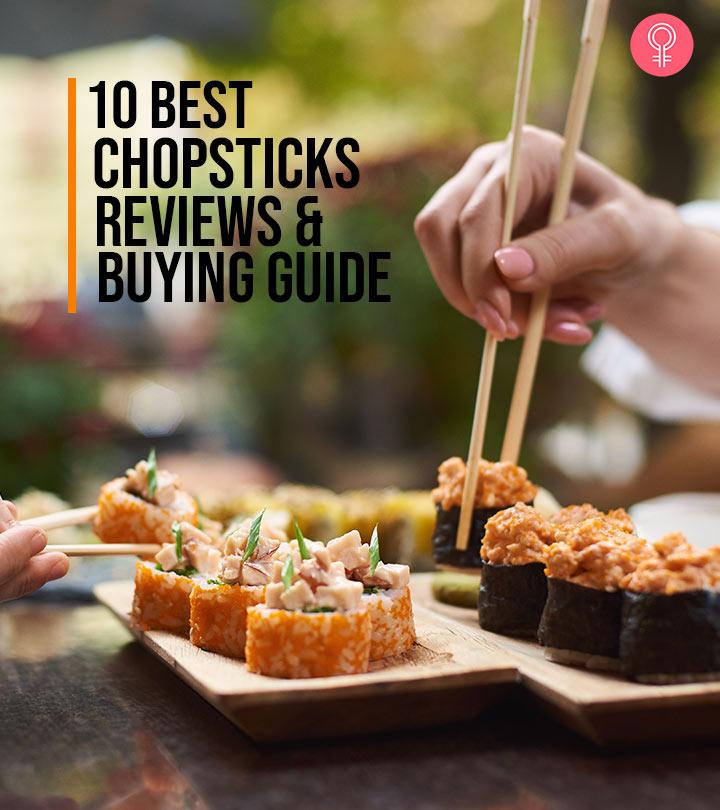 Chopsticks have been an integral part of Eastern culture for more than three millennia. Initially, the Han Dynasty used bronze chopsticks for stirring the fire, serving food, and cooking. Later, chopsticks became tableware utensils, thanks to the Ming Dynasty. Today, you can find single-use and reusable chopsticks of varying styles. There are different types of chopsticks based on ethnic factors, material, and length. It is not just about preference. There are numerous factors to consider while buying chopsticks. In this article, we have listed the top 10 best chopsticks and take you through the buying guide to help you narrow down your search. Take a look.
The 10 Best Chopsticks
The Hiware Fiberglass Chopsticks are made of heat-resistant fiberglass, so you do not get the harsh metallic taste or burr flavor of metal or wood while eating. These reusable chopsticks are non-slip as they have non-cylindrical and angular structure design for better control. The frosted texture allows users to hold on to the food without much effort. These are traditional Japanese styled chopsticks with cherry blossom patterns carved on it. While Japanese chopsticks are usually short, this pair is quite long, allowing convenience for first-time users. They can withstand temperatures up to 356°F without bending, cracking, or melting and are dishwasher-safe.
Specifications
Material: Fiberglass
Weight: 11.2 ounces
Dimensions: 9.9 x 3.1 x 0.7 inches
Pros
Dishwasher-safe
Temperature-resistant
Reusable
Lightweight
Durable
BPA-free
Cons
The HuaLan Natural Wood Chopsticks are healthy and durable. They are lightweight and comfortable to hold while eating. These chopsticks are food-grade, eco-friendly, and kid-friendly. They are made of jujube wood, which is free of BPA, PVC, and phthalates. The chopsticks have a lacquer varnish coating, which means you need not worry about splinters. Also, food particles will not be retained in the grains of the wood. However, this set might be a little slippery for first-time users.
Specifications
Material: Jujube wood
Weight: 4.5 ounces
Dimensions: 9.5 x 4 x 0.8 inches
Pros
Lacquer varnish
Reusable
Lightweight
Cons
No gripping texture
Slender
These titanium chopsticks are durable, sturdy, and weightless. Titanium chopsticks are 60% lighter than stainless steel ones. They are easier to use on all types of food, easier to clean, and do not have a distinct odor or taste. The finessCity Titanium chopsticks come in an aluminum case, making it perfect for gifting. If you are looking for reusable chopsticks to carry during travel, this would be a good choice.
Specifications
Material: Titanium Weight: 1.41 ounces
Dimensions: 0.79 x 0.51 x 10 inches
Pros
Corrosion-resistant
Temperature-resistant
Lightweight
Bacteria inhibition
Eco-friendly
Cons
Slippery
Scratches porcelain
The Goldage Fiberglass Chopsticks guarantee 2-5 years durability, which is higher than chopsticks made of bamboo or wood. They are temperature resistant and have high tensile strength. Thus, they do not bend, break, crack, or melt. They are less slippery than metal chopsticks, but not as grippy as the wooden chopsticks. These chopsticks are lightweight and will not roll off the utensil or table, thanks to the square structure. They also have a good balance and are best for beginners. These chopsticks are certified to comply with food-contact standards.
Specifications
Material: Fiberglass, metalWeight: 5.3 ouncess
Dimensions: 9.45 x 0.2 x 0.2 inches
Pros
Square body
Durable
Temperature-resistant
Antimicrobial material
Cons
These are reusable and durable fiberglass chopsticks. They do not have a chemical coating, are heat resistant, and are made with food-grade material. The chopsticks are dishwasher-safe and can resist heat up to 200 °C. You can also use them to handle food frying in hot oil. Since the material is not water absorbent, it does not rust or corrode. The tip is square, giving it a good balance.
Specifications
Material: Fiberglass
Weight: 10.9 ounces
Dimensions: 9.84 x 2.99 x 0.67 inches
Pros
No coating
Durable
Non-slip structure
Does not scratch
Cons
The Happy Sales Disposable Chopsticks are made of wood with joint ends, making it easier for beginners to use them. It is best not to break them apart as uneven edges can cause splinters. These wooden chopsticks are a healthier option for kids and best for traveling. You may wash and reuse them multiple times, but they get stained easily. Also, the chances of bacterial growth are higher if you reuse the disposable chopsticks. These chopsticks are available in a pack of 40 and more.
Specifications
Material: WoodWeight: 5.4 ounces
Dimensions: 8.11 x 4.29 x 0.59 inches
Pros
No coating
Biodegradable
Inexpensive
Cons
The box contains five pairs of bamboo and stainless steel chopsticks. The high-grade stainless steel chopsticks are polished for perfection and have an anti-slippery design. The bamboo ones are also polished and come with an etched design for an aesthetic look. The bamboo ones have mild indentations on the top to avoid slipping. These are best for beginners.
Specifications
Material: Bamboo, stainless steel
Weight: 6.4 ounces
Dimensions: 10.2 x 2.8 x 0.6 inches
Pros
Dishwasher-safe
Durable
Easy to use
Cons
The MFJUNS Wood Chopsticks are cute Japanese-style chopsticks made of four different kinds of wood – beech, Indonesian iron knife wood, sandalwood, and pearwood – with raw paint treatment. These chopsticks are non-corrosive and do not cause splinters. They have Japanese vein carvings and a pointed design, which is convenient to hold and use. This set has five pairs of chopsticks. If you wish to keep the product's quality intact, avoid storing it damp, and soaking in water for longer.
Specifications
Material: Wood
Weight: 4.8 ounces
Dimensions: 9.45 x 4.13 x 0.67 inches
Pros
Mildew resistant
Food-safe
Acid-resistant
Cons
<100℃ use
Not dishwasher-safe
The Mannice Reusable Chopsticks aare made of natural bamboo and are durable, versatile, and sturdy. These chopsticks do not absorb water nor swell when soaked. They are dishwasher-friendly and easy to clean. You might notice a distinct bamboo smell for the first few uses. As you use and wash them, the odor disappears. Although made of wood, these high-quality chopsticks do not cause splinters. These are food-safe and best for kids.
Specifications
Material: Natural wood
Weight: 0.81 ounces
Dimensions: 9.8 x 0.23 x 9.8 inches
Pros
No coating
Reusable
Cost-efficient
Cons
These ironwood chopsticks are a dense and durable model, suitable for dining, camping, and cooking. These have a distinct wooden odor that wears off after a couple of use. These reusable chopsticks are a healthier option for all ages. Since the wood undergoes burnishing four times before packaging, there are no splinters in these chopsticks.
Specifications
Material: Ironwood
Weight: 6.4 ounces
Dimensions: 10 x 3.8 x 0.4 inches
Pros
Dishwasher-friendly
Sturdy
Kid-safe
Cons
These are the best wooden chopsticks that you can buy. Let us now help you find out how you can choose the best chopsticks based on various factors.
How To Choose The Best Chopsticks – Buying Guide
Shape And Size: While the western countries consider 9.5 inches to be a standard length, traditional Japanese chopsticks are 8.3 inches long. Chopsticks that have a tapered end are more comfortable for beginners and convenient for eating slippery food items. However, some traditional chopsticks have a uniform shape. Some prefer square-shaped chopsticks, as they have good balance and do not roll off from the utensils or table. If you choose a narrow tip, it might be harder to eat food items like rice. Hence, pick as per your convenience and preferences.
Material: Traditional chopsticks are made of wood. These can be single-use or reusable. Stainless steel chopsticks are easier to use and cost-efficient. On the other hand, fiberglass and titanium chopsticks are a bit costly. Bamboo is considered the best material for chopsticks. It is environment-friendly and toxin-free as it does not need any fertilizer or pesticide.
Ease Of Use: Most high-quality chopsticks you find on the market are dishwasher-friendly. However, check whether they take time to dry or not, especially wood-based chopsticks. It is crucial to dry the chopsticks properly before storing them. Some of them have a chemical color coating, which might wear off with regular cleaning.
Textured Vs. Slippery: A few chopsticks have a textured body and are comfortable to grip while some have a smooth and slippery body. Textured chopsticks are not easy to clean as their surface may retain food particles, causing bacterial growth. On the other hand, smooth chopsticks might not be user-friendly.
Intended Use: If you plan to use the chopsticks for cooking, ensure to buy heat-resistant ones that are longer and without any paint or wax coating. If you plan to eat with them, buy models that can tolerate up to 100 °C heat. For camping and traveling purposes, choose products with a case.
Cost: Cost is an essential factor in choosing chopsticks. If you wish to make a greener and cheaper choice, it is best to choose reusable wooden ones. However, luxury, high-quality chopsticks are expensive.
One more factor you must consider is the type of chopsticks. There are several variable factors to classify chopsticks into different categories. Scroll down to read further.
Types Of Chopsticks
Chopsticks are classified into different types, depending on these factors:
Ethnicity
Traditional Japanese chopsticks are round and tapered at the end. They are shorter than their Chinese counterparts. The Japanese model is better for eating items like fish. Chinese models are rectangular with blunt ends. Therefore, they are comparatively non-slippery. You can find pointed tipped Chinese models in bamboo. The Korean models are made of silver or brass and have moderate length and ornate tops.
Material
You will get bamboo, wooden, synthetic, and metal chopsticks on the market. Bamboo is the most common and best material for chopsticks. The wooden chopsticks are usually made of woods like ironwood, peach wood, chestnut wood, and sandalwood. Synthetic chopsticks are made of plastic and polymer, while metal chopsticks are made of titanium and silver. You will also find stainless steel and melamine chopsticks.
Style
Chopsticks are often fashionably crafted. If you are looking for aesthetic factors, you can find lacquer-coated chopsticks with carved patterns and etchings. Fiberglass and titanium chopsticks look stylish and are popular among the younger generation.
Disposable Vs. Reusable
The disposable chopsticks are made of bamboo and come in different shapes and styles. They are for single-use and get spoiled when soaked in water for long. Reusable chopsticks are sturdy and dishwasher-friendly.
Length
The adult size ranges between 8 and 9.5 inches. If you are looking for kid-size, you can find chopsticks from 5.5 inches to 6.5 inches long. You can also find removable assists in the kids' models.
The most common confusion revolves around the material of the chopsticks. Is it customary to buy only bamboo chopsticks? Plastic sounds cost-effective, but is it safe? Here is everything you need to know about the material of your chopstick.
What Is the Best Material For Chopsticks?
Chopsticks are made of the following materials:
Wood: When it comes to wood, there are two options: bamboo and hardwood. Bamboo chopsticks are eco-friendly, dense, strong, and cheap. However, their quality goes downhill with time and use. Hardwood chopsticks like chestnut wood, boxwood, snakewood, sandalwood, or bird wood are durable, lightweight, and do not deteriorate as fast as bamboo. However, many sellers coat it with decorative paint or wax.
PPS: These chopsticks are very hard, sturdy, corrosion-resistant, and temperature-resistant. They are easier to clean and cost-effective. The most common PPS chopsticks are fiberglass chopsticks.
Melamine: Melamine is a traditional material and very common in Asian homes and themed restaurants. Melamine chopsticks are durable and economical.
Metal: Metal and alloy chopsticks (like stainless steel) are made with high-quality food-grade material. They are durable, economical, and aesthetically pleasing. However, they tend to scratch the utensils and can be slippery for beginners. If you are looking for a luxury metal option, silver chopsticks are common.
Plastic: Plastic chopsticks are economical, but not a healthy option. They are not temperature-resistant either. Even the best chopsticks in plastic would deteriorate with use, and the micro pieces can mix with your food.
In the end, it is all about your preferences. It is best to choose the material based on how comfortable you are with chopsticks, the type of food you want to eat, frequency of use, and cleaning methods. Go ahead and pick one from the list that matches your preferences.
Frequently Asked Questions
What kind of chopsticks do Japanese use at home?
Bamboo chopsticks are common in Japanese households.
Are chopsticks better than forks?
Yes, chopsticks are healthier and mindful options than forks
as chopsticks allow you to pick up food in bite-size, and you eat slowly and in small portions. The probability of overeating is lower with chopsticks.
Should you reuse wooden chopsticks?
Avoid reusing disposable chopsticks as the wood grains retain food particles, leading to bacterial growth. Buy reusable wooden chopsticks as they have a coating and are easy to clean.
Should chopsticks be round or square?
Usually, chopsticks are round from the top to the tip. However, for convenience, some models have square tops and round tips. The square structure makes it easier to gain balance, and the chopstick does not roll off the utensil or table. However, some square models could be bulky, even if lightweight.
Recommended Articles
The following two tabs change content below.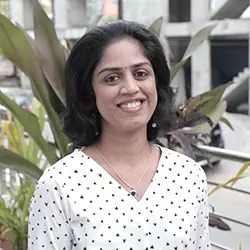 As Head Of Content Operations, Harini sets the tone and editorial direction for StyleCraze to deliver engaging, interesting, and authentic...
more