14 Best Chyawanprash Brands Available In India
Improve immunity, heart health, and digestion with ancient Ayurvedic supplements.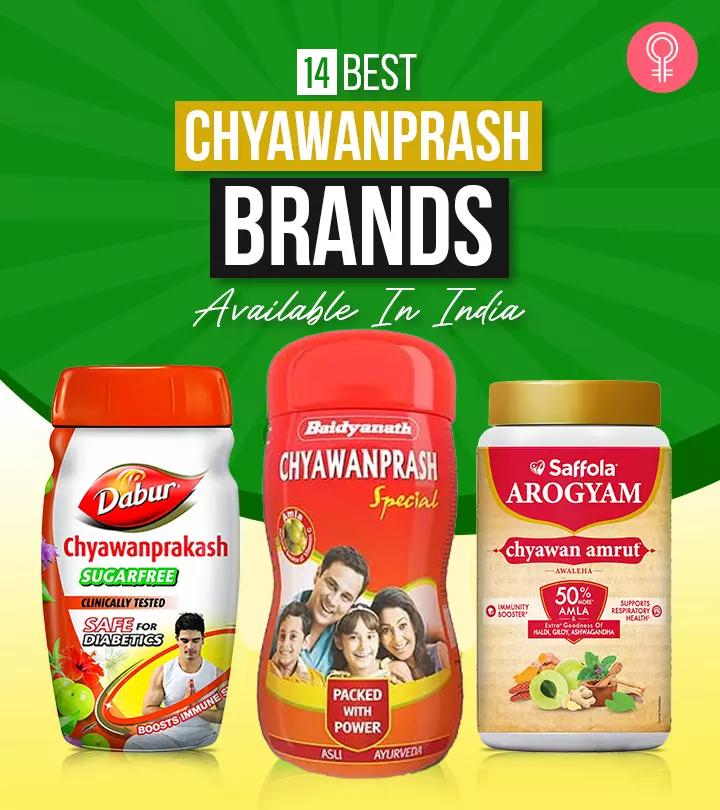 Chyawanprash is a traditional and Ayurvedic recipe loaded with numerous health benefits. Many Indian households consume chyawanprash as an essential in their everyday life. This miraculous Ayurvedic and antioxidant-rich nutritive is an answer to prevent health anomalies as it significantly boosts immunity and strengthens your vitality. It contains herbs that enhance heart function, promote digestion, and smoothen respiratory issues, slow metabolism, liver functioning, and loss of libido.
This powerhouse of extensive health-benefiting herbs also enhances cardiac functioning and improves memory and brain functioning. This article lists the 15 best chyawanprash brands in India. We have also included a buying guide that will help you pick the best chyawanprash. Check them out below.
14 Best Chyawanprash In India
Dabur is considered as the best chyawanprash brand in India. Its Chyawanprash: 2X Immunity is known for stimulating the body's immunity against cough, cold, and infections due to seasonal weather changes. It is enriched with immunity boosting ingredients like amla, giloy, shatavari, pippali, ashwagandha, mulethi, and 40 other Ayurvedic herbs.
Amla and giloy are loaded with antioxidant properties that help in boosting and enhancing immunity, while shatavari acts as a strength enhancer. Pippali, mulethi, and ashwagandha enhance your bioavailability, respiratory health, and boost energy for daily activities. With just two spoons a day, this best chyawanprash for immunity flushes out toxins from your body and benefits your digestive system, overall health, and well-being. The bottle comes with 43 spoonful servings for adults and children to fight against infections and allergies.
Key Ingredients: Amla, Giloy, Shatavari, Pippali, Ashwagandha, Mulethi, and other 40 Ayurvedic herbs
Pros
All natural and Ayurvedic ingredients
Tastes good
Clinically tested
Safe for all age groups
Cons
The Baidyanath Chyawanprash Special helps improve your vitality and keeps you active and energetic throughout the day. It is made with 52 Ayurvedic essential herbs, amla, ashwagandha, guduch, shatavari, pipal, giloy, pippali, and gokshura.
Amla is a rich source of vitamin C, while ashwagandha contains antioxidants, which, along with guduch, help in detoxifying your body and improving your overall health. Shatavari helps boost energy and vitality, and pipal flushes out toxins from your body to enhance your skin health. Giloy and pippali help in building resistance against common allergies and infections like cough and cold. They promote digestion, while gokshura improves strength and stamina. This best chyawanprash in India can be consumed twice a day to improve the body's resistance to illness.
Key Ingredients: Pure ghee, Amla, Shatavari, Ashwagandha, Giloy, Guduch, Pipal, Pippali, and Gokshura
Pros
Vegan
Tastes good
Suitable for all age groups
GMP certified
Cons
None
The Dabur Chyawanprakash Sugarfree is a savior for those who have diabetes and a weak immunity system. It is formulated with amla, ashwagandha, giloy, and mulethi, which have beneficial properties that help people with diabetes cope with everyday allergies and ailments. Amla has antibacterial, antioxidant, and astringent properties, which help boost the immunity system. Giloy and ashwagandha have antioxidant properties that strengthen your immunity while keeping you energetic for day-to-day activities. The mulethi infused in the formula helps your body combat common infections like cold and cough.
Key Ingredients: Amla, Ashwagandha, Mulethi, and Giloy
Pros
Delicious taste
Vegetarian
Clinically tested and approved
Cons
The Cureveda Pureprash is packed with Ayurvedic goodness and helps enhance your immunity to fight against common allergies. It contains the highest content of amla, which is a rich source of vitamin C and has antioxidant properties that strengthen vitality. The chyawanprash also contains 29 botanical herbs that include saffron, ginseng, shatavari, laung, and tribulus, which support your digestive system and overall health and well-being.
Tribulus helps improve vitality and vigor, and saffron provides nutrition to enhance your immunity. Ginseng is an adaptogen that helps balance and reduce stress, and shatavari fights immuno antigens. This chyawanprash also aids in sharpening your memory and digestive system. The brand produces small and fresh batches packed in glass bottles to keep the beneficial properties intact and maintain its antioxidant value.
Key Ingredients: Amla, Saffron, Ginseng, Shatavari, Laung, and Tribulus
Pros
Low in calories
GMP and ISO certified
Sugar-free
Toxin-free
Harmful chemical-free
Artificial color-free
Artificial flavor-free
Paraben-free
Corn-free
Soy-free
Wheat-free
Dairy-free
Sodium benzoate-free
Cons
None
The Saffola Arogyam Chyawanamrut shields you against everyday ailments and infections. It is made with 45+ Ayurvedic herbs, including amla, haldi, tulsi, dalchini, giloy, shatavari, ashwagandha, sunthi, kali marich, bala, and vidarikand. This potent blend of herbs helps your body combat various respiratory ailments. It also relieves infections and allergies caused due to seasonal weather changes and environmental aggressors.
Amla, giloy, ashwagandha, and haldi help boost immunity, while bala, shatavari, and vidarikand help strengthen the muscles, build stamina, and improve energy. Sunti, kali mirch, dalchini, and tulsi relieve sore throat, cold, cough, and other respiratory infections. This chyawanprash can be consumed by all family members throughout the year to improve health and immunity.
Key Ingredients: Amla, Haldi, Giloy, Ashwagandha, Tulsi, Dalchini, Sunthi, Kali Marich, Bala, Shatavari, and Vidarikand
Pros
Ayurvedic formula
Tastes good
Suitable for all age groups
Vegetarian
Cons
The Dhootpapeshwar Swamala Chyawanprash is rich in vitamin C, thanks to amla infused in it. It helps ensure healthy body functioning and prevents frequent ailments. Amla also acts as a beauty enhancer that promotes cell regeneration to fight against free radicals and make your skin look younger. This chyawanprash helps replenish and retain the lost energy, vigor, vitality, and strength and increase stamina. It not only improves immunity but also enhances mental health and strengthens the bones.
Key Ingredients: Amla
Pros
Safe for all age groups
Value for money
Cons
Price at the time of publication: ₹84.99
The Baidyanath Kesari Kalp Royal Chyawanprash is made with a rare combination of 44 Ayurvedic herbs combined with gold, silver, and saffron. This potent blend improves your vitality to help you get through the everyday chores without feeling tired. It contains essential herbs like ashwagandha, kesar, white sandalwood, amla, banslochan, and abhrak bhasma.
Ashwagandha, kesar, and white sandalwood calm your nerves, promote a healthy nervous system, and lower your stress levels. They help you feel less anxious and more relaxed and rejuvenated throughout the day. Amla, banslochan, abhrak bhasma, gold, silver, and saffron are powerhouses of potent antioxidants and vitamin C that helps boost your immunity. The formula also strengthens the muscles and protects your skin from free radical damage.
Key Ingredients: Ashwagandha, Kesar, White Sandalwood, Amla, Banslochan, Abhrak Bhasma, Gold, Silver, and Saffron
Pros
All natural and Ayurvedic formula
Good taste
Value for money
Vegan
GMP certified and approved
Cons
The Kerala Ayurveda Chyavanprash is 100% natural and made with wholesome Ayurvedic herbs. This best-quality chyawanprash rejuvenates and strengthens your body for a healthy and stress-free life. It is enriched with highly beneficial herbs like pippali, draksha, amla, and pushkaramoola.
Draksha relieves recurrent allergies like cough and cold caused by bacteria, viruses, and weather changes. Amla is a rich source of vitamin C, which helps flush out the toxins from your body, while the phyto-ingredients purify the blood impurities and regulate liver functions. Pushkaramoola helps improve respiratory health and retain the balance between vata, pitta, and kapha. Pippali's brain rejuvenating properties promote memory, intelligence, and concentration.
Key Ingredients: Pippali, Draksha, Amla, and Pushkaramoola
Pros
100% natural
No added sugar
Paraben-free
Chemical-free
Artificial color-free
Fragrance-free
Mineral oil-free
Petroleum-free
Cons
May not be suitable for people with diabetes
The Siddhayu Chyawan Yogue Chyawanprash is enriched with zinc that is highly essential for smooth body functioning. The zinc infused in this formula is sourced from aloe vera juice to create bioactive nanoparticles that boost immunity. It also contains giloy, ashwagandha, shatavari, flax seeds, sunflower seeds, jaggery, black raisins, and pure cow's ghee.
The formula is naturally sweetened with jaggery and black raisins. Giloy, ashwagandha, and shatavari help you recuperate from respiratory ailments caused due to seasonal weather changes. Flax seeds and sunflower seeds are rich in fiber and omega 3 and 6 essential fatty acids. Pure cow's ghee has a high amount of DHA, which makes this chyawanprash nutritious and healthy.
Key Ingredients: Zinc, Flax seeds, Sunflower seeds, Jaggery, Black raisins, Pure cow's ghee, Giloy, Ashwagandha, and Shatavari
Pros
No refined sugar
Contains pure botanicals
Low in calories
Gluten-free
Soy-free
Flavor-free
Color-free
Cons
The Jiva Ayurveda Chyawanprash is formulated with 40+ immunity boosting herbs and antioxidants. The potent formula helps rejuvenate the body while improving muscle power and strengthening your memory. It is enriched with herbs like amla pishthi, mulethi, brahmi, haritaki, and gikshura that enhance your overall strength and well-being.
Amla pishthi is rich in nutrients and has immuno-modulating benefits, while mulethi has anti-inflammatory properties that help relieve seasonal ailments like cough and cold. Brahmi's antioxidant properties help eradicate free radicals to make your skin look glowing, and gookshura promotes the natural functioning of hormones to enhance vitality. Haritaki is a rich source of vitamin C that has rejuvenating and anti-inflammatory properties that help in purifying blood. The formula does not contain any added sugar but uses herbal natural sweetening agents, which makes it suitable for people with diabetes.
Key Ingredients: Amla Pishthi, Mulethi, Brahmi, Haritaki, and Gikshura
Pros
Naturally sweetened
Safe for people with diabetes
Safe for all age groups
Value for money
Cons
Has a greasy and oily texture
The Sri Sri Tattva Chyawanprash is formulated with the traditional techniques and 40+ powerful herbs to rejuvenate your health and improve and restore your vitality and energy levels. It is enriched with amla and pure honey that promote younger-looking skin and longevity.
Amla is a naturally rich source of vitamin C and improves your immunity to shield your body from infections and allergies. The blend of honey and amla helps in stimulating the circulatory, respiratory, and nervous systems and protects you from nervous exhaustion. This powerful formula is packed with antioxidants that fight free radical damage to slow down the appearance of signs of aging and promote younger-looking skin. It also strengthens the sense organs, improves digestion, absorption, and assimilation, and enhances your memory.
Key Ingredients: Amla and Pure honey
Pros
All natural and herbal ingredients
Safe for all age groups
Value for money
Cons
Organic India Chyawanprash is made from wild forest antioxidant-rich fruits and 38 healing herbs using the traditional Ayurvedic recipe. It also helps energize and rejuvenate your body and protect you from common ailments. It supports digestion by balancing stomach acids and helps smoothen liver functioning to purify the blood and eliminate toxins from your body.
This chyawanprash is enriched with essential herbs like amla, pippali, guduchi, shatavari, and ashwagandha, which are rich in vitamin C and other nutrients that boost your immune system. It also promotes smooth heart function, nourishes the brain cells to improve memory, and maintains moisture balance in the lungs.
Key Ingredients: Amla, Pippali, Guduchi, Shatavari, and Ashwagandha
Pros
All natural and Ayurvedic formula
Good taste
Value for money
Cons
Pungent fragrance
Expensive
The Asveda Shitalamrut Chyawanprash provides a cooling effect on hot days while protecting you from various common day-to-day infections. It shields you from allergies and infections that lead to cold, cough, and other ailments.
The formula is enriched with various organic herbs that include black grapes, fennel (saunf), khadi sakar, nutmeg (jaiphal), and rose petals. It is also a rich source of vitamin C, vitamin A, iron, and calcium. The potent formula detoxifies your body, reduces heartburns, and improves digestion, vitality, and stamina. This chyawanprash is 100% sugar-free and contains naturally sourced organic herbs.
Key Ingredients: Black grapes, Fennel (Saunf), Khadi sakar, Nutmeg (Jaiphal), and Rose petals
Pros
Cooling effect
No added sugar
100% natural
Artificial color-free
Added fragrance-free
Cons
For those who are on a no-sugar diet, the Baidyanath Sugarfree Chyawan Vit is the best choice. It is rich in nutrients that help strengthen the body's immunity to fight cold, fever, cough, and other seasonal weather changes and allergies.
This chyawanprash is enriched with various Ayurvedic herbs like amla, almonds, banslochan, abhrak bhasma, ashwagandha, and haritaki. It builds your stamina, promotes the body's internal defense mechanism to build general resistance against pathogens, and keeps you active throughout the day. It also maintains a healthy digestive system by providing essential minerals and vitamins that give your body optimum nutrition.
Key Ingredients: Amla, Almonds, Banslochan, Abhrak bhasma, Ashwagandha, and Haritaki
Pros
No added sugar
Safe for all age groups
GMP certified and approved
Artificial color-free
Affordable
Cons
Chyawanprash is a powerhouse of herbal ingredients that boost health and immunity. Following are the benefits of this ancient Indian recipe.
What Are The Benefits Of Eating Chyawanprash?
Chyawanprash is one of the best supplements that helps in enhancing immunity. Most of the chyawanprash formulas contains vitamin C, which helps increase the immunity response cells in the body. It produces adaptogens, antioxidants, and cytokines that shield the body against various infections and allergies.
Prevents Seasonal Weather Allergies
Seasonal weather changes usually cause common infections and allergies like fever, cold, cough, sore throat, or respiratory abnormalities. Chyawanprash helps in fighting these minor viral infections that can weaken the immunity system. It has antiviral, anti-inflammation, ant-bacterial, and antifungal properties that keep your body from developing diseases.
Improves Digestive And Respiratory Issues
Chyawanprash contains Ayurvedic herbs that enhance digestion and prevents long-term and chronic respiratory ailments. It helps relieve gastritis, regulate gastrointestinal functions and bowel movements, and promote digestion. It prevents the formation of excessive acids in the stomach, thereby treating indigestion and ulcer. It also helps in healing asthma, improves lung function, and alleviates cough and respiratory concerns.
Chyawanprash boosts your memory and improves the overall brain functioning. The antioxidant properties of chyawanprash may also have a beneficial effect on those with Alzheimer's disease. Regular intake of chyawanprash enhances certain types of brain cells and increases the brain functionality.
Most chyawanprash formulas are loaded with Ayurvedic ingredients like ashwagandha and amla, which have a significant cholesterol-lowering effect. These herbs help in relaxing the cardiac system by calming the mind, which helps people with arrhythmias and palpitations. It also helps strengthen the heart muscles, lowers cholesterol levels, and prevents lipid buildup to reduce the risk of heart attacks, heart blocks, blood clots, and atherosclerosis.
Strengthens The Muscles And Improves Vitality
Chyawanprash has various Ayurvedic herbs that are loaded with fiber and essential nutrients. They help strengthen the bones and improve muscle to help you gain weight in a healthy way. It also improves natural resistance and promotes strength and vitality to keep you stress-free and energetic all through the day.
This natural health supplement is highly beneficial for those prone to infections or diseases. Read the following section to find out more about how to get the best results.
What Is The Best Time To Eat Chyawanprash And How?
It is usually recommended to take chyawanprash twice a day – once in the morning, and once in the evening. Take the morning dose on an empty stomach and the night dose preferably 1-2 hours after dinner.
The usual dose for adults is 1-2 teaspoons. You can consume it as it is or mix it with warm milk, water, or honey. For kids, it is best to take half a teaspoon every day only after consulting a pediatrician.
If you are looking to buy the best chyawanprash brand in India, here are a few things that will help you pick the best formula.
How To Select The Best Chyawanprash
Chyawanprash contains healthy and highly beneficial ingredients that offer a lot of health benefits. It is always good to check for an Ayurvedic or organic formula to ensure best results.
The chyawanprash you pick should contain key ingredients like amla, ashwagandha, neem, pippali, tulsi, saffron, brahmi, shatavari, honey, jaggery, giloy, mulethi, ginseng, and haldi. These ingredients help in strengthening your muscles, improving immunity, rejuvenating internal health, boosting stamina, and keeping you away from stress and seasonal infections.
While it is important to focus on the ingredient's beneficial properties, the taste cannot be ignored. Chyawanprash usually tastes sour and tangy with a hint of sweetness. Make sure that the formula contains a little amount of sugar, jaggery, or ghee to balance the unpleasant or sour taste of the Ayurvedic ingredients.
It goes without saying that you should check the label of everything you use or intake. When it comes to chyawanprash, avoid preservatives, chemicals, metals, or GMOs that could have adverse and harmful effects on your body. Make sure that the formula is free of toxins, parabens, mineral oils, artificial fragrances, food colorants, and other adulterants.
Most of the time, chyawanprash is formulated with natural herbs and organic extracts, which are free of chemicals and preservatives. Make sure it does not come in any metal container as it may have an adverse effect on your body. If possible, pick brands that provide chyawanprash in glass bottles or BPA-free plastic bottles and are made in small and fresh batches.
The ideal shelf life of the best chyawanprash brand in India is between 24 to 36 months, but it is best to check the expiry date before buying as you will be using the product for at least two months.
Chyawanprash has immense health benefits that help you stay stress-free and active throughout the day. That's why most people include it in their everyday routine to maintain a healthy lifestyle. Pick a chawanprash from our list today to ensure strong immunity for your family!