10 Best Clarifying Shampoos For Oily Hair That You Can Try In 2023
Detox your oily and dirty scalp effectively by cleansing with decent hair care products!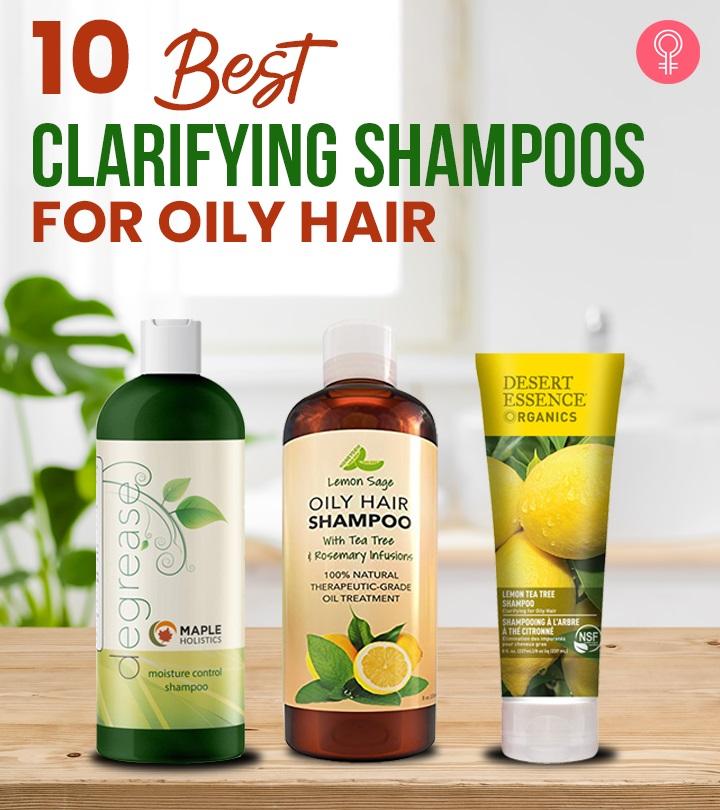 It's time to throw out your regular shampoo and get yourself a good clarifying shampoo if you have oily hair. But why do you need to find the best clarifying shampoo for oily hair? Well, clarifying shampoos work as a detox for an oily scalp, deeply cleansing it and removing gunk, product build-up, and excessive oils. These are things that regular shampoos can't do so effectively, but isn't that exactly what oily hair needs?
To help you along, we have made a list of the top products in this category based on peoples' experiences of using them, expert recommendations, and product features.
What Is A Clarifying Shampoo?
A clarifying shampoo deeply cleanses hair and scalp through a unique formula. It dissolves all the product buildup left by conditioner, gel, mousse, hairsprays, soothing creams, etc., that weighs down your roots. It works more efficiently than regular shampoo and contains astringents and acids to remove gunk from the scalp and hair.
If you are wondering how it works, scroll down to the next section.
What Does A Clarifying Shampoo Do?
Clarifying shampoos contain natural deep cleansing ingredients that help eliminate dirty buildup, impurities, grease, sweat, and flakes, especially on oily scalps. They contain naturally sourced ingredients that are rich in astringents and acids. They act on the buildup and oil to balance the sebum levels and result in a healthy and clean scalp. These shampoos offer a purifying scalp treatment, and are best used once or twice a week and also offer long-lasting protection against dandruff.
Let's now take a look at the 10 best clarifying shampoos for oily hair.
10 Best Clarifying Shampoos For Oily Hair
The degrease Moisture Control Shampoo from MAPLE HOLISTICS is a 100% pure and natural scalp balancing and purifying formula made with a powerful blend of lemon oil, cypress oil, rosemary oil, basil oil, jojoba oil, botanical keratin, and peach kernel oil. Lemon oil helps in easy grease removal from the hair and scalp, while rosemary and cypress help prevent hair loss and soothe itching and flaking, thereby keeping your scalp calm and hair fuller. The peach kernel and jojoba oil nourish the hair strands by adding strength and elasticity.
All these natural oils promote circulation and keep the hair follicles clean for better hair growth. This shampoo also contains oil-absorbing botanicals that cleanse oily roots and greasy scalp by washing away excess oil, dirt, and dead skin. It is packed with youth-preserving vitamins, minerals, and antioxidants. This gentle blend has earned numerous positive reviews as it is suitable for all hair types including sensitive scalps.
Pros
Sulfate-free
Paraben-free
Silicone-free
Cruelty-free
No other unnecessary additives
Pleasant smell
Anti-dandruff
Cons
Price at the time of publication: $21.95
The Lemon Sage Oily Hair Shampoo by HONEYDEW is a 100% natural therapeutic-grade oil treatment that contains lemon essential oil, sage, tea tree, rosemary, and argan oil. It provides excess oil and shine control by balancing sebum secretion and clarifying the hair and scalp to strengthen the strands.
This shampoo soothes an itchy scalp and provides a deep scalp cleanse for long, bouncy, and thick hair. The nourishing herbs fortify the hair by promoting cell growth and eliminating loose flakes. Tea tree oil helps eliminate dandruff, rosemary soothes itching in the scalp, and argan oil moisturizes the scalp and hair. It is suitable for both men and women and all hair types.
Pros
Paraben-free
Sulfate-free
Cruelty-free
Non-toxic
Pleasant smell
Value for money
Cons
Price at the time of publication: $12.95
The Lemon Tea Tree Shampoo from DESERT ESSENCE ORGANICS is made with pure nourishing ingredients, including Australian organic tea tree oil, lemon peel extract, organic comfrey, organic aloe vera, and maca oil to invigorate and balance your scalp's natural pH.
The Australian tea tree oil and lemon peel extract gently wash away excess oil and product buildup without stripping your hair of its natural moisture. The maca root extract strengthens and protects the hair, while comfrey and aloe vera nourish and soothe the scalp. This anti-grease clarifying shampoo leaves behind a refreshing scalp and makes the hair soft, bouncy, and manageable.
Pros
SLS-free
Cruelty-free
Gluten-free
Vegan
No artificial dyes or fragrances
Pleasant smell
Value for money
Cons
Excess usage may dry out hair.
Price at the time of publication: $10.21
The HONEYDEW Shampoo For Oily Hair is a therapeutic-grade oil treatment specially formulated to restore the moisture levels in oily and greasy hair. It contains natural ingredients like lavender, rosemary, red thyme, yarrow, and evening primrose. This 100% natural hair treatment eliminates greasy hair and provides relief from oily scalp while nourishing dry, damaged hair.
Lavender essential oil has hair nourishing and aromatic properties to soothe and reduce blemishes on the scalp. Rosemary is rich in verbenone that reduces hair thinning and aids cell renewal. Evening primrose oil prevents hair loss promotes healthy hair growth, while yarrow regulates the glands in the scalp to reduce oiliness. This shampoo also contains nourishing ingredients like provitamin B5, jojoba oil, and botanical keratin. It is excellent for all hair types, including curly and frizzy hair. This shampoo helps preserve pigmentation on all hair color shades, ranging from dark black to white or gray hair. It is safe for use for men, women, and teens of all age groups.
Pros
Paraben-free
Sulfate-free
Sodium chloride-free
No artificial fragrances
No artificial colors
Pleasant smell
Value for money
Cons
The SARAGAN Activated Charcoal Shampoo contains a blend of natural oils and activated charcoal to deep clean your scalp and hair. It strengthens damaged hair, removes dirty buildup and toxins, and revives dull, dry, and over-processed hair.
Keratin strengthens the hair, Moroccan argan oil smoothens the hair texture, jojoba promotes hair volume, camellia restores hair moisture, almond heals damaged hair, coconut oil increases hair growth, and avocado oil clears blocked hair follicles. This shampoo is suitable for men and women and works best for oily, straight, curly, and color-treated hair.
Pros
Sulfate-free
Paraben-free
Color-safe
Value for money
Cons
Price at the time of publication: $9.99
The R+Co Oblivion Clarifying Shampoo contains rosemary leaf, coconut oil, witch hazel, and amino acids. Rosemary extracts have proven efficacy in purifying the hair deeply and removing buildup. Coconut oil strengthens and conditions the hair, and witch hazel purifies the hair and scalp. Amino acids increase the hair's ability to retain moisture and impart shine and gloss to dull or damaged hair.

This shampoo seals moisture, thereby leaving the hair naturally lustrous and soft. The gentle clarifying formula works perfectly for fine or oily hair. It also removes color-dulling residue and buildup from hard water, chlorine, and styling products. This cruelty-free shampoo does not contain gluten, parabens, sulfates, or mineral oils.
Pros
Paraben-free
Sulfate-free
Petrolatum-free
Mineral oil-free
Gluten-free
Vegan
Cruelty-free
Cons
Price at the time of publication: $27.0
The Kerastase Specifique Bain Divalent Balancing Shampoo helps restore balance to the hair fiber with the help of amino acids and vitamin B6. This shampoo is effective in protecting the hair from the damaging effects of environmental pollutants and other impurities. The menthol infused in the shampoo also maintains a stimulating and revitalizing effect on the scalp for an extended period. The clarifying and balancing shampoo also fortifies and nourishes the hair fibers, removing extra oil and odor on the scalp and leaving it clean. This shampoo is particularly useful in controlling the production of excess sebum, making it the most effective clarifying treatment for oily roots. It restores smoothness and luster while nourishing dry and sensitive ends. It even helps prevent hair knots, leaving the hair feeling healthy and manageable. The ultra-light formula of the shampoo gives residue-free scalp, a lightweight cleanse, and a lovely root lift effect without weighing down the hair.
Pros
Sulfate-free
Paraben-free
Cruelty-free
Color-safe
Lightweight
Best suited for oily and flat hair
Cons
Price at the time of publication: $38
The Planative Charcoal Shampoo from MAPLE HOLISTICS is a specially formulated plant-based composition enhanced by nutrient-rich coconut, jojoba, sweet almond, and botanical keratin. The activated charcoal pulls out impurities from your pores, preventing buildup from clogging the hair follicles and weighing down the strands. It offers a refreshing cleanse to revive oily hair and irritated scalp and transform flat and dull locks into lustrous, soft, and bouncy hair.
Sage oil has antiseptic properties that help calm and clarify your scalp, reducing dandruff, itching, and flaking, while the hair-strengthening nutrients ensure hair growth. Camellia seed oil is an antioxidant-rich conditioning oil that reduces dandruff and strengthens hair strands. Avocado oil enhances shine, helps reduce dandruff, and promotes stronger and thicker hair. This hair clarifier replenishes all hair types and is suitable for sensitive skin and color-treated hair.
Pros
Sulfate-free
Paraben-free
Silicone-free
Color-safe
Cruelty-free
Suitable for sensitive scalp
Cons
Price at the time of publication: $16.95
The Argan Oil Shampoo For Oily And Greasy Hair from HONEYDEW is an all-natural shampoo made with nourishing ingredients like Moroccan argan oil, jojoba oil, and keratin. This unique combination cleanses and purifies the hair and balances your scalp's pH level to reduce sebum and give a volumizing cleanse. It also strengthens the hair strands for less breakage and promotes healthier hair.
This moisture-control shampoo for oily hair removes dandruff and helps in residue removal left by conditioners, gels, and mousses. Keratin forms a protective layer on the hair strands for healthy and shiny hair. Argan oil prevents frizz and promotes hair growth. This volumizing shampoo stimulates scalp cell renewal and eliminates dead skin cells. It is effective for all hair types, including straight, curly, wavy, thin, thick, and color-treated hair.
Pros
Sulfate-free
Paraben-free
Color-safe
Cruelty-free
Pleasant smell
Cons
Price at the time of publication: $9.95
The HAIR SUPERFOOD Balancing Shampoo For Oily Hair & Scalp is formulated with a unique blend of lemon, cypress, basil, rosemary, peach kernel, and jojoba oils. These clarifying and revitalizing essential oils help purify the scalp and hair, eliminate dandruff, and reduce hair loss.
Lemon basil and cypress have antifungal properties and work as natural astringents. Rosemary oil has proven efficacy in helping increase hair volume, growth, and thickness by aiding sebum regulation in the scalp. Peach kernel oil and jojoba oil enhance shine with their moisturizing properties and keep the hair clean, soft, and lustrous. This shampoo is great for all hair types and textures, such as thick, fine, curly, wavy, straight, and color-treated hair.
Pros
Sulfate-free
Paraben-free
Cruelty-free
Hypoallergenic
Pleasant faint scent
Cons
Price at the time of publication: $7.95
If you are wondering how frequently to use a clarifying shampoo, read the next section for the answer.
How Often To Use A Clarifying Shampoo
Ideally, a clarifying shampoo is designed to be used once or twice a week. One can apply it like any other regular shampoo. Just take a small amount of shampoo in your hands and apply it to wet hair. Massage appropriately for 2-3 minutes until you get a rich lather. Rinse your hair properly. Using a conditioner after shampooing will give better results.
Why Trust StyleCraze?
Shiboli Chakraborti, the author, is a certified skin care coach with a passion for hair care and related products. She advocates clarifying shampoos for oily hair to detox the scalp thoroughly. She closely examined the formulation of multiple products and researched them exhaustively to shortlist the best clarifying shampoos available. She also took into consideration user reviews. The recommended products are, thus, gentle on the hair and deeply cleanse the scalp, removing build-up and excessive oils.
Frequently Asked Questions
How often should you wash your oily hair with clarifying shampoo?
Wash your oily tresses with a clarifying shampoo at least once weekly. You may also use a clarifying or an anti-oil shampoo thrice weekly if your hair feels heavy and dull.
Is a scalp scrub the same as a clarifying shampoo?
No, a clarifying shampoo is applied and massaged onto the scalp gently. It works when you leave it on your tresses for a few minutes and wash it off. However, a scalp scrub physically removes the buildup and deeply cleanses your scalp. Clarifying shampoos are mostly great for sensitive scalps as scrubs may be too harsh on delicate skin.
Do you clarify before or after shampoo?
It is recommended not to use a regular shampoo along with a clarifying shampoo as the latter does the work of shampooing and clarifying. However, pair a clarifying shampoo with a deep conditioner for added nourishment.
What is the difference between a purifying and a clarifying shampoo?
There is no difference between a purifying and a clarifying shampoo. Both products remove buildup from your hair and scalp while cleansing them deeply.
How long does clarifying shampoo take to work?
Clarifying shampoo takes up to five washes to work completely. Leave the clarifying or cleansing shampoo on your hair for 45 seconds to a minute during each wash.
Recommended Articles